Perfect Pumpkin Pie
From its smooth texture to its perfectly spiced rich flavor, this Pumpkin Pie is simply perfect!!  I make this in an easy homemade pie crust and serve it with a dollop of whipped cream.  An absolute must for your Thanksgiving dessert table!
Fall pies are the spice of life…well I think so anyway.  I certainly know they are the spice of Fall.  I don't know what I love more, Fall itself or all the warm spices that come with Fall baking.  I can never wait to start baking Fall recipes and have the aroma of cinnamon, nutmeg, cloves and ginger wafting through the air.  My biggest problem is trying to decide which Fall dessert I like the most, so I guess I just can't say.  What I will say is Pumpkin Pie is one of my favorites.
If you're like me, you want to set your Thanksgiving dessert table with the most perfect desserts you can make.  I know I don't want to serve a delicious pie filling with a soggy crust underneath.  Nor do I want to make a homemade flaky pie crust just to fill it with a filling that is too bitter from too much spice. 
Can we talk a minute about what makes the perfect pumpkin pie?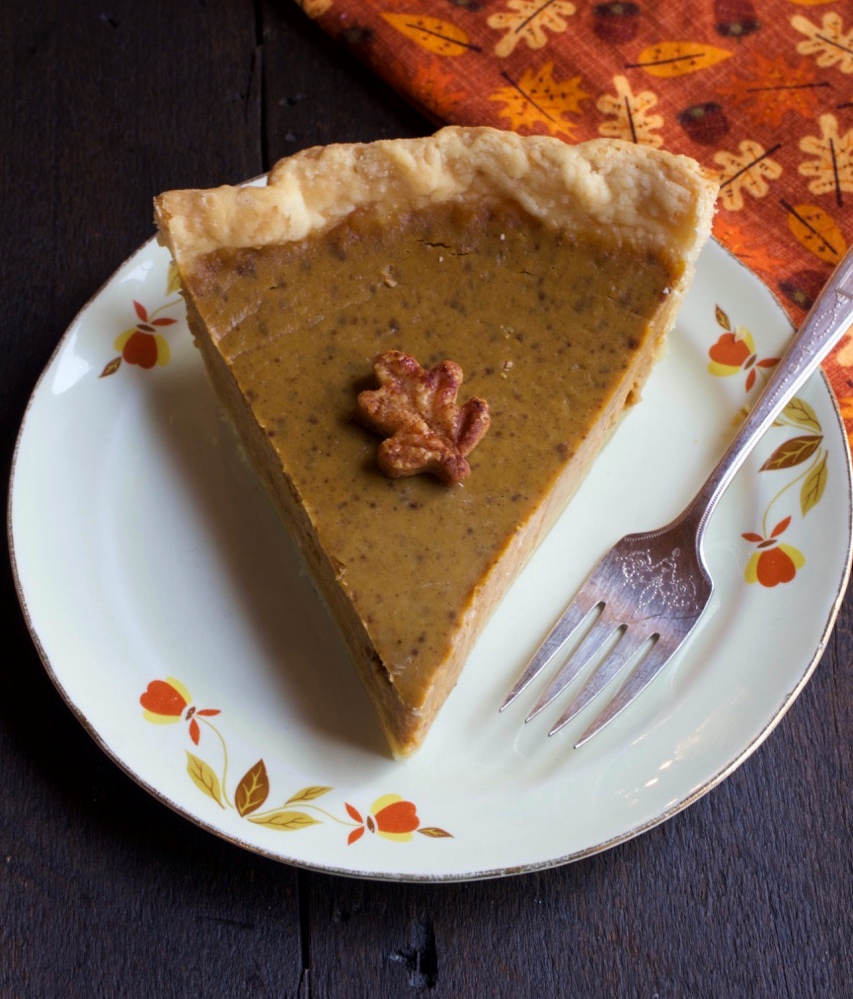 Let's start with the pie crust…
Some baked pies such as pumpkin and custard, need a little help in making sure the bottom crust gets baked all the way through.  There are a few things that will help to ensure this.
Partially pre-baking the pie crust for just a few minutes prior to filling it with the pie filling.  To do this, you must "dock"  the pie crust first, which simply means taking a fork and pricking it all over.  This keeps the crust from puffing up as it bakes.
A second thing is to fill the unbaked pie shell with the filling.  Place it on the bottom oven rack on a preheated cookie sheet.  This helps to brown the bottom crust, faster.
Baking the pie in a glass pie dish.  Glass heats up slowly but it also heats up evenly, and it allows radiant heat to pass through the glass. This results in a nicely browned and crispy (not soggy) pie crust.  You can view the bottom and sides of the crust to see how brown the crust is getting.  Glass pie dishes are an excellent choice for fruit and custard type pies.
If you choose to partially pre-bake the pie crust, once you have "docked"  the crust, place weights in it.  This also keeps the pie crust from puffing up and it prevents shrinkage.  You can use beans, rice, or even coins for weight.  Make sure you line the pie crust first with some foil or a piece of crumpled parchment paper, my favorite.
I also made some decorative leaves out of my extra pie dough.
Here's all I did to make the leaves…
I rolled out some pie dough, as shown in the picture.  I rolled the dough pretty thin.  They bake up thicker as you can see in the picture below.
I used a tiny leave shaped cookie cutter to cut out the leaves.  I took the point of a sharp knife and made little veins on the leaves.
I brushed the leaves with an egg wash made of egg yolk and water, then sprinkled them with cinnamon sugar.
I baked the leaves on a cookie sheet at 375 degrees, until they were baked through and browned.
I placed the leaves on the baked and cooled pie for decoration.
I hope you make the "perfect" pumpkin pie for your holiday dessert table!!
Print
Perfect Pumpkin Pie
Author:

Prep Time:

15 minutes

Cook Time:

40 minutes

Total Time:

55 minutes

Yield:

8

servings

1

x

Category:

Pies

Method:

Bake

Cuisine:

American
---
FOR THE PIE CRUST
Homemade Pie Crust – A double pie crust recipe.  Enough for the deep dish pie and decorative leaves.  Here's the recipe I used.  Since this is a deep dish pie, you will use about 2/3 of the dough for the pie crust.  You can use the rest for the leaves.
FOR THE PIE FILLING
1

can pumpkin puree, 15 ounces (not pumpkin pie filling)

1 cup

half & half

2

large eggs

3/4 cup

light brown sugar, packed

1/4 cup

granulated sugar

1/2 teaspoon

salt

1 teaspoon

cinnamon

1/2 teaspoon

ground ginger

1/4 teaspoon

cloves

1/2 teaspoon

nutmeg

1 tablespoon

all-purpose flour
FOR THE WHIPPED CREAM (optional)
1 cup

heavy whipping cream

1/4 cup

powdered sugar

1/2 teaspoon

pure vanilla extract

1/8 teaspoon

nutmeg
---
Instructions
FOR THE PIE CRUST
Preheat oven to 375 degrees.
Partially pre-bake the pie shell.  This means partially baking the pie shell to ensure the bottom crust is baked through when the pie is baked.  If using a store-bought pie shell, thaw for 20 minutes.  If using a homemade pie shell, refrigerate the pie shell for 20 minutes.  Place a piece of foil or a crumpled piece of parchment paper inside of the pie shell.  Add pie weights or beans.  Bake for 15 minutes.  Remove pie weights and bake 5 more minutes, and remove from oven.
FOR THE PIE FILLING
Raise oven temperature to 425 degrees.
Add all ingredients to a large mixing bowl.  Using an electric mixer mix ingredients on medium speed for approximately one minute until all ingredients are well combined.
Pour the filling into the parbaked pie shell.  Place foil around edges of pie shell to prevent over-browning.
Bake the pie for 15 minutes at 425 degrees and reduce heat to 350 degrees.  Bake for an additional 20 minutes until pie is slightly wobbly in the center.  Note:  The eggs will continue to cook in the pie after you remove it from the oven and the center will set as it cools.  Baking the pie until the center is totally set is overbaking the pie and cracks will form in the pie.
Transfer pie to a wire rack to cool completely before refrigerating.
FOR THE WHIPPED CREAM (optional)
Add the whipping cream to a mixing bowl.  Using an electric mixer, mix the whipping cream on medium speed for about one minute until it begins to slightly thicken.  Add the powdered sugar, vanilla, and nutmeg.  Mix on high speed until soft peaks form, about 30 seconds, or longer if you prefer stiff peaks.
Refrigerate until serving pie.  Place a dollop of whipped cream on each slice of pie when serving.
FOR DECORATIVE LEAVES (optional)
See notes above recipe.
---
Notes
Pie can be made up to two days in advance.  Place covered in a refrigerator.
You can make the pie filling a day prior to making the pie.  This gives the spices more time to blend and enhances the flavor of the filling.
Keywords: pumpkin pie, pie,