Country Peach Ice Cream
This Country Peach Ice Cream starts with a rich peach-infused custard base, just like your grandma made.  The base gets combined with more fresh peaches and fresh cream.  Then it gets churned into the most creamy and delicious ice cream you ever tasted.  This is a great ice cream to make when you can get fresh peaches!!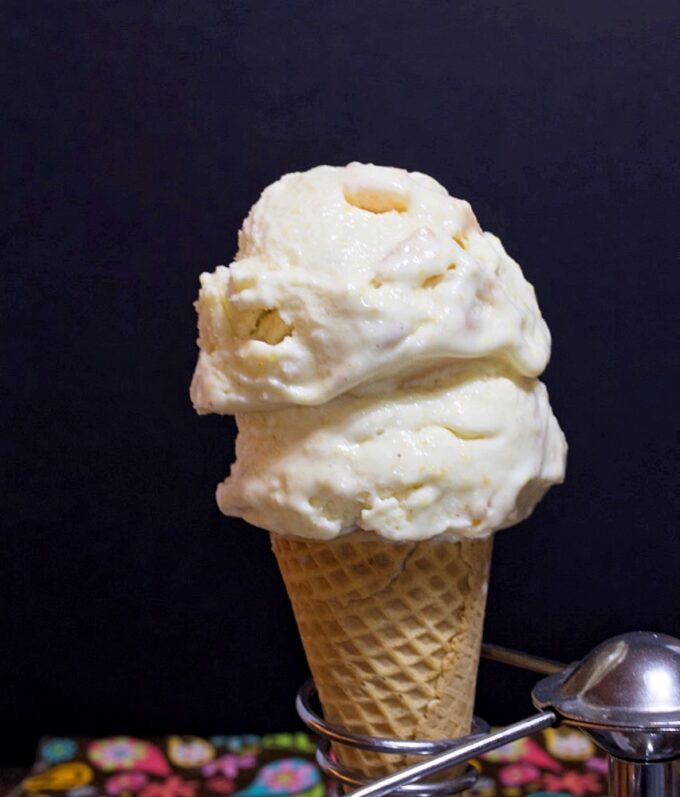 July is National Ice Cream Month, and I can't let this month slip by without sharing my recipe for homemade Country Peach Ice Cream.  I recently posted my recipe for No Churn Cookies & Cream Ice Cream, a recipe that does not require using an ice cream maker.  This delicious Peach Ice Cream does require an ice cream maker, so allow me to explain the differences between no-churn & churned ice creams.
NO CHURN
No churn ice cream is usually made using 3 easy ingredients…whipping cream, sweetened condensed milk, and your favorite add-in, such as crumbled cookies.  There are no eggs.  You simply whip the whipping cream and fold in the other two ingredients.  Then you place it in the freezer for about 6 hours and voila!!  You have creamy delicious ice cream.  Using sweetened condensed milk versus sugar helps to keep the ice cream creamy.  You can opt to churn this ice cream in an ice cream maker if you want to eat it right away, but it's not necessary if you have the patience to wait for it to freeze.
CHURNED (using an ice cream maker)
Most ice cream recipes requiring an ice cream maker, also require using eggs and making some type of custardy base.  This is how most ice cream recipes were made back in the day.  I will have to admit, custard-based ice creams are my absolute favorite.  I grew up eating custard-based ice creams, and the custard base adds so much richness to the ice cream.  Custard based ice creams are usually made with sugar, versus sweetened condensed milk.  Therefore, they tend to become harder once frozen.  However, when they are first churned they are perfectly creamy and smooth and usually there's none left to be frozen.
Let me tell you how I made the rich and delicious custard for this recipe…
I mashed one cup of fresh peaches and added the juice and all to a saucepan.
To this, I added some fresh whipping cream, half & half, sugar and cornstarch, cinnamon, and vanilla and cooked the mixture over medium heat until it slightly thickened.
I poured about half of the mixture into a bowl of slightly beaten egg yolks and vigorously whisked the hot mixture and egg yolks together.  Then I poured the mixture back into the saucepan.
I brought the mixture back to a boil over medium heat, stirring constantly, and cooked it for about 1 minute until it thickened.
I removed it from the custard from the heat and placed it in the freezer for about 30 minutes to chill.  Then I proceeded with the rest of my recipe.
I love my Cuisinart Ice Cream Maker, and I've used it SO many times, but you can use any electric ice cream maker for this ice cream.  I don't recommend using the ice cream attachment from the kitchen aid mixer, because this recipe makes almost 2 quarts of ice cream and it won't hold all of it.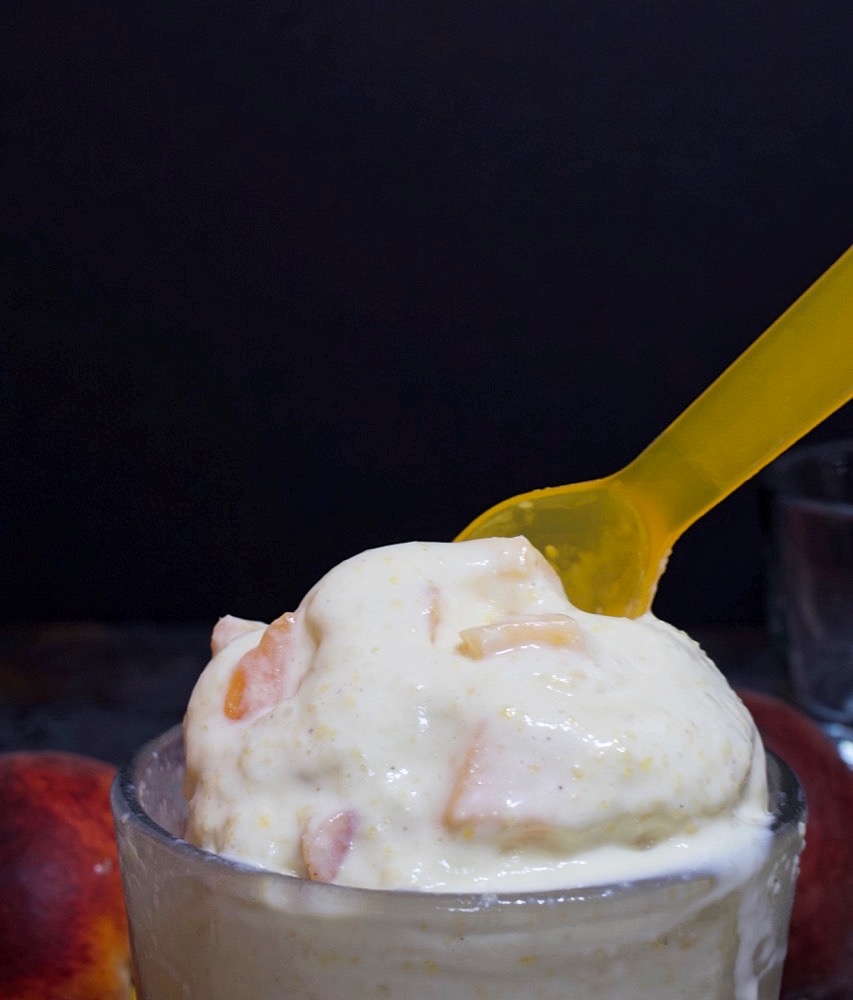 Don't want peach ice cream?  No problem…use any fruit of your choice in this delicious recipe!!
Print
Country Peach Ice Cream
Author:

Prep Time:

40 minutes

Cook Time:

10 minutes

Total Time:

50 minutes

Yield:

2 quarts

1

x

Category:

Frozen desserts

Method:

Cook

Cuisine:

American
---
Description
This Peach Ice Cream starts with cooked peach custard and gets lots of fresh diced peaches added to other pure ingredients just before churning.  It's absolutely delicious!!
---
1 cup

mashed ripe peaches

2 cup

s diced ripe peaches

4

large egg yolks, lightly whisked

1 1/4 cup

s granulated sugar

1 cup

heavy whipping cream

4 cup

s half & half, divided

3 tablespoon

s cornstarch
Pinch of kosher salt

1 teaspoon

pure vanilla

1/4 teaspoon

cinnamon
---
Instructions
Dice and mash the peaches in separate bowls and set aside. Whisk the cornstarch into 1 cup of the half and half and set aside. Whisk the egg yolks into a large measuring cup or medium bowl and set aside.
Add the sugar, heavy whipping cream, one cup of half and half with cornstarch, salt, cinnamon, vanilla, and mashed peaches to a medium saucepan and whisk to combine. Cook over medium heat while whisking constantly, until mixture comes to a bubbling boil and begins to thicken. Remove the pan from the heat, long enough to temper the eggs. To temper the eggs, pour about one cup of the hot mixture into the egg yolks while whisking constantly for about thirty seconds. Add the egg mixture back into the saucepan and return to the heat. Bring the mixture back to a boil and cook, stirring constantly, for about one minute. Remove the mixture from the heat and place it in a freezer to cool for about 30 minutes until it's chilled.
Pour the cooled custard base into a large measuring bowl with a pour spout. Add the remaining three cups of half and half and the diced peaches. Whisk together. Pour into an ice cream machine and churn for about twenty minutes until the mixture is thick and creamy.
Serve ice cream soft serve or freeze for at least two hours for frozen firmer ice cream.
---
Notes
If you serve this ice cream as soon as it's churned, it will have a perfectly creamy consistency.  However, homemade ice cream has no preservatives.  Once it's frozen, it won't be quite as creamy as when it's first churned, but it will still maintain its wonderful flavor.
This recipe makes just under two quarts of ice cream.
Keywords: ice cream, churned ice cream, custard base, peach, peach ice cream, homemade ice cream, national ice cream month,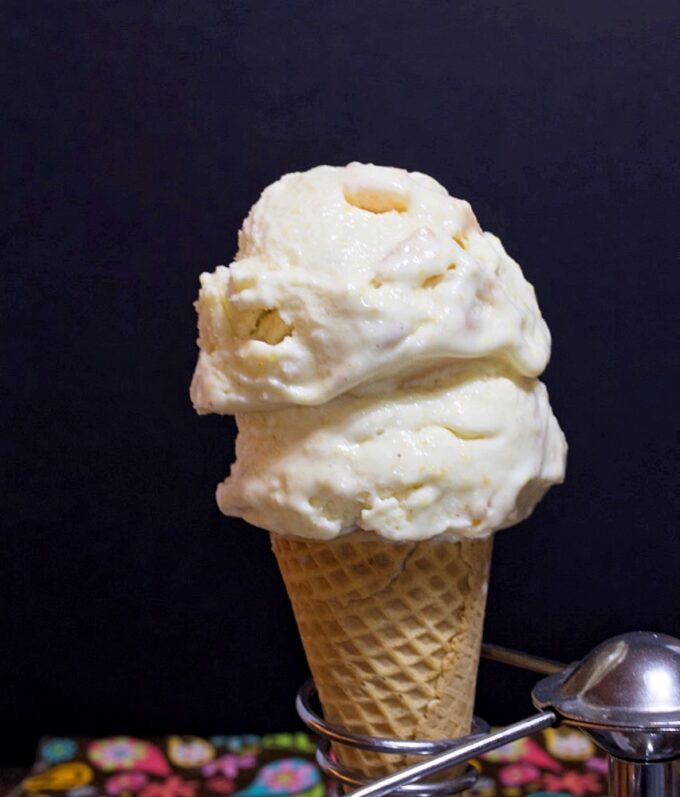 There may be affiliate links in this post. We are a participant in the Amazon Services LLC Associates Program, an affiliate advertising program designed to provide a means for us to earn fees by linking to Amazon.com and affiliated sites.