Perfect Pumpkin Roll
What would Fall be without a Perfect Pumpkin Roll?  This classic Fall dessert starts with a warmly spiced spongy cake that is spread with a delicious sweet cream cheese filling.  Once it's chilled, it gets sliced into thick impressive slices.  It also freezes beautifully, so why not make two and freeze one!
Today, I've decided to repost my Perfect Pumpkin Roll recipe with some newly updated tips and pictures.  Pumpkin Roll is one of those perfect Fall desserts and it's much easier than you might think to make.  It also freezes beautifully so why not make two or three and freeze a couple?  I love to make and freeze a couple before the busy holiday so I can use my time for other recipes that don't freeze as well.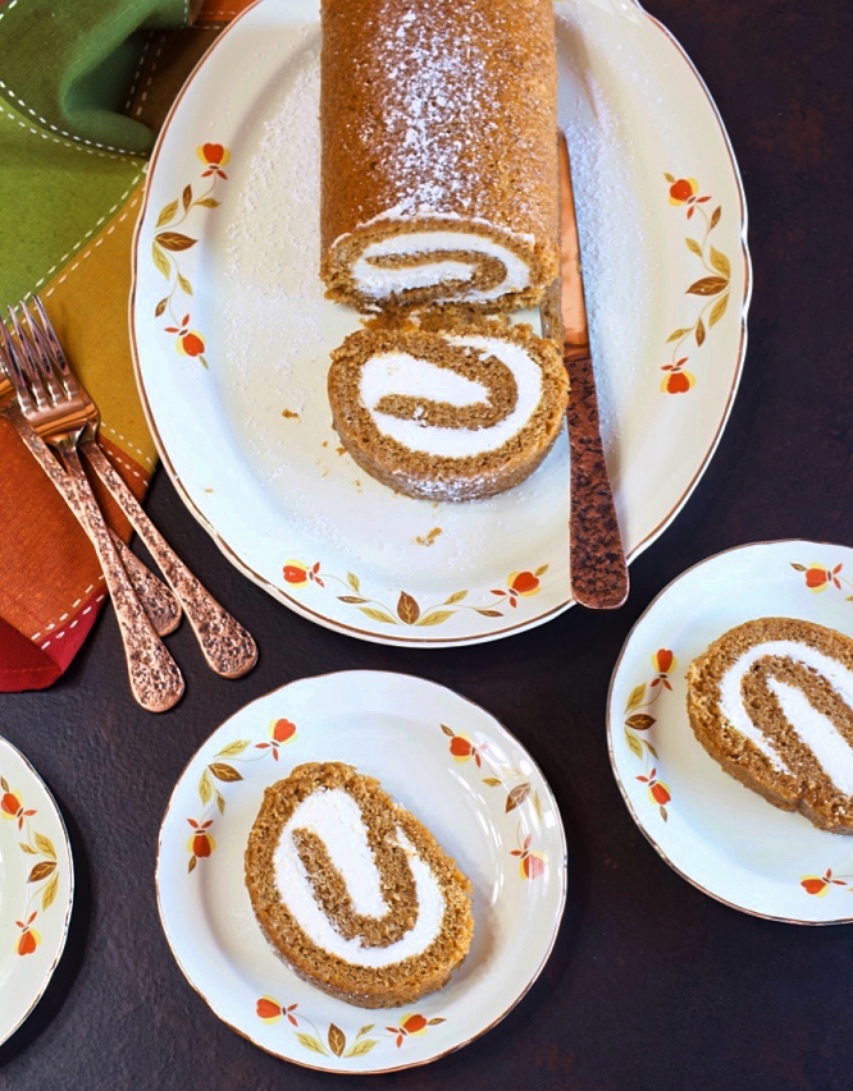 The ingredients are basic ones you probably have on hand, nothing special.  I'm talking about sugar, flour, spices, cream cheese, eggs, and the main star… pumpkin.  Simple ingredients.  The cake roll ingredients take about five minutes to mix and the batter gets spread evenly into a jelly roll pan.  It will be rather thin.  We don't want a thick cake here.
The most important thing to remember when making a the perfect Pumpkin Roll is to use the exact size pan that's called for in the recipe… a 10″ x 15″ jelly roll pan.  Why?  Because jelly roll cakes are meant to be thin but spongy.  If you use a pan any larger than the standard 10″ x 15″ jelly roll pan, the cake batter will be too thin, resulting in a really thin cake that is too thin to be spongy.  If you use a smaller pan, the cake will be too thick and impossible to roll.
The second most important thing is making sure to line the jelly roll pan with wax or parchment paper.  That way, when the cake comes out of the oven, you can invert it onto a towel without it sticking to the pan.  Then you just peel off the paper.  Easy!
Rolling the cake!  The thought of rolling a cake seems to intimidate some people, but it shouldn't.  It is very simple.  It is a little messy due to the use of powdered sugar.  However, powdered sugar is the secret to keeping the cake from sticking to the towel.  Don't be stingy with the powdered sugar.  Some of the sugar will soak into the cake.  As you see above, I don't just dust the towel with powdered sugar, but I also dust the top of the cake before rolling it.
Make sure you roll the cake in a lint-free towel.  A thin towel is best… I like flour sack towels.  Like I said… powdered sugar = messy.  As soon as you're finished using the towel, you'll want to throw it in the wash.
Update:  You can use parchment paper instead of a towel.  These days, many bakers use parchment paper instead of a towel.  If you use parchment paper, you won't have to use powdered sugar and it is less messy.  You will roll it up the same as above but use parchment paper instead of a towel.  Leave a 1-inch overhang of paper on the narrow ends of the pan.  Spray the bottom of the pan and the top of the parchment paper with nonstick cooking spray.  Once the pumpkin roll is baked, gently pick up each end of the parchment paper and gently lift the cake from the pan.  Gently roll the cake up into the paper and allow it to completely cool, before unrolling and filling.
Make the filling once the cake roll has completely cooled.  Spread the filling over the unrolled cake, stopping about 1/2 inch from the edge.  Starting at the narrow end, roll the cake back up into a roll, leaving the towel or parchment paper behind.  Wrap with plastic wrap and refrigerate for at least 2 hours before slicing and serving.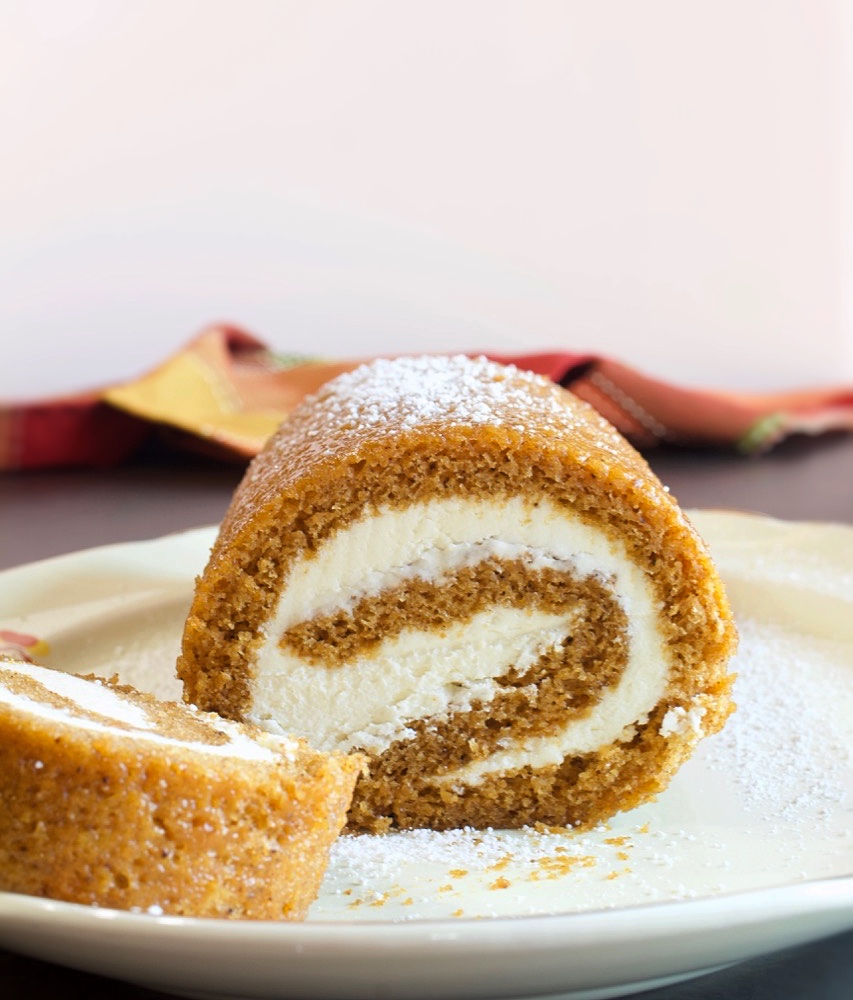 Make sure you refrigerate the cake roll for at least two hours before serving.  If refrigerated overnight, allow it to set out at room temperature for at least 15 to 20 minutes before serving, for best flavor and texture.  Feel free to sprinkle the top of the cake roll with powdered sugar.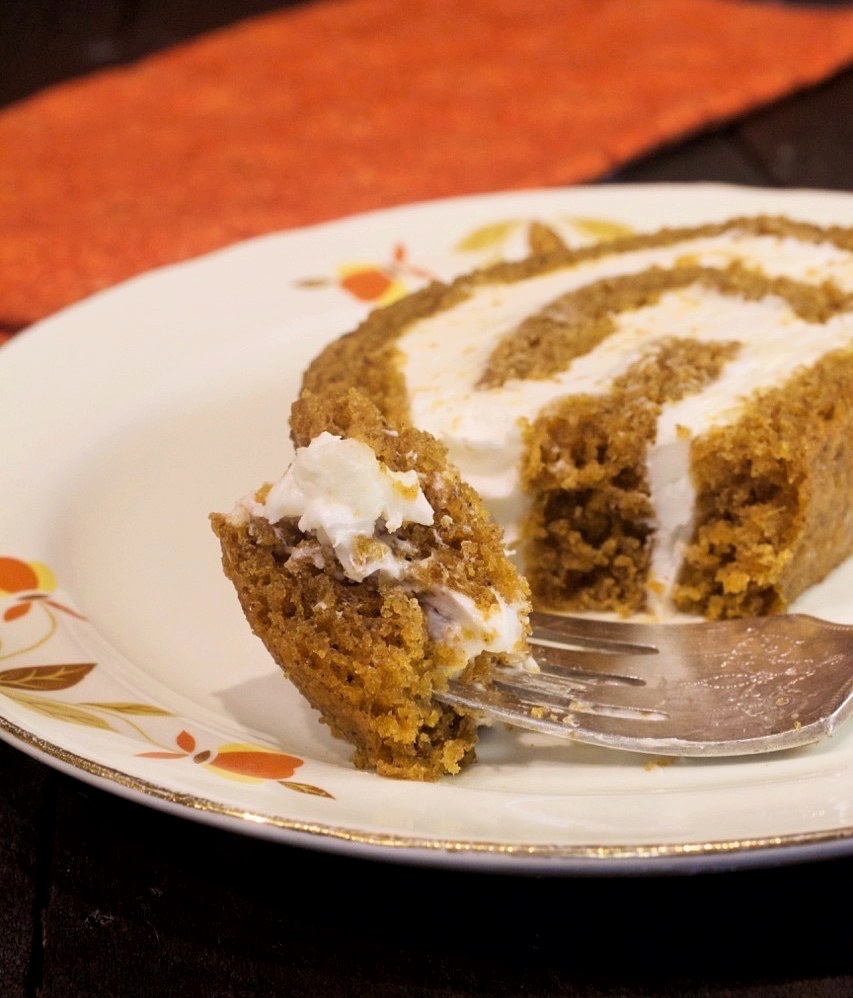 If refrigerating, make sure you wrap the cake roll or place it in an airtight container.  It will stay fresh for up to 1 week, refrigerated.  The pumpkin roll can be frozen for up to 2 months.  Wrap the roll securely in plastic wrap, then foil, or place in an airtight container.  Allow it to thaw overnight in the refrigerator.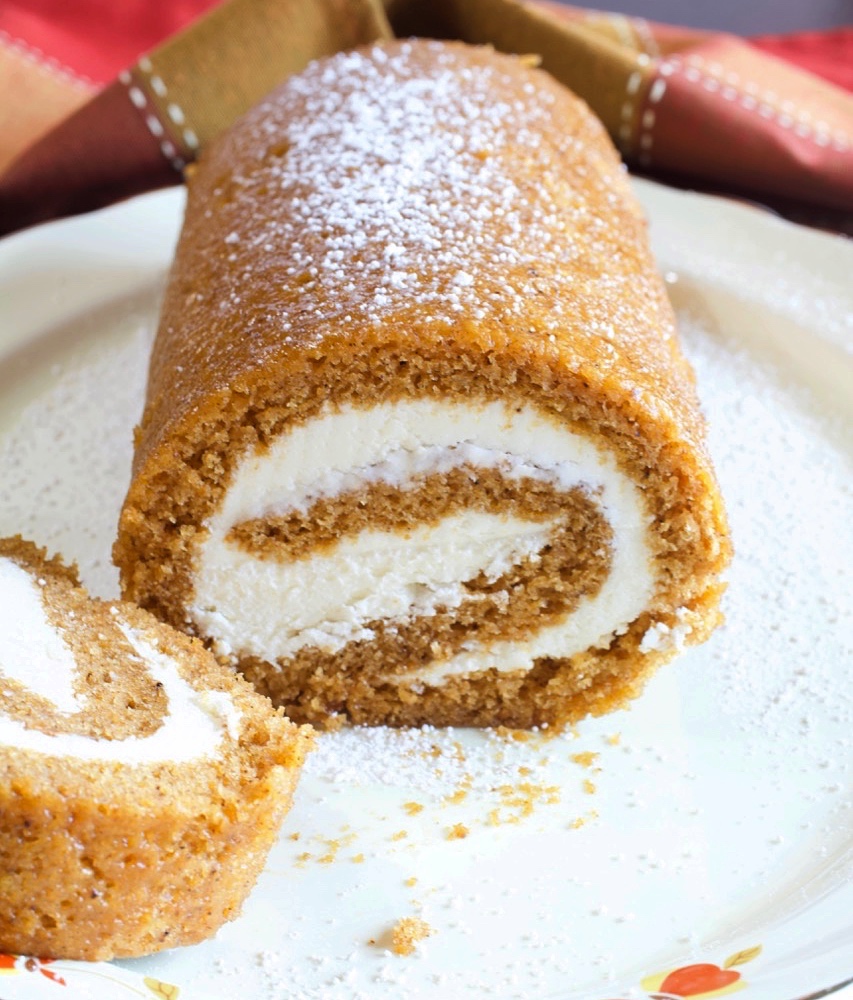 Recommended for this recipe,
Print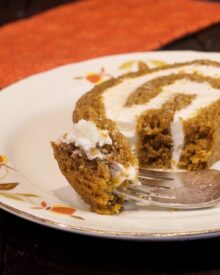 Perfect Pumpkin Roll
Author:

Prep Time:

25

Cook Time:

15

Total Time:

40

Category:

desserts

Method:

bake

Cuisine:

american
---
Description
This warmly spiced cake is moist and spongy, and tucked inside is a delicious cream cheese filling.  You might wanna make two…they go fast!  Make three and freeze one for later!
---
For the Cake
3/4

cup

all purpose flour

1/2 teaspoon

baking powder

1/2 teaspoon

baking soda

1/4 teaspoon

salt

1/4 teaspoon

nutmeg

3/4 teaspoon

cinnamon

1/4 teaspoon

cloves

3

large eggs

1

cup

granulated sugar

1 teaspoon

pure vanilla extract

2/3

cup

pure pumpkin puree, such as Libby's (not pumpkin pie mix)
Powdered sugar for dusting
For the Filling
1

package cream cheese, 8 ounces, softened

6 tablespoons

real butter, softened

1

cup

plus

2

tablespoons

powdered sugar

1 teaspoon

pure vanilla extract
---
Instructions
Preheat oven to 350 degrees.
Grease the bottom of a 10 x 15 inch jelly roll pan. Cut a piece of wax or parchment paper to fit the bottom of the pan. Grease the paper and insides of the pan. Lightly dust with flour, tapping off any excess. Set pan aside.
In a medium bowl, whisk together the flour, baking powder, baking soda, salt, nutmeg, cinnamon and cloves and set aside.
In a large bowl, add the eggs, sugar, vanilla and pumpkin puree. Whisk to combine. Add the dry ingredients and whisk just until incorporated.
Spread batter evenly in prepared pan, using a small offset spatula to spread the batter into corners of the pan.
Bake for approximately 15 minutes or until a toothpick inserted into the middle of cake comes out clean or cake springs back when lightly touched.
Note: While the cake is baking, spread a thin lint free towel, such as a flour sack towel, on a counter or work surface. Dust the towel liberally with powdered sugar. I use a wire mesh strainer to help evenly distribute the powdered sugar. This is crucial in keeping the towel from sticking to the cake. You want to make sure that you have this ready when the cake comes out of the oven.
Remove cake from oven and immediately run a sharp knife around the edges of the pan. Holding cake upright at a slight angle, place one end of the pan on the edge of the towel and quickly invert pan onto towel. Remove the pan, and gently peel off the parchment paper.
Dust the top side of the cake liberally with powdered sugar. This also helps the cake from sticking to the towel when it is rolled up.
Beginning with the short end closest to you, gently and slowly roll the warm cake up with the towel, rolling it as tightly as possible. Set the towel wrapped roll aside to cool completely while you make the filling.
For the Filling
Place the cream cheese in a large mixing bowl. Using an electric mixer, mix the cream cheese on medium speed until creamy and free of any lumps. Add the butter, vanilla and powdered sugar and mix on medium speed for about one minute until well combined.
Gently unroll the cooled cake. Spread the filling over the cake stopping about 1/2″ from the edges of cake. Starting at the short end nearest you, gently roll cake into a roll again, leaving the towel behind. Dust the top liberally with powdered sugar. Wrap roll tightly in plastic wrap and place on a flat plate or tray and refrigerate.
Refrigerate at least one hour before serving. Dust with more powdered sugar before serving. Slice in 1″ wide slices to serve.
Refrigerate any leftovers.
---
Notes
Wrapped and refrigerated cake will stay fresh for up to one week.
Cake roll can be frozen for up to two months. Wrap cake roll securely with plastic wrap, then wrap it will foil.
---
Keywords: pumpkin roll, pumpkin desserts, fall desserts, thanksgiving desserts,
There may be affiliate links in this post. We are a participant in the Amazon Services LLC Associates Program, an affiliate advertising program designed to provide a means for us to earn fees by linking to Amazon.com and affiliated sites.