Country Apple Pie
This Country Apple Pie starts with crisp, tart Granny Smith apples that are coated with a warm spice mixture of cinnamon, nutmeg, and sugar. Then it gets a drizzle of cream and baked to tender perfection.  All you need is ice cream!!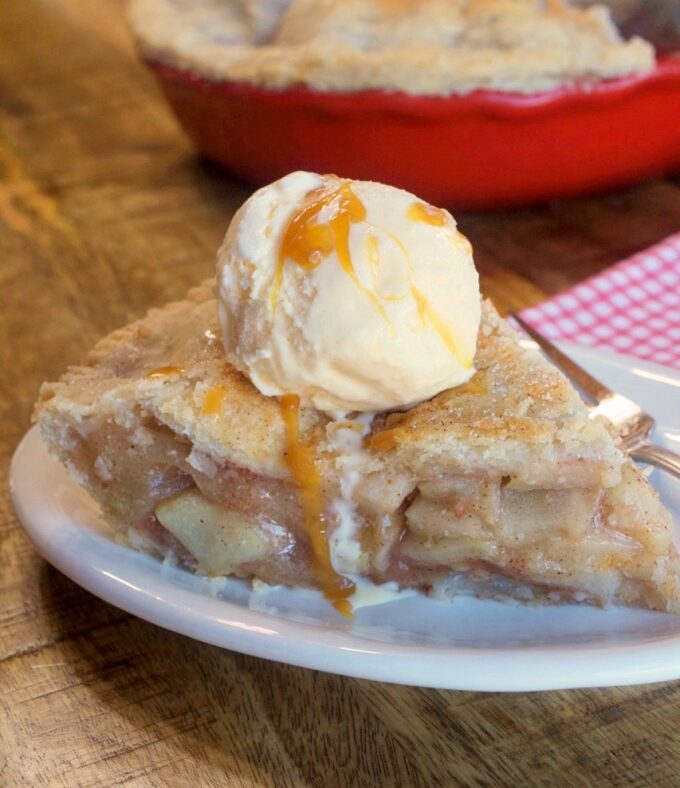 Do you love Fall?  I just can't… for the life of me, imagine anyone not loving Fall.  There are so many reasons why I love Fall.  When I was a kid, I would ride my horse deep into the woods on a Fall day and collect acorns and different colored leaves.  I loved lying on the ground and staring up at the different colors of Fall foliage on the trees. And there was something about the smell in the air…that crispness of cool Fall air and the smell of the leaves as they were drying up.  I would watch leaves fall from the trees and drift to the ground with no sound at all..simply beautiful!
However, the beauty and smells of nature aren't the only things I loved about Fall as a kid.  Sometimes I would get lucky on those cool, crisp Fall days, and come home to the smell of a freshly baked Apple Pie. One thing for sure…I couldn't wait until everyone had their piece, so I could go back for seconds. Sometimes I had my first piece warm with a scoop of ice cream on top and my second piece at room temperature with a slice of cheese on top.  Yep…we do that sort of thing here in Kentucky.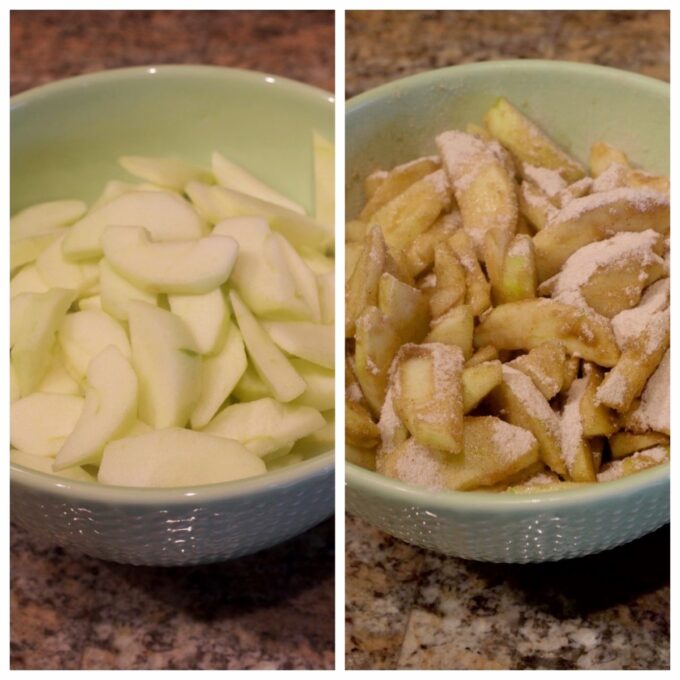 Years later, I still haven't forgotten the aroma of my mom's Apple Pie on those crisp cool Fall days, and it's one of my all time favorites when the Fall season arrives.  Of course I have many favorite Fall desserts, but this one's at the top of my list, partly for sentimental reasons.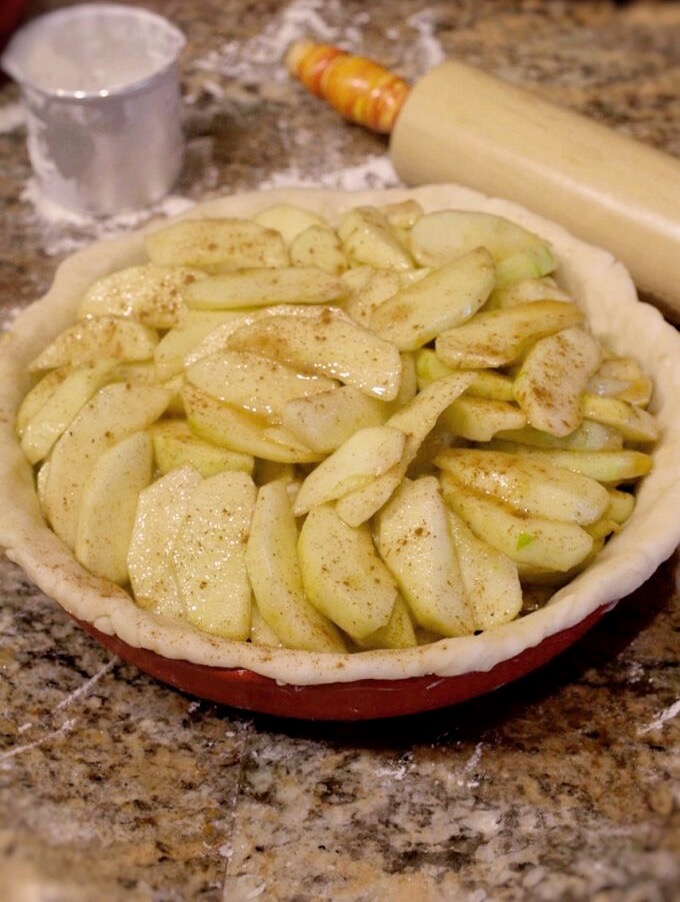 I don't know about you, but I love the smell and taste of Fall spices, and that's why I want to share my homemade Country Apple Pie with you, because I know you'll like it.  It has the perfect amount of warm cinnamon in it, which I've increased over the years and the perfect touch of nutmeg. I use crisp, tart Granny Smith apples , a fair amount of sugar, and I drizzle a bit of cream on top before adding the top crust.  Oh yes, and unlike most homemade Apple Pie recipes, I do not add lemon juice, nor do I add lemon juice to any of my fruit pies.  I forbid it.  That's another story for another time.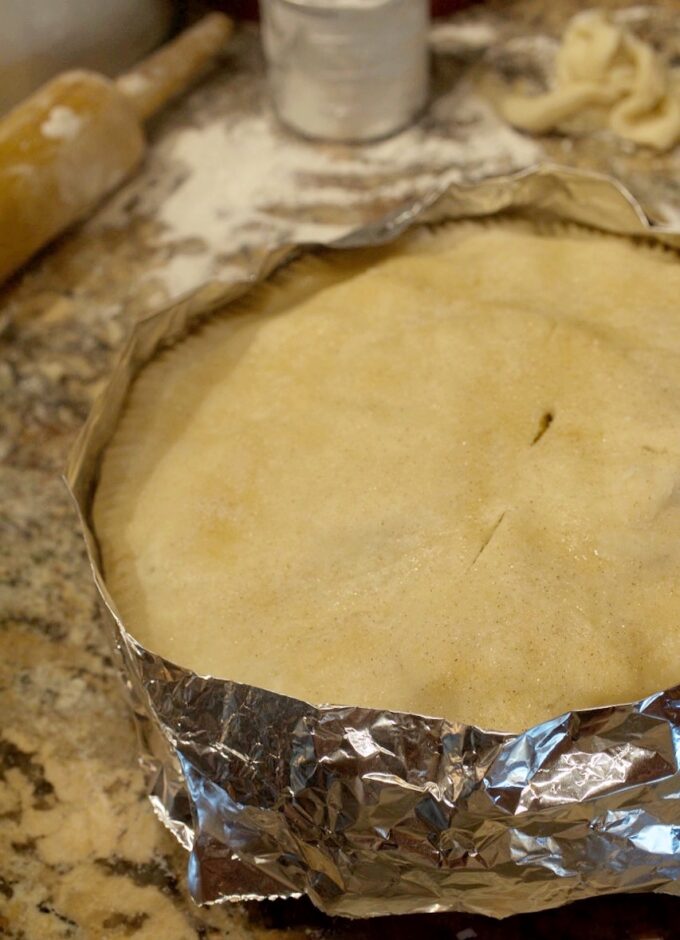 I brush some pie wash on the top and give it a light sprinkling of cinnamon sugar, and off to the oven it goes.
Pie Crust Shield Tip
Trust me when I say I've used every kind of pie shield that has ever been made, and I'll admit that I've been known to throw one or two straight into the garbage can.  They are great for fitting one size pie dish but not another, or for turning a beautifully formed fluted edge into a deformed flattened edge. My conclusion…the best shield is good 'ole aluminum foil! I have a couple of easy options.
Option 1: Buy the cheapest flimsy aluminum foil you can find, not heavy duty.  I find it at the dollar store and it's perfect. Tear off strips about four inches deep, then fold it in half lengthwise.  Place pieces together around the pie crust by stapling the end pieces together. That's right! Staple them!!  After you staple them, slightly bend the foil inward towards the center of the pie.  You can form the foil around the pie edges allowing for extra room around pie dish handles and it won't mess up the edges. It's light weight!
Option 2: Place a large piece of foil under the entire pie dish, big enough to bring it up the sides and at least 1-inch over the edges. This option will catch any drippings that bubble over on fruit pies. Honestly though, I prefer option #1 myself.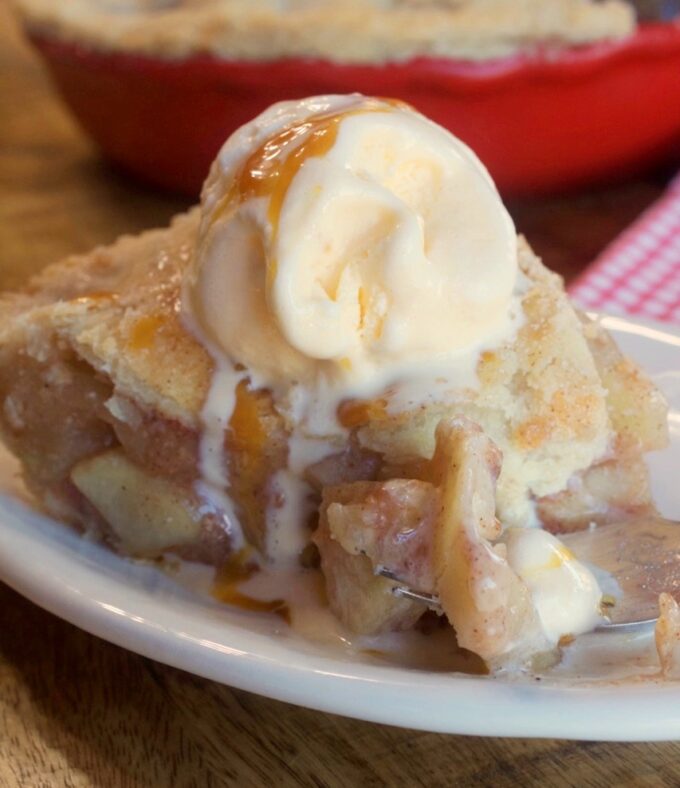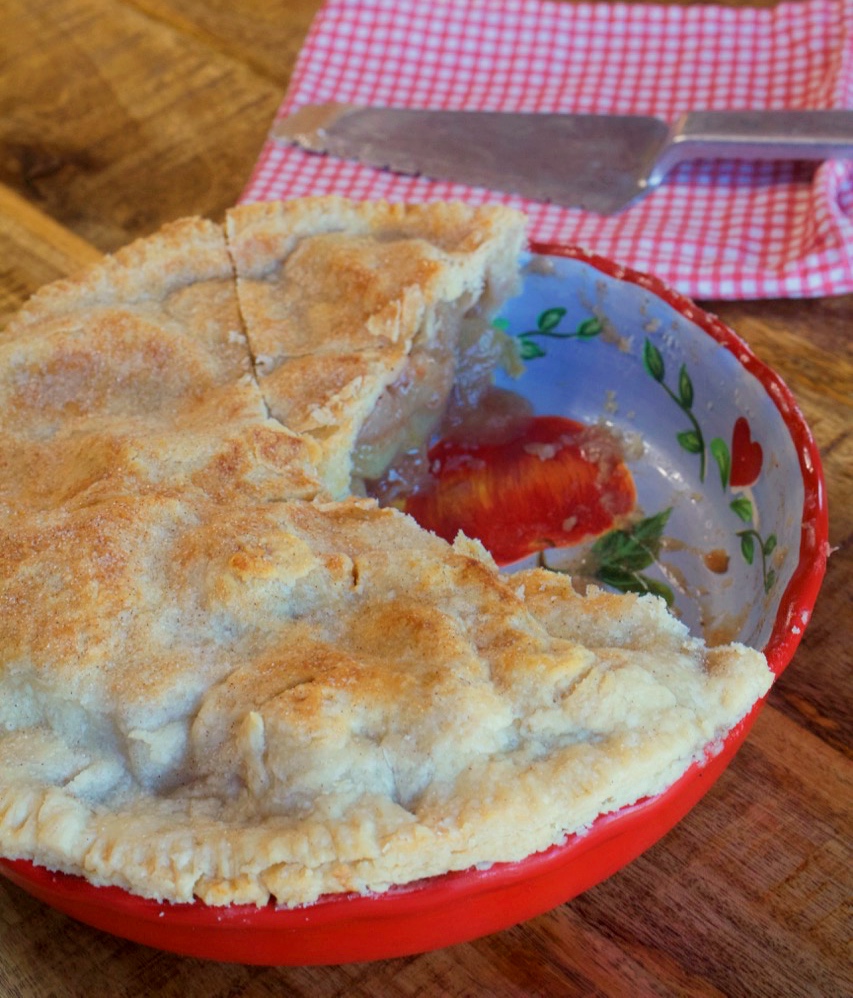 Pie Crust Recipe Tip
Use a pie crust recipe that makes a double crust.  I used Aunt Elsie's Flaky Pie Crust, but you can use any pie crust recipe as long as it's enough for a deep dish double pie crust.  Brush the top crust with a pie crust wash and sprinkle with sugar.  See my post on Pie Crust Washes to pick your favorite pie wash.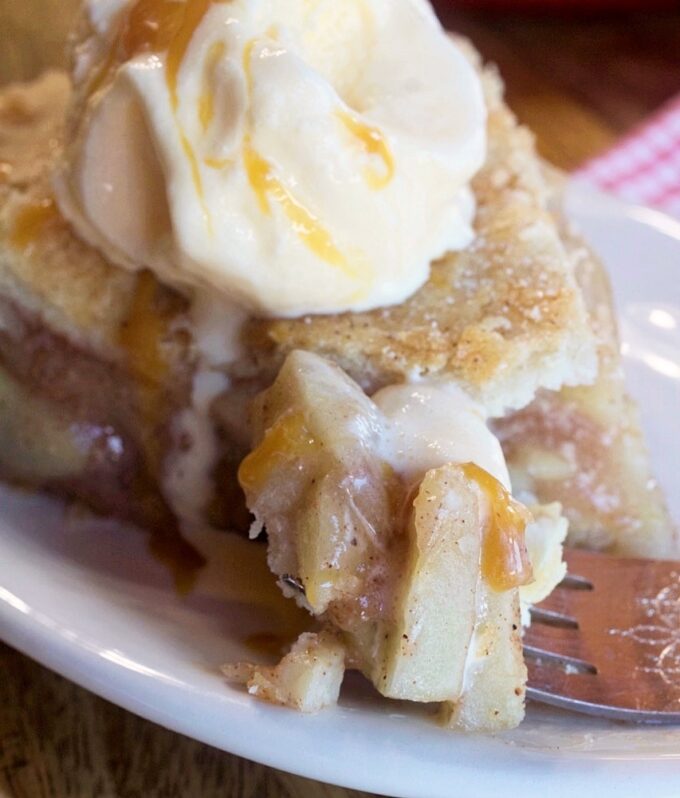 SO many more delicious apple recipes…
Slow Cooker Apple Pudding Cake 
Print
Country Apple Pie
Author:

Prep Time:

30

Cook Time:

50

Total Time:

80

Yield:

8

slices

1

x

Category:

Pies

Cuisine:

American
---
Description
This Country Apple Pie starts with crisp, tart Granny Smith apples that are coated with a warm spice mixture of cinnamon, nutmeg, and sugar. Then it gets a drizzle of cream and baked to tender perfection.  All it need is a scoop of ice cream!
---
1

double crust deep dish pie crust

1

cup

sugar

1/4

cup

all purpose flour

1/2 teaspoon

nutmeg

1 1/4 teaspoons

cinnamon

1/8 teaspoon

salt

4

large Granny Smith apples

3 tablespoons

half & half or heavy whipping cream
Cinnamon, sugar & pie wash for garnishing crust
---
Instructions
Preheat oven to 425 degrees.
Prepare the pie crust. Roll out the bottom crust and fit into a 9″ deep dish pie dish.
In a small bowl, whisk together the sugar, flour, nutmeg, cinnamon and salt and set aside.
Peel and slice the apples into thin slices, no more than 1/4″ thick and add to a large bowl. Add the dry ingredients and mix with a large spoon, spatula or your hands until all of the apples are coated with the dry mixture. Turn the apples into the pastry lined pie dish. Drizzle the half & half or cream over the apples.
Roll out the bottom crust and place over the top. Trim the crust to about 1/2″ past the edge of the pie dish. Fold the edge of the top crust over and under the edge of the bottom crust and slightly press the two together. Flute the edges or use a fork and crimp the edges. Using a sharp knife, cut 4-5 slits in the top crust for venting.
Brush the top crust with a pie wash, such as egg yolk and water, followed by a sprinkling of sugar or cinnamon and sugar mixed.
Place strips of 2″ deep foil around the pie edges and staple the ends together. Fold the top of the foil in slightly. Place pie on an old cookie sheet and bake for approximately 45 minutes to 1 hour until the apples are very tender when you insert a knife through one of the slits.
Cool pie for at least 20 minutes before serving.
Serve warm with ice cream or with a slice of Cheddar cheese.
---
Notes
Always place fruit pies on an old cookie sheet when baking. Fruit pies have a way of bubbling over.
Pie can set out of the refrigerator for at least one day. I like to bake it the day before serving and leave it at room temperature.
---
Keywords: apple pie, pie, pie recipes, fall desserts, apples, apple desserts, desserts,
There may be affiliate links in this post. We are a participant in the Amazon Services LLC Associates Program, an affiliate advertising program designed to provide a means for us to earn fees by linking to Amazon.com and affiliated sites.