Chocolate Pumpkin Swirl Brownies
Pumpkin and chocolate come together to make the perfect decadent pair in these rich super moist and dense Chocolate Pumpkin Swirl Brownies. You'll have a tough time deciding which flavor you like the most.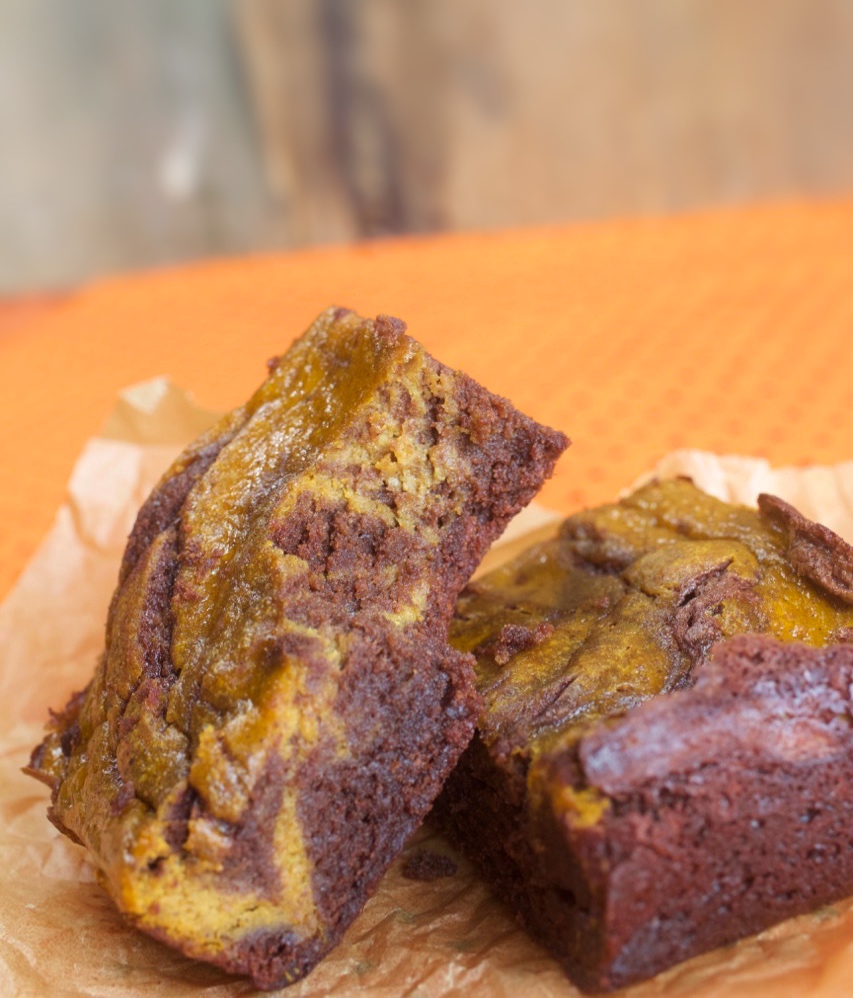 Are you able to name your number one favorite thing about Fall? If you can, I'm proud of you, because I sure can't. I simply love everything about Fall, from the beautiful Fall foliage and crisp Fall air to the wonderful Fall foods.
Speaking of Fall foods, I love every Fall food that I've ever tried. Of course, there are some desserts that are just plain ole' tradition when it comes to Fall and Thanksgiving, and I think you know where I'm going with this. Yep, Pumpkin Pie. There are other pies that fall under the Fall-Thanksgiving category, but Pumpkin Pie seems to be the number one Fall pie. Would you agree? Actually, anything pumpkin spells Fall in my book.
When I was growing up, I couldn't wait for my mom to make Pumpkin Pie, but one thing I don't remember my mom ever doing was combining chocolate with pumpkin. As a matter of fact, I don't recall anyone combining the two, and trust me, we had plenty of bake sales back in the day.
The first time I was introduced to the combination of chocolate and pumpkin was a couple of years ago when my friend Sandra asked me to try one of the bakery cookies she had purchased. They were big, thick, and soft pumpkin cookies with chocolate chips. What??? I didn't even want to try one, but skeptical Cindy caved because it was sugar and she is addicted to sugar. Not bad! I could get used to eating chocolate and pumpkin together. Yes, I'll admit it's growing on me.
Then I got to thinking. Uh oh, (blonde, old and senile). If a store bakery could make a decent pumpkin cookie with chocolate chips, I wonder what I could do by experimenting in the kitchen.
Well, I'm happy to say that after trial and error I developed two chocolate pumpkin recipes, and I'm sharing the first one with you today, Chocolate Pumpkin Swirl Brownies. My first attempt was not a success. I didn't have an equal amount of moistness between the pumpkin and chocolate, but I'll have to say, that I was pleasantly surprised at how my second attempt turned out. Both chocolate and pumpkin turned out equally super moist and equally full of flavor. Wow…was I wrong when I thought chocolate and pumpkin didn't complement each other.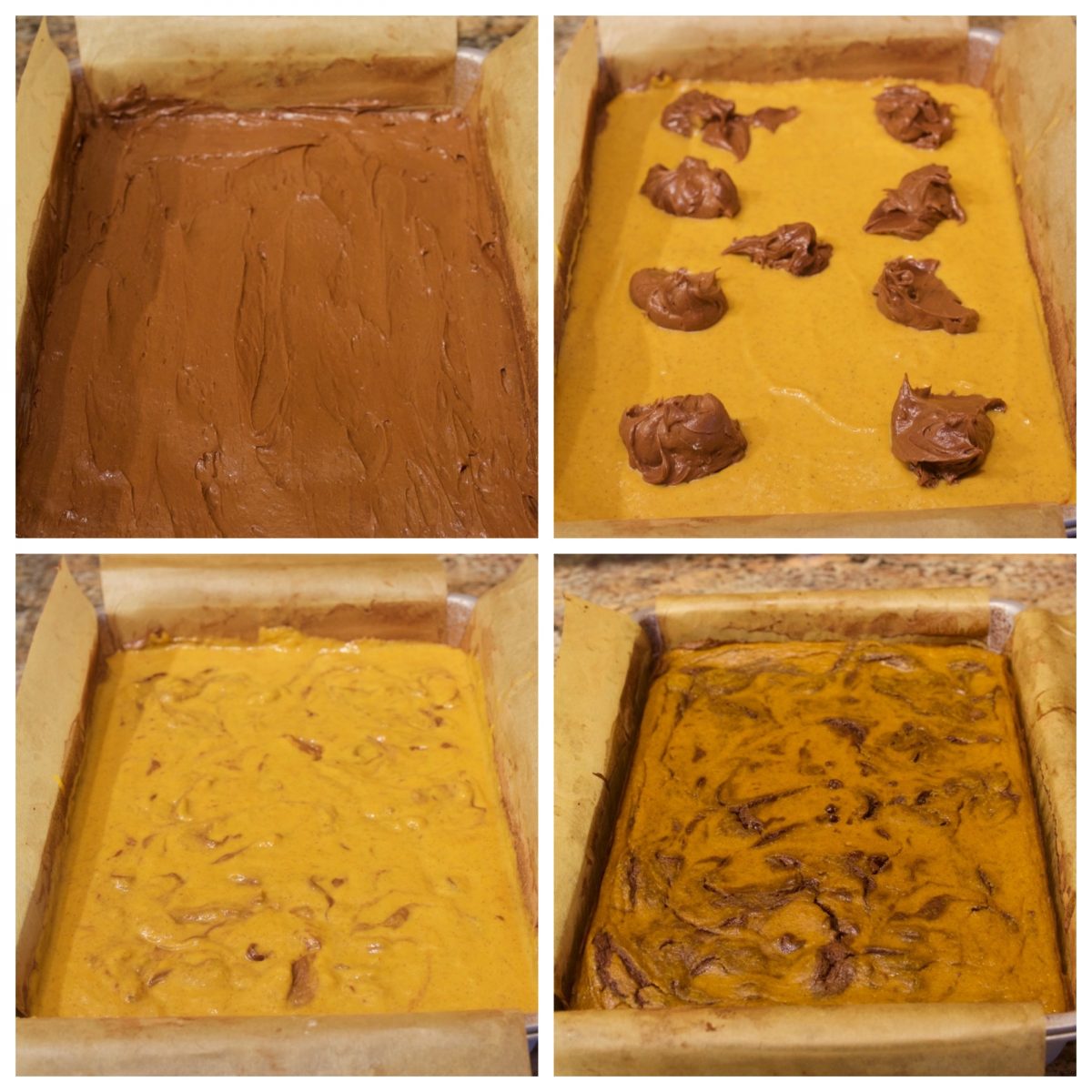 I never thought I'd ever say that I loved the combination of chocolate and pumpkin, but here I am, saying it and making it. These brownies aren't hard to make and let me tell ya, there's enough to go around. They bake in a 9 x 13 pan, so you might think they wouldn't be real thick, but they are super thick.
Fall is in the air and I'm definitely adding these to my Thanksgiving desserts this year. Bake up a batch of these super moist brownies, and let me know what you think!
Recommended for this recipe...
Print
Chocolate Pumpkin Swirl Brownies
Author:

Prep Time:

30

Cook Time:

60

Total Time:

90

Yield:

1

6

1

x
---
Description
Pumpkin and chocolate come together to make the perfect decadent pair in these rich super moist and dense Chocolate Pumpkin Swirl Brownies. You'll have a tough time deciding which flavor you like the most.
---
For the Brownie Batter
2/3

cup

all purpose flour

1 1/2 teaspoons

baking powder

1/2 teaspoon

kosher salt

2

sticks butter, unsalted

1

bag bittersweet chocolate chips, 10 ounces (I used Ghirardelli, 60% cacao)

3

eggs, room temperature

1 1/4

cups

sugar

2 tablespoons

cold brewed coffee

2 teaspoons

pure vanilla extract
Cocoa for dusting pan
For the Pumpkin Batter
3

large eggs, room temperature

1

can pumpkin puree, 15 ounces (Note: Do not use pumpkin pie filling)

1/3

cup

firmly packed light brown sugar

1/2

cup

heavy whipping cream

2 teaspoons

pumpkin pie spice

1/4 teaspoon

cinnamon

1/2 teaspoon

kosher salt
---
Instructions
Preheat oven to 350 degrees.
Butter the bottom and insides of a 9 x 13 inch baking pan. Line the pan with parchment paper and allow paper to hang at least one inch over edge of pan. Butter the parchment paper and dust the paper and insides of pan with cocoa. Set aside.
For the Brownie Batter
Sift or whisk together the dry ingredients in a medium bowl and set aside.
Cut butter into small pieces and place in a medium microwavable bowl. Microwave for 40 seconds. Add chocolate and mix to coat chocolate with butter. Microwave for 30 seconds and stir. Microwave for 30 more seconds and whisk until chocolate is melted and smooth and chocolate and butter are combined well. Set aside.
In a large mixing bowl, using an electric mixer, mix the eggs sugar, coffee and vanilla together on medium speed. Add the chocolate mixture and mix on medium speed to combine. Add the dry ingredients and mix on low speed just to incorporate. Do not over mix. Set aside.
For the Pumpkin Batter
In a medium bowl, combine the eggs, pumpkin, sugar, whipping cream and pumpkin pie spice. Mix together with a wooden spoon or whisk.
Combine Chocolate and Pumpkin
Spread the chocolate batter evenly in the prepared baking pan, reserving one cup of the batter. Spread the pumpkin batter evenly over the chocolate batter.
The remaining chocolate batter will have thickened some.  Warm the batter in a microwave for 10 seconds to thin it and to make it more spreadable.  Place dollops of the remaining chocolate batter over the top. Use a knife to cut through batter and make gentle back and forth swirls through the batter. Turn pan one turn and repeat. Gently shake pan to even out the batter. Note: If the one cup of chocolate becomes too thick, add 1 teaspoon of butter, microwave for ten seconds and mix.
Bake for approximately 55-60 minutes or until a toothpick inserted into the center comes out with moist crumbs. Note: If toothpick comes out clean, you have over baked them.
Transfer brownies to a wire rack. Allow to cool completely before cutting. Grab sides of parchment paper and lift straight up to lift brownies from pan. Using a pizza cutter or bench scraper, cut brownies into 16 large bars or 20 smaller bars.
---
Notes
Do not use a 9 x 9 pan to achieve thicker brownies. These brownies are very thick when baked in a 9 x 13 inch pan.
Store brownies in an airtight container.
Brownies will stay fresh for four days.
Brownies make 16 large or 20 smaller brownies.
Keywords: brownies, chocolate brownies, pumpkin brownies, chocolate pumpkin brownies, pumpkin recipes,
There may be affiliate links in this post. We are a participant in the Amazon Services LLC Associates Program, an affiliate advertising program designed to provide a means for us to earn fees by linking to Amazon.com and affiliated sites.