Homemade Apple Dumplings
These homemade Apple Dumplings are an old-fashioned favorite. They get stuffed with butter, sprinkled with cinnamon and sugar and wrapped in soft pie dough. Then they get bathed in a cinnamony syrup and baked until the apples are tender and so aromatic that you won't be able to wait to eat one!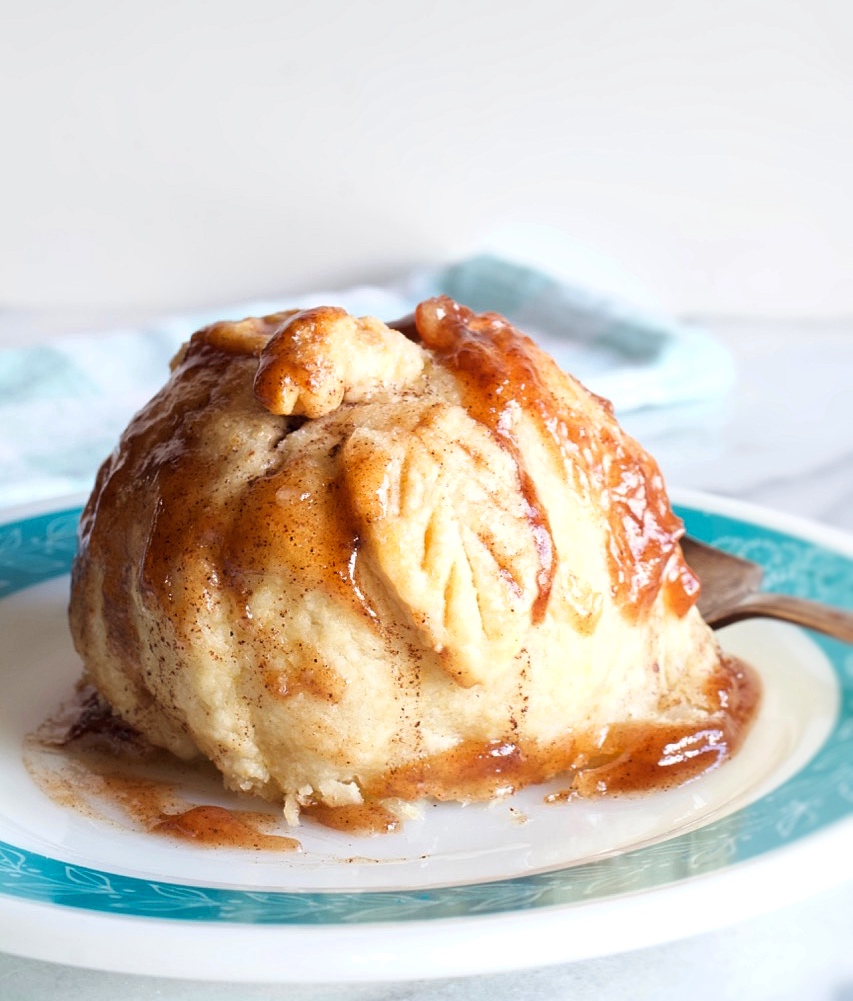 I fondly remember when my mother used to make these homemade Apple Dumplings. She used to mix vanilla ice cream with some half & half to pour over the warm dumplings. I always waited to see if someone didn't want theirs, but I never got that lucky. They disappeared before they had time to reach room temperature. When I bake them, the aroma takes me back to my childhood all over again.
If you love Apple Pie, you'll love these Homemade Apple Dumplings, and if you can make apple pie you can make apple dumplings. Yes, they do require a few more minutes to prep than making apple pie, but they're worth it, especially if you're serving them to guests. They will be so impressed when you serve them their own special apple dumpling with a scoop of vanilla ice cream or their favorite topping.
Don't worry!! I'm going to walk you through each step of making these delicious apple dumplings, so you don't have to feel intimidated by making them.
Let's start with the sauce…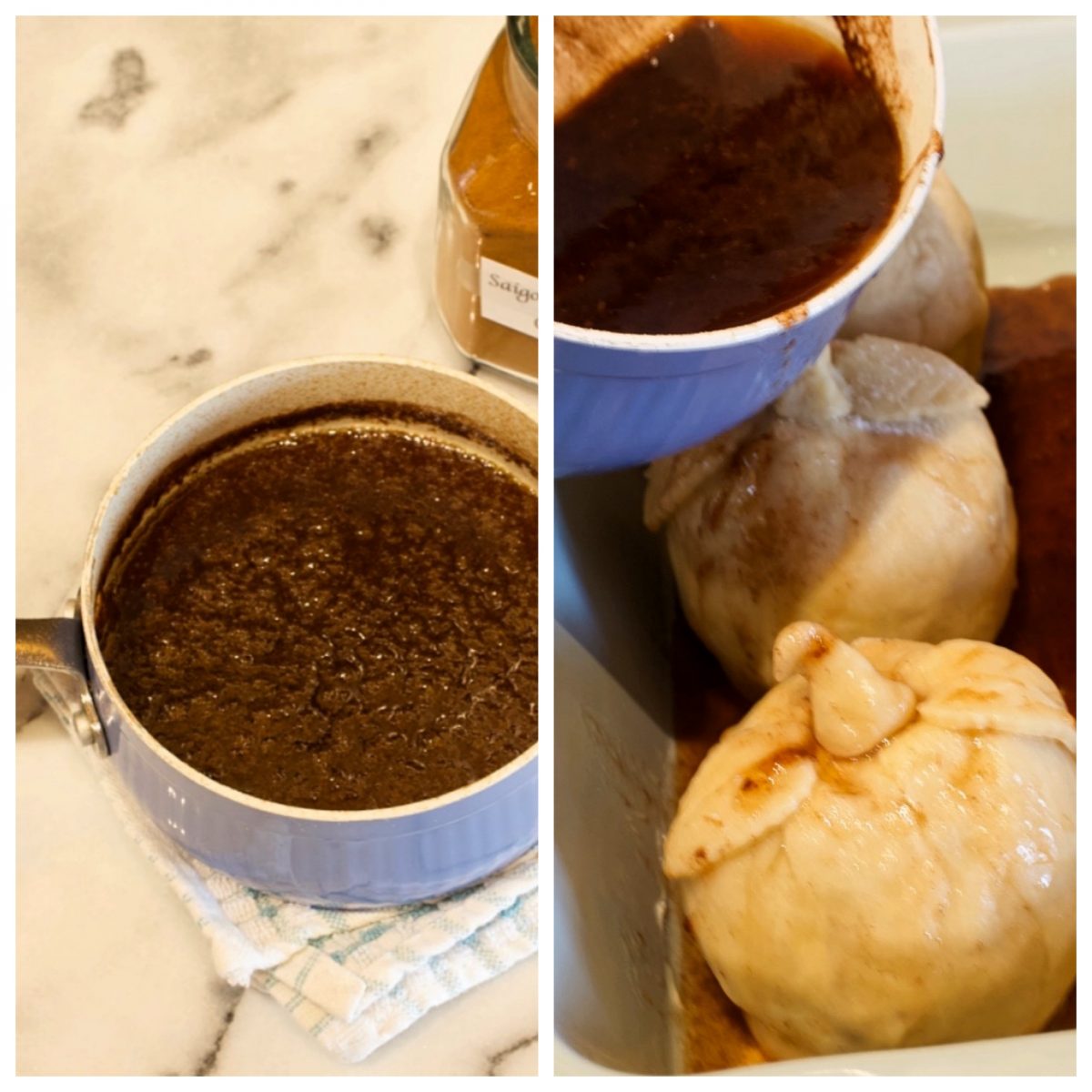 The sauce gets made first. It's made of water, sugar, cinnamon, butter, and cornstarch. All you do is bring it to a boil over medium heat and let it simmer for 3 to 4 minutes and remove it from the heat. Allow the sauce to cool while you're making the dough and prepping the apples. Once you've placed the apples in a baking dish, you'll pour the sauce over them. Once they are baked, you'll spoon the sauce back over them before serving.
You'll make the pie dough next…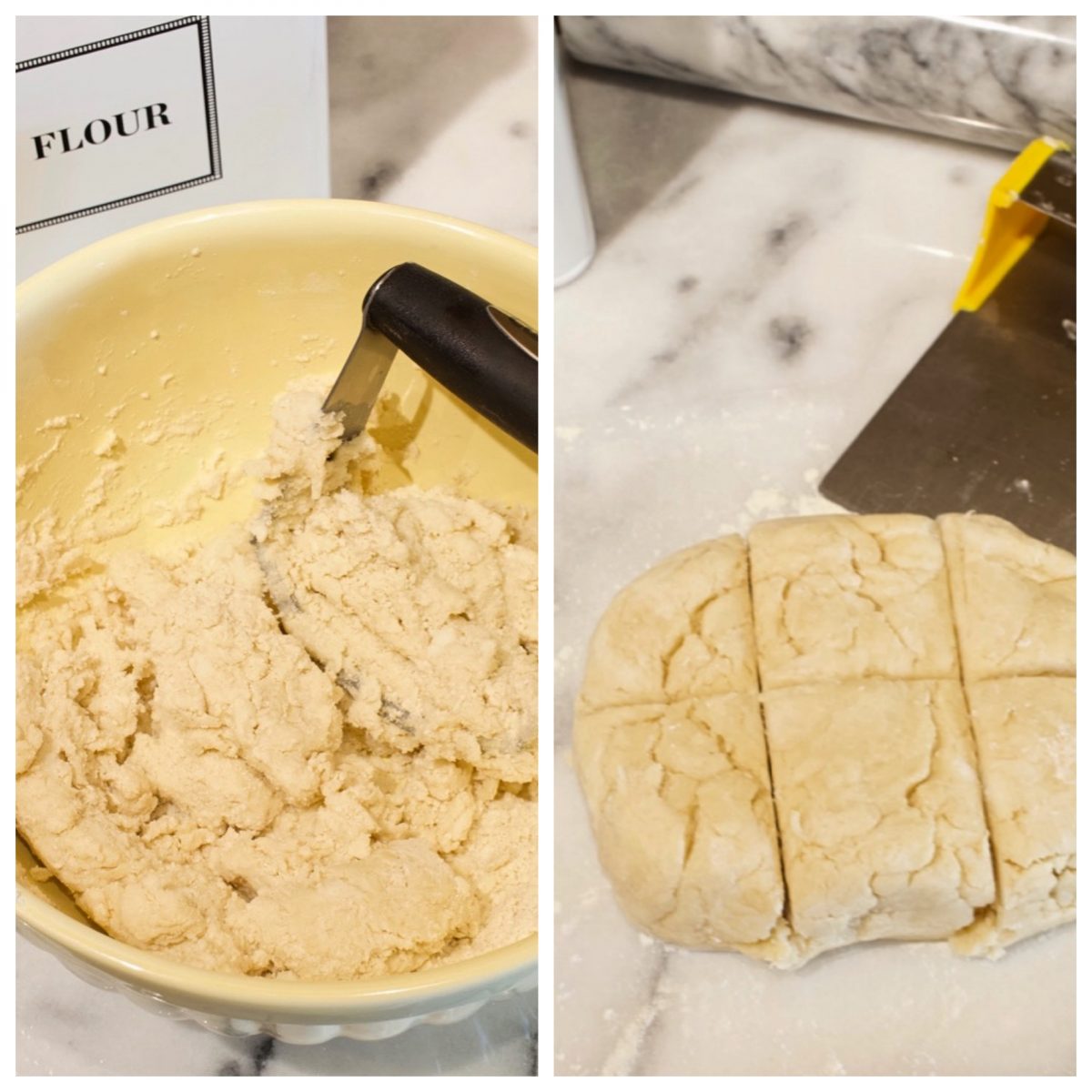 The pie dough is made with flour, baking powder, salt, solid shortening, and cold milk. It gets mixed together and refrigerated while you're prepping the apples. Then it gets divided into 6 equal pieces for the 6 apples. You can also use store-bought pie dough if you prefer. It needs to be enough for a double-crust pie.
The next step is prepping the apples and wrapping them with dough…
You'll start by coring each apple. It's important to use small apples, not large. You can place the apples in a bowl of ice water while prepping them, to keep them from turning brown, if you prefer. It's not really necessary since you're baking the apples, but if you do place them in ice water, make sure you pat them dry before placing them on the pie dough.
Then roll out one piece of the dough, big enough to wrap around an apple. It doesn't have to look perfect, as long as it's big enough to wrap around the apple.
Place an apple in the center of the piece of pie dough. Stuff at least 1 teaspoon of butter into the hole of the apple, more if you can. The more the better! Sprinkle the apple generously with sugar and cinnamon. Don't measure it, just do it. The more cinnamon, the better, I say!!!
Then bring the dough up around the sides of the apple. I use a bench scraper to go under the dough all around the apple, just to ensure that it's not sticking to the floured surface. Lift the dough up and around the apple, cupping it with your hands and pressing it upward around the apple. The dough doesn't need to be really thick. I press it upward, thinning out the dough as I go. When I get to the top of the apple, I pinch off any excess dough, (save for leaves) and pinch together and close the dough on top of the apple.
The leaves and stems…
I used the dough scraps to cut out leaves, using a miniature leaf cookie cutter. Then used a knife to make tiny veins on the leaves. Once I cut out the leaves, I formed that leftover dough into stems. Sometimes I run out and can't make enough leaves and stems for all of the apples. Again, this goes back to making sure you don't have the dough too thick around each apple.
I pressed one leaf on each side of an apple, pressing down lightly on the stem of each leaf to adhere it to the dough on the apple. Then I formed a stem and pressed it into the center. I sprinkled a little more sugar on the apples, but you really don't have too. I poured the sauce over them and baked them.
The perfect Fall dessert!!!
If you love Apple desserts, check out my recipe for Country Apple Pie.
If you make this recipe please rate it, and leave a comment below on how you liked it. I love getting your feedback! 🙂
Wanna see different recipes each day? Feel free to follow me on Facebook, Pinterest, & Instagram.
Print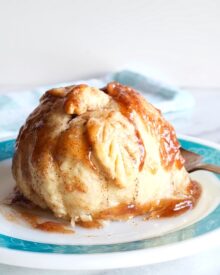 Homemade Apple Dumplings
Author:

Prep Time:

30 minutes

Cook Time:

45 minutes

Total Time:

1 hour 15 minutes

Yield:

6

servings

1

x

Category:

Dessert

Method:

Bake

Cuisine:

American
---
Description
These Homemade Apple Dumplings will take you back in time.  The apples are cored and filled with a tiny bit of butter, sprinkled with cinnamon and sugar and wrapped in a soft pastry dough.  They get finished with a cinnamon sauce that gets poured over them before baking them to a golden brown.  They are a perfect dessert to welcome Fall or for any time of year!
---
THE SAUCE
1

cup

water

1

cup

granulated sugar

1/4 teaspoon

cornstarch

1 teaspoon

cinnamon

2 tablespoons

butter
THE DOUGH
2

cups

all-purpose flour

2 teaspoons

baking powder

1 teaspoon

salt

1

cup

Crisco solid shortening, cold

7 tablespoons

milk, very cold
THE APPLES
6

small Granny Smith apples, or Gala or Macintosh

6 tablespoons

butter
Sugar & cinnamon for sprinkling over apples
---
Instructions
THE SAUCE
Add the water, sugar, cornstarch, cinnamon, and butter to a small saucepan.  Bring to a boil over high heat.  Reduce to medium heat and allow to simmer for about 4 to 5 minutes.  Remove from heat and allow to cool while preparing the dough and apples.
THE DOUGH
Preheat oven to 375 degrees.
In a large bowl, whisk together the flour, baking powder, and salt.  Using a pastry blender or two forks, cut the shortening into the flour mixture until small pieces form in the size of peas.  Add the milk and mix with your hands or a fork just until it forms a ball.  Wrap the dough in plastic wrap and place it in the refrigerator while you prepare the apples.
Peel and core the apples.  See more below under THE APPLES.
Place the dough on a floured surface.  Pat the dough into a rectangle.  Using a bench scraper or knife, cut the dough into six equal pieces.  See the pictures above the recipe.
Place one piece at a time on a lightly floured surface.  Roll each piece into a thin piece of dough, big enough to come up the sides and to the top of an apple.  The dough doesn't need to be a perfect square or anything, just big enough.
Place an apple on a piece of rolled out dough.  Place about 1 tablespoon of butter in the hole of the apple.  You can add more if you like, as long as it will fit.  Generously sprinkle cinnamon and sugar over the top of the apple.
Wrap the dough around the sides of apple and seal it on the top.  I use a bench scraper to go under the dough all around the apple first, to make sure it's not sticking to the work surface.  Note:  Cupp your hands around the apple, molding the dough upward against the apple.  The dough doesn't need to be very thick around the apple.  I try to make it as thin as possible.  Besides, you need the excess dough for making leaves and stems.  Pinch off any excess dough on the top of each apple and save it for the stems and leaves.  Make sure there are no openings in the dough.
Place the apples in a buttered  9 x 13 baking dish, making sure they are spaced at least one inch apart.
Roll out the extra dough and use a small leaf cookie cutter to cut leaves.  Then use those dough scraps to form tiny log shapes to use as stems.  If you don't have a tiny leaf cookie cutter, you can use a sharp knife and form your own leaves.
Place a dough stem on top of each apple, pressing down slightly on the bottom to mold it into the dough on top of the apple.  Form it however you like.  I slightly bend over the top of the stem.  Place a leaf on each side of the stem and slightly press down on the stem of the leave to mold it into the dough on the apple.
Pour the sauce over the dumplings.  Sprinkle with some additional sugar, if desired.  Bake for about 45 to 50 minutes until the pie crust is a golden brown and the apples are tender when tested with a sharp knife.
Spoon the sauce back up over the apples and serve warm with ice cream or your favorite topping.
Refrigerate leftovers for up to three days.
To reheat, place in a microwave for about one minute.  The sauce will be thicker the second day but tastes just as good.
THE APPLES
Peel and core the apples.  Place the apples in a large bowl of ice water if you don't want them to turn brown.  However, it doesn't matter if they turn brown.  They are going to be baked anyway.  If you do place them in ice water, make sure you pat them dry with a paper towel before wrapping them in the pie dough.
---
Notes
I used Granny Smith apples for this recipe.  However, any baking apple will work.
Make sure to use small apples for this recipe.  I've tried using the larger apples and they don't work as well.  There's not enough dough scraps to make leaves and stems and they also take longer to bake.
Keywords: apple dumplings, apple dessert, desserts, apples, fall desserts, fall recipes, fruit desserts,
There may be affiliate links in this post. We are a participant in the Amazon Services LLC Associates Program, an affiliate advertising program designed to provide a means for us to earn fees by linking to Amazon.com and affiliated sites.