Super Moist Chocolate Mocha Cupcakes
The addition of coffee enhances the chocolate flavor of these dark and Super Moist Chocolate Mocha Cupcakes and their creamy delectable mocha frosting melts in your mouth.
On the blog today, Chocolate!!!  Yes, I realize it's been a while since I've posted something chocolate, so today I'm making up for it with these Super Moist Chocolate Mocha Cupcakes.
I'm not just talking about chocolate here either.  I'm talking about two perfect partners, chocolate and coffee.  In case you don't already know, coffee enhances the flavor of chocolate, so if you're not a coffee lover, don't fret.  You won't taste the coffee.
I made these moist delicious cupcakes for my son, Justin, when he came to visit yesterday, and there's a funny story behind why I made them for him.
A few days ago, my granddaughter, Maya, told me that her dad loved chocolate more than anything else and that I should make something chocolate for him when they come to visit again.  This really surprised me.  I had always thought that he didn't care for chocolate but loved peanut butter.  Where have I been all these years?  I don't even know what my own son likes!!!
So yesterday when they came to visit, I greeted Justin in the kitchen and said, "Look, I made you some dark chocolate cupcakes since you love chocolate."   He looked sort of bewildered and replied, "Mom, I've never loved chocolate.  Maya is the one who loves chocolate."  We all had a good laugh as we watched Maya grab the first cupcake from the tray, while not making eye contact with me.  This joke was on Grandma!!
Back to these super moist chocolate mocha cupcakes, I knew I wanted to make chocolate cupcakes, but I didn't want to make a huge amount like most recipes make.  I only wanted to make about a dozen or so. Therefore, I reached for one of my favorite recipes.  This recipe makes one dozen cupcakes, the perfect amount if you're not feeding a crowd.
Let's talk about what makes these cupcakes so light and chocolatey.  A small dose of apple cider vinegar is just what the cake doctor calls for to make these cupcakes light and fluffy.  The vinegar acts like a leavening agent to help the cupcakes rise and expand.  Coffee is added to help enhance the chocolate flavor.  Chocolate and coffee always complement each other.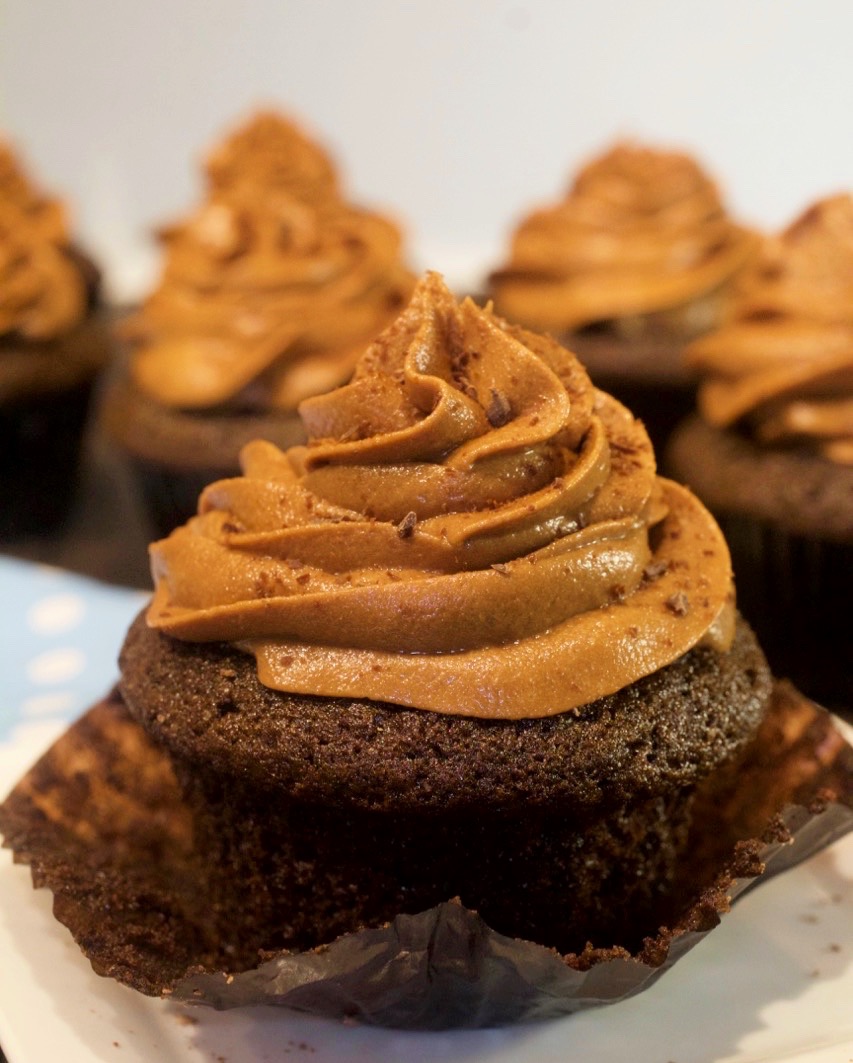 Oh yes, let's not forget the creamy Chocolate Mocha Frosting.  That's right.  The chocolate frosting has coffee too. Again, in case you're not a coffee lover, don't worry.  You can't taste the coffee.  It just enhances the chocolate flavor. The frosting is just as quick and easy to make as the cupcakes.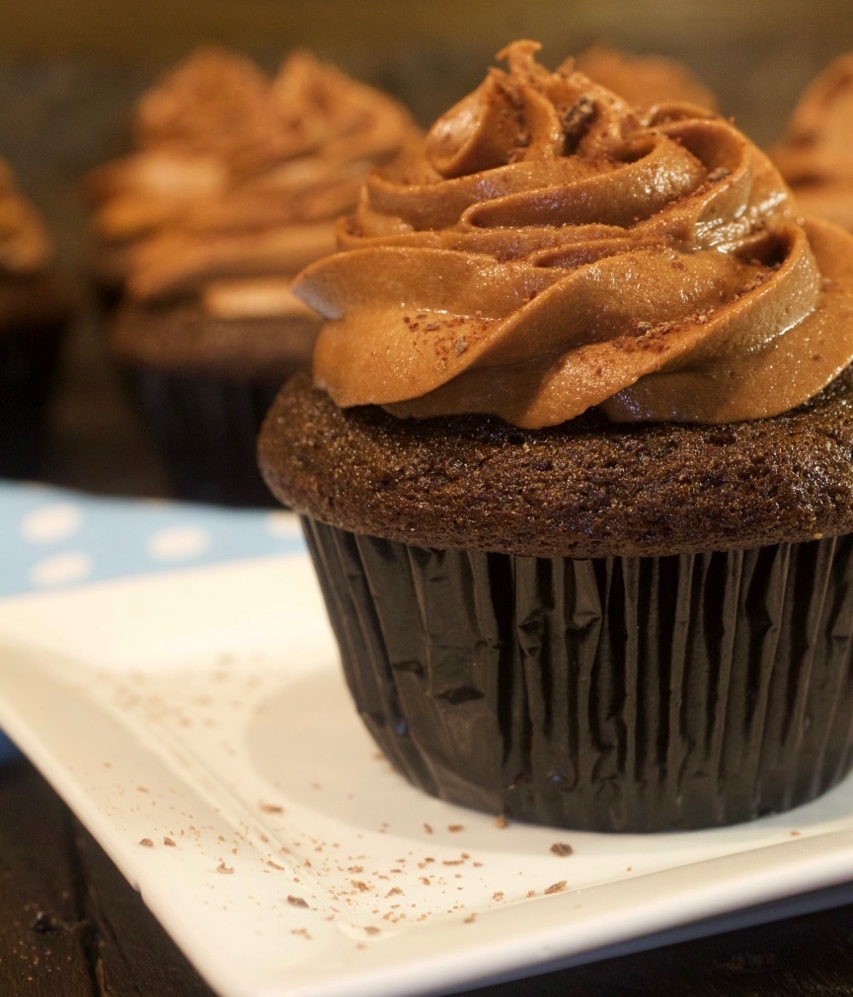 Print
Super Moist Chocolate Mocha Cupcakes
Author:

Prep Time:

25

Cook Time:

20

Total Time:

45

Yield:

1

2

1

x

Category:

Cupcakes

Method:

Bake

Cuisine:

American
---
Description
The addition of coffee enhances the chocolate flavor of these dark and Super Moist Chocolate Mocha Cupcakes and their creamy delectable mocha frosting melts in your mouth.
---
For the Cupcakes
1 1/2

cups

all-purpose flour

1

cup

granulated sugar

1/3

cup

cocoa (not dutch processed)

1 teaspoon

baking soda

1/2 teaspoon

salt

2

large eggs

1/2

cup

brewed coffee, cold

1/2

cup

plus

1

tablespoon

vegetable oil

1 tablespoon

apple cider vinegar

2 teaspoons

pure vanilla extract
For the Frosting
1/2

cup

milk chocolate chips (good quality such as Ghirardelli)

1/3

cup

real butter, softened

3 1/2

to

4

cups

powdered sugar

3 tablespoons

brewed coffee, cooled, (more if needed)
Shaved or grated bittersweet chocolate for garnish
---
Instructions
Preheat oven to 350 degrees. Line 12 muffin cups with paper liners.
For the Cupcakes
In a small bowl, whisk together the flour, sugar, cocoa, baking soda and salt and set aside.
In a large mixing bowl, mix together the eggs, coffee, oil, vinegar and vanilla, using a wooden spoon or an electric mixer.
Add the dry ingredients to the wet mixture and mix just long enough to incorporate the dry ingredients.
Using a large cookie scoop, divide batter equally between the twelve muffin cups.
Bake for approximately twenty minutes or until a toothpick inserted in the center of a cupcake comes out with a few moist crumbs on it. Allow cupcakes to cool for five minutes in muffin pan and transfer to a wire rack to finish cooling.
For the Frosting
Place the chocolate in a small microwavable bowl. Microwave for thirty seconds and stir. Microwave for an additional twenty seconds and stir to finish melting chocolate.
Add the chocolate, butter and coffee to a large mixing bowl. Combine, using an electric mixer. Add the powdered sugar, one cup at a time, mixing well after each addition. Continue adding sugar until the frosting is thick enough to hold ridges on its own when the mixer is stopped. If frosting appears to be too thick, add a little bit more coffee. If it appears to be too thin, add a little more sugar.
Decorate cooled cupcakes with frosting. I used a 1M open star tip to pipe the frosting on the cupcakes for this recipe.
I sprinkled grated bittersweet chocolate over the frosting, but feel free to use chocolate sprinkles or garnish of your choice. They're just as great with no added garnish.
Store cupcakes in an airtight container until ready to serve. Eat within two days.
---
Keywords: chocolate cupcakes, cupcakes, cupcake recipes, valentine desserts, valentine recipes, chocolate recipes, chocolate frosting,
There may be affiliate links in this post. We are a participant in the Amazon Services LLC Associates Program, an affiliate advertising program designed to provide a means for us to earn fees by linking to Amazon.com and affiliated sites.