Homemade Spiced Applesauce
Fill your kitchen with the intoxicating aroma of warm spices, when you make this Homemade Spiced Applesauce made from fresh-baked apples, warm spices, and brown sugar. A perfect touch of Fall.
I can't believe Labor Day is one week away, and here in Kentucky, we've had beautiful Fall-like weather the past couple of days.  I've had all of my windows open and I am chomping at the bit, waiting for Fall to actually arrive and the leaves to start turning.  When I think about Fall, I think of pumpkins, apples and warm spices, and yesterday my mind was gearing towards baking something with apples.  Something with apples and warm spices. Something I could eat for breakfast or dessert.  It didn't take long for me to decide on homemade chunky applesauce spiced with warm spices.  It would be something simple.  I could make it on the stove top, in a crock pot or bake it in the oven.  Since I was going to be home all day, and it was nice and cool, I decided to use my oven.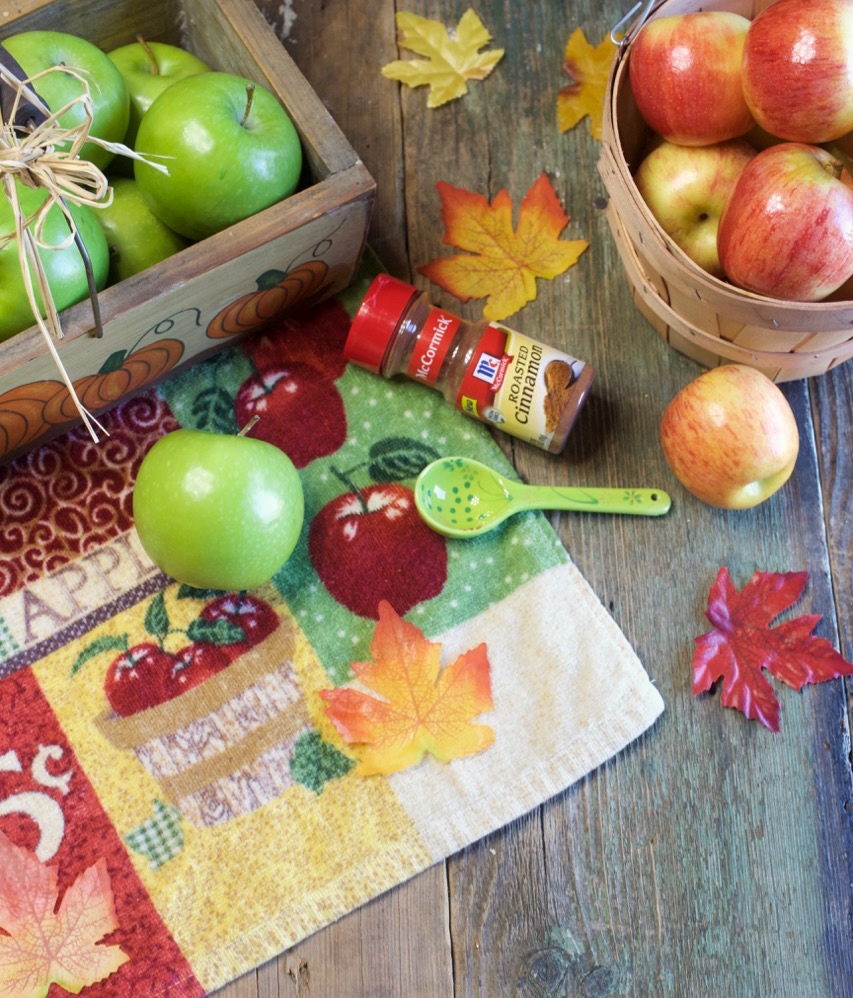 I decided to use apples that were great for baking, so I sent Don out to get me some tart Granny Smith apples and some sweet Gala apples.  Any baking apple will work such as Braeburn, Rome Beauty, Honeycrisp, Winesap, etc.  You just wanna make sure you have a balance of tart and sweet.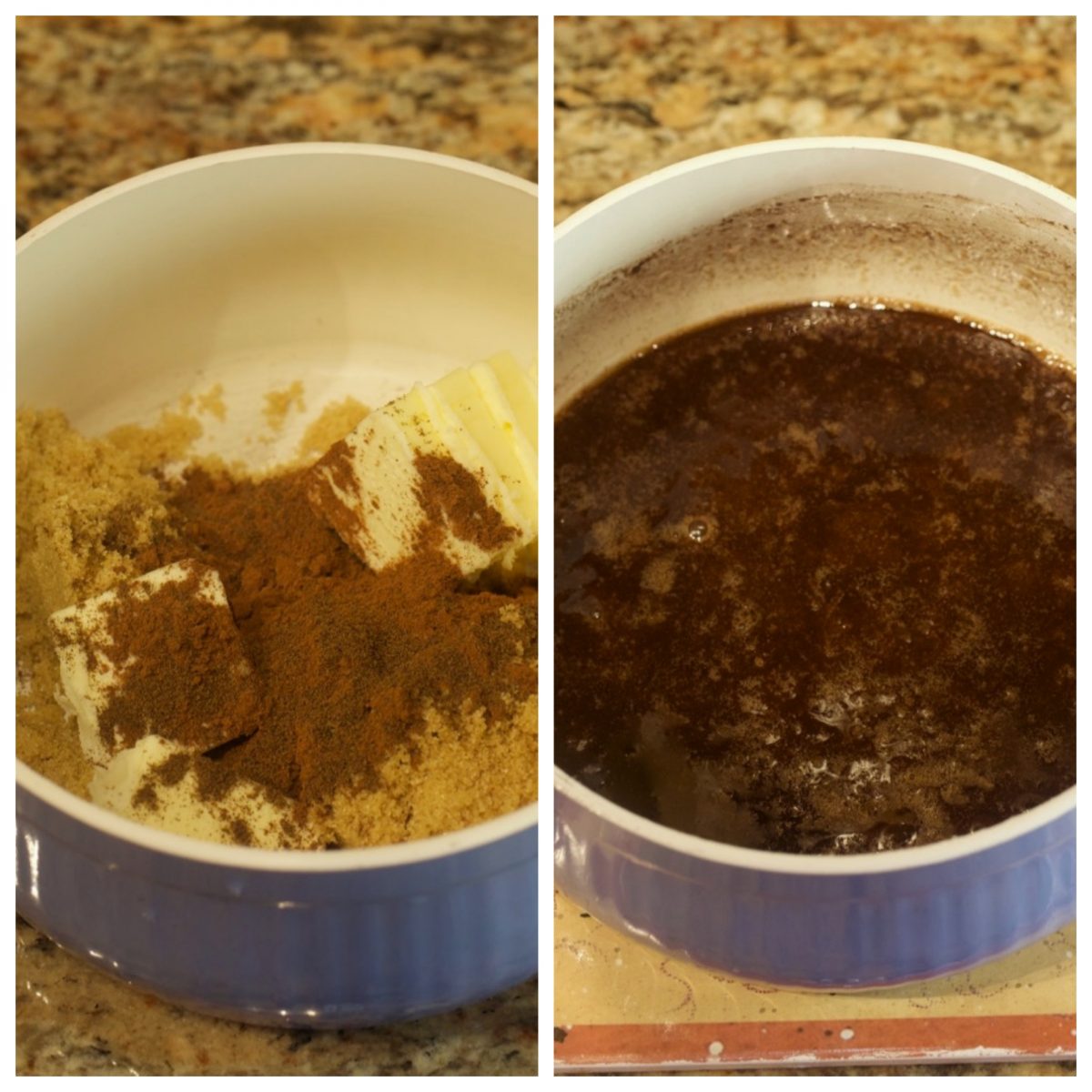 All I did was add some brown sugar, butter, cinnamon and allspice to a small pan.  I heated it until the butter melted and the sugar dissolved and mixed it to combine.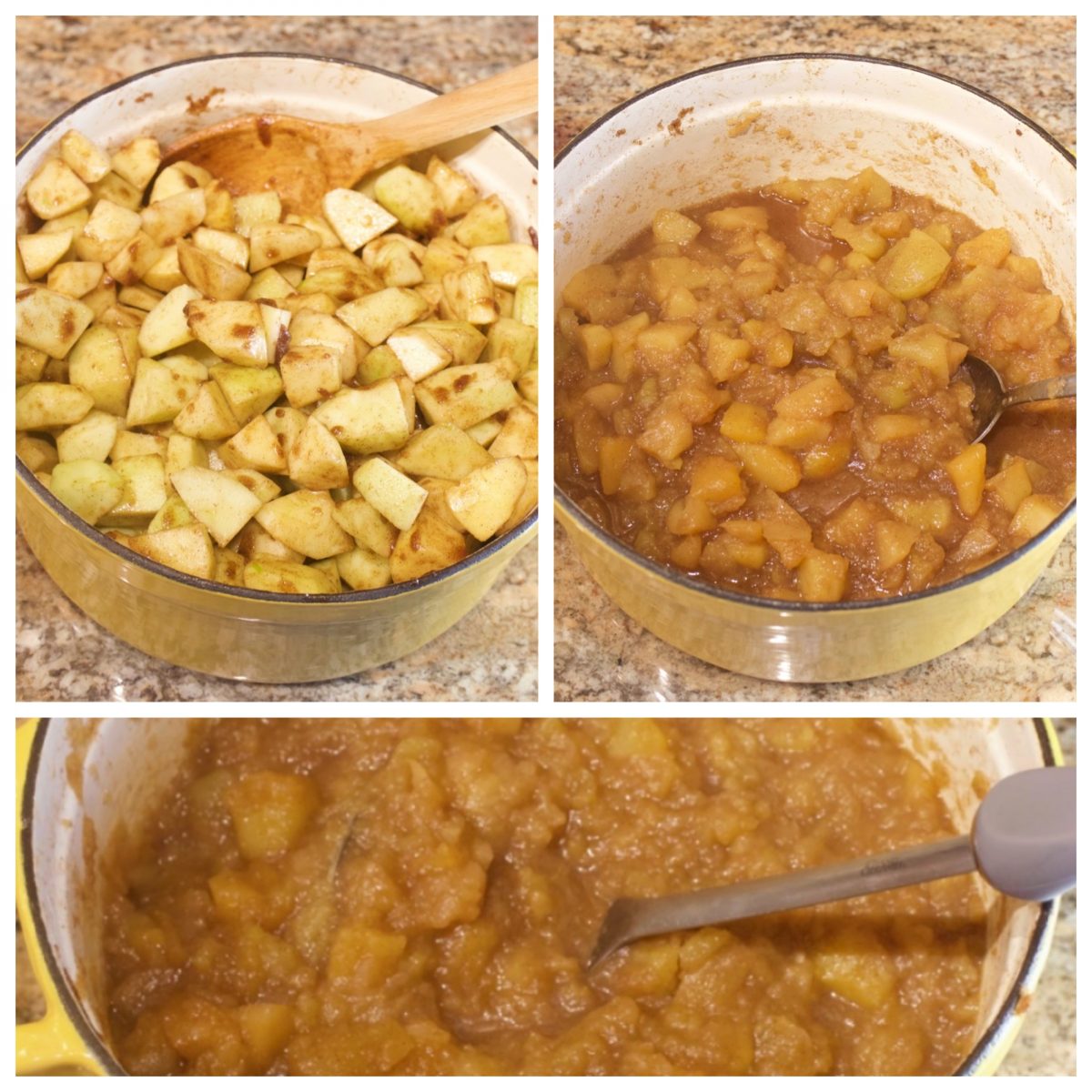 As far as the apples, the hardest part was peeling, coring and slicing the apples, if you can call that hard.  Here's all I did…
I sliced the apples into 1/2 inch slices, and I cut each slice in half.
I drizzled my sugar spice mixture over them and turned them with a large spoon to coat all of the apples with the mixture.  Next, I placed them in a covered dutch oven in my oven and left them to bake.
Once the apples baked until they were very tender, I used a potato masher and mashed about half of the apples, leaving the remainder in chunks.  I prefer chunks of apples when I'm piling applesauce on top of a hot biscuit to stuff in my mouth, but to each his own.
Tip:  When making applesauce, make sure you use a non reactive pan.  Why?  I'll explain.  Apples are acidic. Acidic foods react with reactive pans, such as copper and aluminum.  If you cook apples in one of these pans, especially if you are simmering them for a while, the result will be a mild metallic taste in the apples. Yuk factor!! Ceramic, glass, stainless or any metal with an enamel coating is safe and non reactive cookware for cooking acidic foods.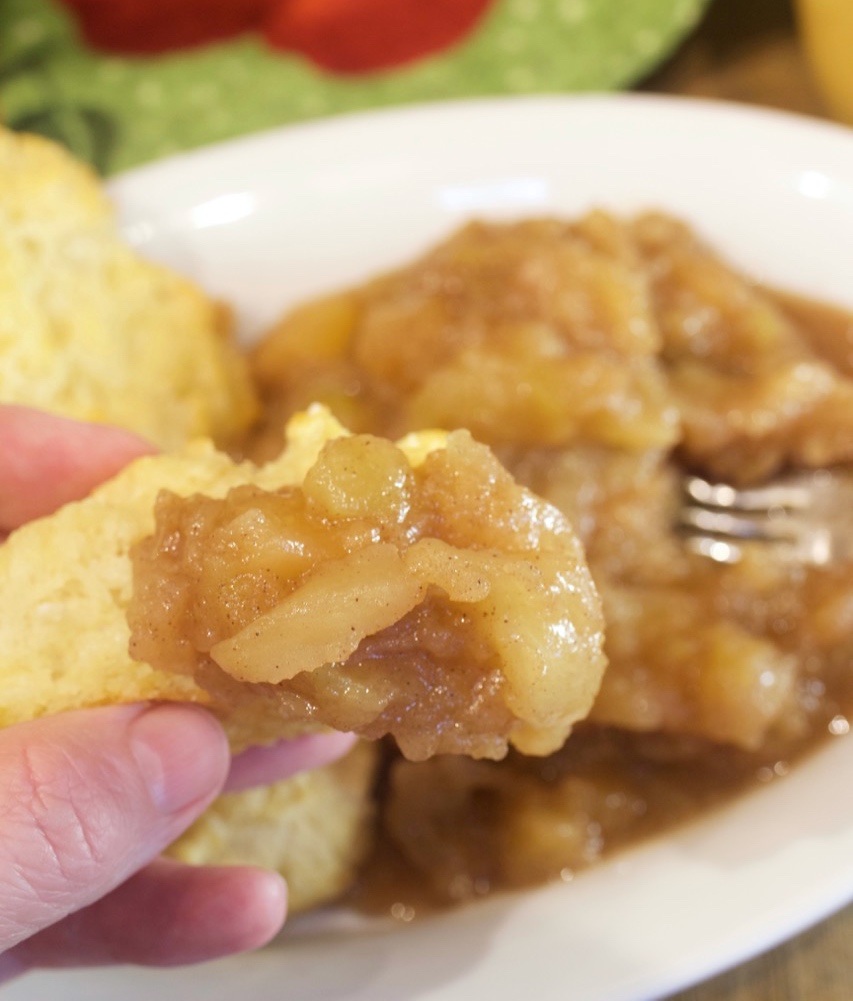 Happy Prelude to Fall…
Print
Homemade Spiced Applesauce
Author:

Prep Time:

30

Cook Time:

90

Total Time:

120
---
Description
Fill your kitchen with the intoxicating aroma of warm spices, when you make this Homemade Spiced Applesauce made from fresh-baked apples, warm spices, and brown sugar. A perfect touch of Fall.
---
3

pounds

Granny Smith apples

3

pounds

sweet baking apples such as McIntosh, Gala

1/2

stick real butter, unsalted

1/2

cup

packed light brown sugar

2 teaspoons

cinnamon

1/4 teaspoon

allspice
---
Instructions
Preheat oven to 350 degrees.
Place butter, sugar, cinnamon and allspice in a small saucepan. Heat over medium heat until butter has melted and mix to combine. Remove from heat and set aside.
Peel and core apples. Cut into wedges about 1/2 inch wide and cut wedges in half to form chunks.
Place apples in a dutch oven or (non-reactive pan). Add the sugar mixture and toss to coat all of the apples.
Place lid on dutch oven. Bake for approximately 1 1/2 hours or until apples are tender.
Using a potato masher, mash about one half of the apples and leave the rest in chunks, or you can mash all of them if you prefer.
Serve warm with your favorite biscuits or latkes.
Refrigerate or use within five days.
Stove Top Variation
Simmer over medium low heat for approximately 25 minutes until apples are very tender, stirring occasionally.
Crock Pot Variation
Add 1/2 cup water and cook on low heat for 7-8 hours until very tender.
---
Notes
*Yield approximately 2 quarts.
Applesauce can be frozen for up to six months.
There may be affiliate links in this post. We are a participant in the Amazon Services LLC Associates Program, an affiliate advertising program designed to provide a means for us to earn fees by linking to Amazon.com and affiliated sites.