Fresh Apple Cake
This Fresh Apple Cake is incredibly moist and full of fall flavors, and it's absolutely loaded with apples, nuts, and raisins.  It's SO moist and flavorful, that it doesn't even need frosting, but I've included a delicious caramel glaze recipe for those who think they might need it.  You can't go wrong with this recipe.  It's a delicious cake to eat for breakfast, dessert, or anytime and it's perfect for those fall outdoor gatherings!
When Fall is in the air, I start thinking about this wonderful Fresh Apple Cake that my Aunt Helen used to make when I was growing up. It is so…moist and packed full of apples, nuts, raisins, and of course the perfect touch of those warm fall spices.  This cake is so moist and delicious, that I don't even entertain the thought of adding a glaze or frosting over it.  It is absolutely perfect the way it is.  However, for any of you who might want a touch of frosting or glaze on this cake, I've updated this recipe and added a caramel glaze recipe that totally complements the fall flavors in this cake.  If you want a cake that is delicious and moist but not so rich that you can't eat but one small piece, this is the cake, my friends.
There's absolutely nothing hard about making this cake.  The hardest part is dicing up the apples if you call that hard.  Now tell me, what cake couldn't be absolutely delicious when it's packed full of apples, raisins, nuts, and warm spices?  This Fresh Apple Cake also has a cup of oil in it, making it incredibly moist.
TIPS FOR HOW TO KEEP YOUR CAKE FROM STICKING TO THE PAN…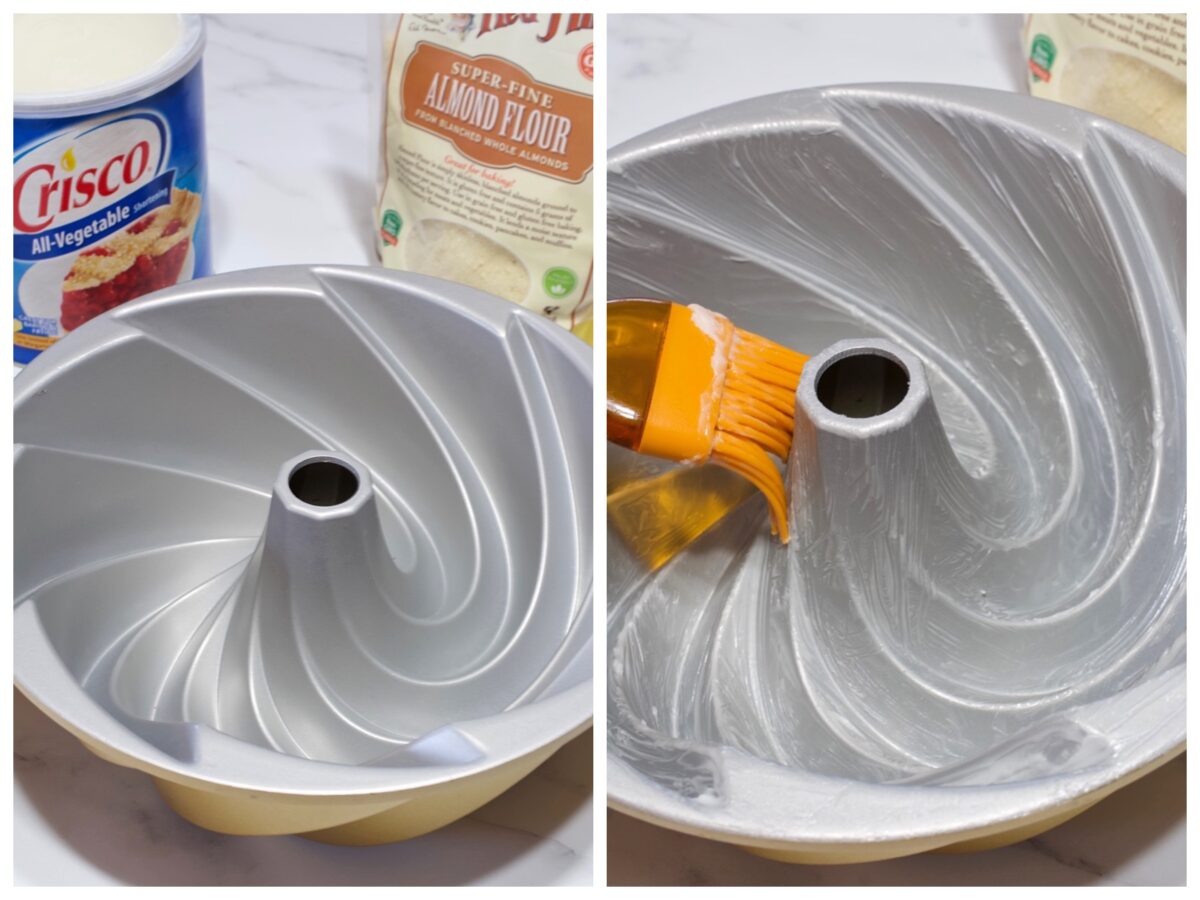 Use a non-stick pan.  Non-stick pans allow cakes that are baked in pans with lots of nooks and crannies to come out perfectly clean.
Choose a pan that is metal and not too dark.  Darker pans can cause over-browning on cakes
Grease the bundt pan liberally with solid shortening.   Use a pastry brush and make sure to reach every nook and cranny and brush the inside tube.  It's even more important to get every nook and cranny if you're using a pan like the one above with an elaborate design.  If you don't have solid shortening and must use liquid, don't prepare the cake pan until you've mixed the cake batter or the oil will run down the sides of the pan and puddle in the bottom before the batter is ready.
Use almond flour to dust the pan if you have it.  Regular flour tends to leave a cakey residue of grease and flour on the bottom of cakes.  This wouldn't matter on a regular cake, but if you're inverting it, the bottom of the cake will become the top.  If you do have to use regular flour, make sure you tap the pan several times to remove all of the excess flour.
Once the cake is done, remove it from the oven and allow the cake to cool in the pan for about 10 minutes.  Run a sharp thin knife around the edges to make sure the cake is released around the sides and gently shake the pan up and down until you can feel the cake slightly bounce up from the bottom of the pan.  You might also need to run the knife around the center tube.  Invert the cake onto a wire rack and allow it to cool completely.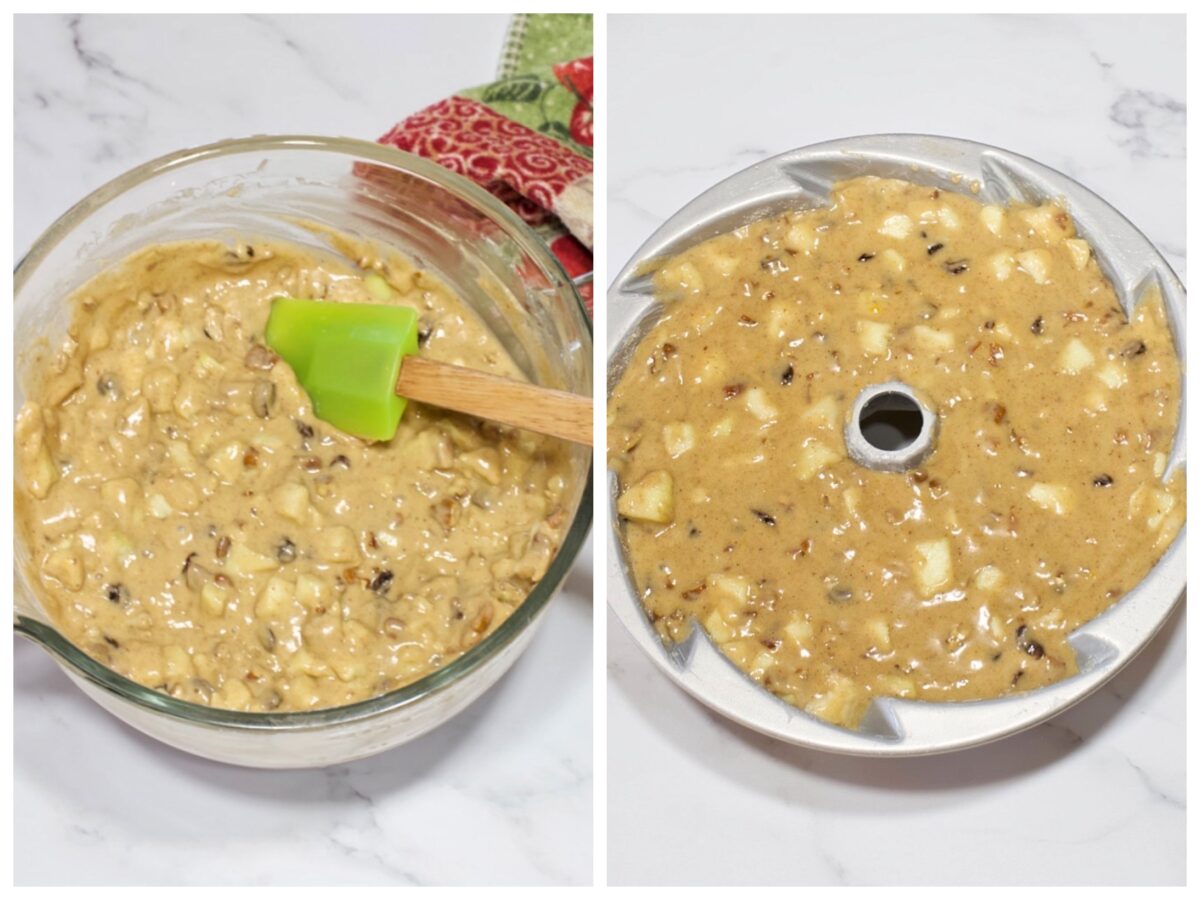 This cake batter is very thick, not like your normal thin cake batter.  You can mix it with a mixer or by hand, but I prefer a mixer with this recipe because I have a lazy arm.
Make sure you use a 12 cup bundt pan for this recipe.  As you can see, it's needed for this cake batter.
CARAMEL GLAZE (optional)
When you see how moist and delicious this cake is, I would venture to say that you will decide this caramel glaze is not needed, but you might make it for kicks anyway.  Therefore, if you decide to make the glaze, DO NOT be intimidated by making it.  It's much easier than you think…
HOW TO MAKE THE CARAMEL GLAZE…
Combine 2 cups of sugar and 1/4 cup of water in a medium saucepan.  Mix to wet all of the sugar and combine the sugar and water.  Cook over medium-high heat without stirring, but swirling the mixture around in the pan every 20 or so seconds, until the mixture turns an amber color.  This will take about 10 minutes.  Note:  As you can see in the third picture, (top row), there is a ring of crystallized sugar that formed around the inside of the pan.  If you don't want this to happen, dip a pastry brush in water and brush down the insides of the pan frequently with water while cooking the caramel, OR you can be lazy like me and allow it to form.  If you do, once the caramel is done, use a slotted spoon to remove the sugar ring from the insides of the pan.
Once the mixture becomes amber in color, remove it from the heat.  Slowly add 1/2 cup of heavy whipping cream, 1 teaspoon of kosher salt, and 1/2 teaspoon of vanilla extract.  Mix to combine and drizzle over cake.
Original recipe posted on 9/5/18.  Updated with an optional caramel glaze recipe.
Print
Fresh Apple Cake
Author:

Prep Time:

30 Minutes

Cook Time:

1 hour 15 minutes

Total Time:

1 hour 45 minutes

Yield:

12

Servings

1

x

Category:

Cakes

Method:

Bake

Cuisine:

American
---
Description
This Fresh Apple Cake is incredibly moist and absolutely loaded with apples, nuts, raisins, and warm fall flavors.  It's awesomely delicious and a perfect cake to take to fall gatherings!
---
CAKE
3

cups

all-purpose flour

1/2 teaspoon

salt

1 teaspoon

baking soda

2 teaspoons

cinnamon

1/2 teaspoon

nutmeg

3

eggs

1 1/2

cups

granulated sugar

1/2

cup

light brown sugar, lightly packed

1 1/8

cups

canola oil

2 teaspoons

pure Vanilla extract

4

cups

Granny Smith apples, peeled and diced, (about 3 large)

1

cup

raisins, regular or baking

1 1/4

cups

coarsely chopped pecans or walnuts
CARAMEL GLAZE (optional)
2

cups

granulated sugar

1/4

cup

water

1/2

cup

heavy whipping cream

1 teaspoon

kosher salt

1/2 teaspoon

pure vanilla extract
---
Instructions
Preheat oven to 350 degrees.  Read the notes above this recipe on how to prepare cake pan.
CAKE
In a medium bowl, sift together the flour, salt, baking soda, cinnamon, and nutmeg and set aside.
To a large mixing bowl, add the eggs, sugars, oil, and vanilla and mix on medium speed until well combined. Add the dry ingredients and mix just until the flour is almost incorporated. Add the apples, raisins, and nuts and mix again, just to incorporate.
Spoon the batter into the prepared bundt pan. Gently shake the pan back and forth to help level out the thick batter, then gently tap the pan on a counter to remove any air bubbles.
Bake the cake for at least one hour and up to one hour and fifteen minutes, depending on your oven. Mine took one hour and fifteen minutes. A toothpick inserted into the cake should come out with just slightly moist crumbs on it.
Let the cake rest for 5 to 10 minutes. Run a knife around the edges and gently shake the cake up and down until you feel it break away from the pan. Invert the cake onto a wire rack to completely cool, then transfer to a cake plate.
Store cake in an airtight container. The cake will stay fresh for up to five days.
CARAMEL GLAZE
  Read my detailed notes and see my illustrated pictures above this recipe before making the glaze.
Add the sugar and water to a medium saucepan.  Mix to combine, making sure all of the sugar is absorbed into the water.  Place over medium-high heat and cook without stirring, but swirling the pan around every 20 seconds or so, until the mixture becomes amber-colored about 10 minutes.  Remove the mixture from the heat.
Slowly whisk in the whipping cream, then salt and vanilla.  Mix well and allow to slightly cool and drizzle over cake.
---
Notes
This cake freezes well.  Wrap it tightly and freeze for up to 3 months, without frosting or glaze.
Read my notes above the recipe on how to prevent your cake from sticking before making this recipe.
Keywords: fresh apple cake
There may be affiliate links in this post. We are a participant in the Amazon Services LLC Associates Program, an affiliate advertising program designed to provide a means for us to earn fees by linking to Amazon.com and affiliated sites.