Southern Buttermilk Pie
Southern Buttermilk Pie is one of those simple pies from the depression era that is still loved today by southerners. It's made with pungent buttermilk, giving it just enough tang to add a delicious flavor. Once you eat this creamy custardy pie you'll be hooked for life!
Buttermilk Pie vs. Custard Pie vs. Chess Pie
First things first!!
There seems to be a lot of confusion between these 3 pies, and I cringe when I see so many posts on Buttermilk Pie where it's being compared to Chess Pie. Please allow me to clear this up!
Authentic Buttermilk Pie is not similar to Chess Pie
Buttermilk Pie is very similar to Custard Pie
Chess Pie is similar to Transparent Pie
Buttermilk Pie
Buttermilk pie is made with buttermilk, sugar, butter, flour, eggs, and vanilla extract. It's similar to Custard Pie but elevated with a complex deliciousness from the buttermilk. If you compare the picture below to the ones below it, you'll see it's not similar to them. Buttermilk Pie is ultra creamy and custard-like unless it's over-baked.
Custard Pie
Custard pie is made with milk, sugar, butter, flour, eggs, vanilla extract, salt, and nutmeg. Sorry, I haven't posted a Custard Pie yet or I'd show you a picture. Here's a picture of Baked Egg Custard Pudding.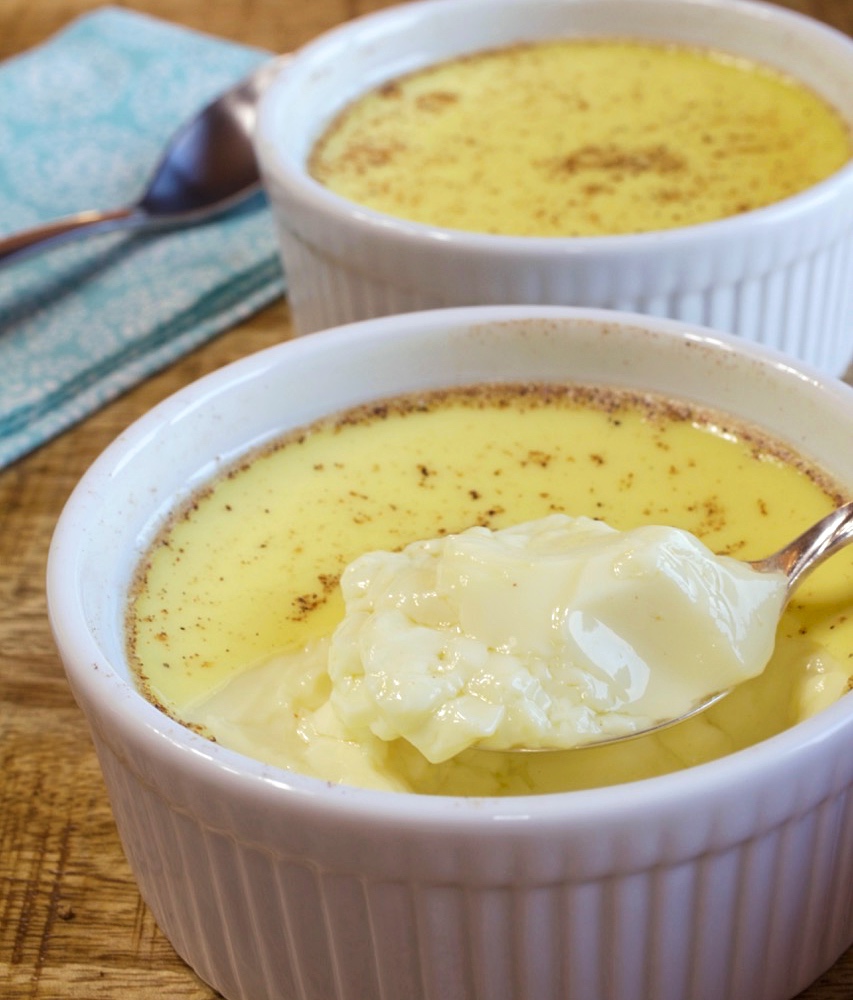 Chess Pie
Chess Pie is made with sugar, butter, egg, salt, vanilla, vinegar, and cornmeal. As you can see, there is no milk, cream, or buttermilk in Chess Pie. However, there is cornmeal and also vinegar, depending on the personal preference of the person making it. The picture below is Chess Pie. As you can see the texture is somewhat similar to that of Transparen Pie, but nothing like the texture of custard Pie.
Transparent Pie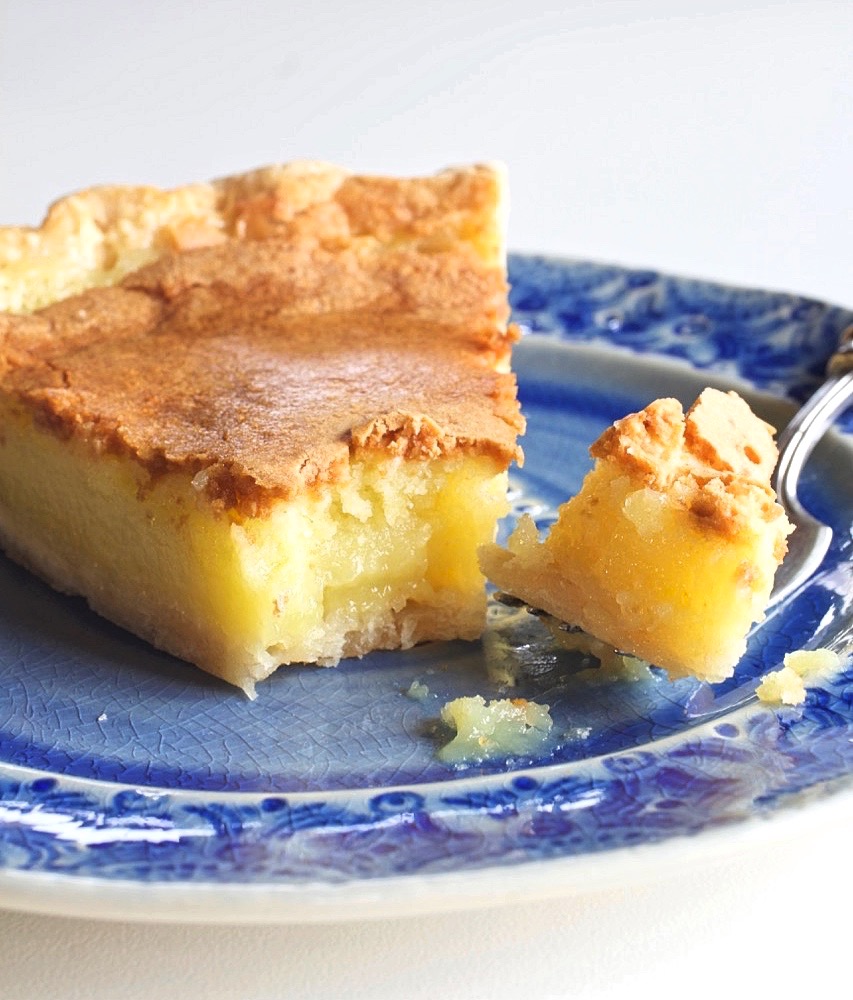 The history of Buttermilk Pie!
Buttermilk Pie is believed to have originated during the depression. This was during a time when some ingredients were either scarce or too expensive, leaving home cooks to make do with whatever they had in their pantry. Home cooks found a way to make a pie with few ingredients out of desperation, hence the name, desperation pies.
Buttermilk was the leftover thick pungent flavored liquid that remained after butter was churned. Although some older people liked to drink the tangy buttermilk, most people preferred regular sweet milk, making the buttermilk available to use in cakes, pies, and other baked goods.
Several pies originated during the depression out of pure necessity. These pies were all classified as desperation, depression, or make-do pies. Some of them include Buttermilk, Vinegar, Shoofly, Chess, Sugar Cream, Oatmeal, Mock Apple, Mock Mincemeat, Green Tomato, and even Water Pie.
There was no refrigeration during the depression. Therefore, fresh fruit was only available when it was in season. Staple ingredients were substituted for ingredients that weren't available. For example, Oatmeal Pie originated when oatmeal was substituted for nuts in some nut pies such as pecan.
Fresh butter, sugar, eggs, and flour were staple ingredients during the depression, although sugar was expensive. This recipe for Buttermilk Pie only calls for 2/3 cup of sugar and I personally think it has the perfect ratio of sugar to buttermilk. I love the flavor. However, I see some recipes for Buttermilk Pie, calling for up to 2 cups of sugar. I don't know if this is from an original version or a more modern-day version. My parents grew up in the depression, and I remember my mother talking about how expensive sugar was and how her family only had sugar on special occasions.
Print
Southern Buttermilk Pie
Author:

Prep Time:

15 minutes

Cook Time:

25 minutes

Total Time:

40 minutes

Yield:

8

Servings

1

x

Category:

Pies

Method:

Bake

Cuisine:

American
---
Description
This simple old-fashioned Buttermilk Pie has a creamy tangy filling that is very addicting, and it's simple to make.  You probably already have the ingredients to make it.
---
Pastry for a 9-single pie crust, store-bought or see my recipe for flaky pie crust).

1

cup

full-fat buttermilk

1/2

stick butter, melted

2

large eggs, beaten

1 teaspoon

pure vanilla extrat

2/3

cup

granulated sugar

3 tablespoons

all-purpose flour
---
Instructions
Prepare the pie shell:  Preheat oven to 375 degrees.  Line the pie shell with parchment paper.  Fill with dried beans.  Bake the pie shell on a bottom oven rack for 20 minutes or until the edges begin to turn a very light golden brown.  Remove the parchment paper and beans and return to the oven.  Bake for an additional 15 minutes or until the bottom crust is golden brown.
Preheat oven to 425 degrees.
To a large bowl, add the buttermilk, butter, eggs, and vanilla.  Whisk to combine.  Add the sugar and flour and whisk until the flour is totally incorporated, no lumps remaining.
Pour the filling into the prebaked pie shell.  Cover the edges of the crust with foil or a pie shield to prevent over browning.  If using a pie shield, you can wait until the last few minutes of baking to cover the edges.
Bake the pie for 10 minutes.  Reduce the heat to 350 degrees and continue baking until the edges puff up and the center is somewhat firm but still wiggly if you gently shake the pie, 20 – 25 minutes.  
Transfer pie to a cooling rack and allow the pie cool to room temperature before serving.
Refrigerate leftovers for up to 2 days.
---
Notes
Browning the top of the pie:  Some pies brown quicker than others on top.  The amount of sugar and butter in the recipe can contribute to how much the pie browns. If your pie is not browning as much as you prefer on the top, turn the oven to broil.  Place the pie back in the oven.  Watch carefully!  Leave the pie under the broiler for a few seconds until golden brown and immediately remove.  
Keywords: buttermilk pie, pie, southern pies, pie recipes, buttermilk, depression pies, the history of buttermilk pie,
There may be affiliate links in this post. We are a participant in the Amazon Services LLC Associates Program, an affiliate advertising program designed to provide a means for us to earn fees by linking to Amazon.com and affiliated sites.