Baked Egg Custard
I can't count the times I've made this easy homemade Baked Egg Custard.  It's one of my favorite easy desserts when I want something that's not overly sweet.  This custard is great served cold, warm, or at room temperature. 
Sometimes after a long day, I just want a simple dessert to satisfy my sweet tooth craving.   Nothing too rich, sweet, or heavy, just easy, delicious, and satisfying.  That's when I turn to baked egg custard.
Egg custard is one of those simple desserts from the old days that our grandmothers made.  Back in the day when expensive chocolate and nuts weren't an everyday staple in most kitchen pantries, most people always seemed to have an ample supply of eggs, milk, and cream.
Trust me, it doesn't get any easier than this recipe for baked egg custard…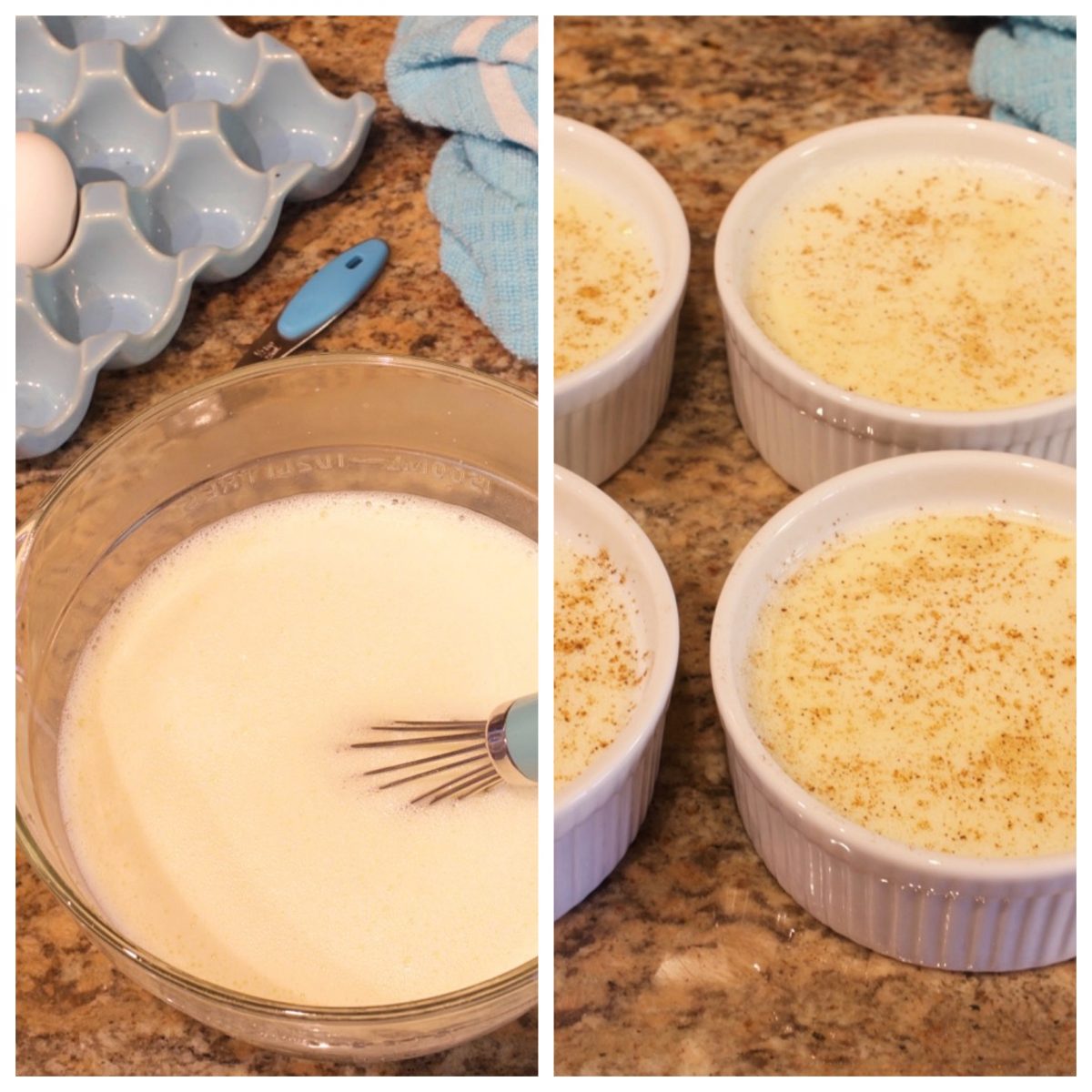 How to make Baked Egg Custard
There are 4 simple steps to making this baked egg custard…
Whisk together eggs, sugar, salt & vanilla
Whisk in some warm milk and half & half
Pour into ramekins and sprinkle with nutmeg
Bake in a water bath
WHY USE A WATER BATH?
The steam from a water bath gives custards and cheesecakes a moist, satiny smooth texture and prevents them from cracking on top.  I always use a water bath when I bake any type of custards or cheesecakes.
WHY DO I NEED TO REMOVE THAT LITTLE WHITE THING FROM THE EGG YOLKS?
That little white thing is called the Chalaza and anytime you're baking something that has a smooth and silky texture such as custard, you want the texture to be just that…silky and smooth.  The chalaza is very pronounced in such recipes.  I don't know about you, but I don't especially want little pieces of white stuff in my custard.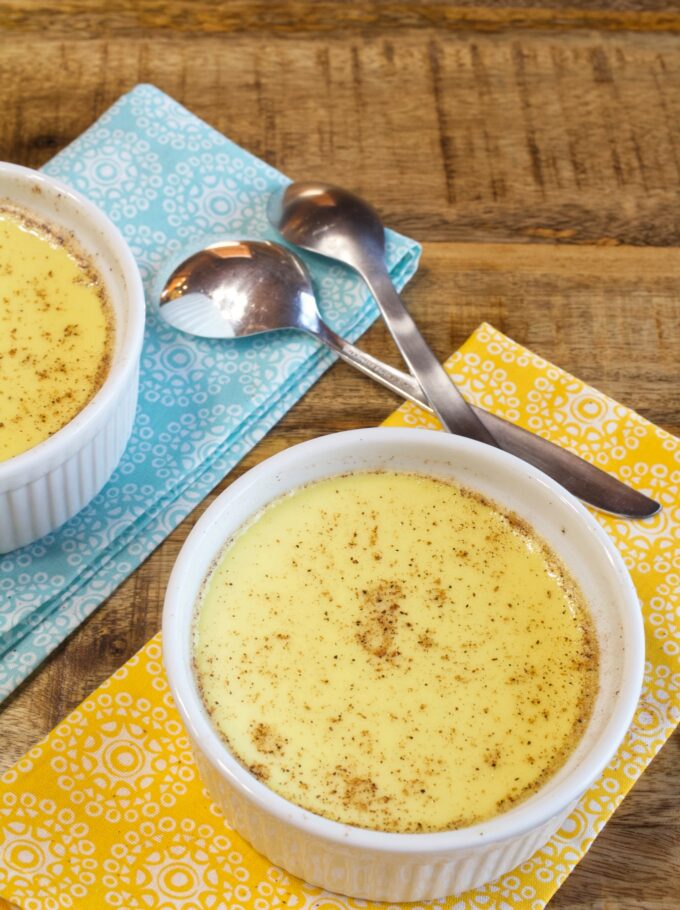 If you make this recipe please rate it, and leave a comment below on how you liked it. I love getting your feedback! 🙂
Wanna see different recipes each day? Feel free to follow me on Facebook, Pinterest, & Instagram. 
Print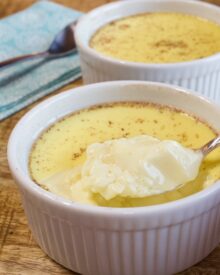 Baked Egg Custard
Author:

Prep Time:

15 Minutes

Cook Time:

45 Minutes

Total Time:

1 hour

Yield:

5

large servings

1

x

Category:

Desserts

Method:

Baked
---
Description
This egg custard is so smooth and silky and sprinkled with a touch of nutmeg.  It's the perfect dessert when you want something that's not too sweet or heavy.
---
4

large eggs

1/2

cup

plus

1

tablespoon

sugar

1/4 teaspoon

salt

1 teaspoon

vanilla extract

3

cups

2% milk

1

cup

half & half
Ground nutmeg
---
Instructions
Preheat oven to 350 degrees.
Using a small spoon, remove the little white thing, Chalaza from the egg yolks.  Add the eggs to a large bowl.  Whisk them for a few seconds, then add the sugar, salt, and vanilla and whisk until well combined.  Set aside while you warm the milk and half & half.  Add the warm milk and half & half to the egg/sugar mixture and whisk until smooth.  Pour the mixture through a strainer and divide between 5 large or 6 small ramekins.  Sprinkle nutmeg over the tops.  Place the ramekins in a large baking pan.  Carefully pour hot water in the pan, being careful to not spill water into the ramekins.  Pour the water until it reaches halfway up the ramekins.  Bake for about 45 minutes or until a sharp knife inserted into the centers comes out clean.  The custards will still be slightly jiggly in the centers.  Transfer custards to a wire rack and cool to room temperature.
Serve custard at room temperature or chilled.
If you're not serving the custards right away, cover the custards with plastic wrap, and refrigerate until ready to serve.  Serve chilled or allow to set for 20 minutes before serving.
Custards will keep refrigerated for up to 3 days but start to separate and become watery after that.
---
Keywords: baked egg custard, egg custard, custard,
There may be affiliate links in this post. We are a participant in the Amazon Services LLC Associates Program, an affiliate advertising program designed to provide a means for us to earn fees by linking to Amazon.com and affiliated sites.