Maysville's Historic Transparent Pie
This Historic Transparent Pie recipe has had more views than any other recipe on my blog.  It's a very popular recipe here in Kentucky, and it's no wonder.  One bite of its rich, custard-like filling and you'll be hooked on this delicious pie for life!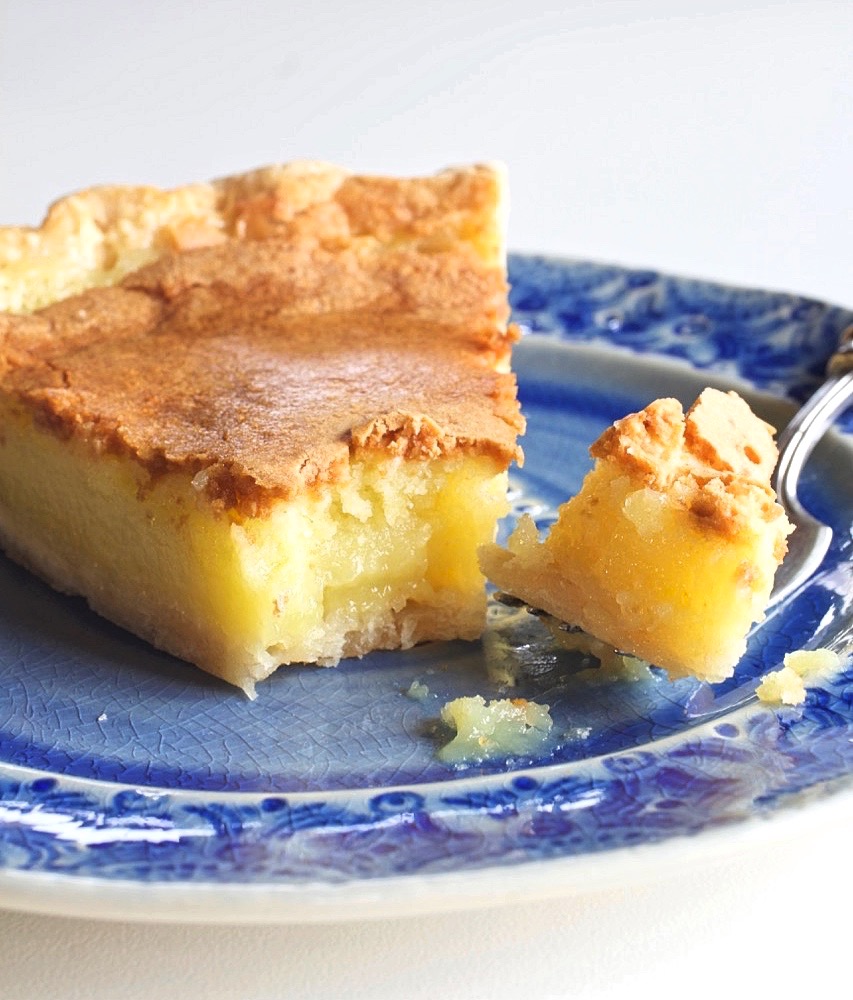 You might think you're looking at a piece of Chess Pie in the picture above.  I'll agree it does look like a piece of chess pie, but it's not. You might also wonder if this is could be a piece of Pecan Pie without the pecans, but it's not.  It's actually Transparent Pie. While it's more similar to chess than pecan pie, it's not exactly like either one.
Here are the differences…
Pecan Pie – contains sugar, eggs, vanilla, butter, corn syrup, and pecans, see my recipe for Southern Pecan Pie.
Chess Pie – Some recipes contain sugar, eggs, butter, vinegar, cornmeal, and vanilla.  Other recipes don't call for cornmeal or vinegar, but flour instead.  Then there are recipes that call for cornmeal but no vinegar.  And let's not forget, the recipes that call for a little milk.  It's no wonder there's a lot of confusion when it comes to Chess Pie, and Chess Pie looks very much like Transparent Pie.  See my recipe for Southern Chess Pie.  
Transparent Pie – contains sugar, eggs, butter, flour, vanilla and whipping cream.
I've been making all three of these pies for many years or I would probably be confused more than anyone.  Now let me tell ya about Transparent Pie…
Transparent Pie goes way back to the frontier days, where families made pies using whatever pantry goods they had on hand.  They had no refrigeration in those days, and these pies did not have to be refrigerated.  It was determined many years ago, that Transparent Pie originated in Kentucky, and not just anywhere in Kentucky, but in the Maysville Kentucky area, which is 30 minutes from my hometown of Brooksville, Kentucky.  Transparent Pie is a very well-known pie in this area, although it's not well-known to many people, even in some parts of Kentucky.  You can find this recipe in the Best of The Best of Kentucky cookbook, and it's also been posted in the Ledger Independent newspaper for Maysville Ky.
Magee's Bakery Transparent Pie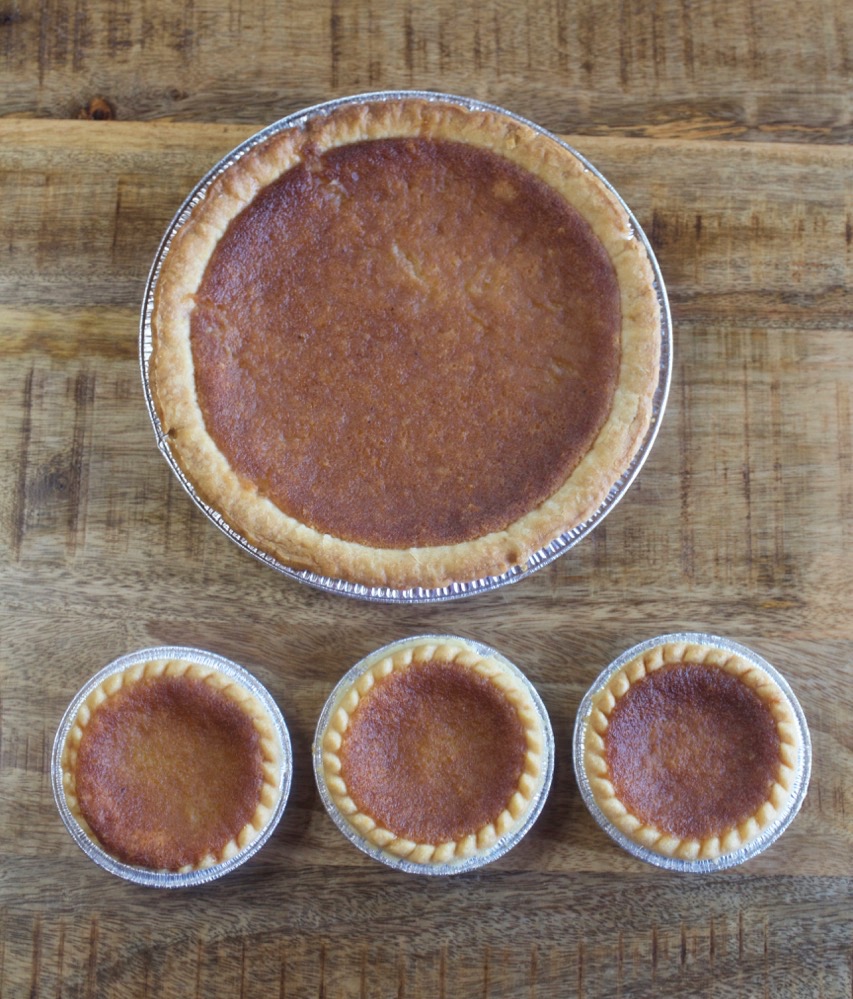 Magee's bakery in Maysville Kentucky has been making these pies for 60 years. They make regular size and small tarts. When I was small, we always stopped at Magee's bakery when we drove to Maysville and treated ourselves to the small tart pies…..My sister still picks up their tarts and brings them to our family gatherings.
And yes social media has it correct…these little transparent tarts are the favorite of George Clooney, who grew up 10 miles down the road from my family in Augusta….but then again, they are probably the favorite pie of anyone who grew up in the Maysville area.
With that said, I'll tell you how I made this rich delicious pie…
THE PIE CRUST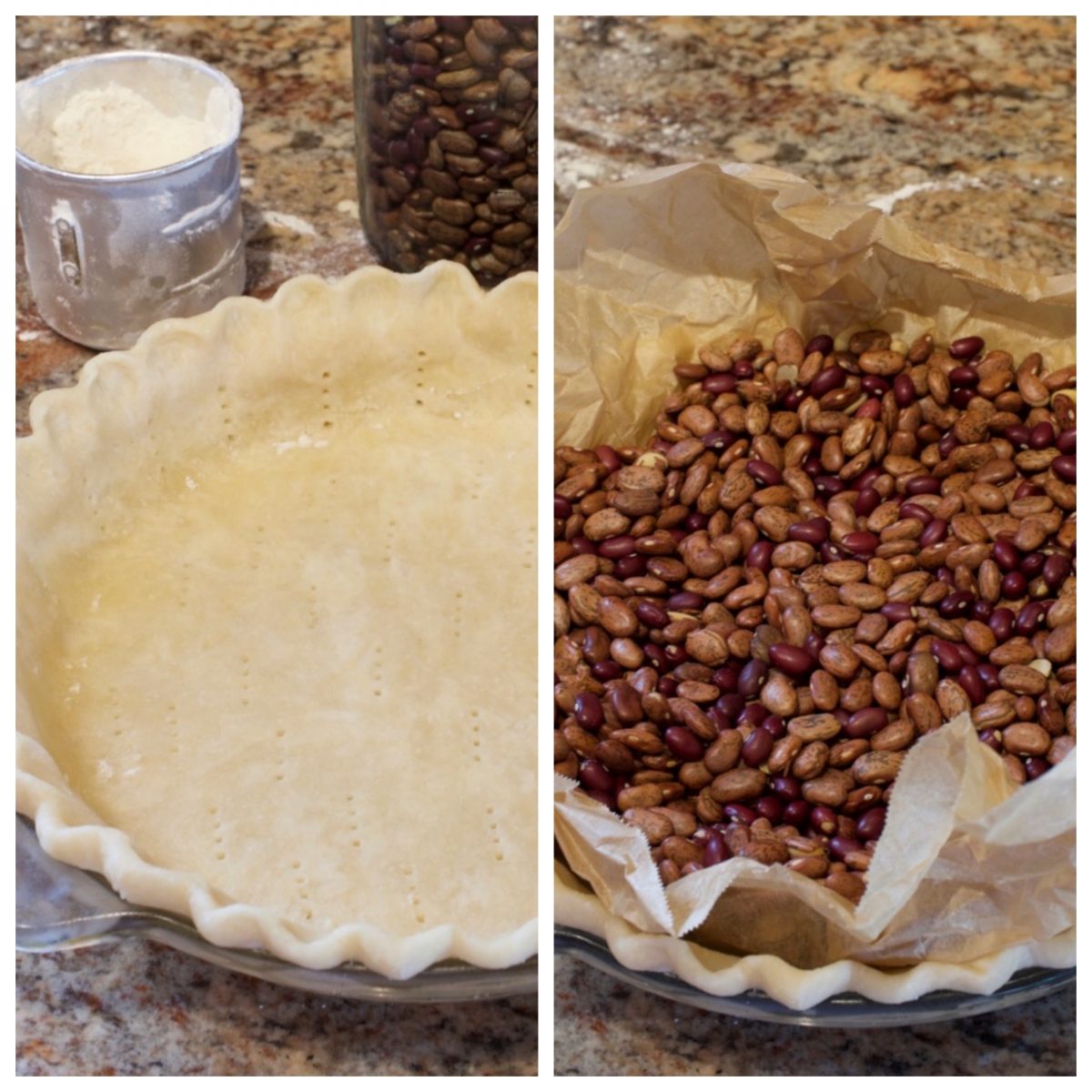 Some bakers add custardy pie fillings to unbaked pie shells and then bake them.  I prefer to partially bake the pie shell first, before adding the filling, to ensure the crust gets completely baked through.  So here's what I did.
I prepared my pie dough.  I like to use Aunt Elsie's Flaky Pie Crust.  You can use your favorite pie dough recipe or even a store-bought pie shell.
Once I rolled out the dough and fit it into my pie dish, I refrigerated it for 30 minutes.
After the pie shell was chilled, I used a fork and pricked the bottoms and insides of the pie shell.  This is called docking the dough.  It prevents the empty pie shell from puffing up in the oven.
I crumpled up a piece of parchment paper and placed in the bottom of the pie shell.  You can use foil if you don't have parchment paper.  I filled it with dried beans.  You can also use ceramic pie weights if you prefer, but I like using beans, and you can use the same beans over and over again.
I baked the shell at 375 degrees for about 20 minutes and removed the beans.
I returned the pie shell to the oven and baked it until the bottom of the shell started to look dry and set, about 10 minutes, then I removed it from the oven and set it aside while I made the pie filling.
THE FILLING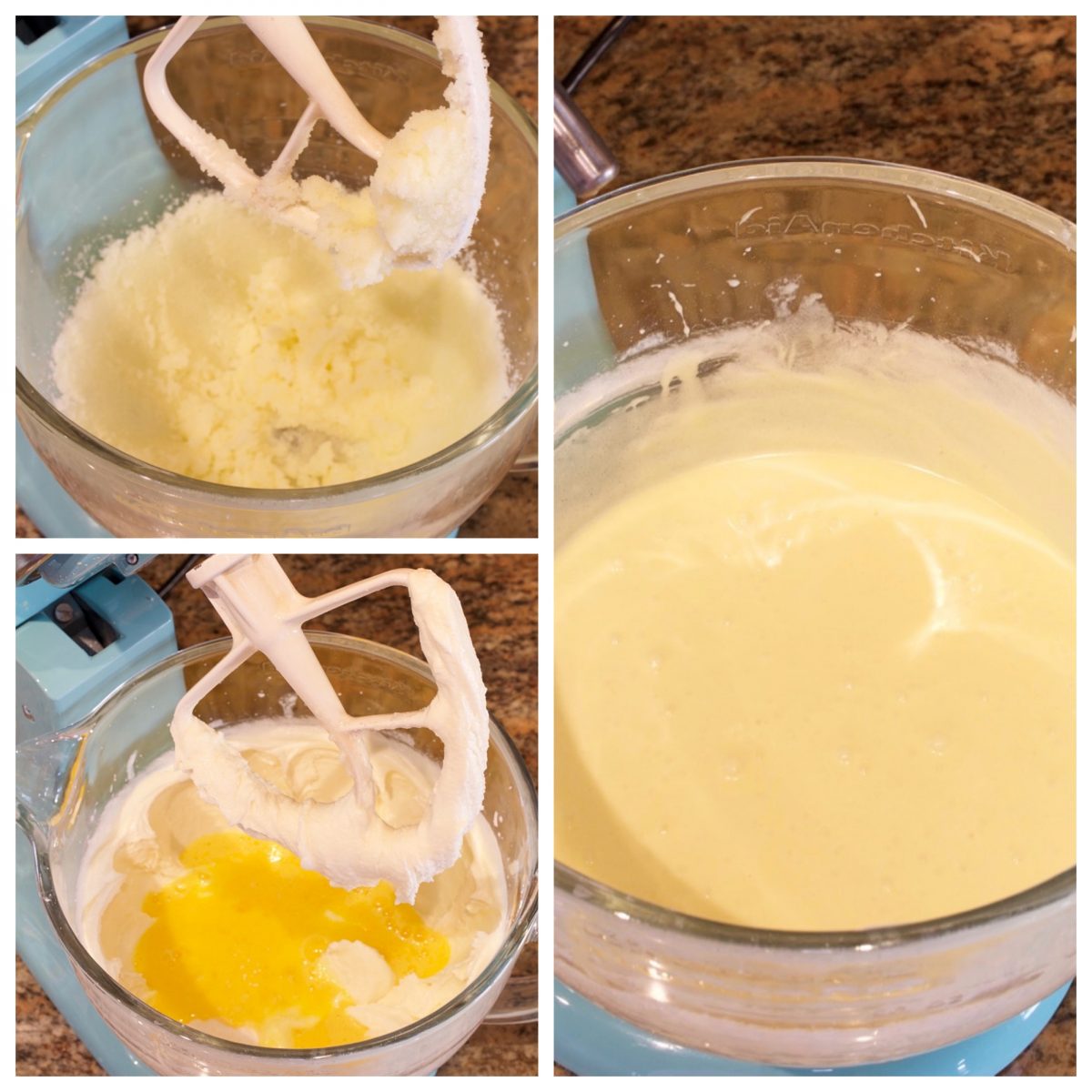 Top Left – I mixed melted butter and sugar together until the sugar was incorporated into the butter.  Note, some recipes start with softened butter and sugar.  The two get mixed together until they are light and creamy, but not in this recipe.
Bottom Left – Whipping cream gets added to the butter/sugar mixture and it gets mixed on high-speed until the whipping cream thickens and the mixture is thick and whipped.  Then eggs, flour, and vanilla get added in.
Right – The result is a thick, creamy, whipped filling.
USING THE CORRECT PIE SHELL SIZE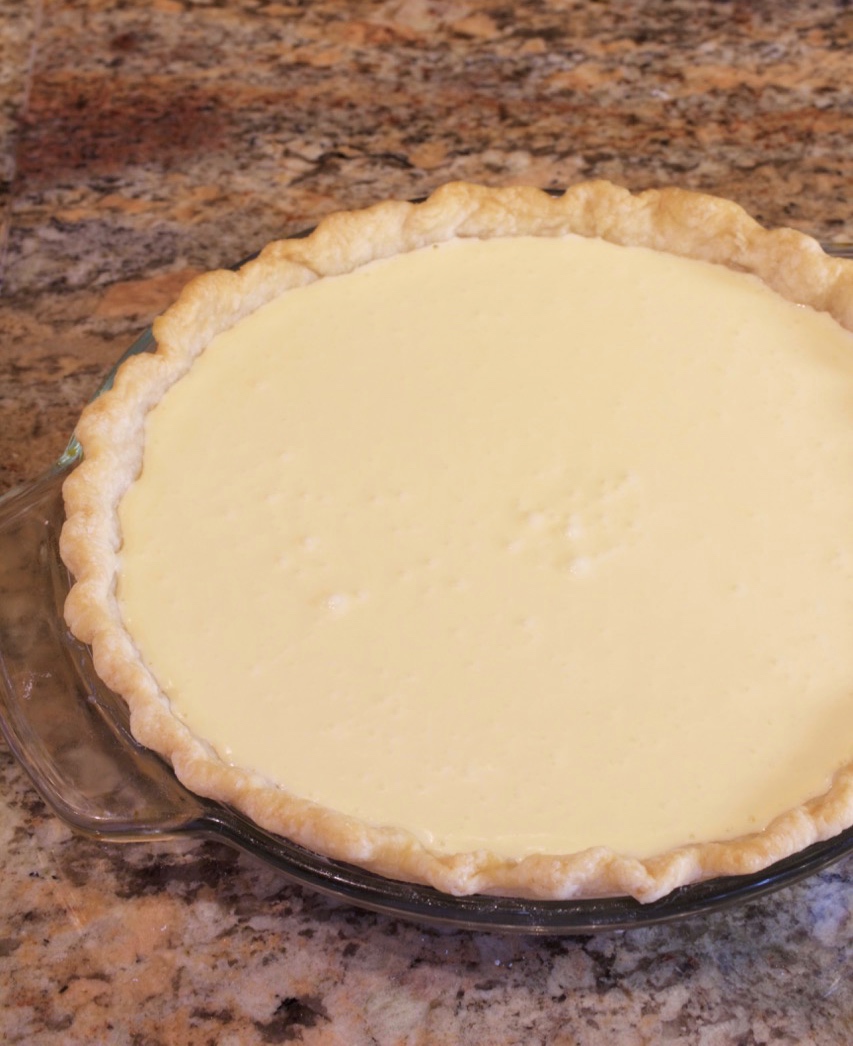 Now back to the pie crust…this is important too…the original recipe calls for a regular 9″ pie shell.  If you are using a store-bought frozen pie shell, that would be the "deep dish" pie shell.  The problem with baking this filling in a store-bought pie shell is that it's almost too much filling for the pie shell…therefore it's hard to get the middle of the pie done enough without getting the top too brown.  My sister uses store-bought pie shells and she divides the filling between two "shallow" 9″ pie shells, and it works perfectly.  Whether you are using a store-bought or homemade pie shell, this filling works perfectly in two shallow pans.  I cover the edges of the crust with foil to prevent it from over-browning.  The filling will actually puff up in the center while baking but will deflate as soon as the pie is removed from the oven.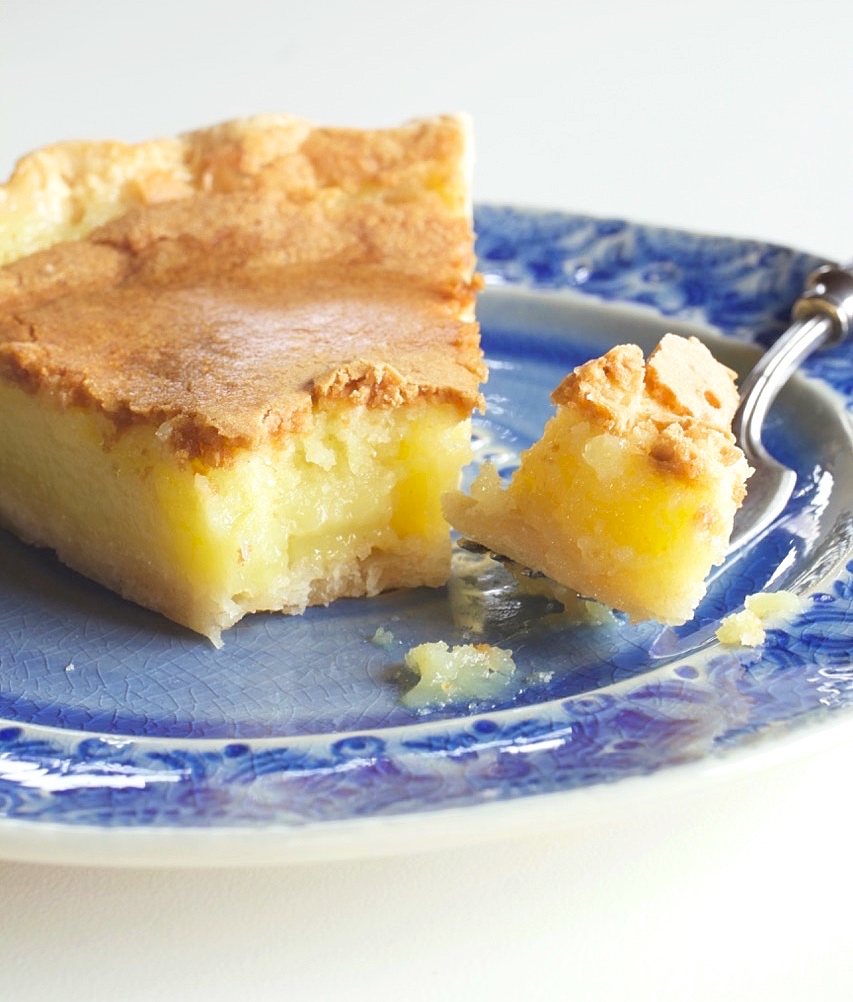 Due to the richness of this pie, I love to eat it chilled, but most of my family prefer it to be room temperature.   The picture above shows a chilled piece of pie.  If the pie is served at room temperature, the filling has more of a transparent appearance, hence the name.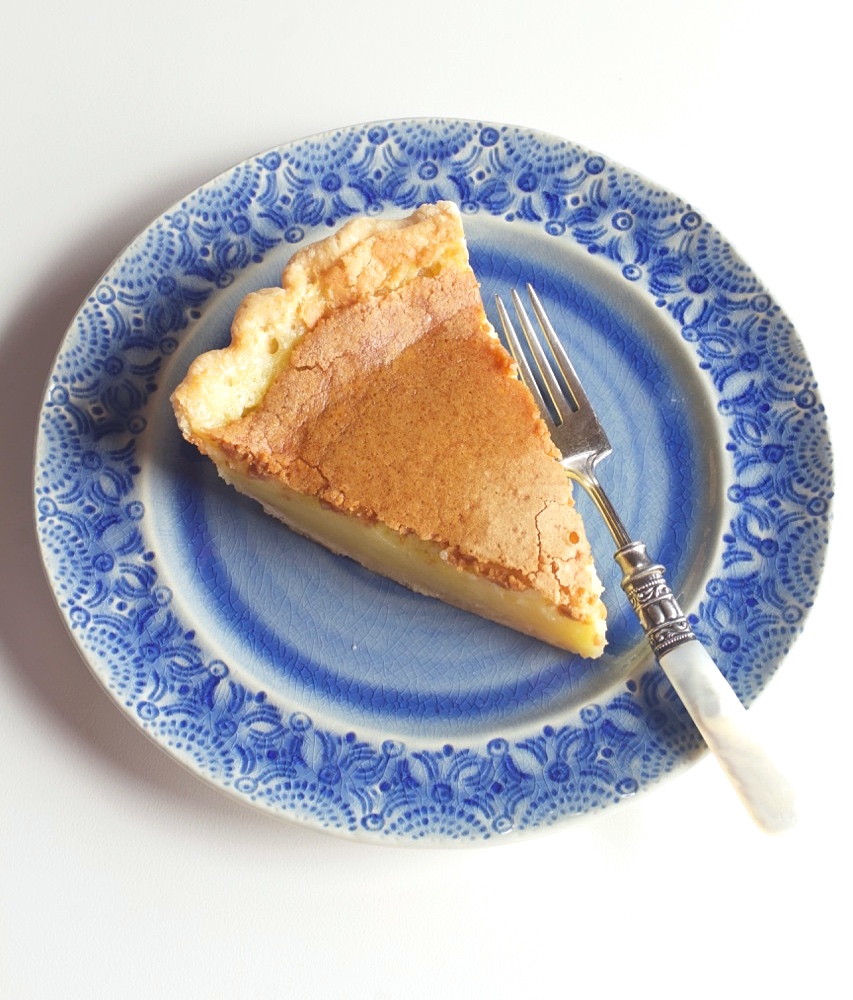 This recipe was originally posted on 2/9/2016.  The recipe was updated with new pictures & tips on 4/19/2019.
Print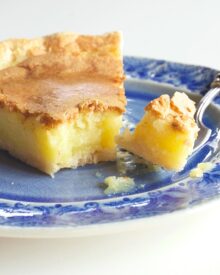 Maysville's Historic Transparent Pie
Author:

Prep Time:

10

Cook Time:

45

Total Time:

55

Yield:

8

servings

1

x

Category:

Pie

Method:

Bake

Cuisine:

American
---
Description
A very rich but smooth, custardy pie filling with a slightly, sweet eggy taste.
---
1

stick butter, melted

2

cups

sugar

1

cup

heavy whipping cream

4

eggs, beaten

2 tablespoons

all purpose flour

1 teaspoon

pure vanilla extract

1

unbaked 9″ (deep dish) pie shell or

2

unbaked 9″ (shallow) pie shells*
---
Instructions
Preheat oven to 375 degrees.
Place the butter and sugar in the mixing bowl of a stand mixer, or use a hand mixer. Mix together on medium speed for a couple of minutes.
Add the whipping cream and mix on high speed for about two minutes until the cream has started to slightly thicken and the mixture is light and fluffy.
Add the beaten eggs, vanilla and flour and mix well.
Pour the batter into unbaked pie shell'(s) and cover the edges of the crust with foil.
Bake for about 45 minutes until the top is golden brown and no longer jiggly in the center.
Cool completely before serving.
---
Notes
*The original recipes states to use a 9″ pie shell. If you use a store bought pie shell, the filling is almost too much for one deep dish pie shell…the top gets too brown before the filling gets done. I prefer to bake this pie filling in 2 "shallow" pie shells. It's a thinner pie, but turns out perfect.
---
Keywords: Transparent pie, Maysville's, Historic pie, George Clooney's favorite pie,
There may be affiliate links in this post. We are a participant in the Amazon Services LLC Associates Program, an affiliate advertising program designed to provide a means for us to earn fees by linking to Amazon.com and affiliated sites.