Southern Pecan Pie
This Southern Pecan Pie is my favorite Thanksgiving dessert.  Yes, it takes center stage over Pumpkin Pie on my dessert table!  The sweet gooey filling and crunchy pecans totally complement each other in this delicious fall pie!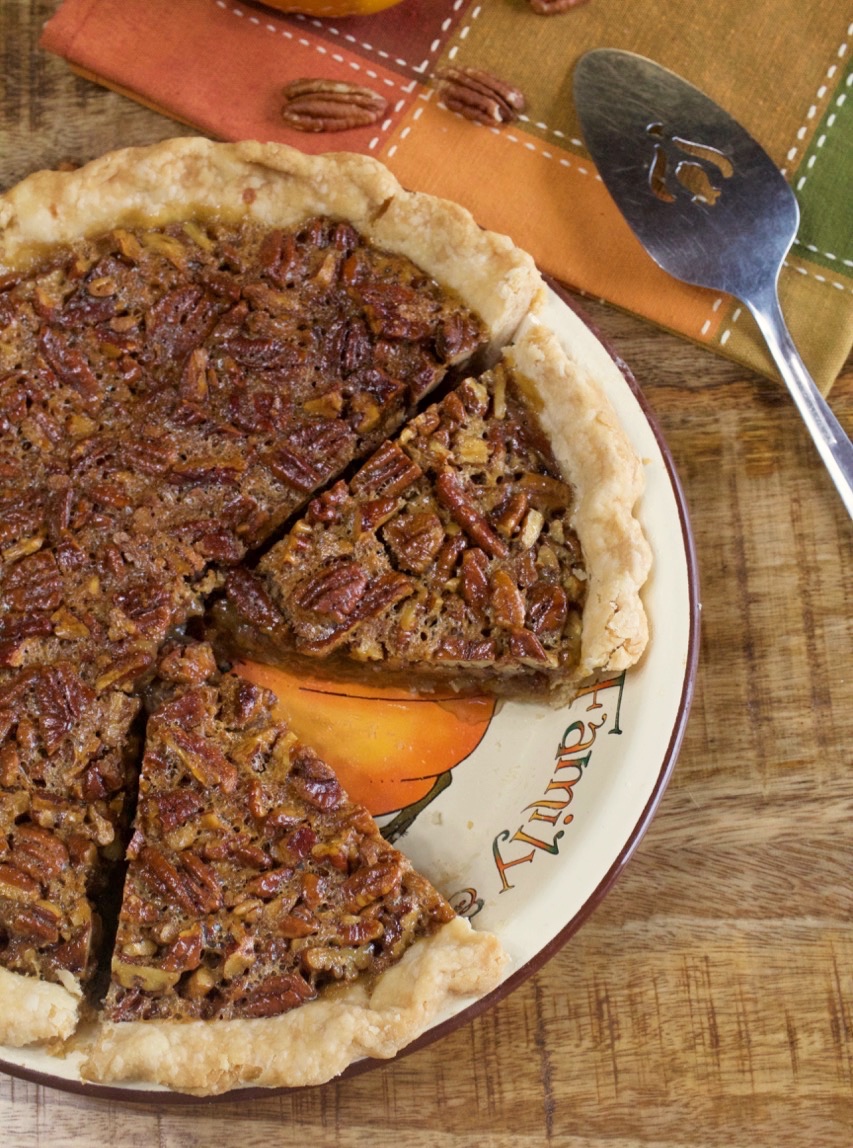 This Southern Pecan Pie is my all-time favorite!  Baked in a homemade flaky pie crust, the gooey rich filling and crunchy pecans are just meant to be together.  Of course, pumpkin pie graces my Thanksgiving dessert table, but so does this delicious pie!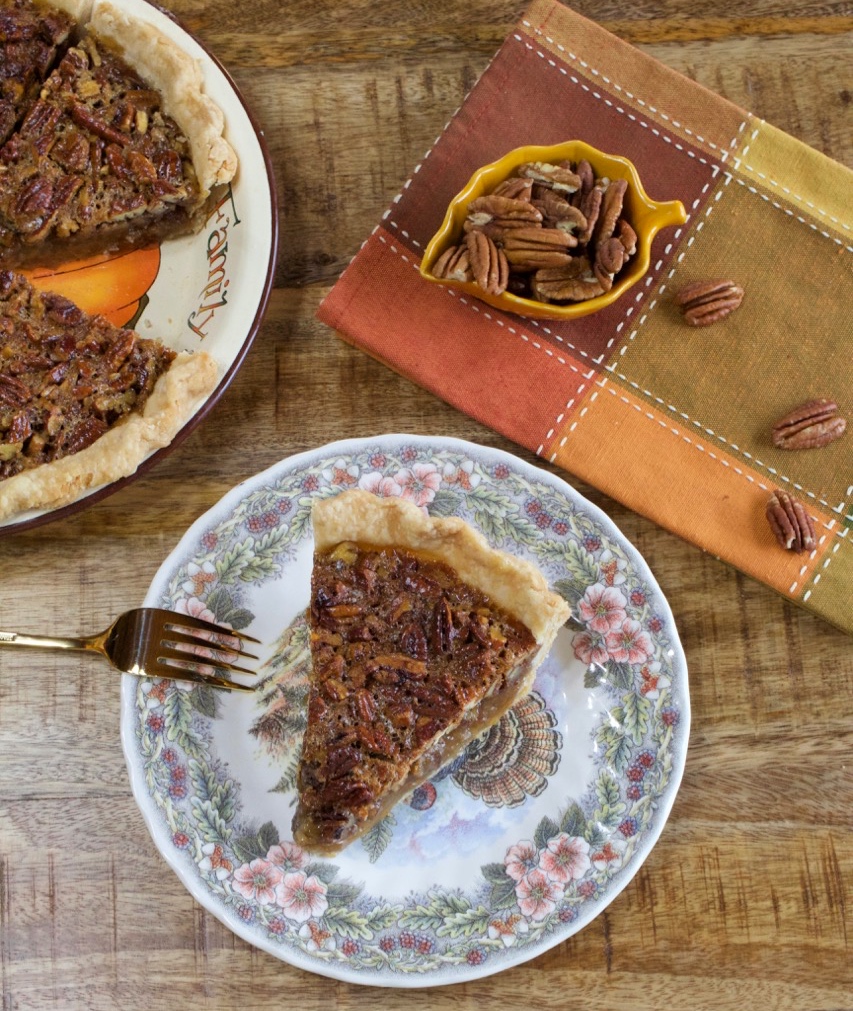 Pee-can, pee-kahn…  No matter how you pronounce it, it's a pie so simple and classic but so delicious!  With Southern roots, it's popularity really took off in the 1920s when the Karo Syrup company placed a recipe for it on their syrup bottle.  Although it takes center stage on most dessert tables in the south, it still takes second stage to Pumpkin Pie on some Thanksgiving dessert tables.  My guess…the price of pecans versus pumpkin could be a contributing factor.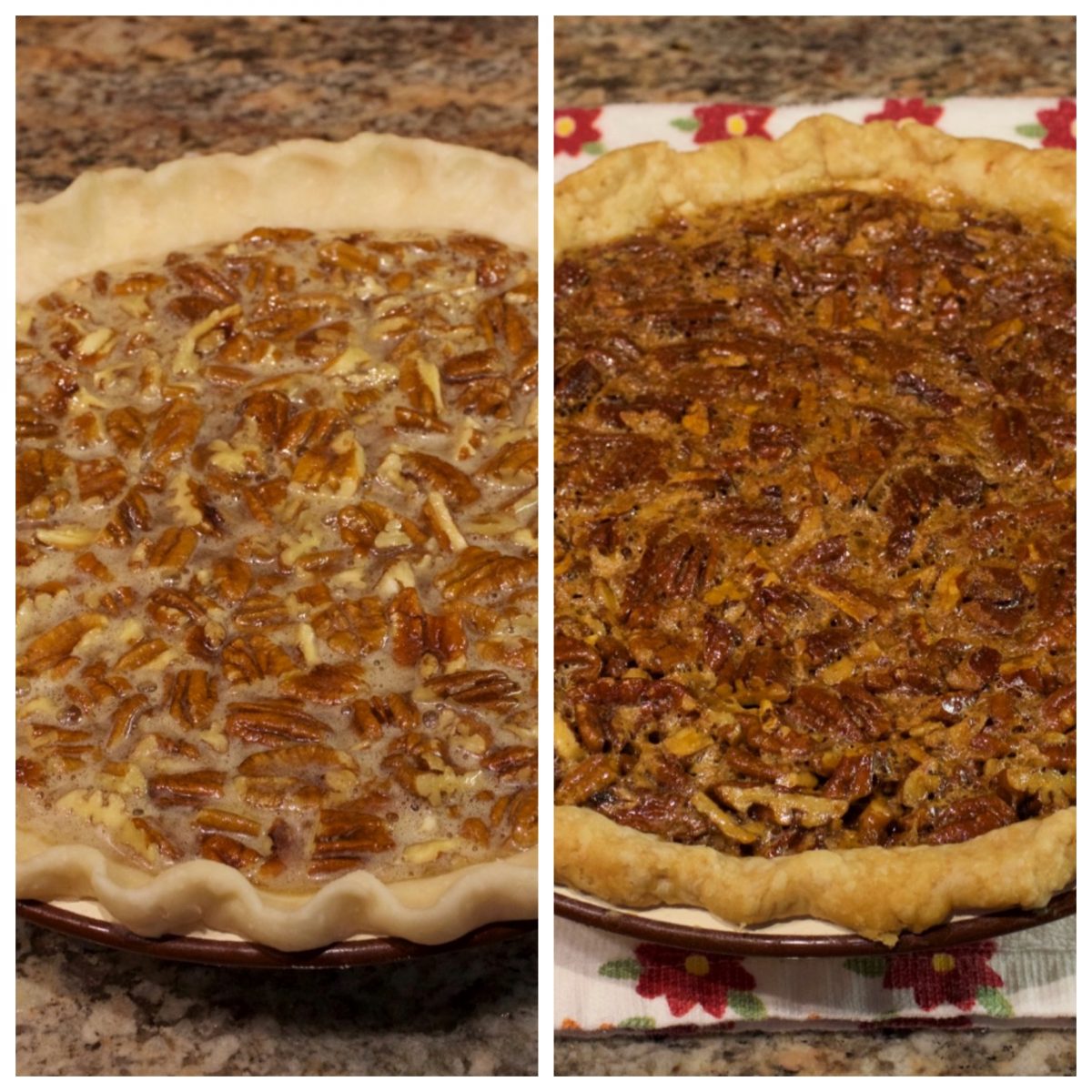 So I ask, why mess with something great?  Well, I guess that just depends on how gooey and rich you prefer your filling in this scrumptious pie.  There are several slight variations when it comes to the filling of this classic pie.  Some use light corn syrup, some dark…some use white sugar and some use light or dark brown sugar.  Me?   I use to go strictly by my 1961 Betty Crocker version of this recipe, using all white sugar.  This variation was always good, but I preferred a filling that was a little more gooey and rich.  Therefore, I played with the recipe until I got that perfect result that totally lived up to the gooey and rich factor without being runny.  The answer…part white and part dark brown sugar.  Oh yes, there's even those who add a small amount of cinnamon to this recipe.  Yep, that's right.  Sorry, I'm not a fan.  I'll save my cinnamon for my Pumpkin Pie.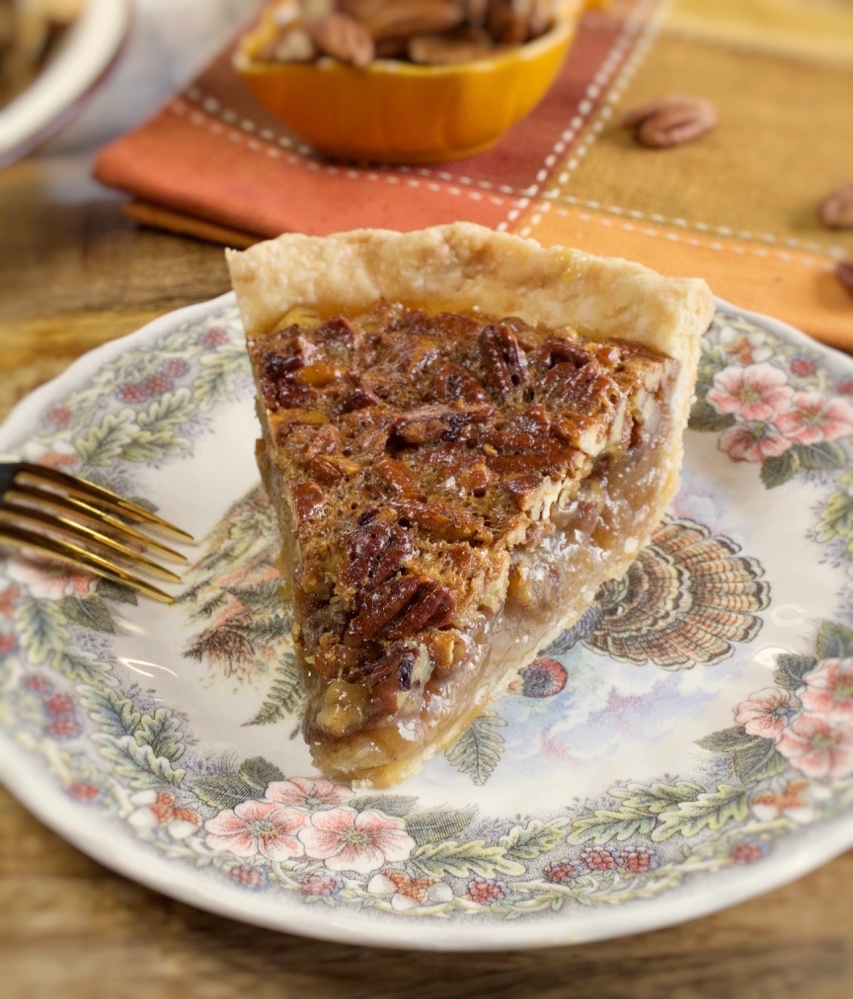 There are also variations in flavors of this classic pie, including chocolate and bourbon, but that's a story for another day.  Today we're talking about plain ole' classic Southern Pecan Pie!
I used my favorite Aunt Elsie's Flaky Pie Crust for this recipe. Read here on how to par-bake your pie crust.
Does Pecan Pie grace your Thanksgiving dessert table?
Southern Pecan Pie
Author:

Prep Time:

15

Cook Time:

45

Total Time:

60

Yield:

8

Servings

1

x

Category:

Pies

Method:

Bake

Cuisine:

American
---
Description
This delicious Southern Pecan Pie shows up on many Thanksgiving dessert tables.  Hidden inside of a sweet gooey filling are lots of crunchy pecans.  It's a Southern favorite!!
---
1

par-baked pie shell, 9-inch, shallow, (see how to par-bake a pie shell here).

5 tablespoons

unsalted butter, melted

1

cup

light corn syrup

1/2

cup

granulated sugar

1/4

cup

dark brown sugar, packed

3

large eggs, (extra large will work fine too)

1/2 teaspoon

salt

2 teaspoons

pure vanilla extract

2

cups

pecans, very coarsely chopped
---
Instructions
Preheat oven to 375 degrees.
Position oven rack one slot from the bottom. This will prevent pecans from over browning before the filling gets done and will also ensure doneness of pie crust bottom.
Add all ingredients except pecans to a large mixing bowl. Whisk until well combined. Fold in the pecans.
Pour filling into the shallow pie crust. Place foil around edges of crust to prevent over browning. Bake for approximately 45 minutes or until barely jiggly in the center. Transfer to a wire rack to cool.
Cool completely before serving. Slicing is easier if pie has been refrigerated.
Pie can be left unrefrigerated for up to two days.
Store in an airtight container.
---
---
Keywords: pecan pie, pie, fall pies, thanksgiving pies, thanksgiving desserts, pecan desserts, Christmas pies,
There may be affiliate links in this post. We are a participant in the Amazon Services LLC Associates Program, an affiliate advertising program designed to provide a means for us to earn fees by linking to Amazon.com and affiliated sites.