Red Tart Cherry Fritters
These delicious Red Tart Cherry Fritters are studded with tart cherries and they are tender and fluffy. They are best served warm with a dusting of powdered sugar, and they are deliciously addicting! Let me show you just how easy they are to make!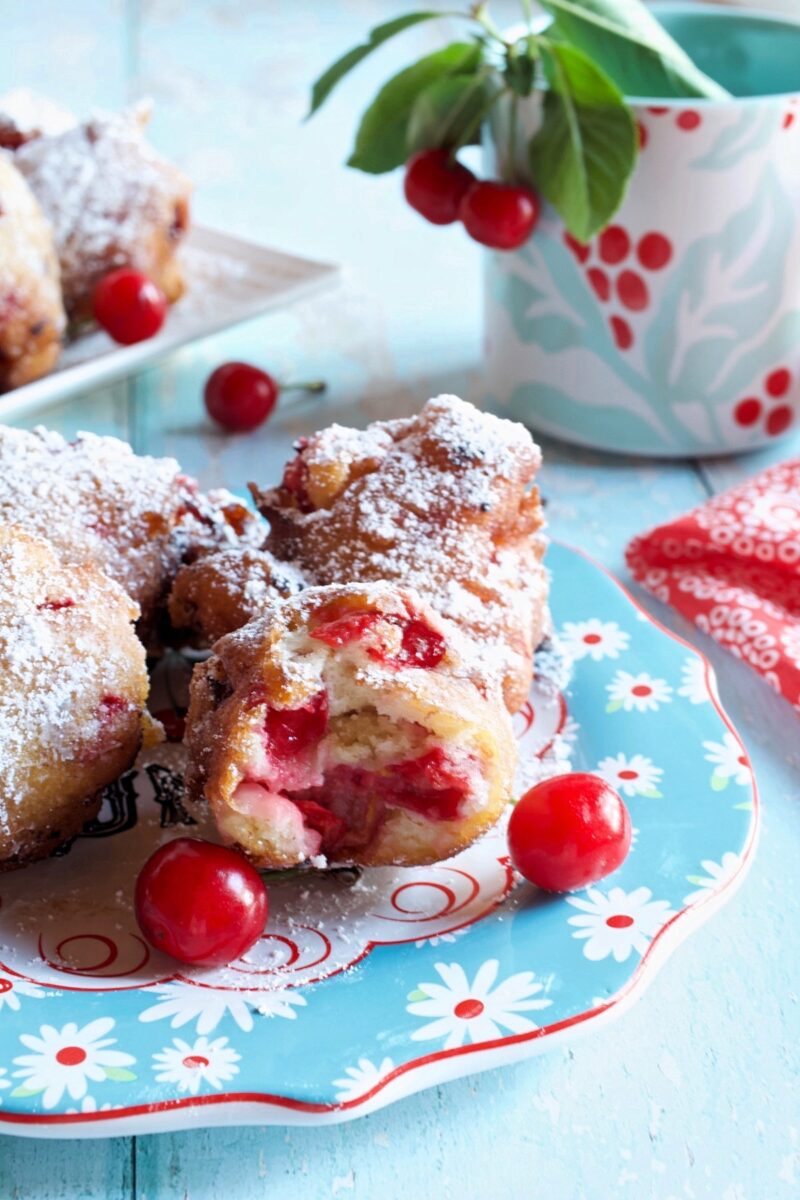 It's Cherry Season!! Time to make recipes with all those red tart cherries. Allow me to introduce you to these fluffy and delicious Red Tart Cherry Fritters!! These are so easy to make and just wait until you eat one of these warm red tart cherry fritters dusted with powdered sugar. They are deliciously addicting! Oh, and don't worry, if you can't get fresh cherries, frozen ones will work too!
MY LITTLE CHERRY TREE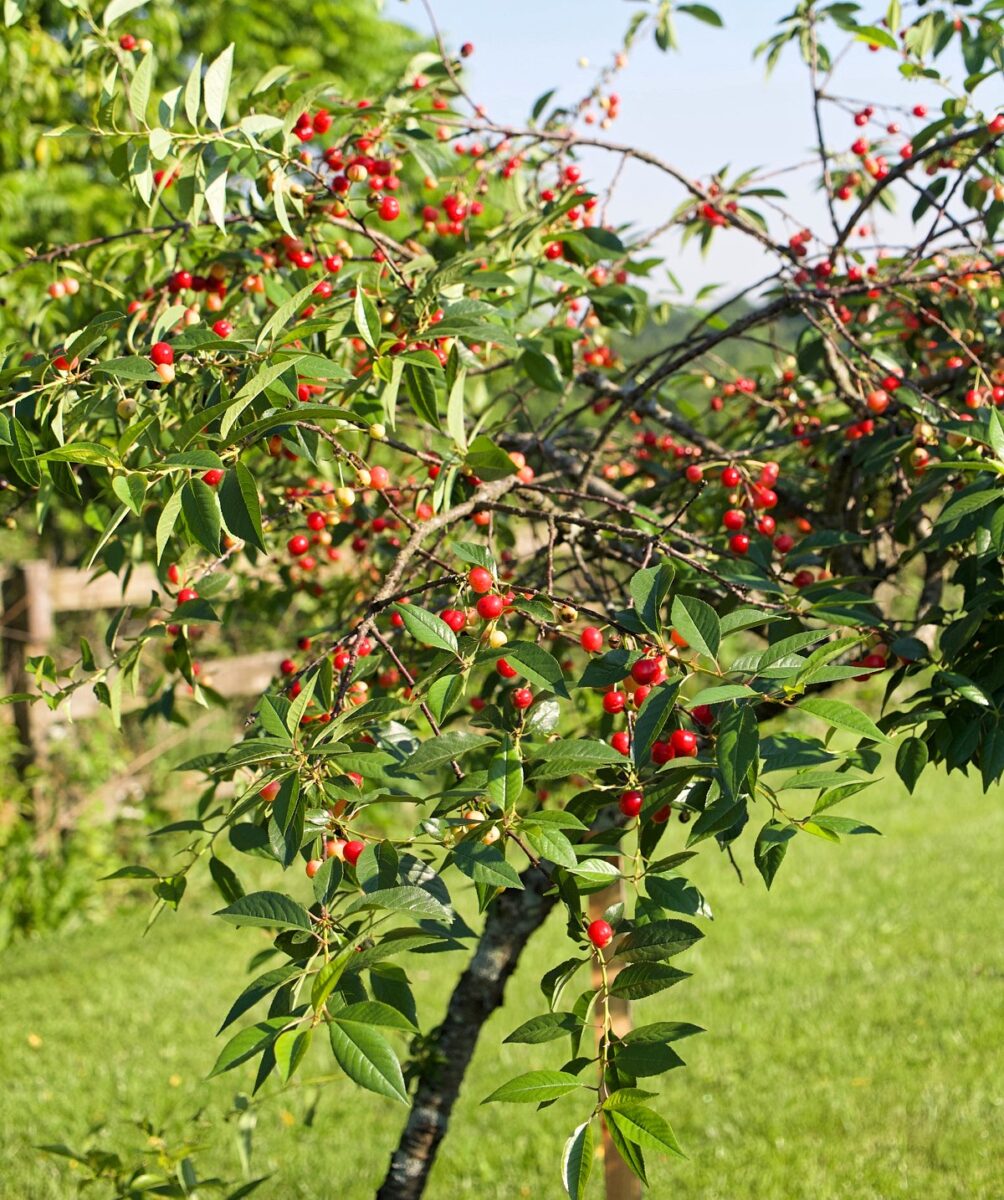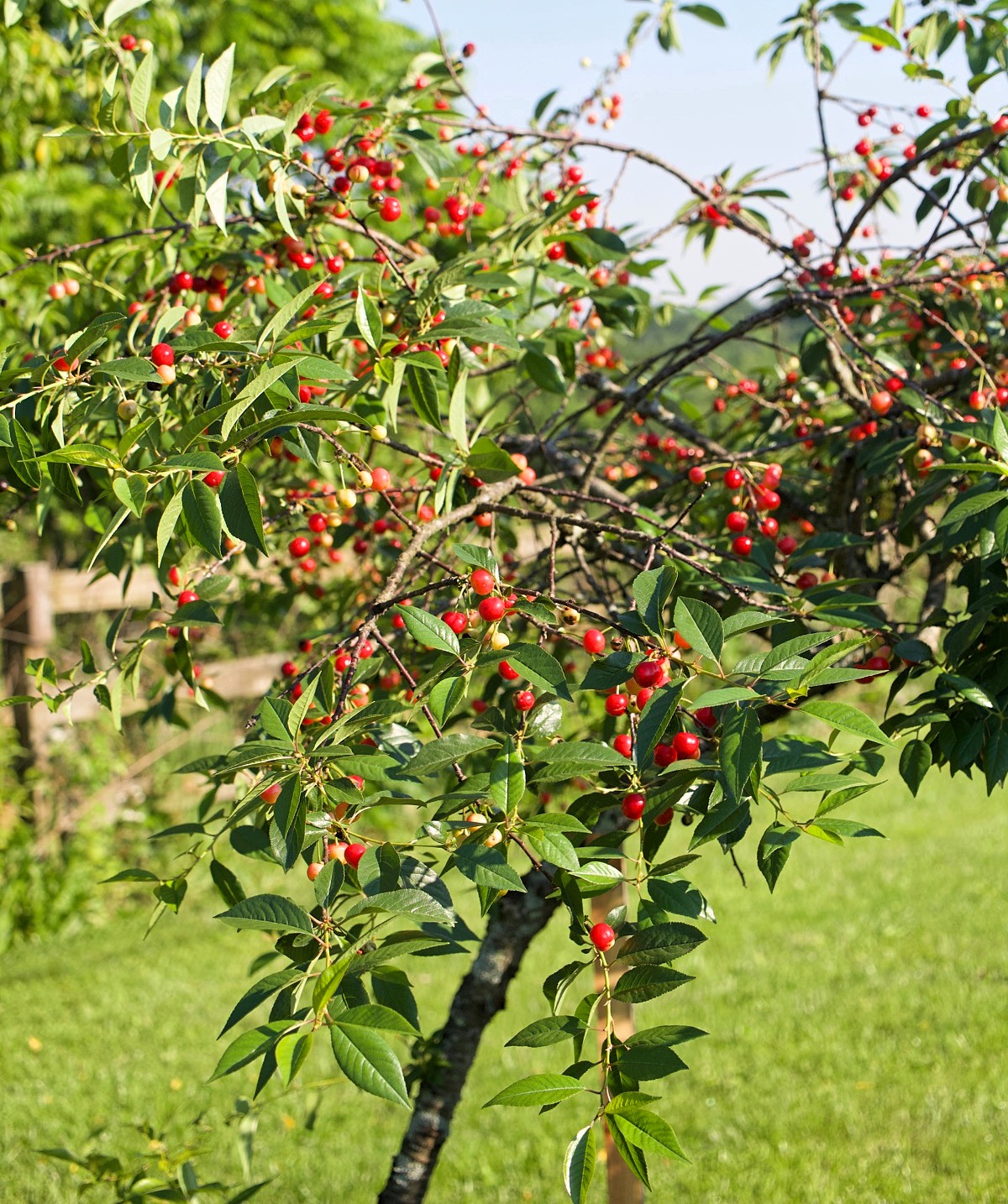 Yesterday my friend Carol posted a picture on Facebook of the abundance of red tart cherries she had just picked. I was so envious, then I realized I had a cherry tree too. The only problem is my cherry tree is four years old and has yet to yield cherries. I decided to take a quick visit to see my cherry tree. To my surprise, my little cherry tree was loaded with cherries. After I did a happy dance, I ran back to the house to retrieve a bowl. My little cherry tree offered up 3 cups of fully ripe cherries. Oh!! What can I make with 3 cups of cherries! Not enough for a pie. Oh, I know. I've been wanting to make some type of fruit fritters for a while now. So be it…cherry fritters it is!!
First and foremost, these fritters are deep-fried in oil. If this is something you have never done, or if the thought of deep-frying anything in oil is intimidating to you, don't worry. It's not hard and I'll walk you right through it. Once you see how easy it is to deep-fry these fritters, you'll be moving on to donuts and french fries.
TIPS FOR PERFECT DEEP-FRYING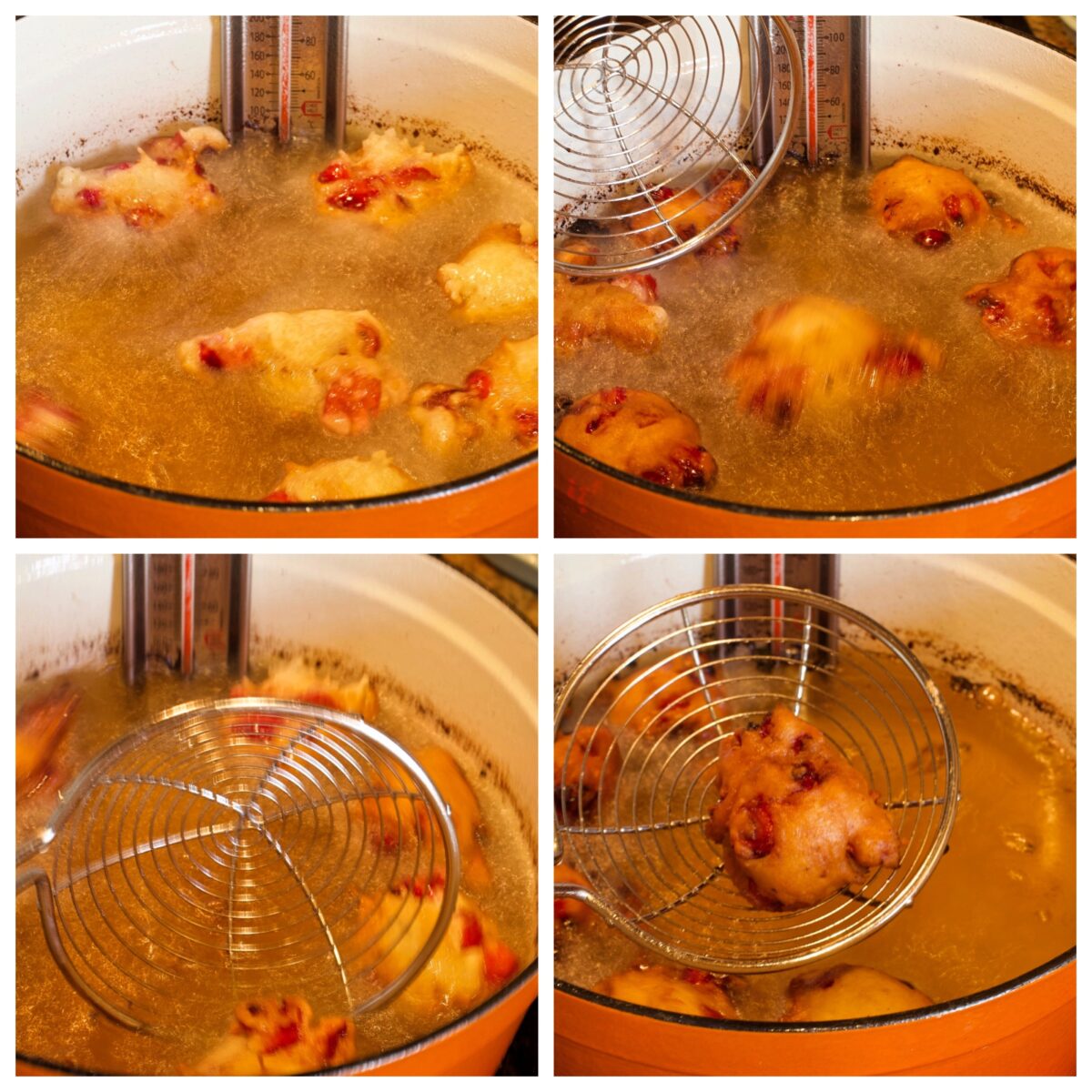 Use at least 1 1/2 to 2 inches of oil and use a dutch oven or heavy-bottomed pot.
Use a non-flavored oil such as safflower or canola. Never use olive oil in a deep fryer.
Have the fritter batter mixed and ready before heating the oil. Don't worry, the batter contains double-acting baking powder. The baking powder reacts once when added to the wet ingredients and reacts a second time when the batter is added to the heat, (the hot oil), so it's okay to mix the batter and set it aside while heating the oil.
Make sure the oil is hot enough! The oil should be 350 degrees. This is crucial. If the oil is not hot enough, the fritters will take too long to cook through and the result will be greasy fritters that have a soggy exterior crust.
Don't overheat the oil. This is crucial too. If the oil gets too hot, simply remove the pot from the burner and watch the thermometer until it goes back down to 350 degrees. Return the pot to the burner, and immediately drop scoopfuls of the fritter batter into the hot oil. This will aid in bringing down the temperature.
Start heating the oil on medium-high heat. Once the oil reaches 350 degrees, immediately reduce the heat to medium and immediately start dropping in scoopfuls of batter.
Do small batches! Only drop in 5 to 6 scoopfuls of batter at a time. Watch the temperature. If you drop in too many scoopfuls of batter at one time, the temperature of the oil will go down by about 10 degrees rather quickly. If the temperature drops, don't drop in any more batter until you allow the oil temperature to go back up.
Use a slotted spoon or spider and only turn the fritters once, after the first side is golden brown. It only takes about 1 minute per side.
CAN I USE FROZEN RED TART CHERRIES?
YES! If you use frozen tart cherries, make sure to thaw them first, then drain the excess juice from them.
SHOPPING LIST
Canola or safflower oil for frying, about 1 1/2 bottles
All-purpose flour

Granulated sugar

Baking powder

Salt

Whole milk, or

2

% and half & half combined

Large eggs

Unsalted butter

Pure almond extract

Red tart cherries, fresh or frozen

Powdered sugar
If you want a second option for finishing the fritters as an alternative to powdered sugar, whisk together 2 cups of powdered sugar, 1 teaspoon or more of milk, until it's a thin consistency, and 1/4 teaspoon of almond or vanilla extract. Drizzle the glaze over the warm fritters.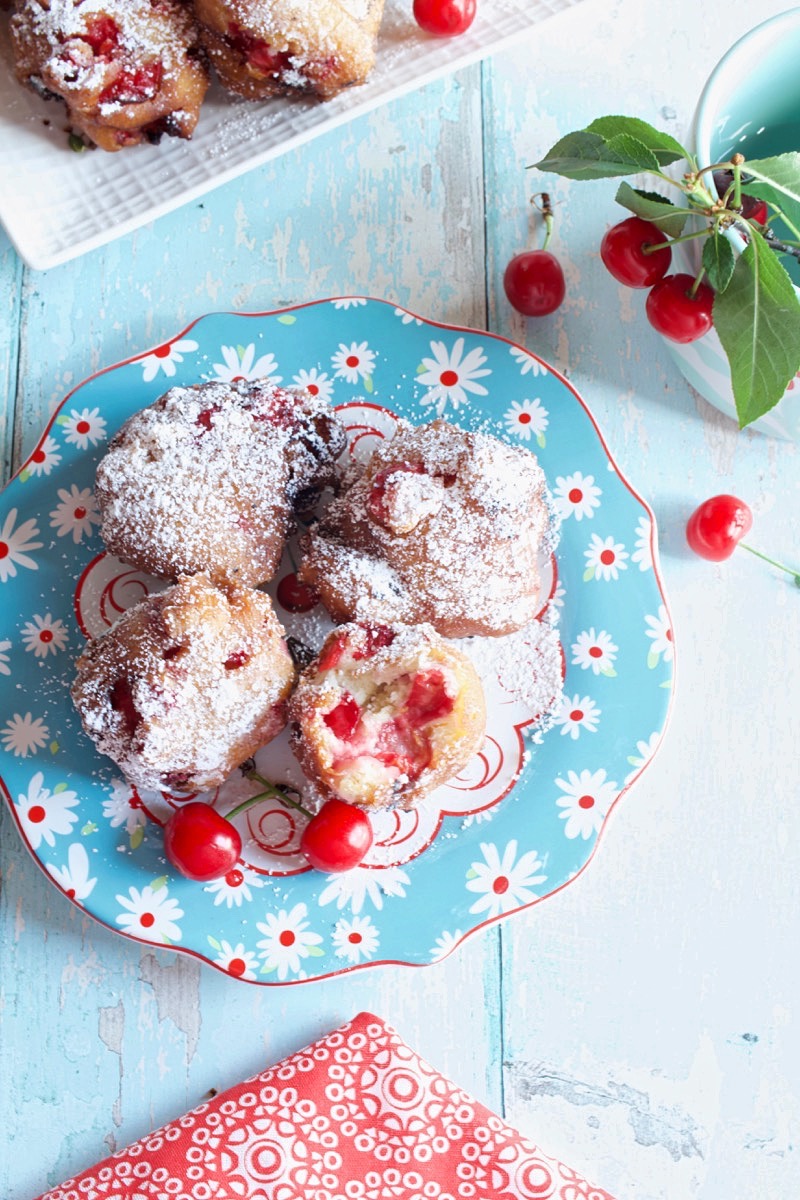 PREP TIME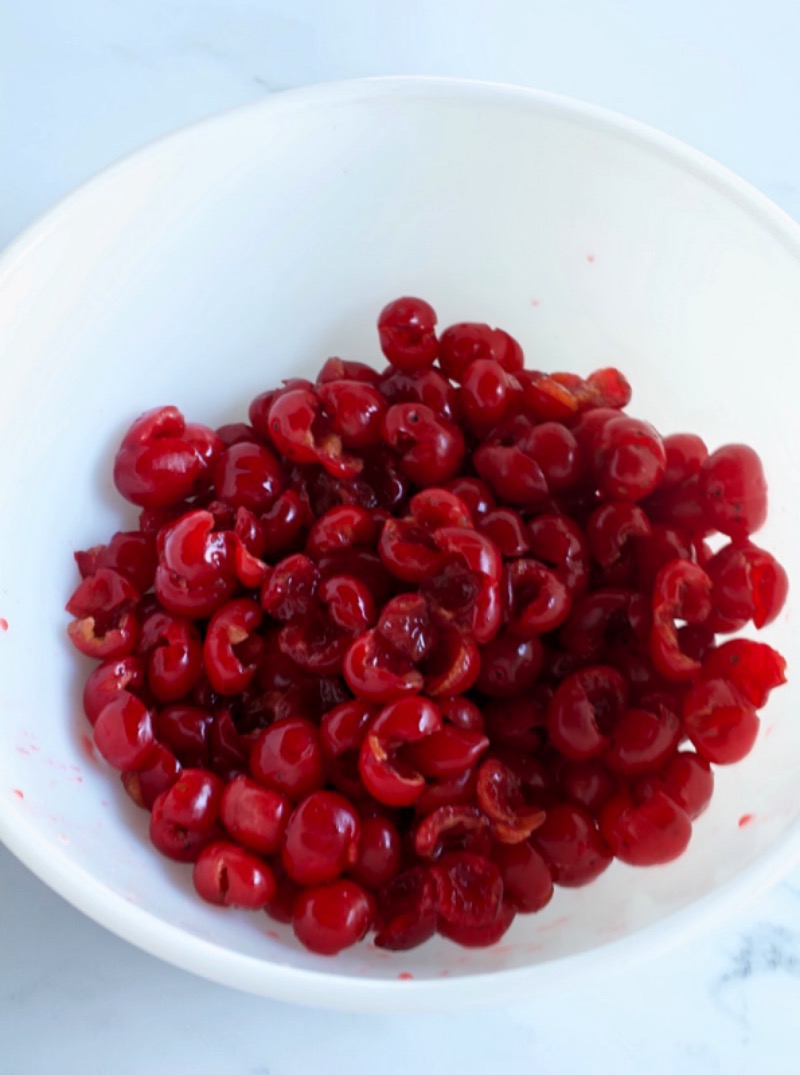 Prep time includes 15 minutes for pitting the cherries…
If you love red tart cherry recipes, you might also like…
Easy Puff Pastry Cherry Turnovers
Buttermilk Pancakes with Cherry Compote
Print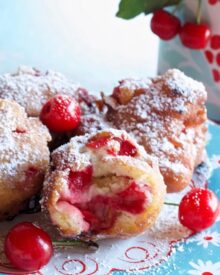 Red Tart Cherry Fritters
Author:

Prep Time:

30 minutes

Cook Time:

15 minutes

Total Time:

45 minutes

Yield:

22

to

2

3

1

x

Category:

breakfast

Method:

deep fry
---
Description
These delicious Red Tart Cherry Fritters are studded with tart cherries and they are tender and fluffy.  They are best served warm with a dusting of powdered sugar, and they are very addicting!
---
Canola or safflower oil for frying, (1 1/2 to 2 inches)

2

cups

all-purpose flour

1/3

cup

granulated sugar

2 1/4 teaspoons

baking powder

1/2 teaspoon

salt

3/4

cup

whole milk, or 2% and half & half combined

2

large eggs, room temperature

2 tablespoons

melted butter, unsalted

1/4 teaspoon

pure almond extract

3

cups

tart red cherries, pitted
Powdered sugar for dusting
---
Instructions
Pour the oil into a large dutch oven or deep or medium heavy-bottomed pot.  Place a kitchen thermometer on the side and place it on the stove to have it ready to heat.  Also, have a spider or slotted spoon nearby.  Set a wire rack inside a rimmed baking sheet and set nearby the stove.
In a large bowl, whisk together the flour, sugar, baking powder, and salt.  Set aside.
In a medium bowl or large measuring cup, whisk together the milk, eggs, butter, and almond extract.  Add the wet mixture to the dry and gently fold it in with a spatula until most of the dry ingredients are wet.  Gently fold in the cherries.  Set aside while you heat the oil.
 Heat the oil over medium-high heat, until a thermometer reaches 350 degrees.  Keep an eye on it.  It can get really hot all at once.  If the heat rises too much, set the dutch oven or pot off the heat until the temperature comes back down to 350 degrees, and be ready to drop the fritter dough into the pot.
Once the heat is at 350 degrees, use a cookie scoop and drop heaping scoopfuls of the fritter dough into the hot oil, making sure you don't drop more than about 5 to 6 in at a time.  If you drop more, the temperature in the oil will drop.  Cook the fritters, for about 2 minutes, turning once as soon as the fritters are golden brown on one side.  Once the fritters are puffed and golden, remove them from the oil, using a spider or slotted spoon, and transfer them to the wire rack to drain.  Finish making the rest of the fritters.
Generously dust the finished fritters with powdered sugar and serve warm.  These fritters are best served the day they are made.  The next day, warm leftovers in a microwave for about 40 seconds, covered or wrapped in a paper towel.  Generously dust with more powdered sugar.
---
Notes
Be careful when cooking with hot oil.  Do not allow children to assist in making these.  Oil that has been heated to 350 degrees is VERY hot.  They can assist in sprinkling the powdered sugar on them.
It really is best to eat these the day they are made.  These are half as good the next day, as with anything deep-fried.
Make sure you read the tips above on heating the oil before making this recipe.
If you want a glaze on your fritters instead of powdered sugar, whisk together 2 cups of powdered sugar, 1 teaspoon of milk, or enough to make it a thin glaze, and 1/4 teaspoon of vanilla or almond extract.  Drizzle it over the warm fritters.
Keywords: red tart cherry fritters, cherry fritters, fritters, fruit fritters,
There may be affiliate links in this post. We are a participant in the Amazon Services LLC Associates Program, an affiliate advertising program designed to provide a means for us to earn fees by linking to Amazon.com and affiliated sites.