Easy Puff Pastry Cherry Turnovers
These Easy Puff Pastry Cherry Turnovers have a tender flaky puff pastry crust and they're filled with a juicy red tart cherry filling.  Once they've cooled, they get a drizzling of vanilla glaze.  They're great for breakfast or as dessert!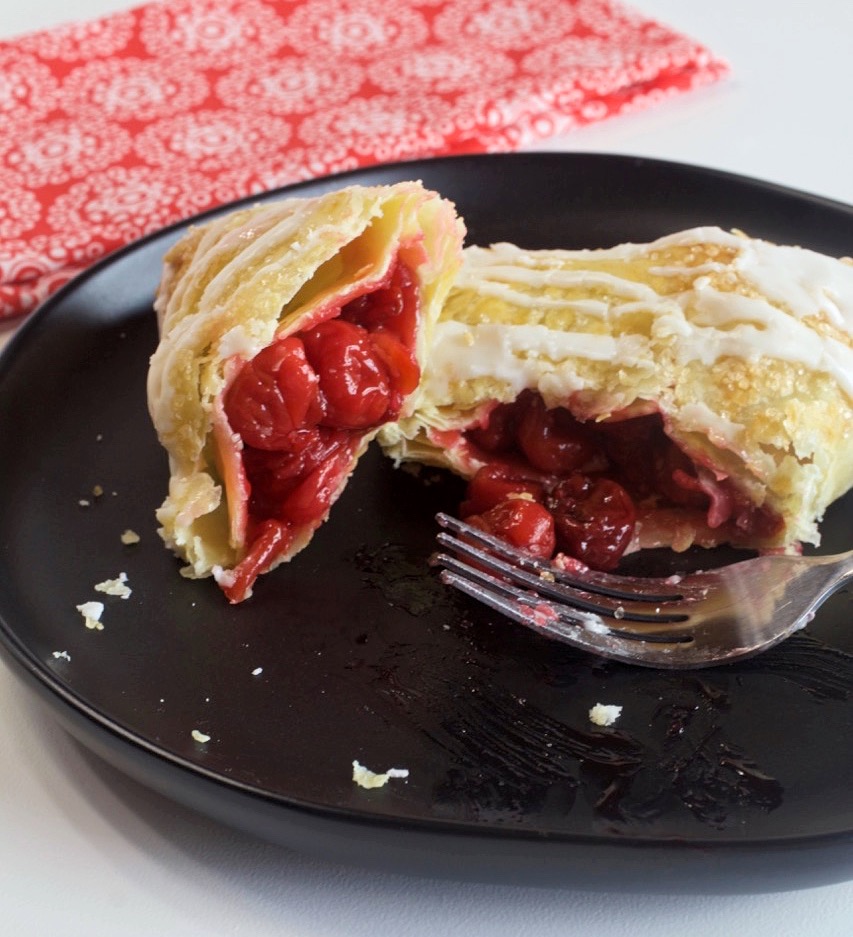 Let's talk about tart and juicy things today.  Tart and juicy as in tart red cherries.  Now let's say we had some red tart cherries and wanted to sweeten them up just a little and maybe thicken up the juices some so we could eat them like the best cherry pie filling.  No big deal.  We'll just add a little sugar and cornstarch and cook them for five minutes or so until a bath of thick juicy syrup develops right before our eyes.  That would be a great thing.  Right?  But now, we need a vehicle to transport that tart delicious concoction of tart cherries and thick syrupy filling to our mouths.  Hmm!  I know,…how about some flaky layers of puff pastry?  I'm talking about lots of thin flaky layers of pastry dough that are hiding a plump spoonful of this tart cherry goodness inside.  Would you be okay with this?  I thought so…
What if I told you that these Easy Puff Pastry Cherry Turnovers are not only delicious but they're also super easy to make.  That's right.  Puff pastry is one of the easiest doughs to work with.
Here's how easy these are to make…
Simmer some red tart cherries over medium heat with some sugar and cornstarch for 5 minutes.
Roll out some puff pastry on a floured surface and cut it into 4 squares.
Brush the edges of each square with some egg wash.
Place a spoonful of cherry filling in the center of each square of dough and fold over and crimp.
Tips for making perfect puff pastry turnovers…
Only work with cold dough.  If dough becomes warm, place it in a refrigerator or freezer for five minutes.
Once you've formed the turnovers, return the dough to the refrigerator or freezer until dough becomes cold again before baking.
Do not stretch the dough.  Use a rolling pin to roll and make dough larger.
If dough cracks in the folds when you unfold it, simply sprinkle some water over the crack and gently push the dough back together with your fingers.
Make sure you brush the edges of the dough with the egg wash.  This is the glue that helps hold the dough together.  Crimping the dough helps as well, but the egg wash is the main glue here.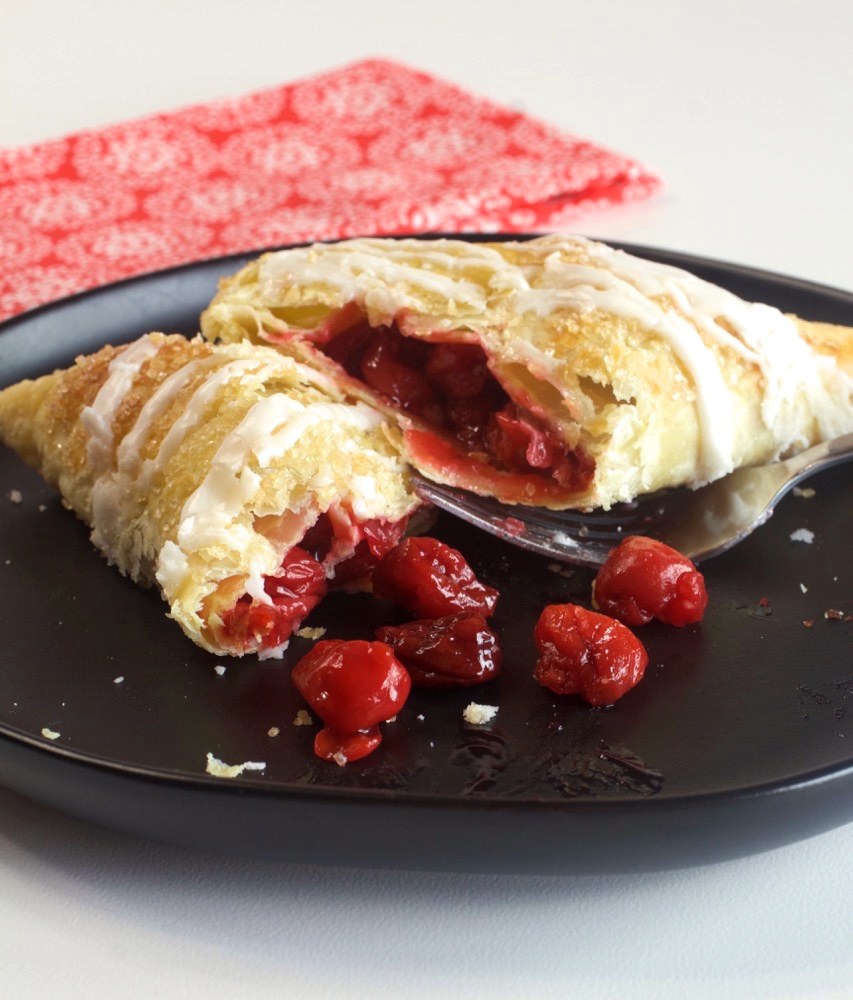 One last tip…
Don't drizzle the glaze over the turnovers until they are cool.  If you drizzle the glaze on them while they are still warm, the glaze will simply soak into the pastry, causing it to lose its flakiness and deflate.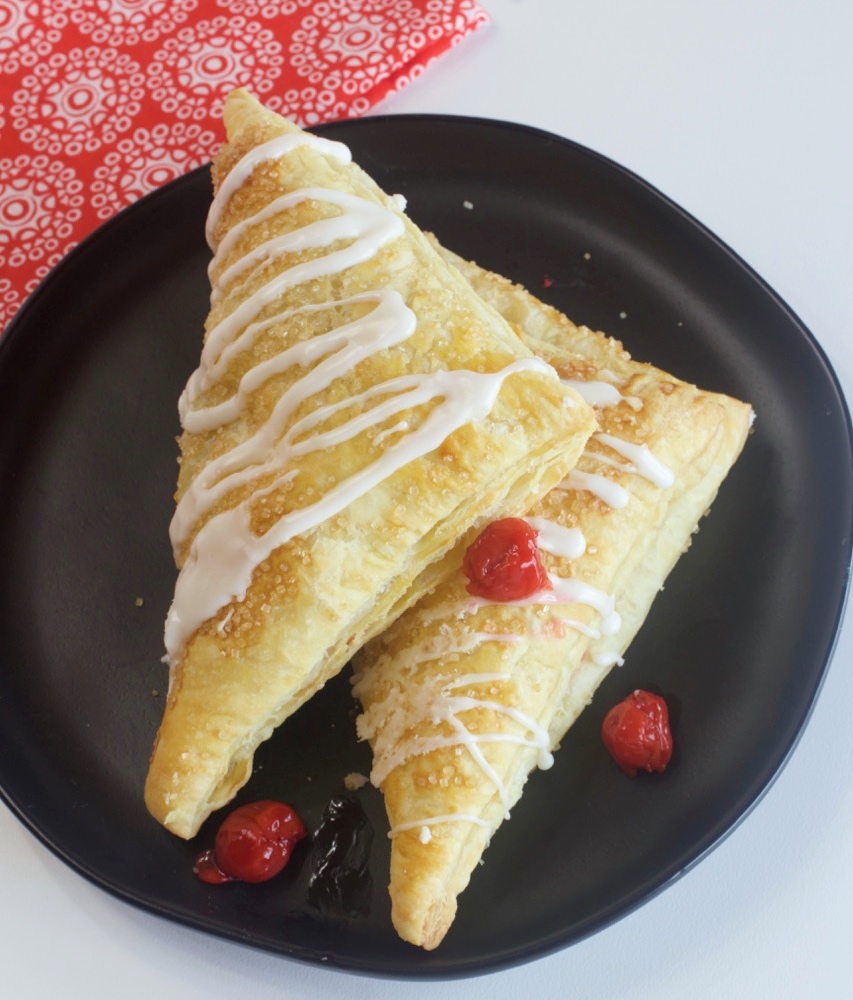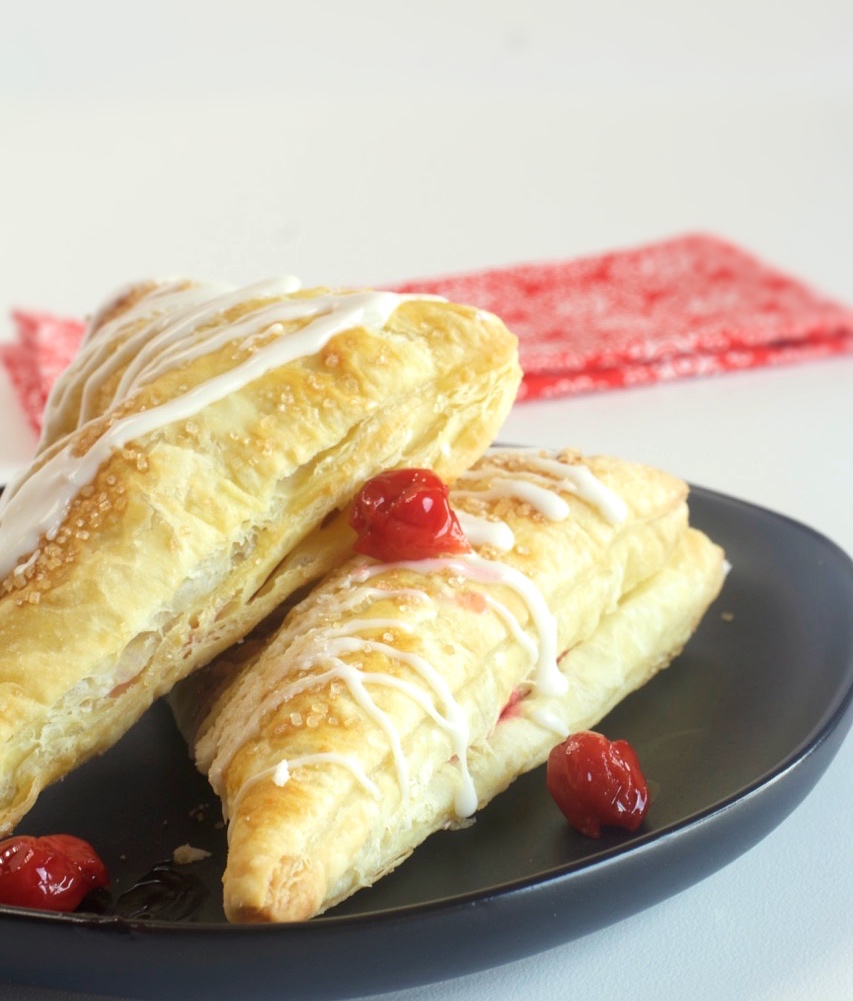 These are great anyway you eat them!  My favorite is warming them slightly and topping them with a scoop of vanilla ice cream.  YUM!
Print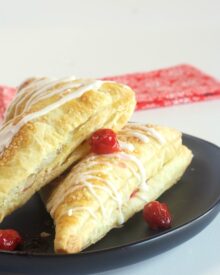 Easy Puff Pastry Cherry Turnovers
Author:

Prep Time:

15 minutes

Cook Time:

15 minutes

Total Time:

30 minutes

Yield:

8

1

x
---
FOR THE TURNOVERS
1

box (2 sleeves) Puff Pastry sheets, thawed

1

bag frozen red tart cherries, 16 ounces, thawed

2 tablespoons

cornstarch

1/2

cup

granulated sugar

1

drop red food coloring, optional

1

large egg yolk
Turbinado sugar for sprinkling
FOR THE GLAZE
1 1/2

cups

powdered sugar

1/2 teaspoon

pure vanilla extract

3

to

3 1/2

tablespoons milk
---
Instructions
Preheat oven to 400 degrees.
FOR THE TURNOVERS
Preheat oven to 400 degrees.  Line a baking sheet with parchment paper and set aside.
Drain the cherries reserving 1/4 cup of the juice in a measuring cup.  Whisk the cornstarch into the juice until smooth.  Add the cherries, sugar and cornstarch mixture to a medium saucepan.  Heat over medium heat, stirring constantly until mixture has thickened, about 5 minutes.  Remove from heat and add a drop of food coloring if desired.  Place pan in the refrigerator or freezer to cool mixture.
Open and remove one sheet of the puff pastry.  Refrigerate the second sheet until you're finished working with the first sheet.  Place the pastry sheet on a well-floured work surface.  Using a floured rolling pin, roll dough into a square.  Using a sharp knife or pizza cutter, cut dough into four equal squares.  Using a pastry brush, brush edges of each square with the egg wash.
Place two tablespoons of the cherry filling on each square of dough.  Grab one corner and pull it over to meet the corner on the opposite side, making a triangle.  Using a fork, immediately crimp the edges to prevent the filling from oozing out.  The egg wash should help seal the edges.  Don't worry if a little bit of the filling oozes out.
Place turnovers on baking sheet and brush tops with the egg wash.  Sprinkle turbinado sugar over the tops.
Repeat steps 2 through 4 with the second sheet of puff pastry.
Place baking sheet with turnovers in a refrigerator or freezer until dough becomes very cold again.
Bake turnovers until light golden brown and puffy, about 15 minutes.remove from oven and allow to cool to room temperature.
FOR THE GLAZE
In a small bowl, whisk together the powdered sugar, vanilla, and milk.  Using a spoon, drizzle the glaze back and forth over each turnover.
Serve room temperature or slightly warmed.
---
Notes
Store turnovers in an airtight container.  Turnovers will stay fresh for up to two days but are best eaten the same day they are made.  They will begin to slowly deflate after the first day.
Make sure that you keep the dough cold while working with it.  If it becomes warm, place it in the freezer for 5 minutes.  After you have formed the turnovers, place your baking sheet with turnovers back in the freezer or refrigerator until dough becomes cold again before placing in the oven.
See my tips above recipe for making perfect turnovers!
Keywords: food, recipes, desserts, pies, turnovers, cherry, tart cherry turnovers, cherry turnovers,
There may be affiliate links in this post. We are a participant in the Amazon Services LLC Associates Program, an affiliate advertising program designed to provide a means for us to earn fees by linking to Amazon.com and affiliated sites.