Buttermilk Pancakes with Cherry Compote
These Buttermilk Pancakes with Cherry Compote start with fluffy, melt-in-your-mouth buttermilk pancakes and they get finished with a delectable homemade tart cherry compote. If you really want to send them over the top, add some fresh whipped cream. Delicious!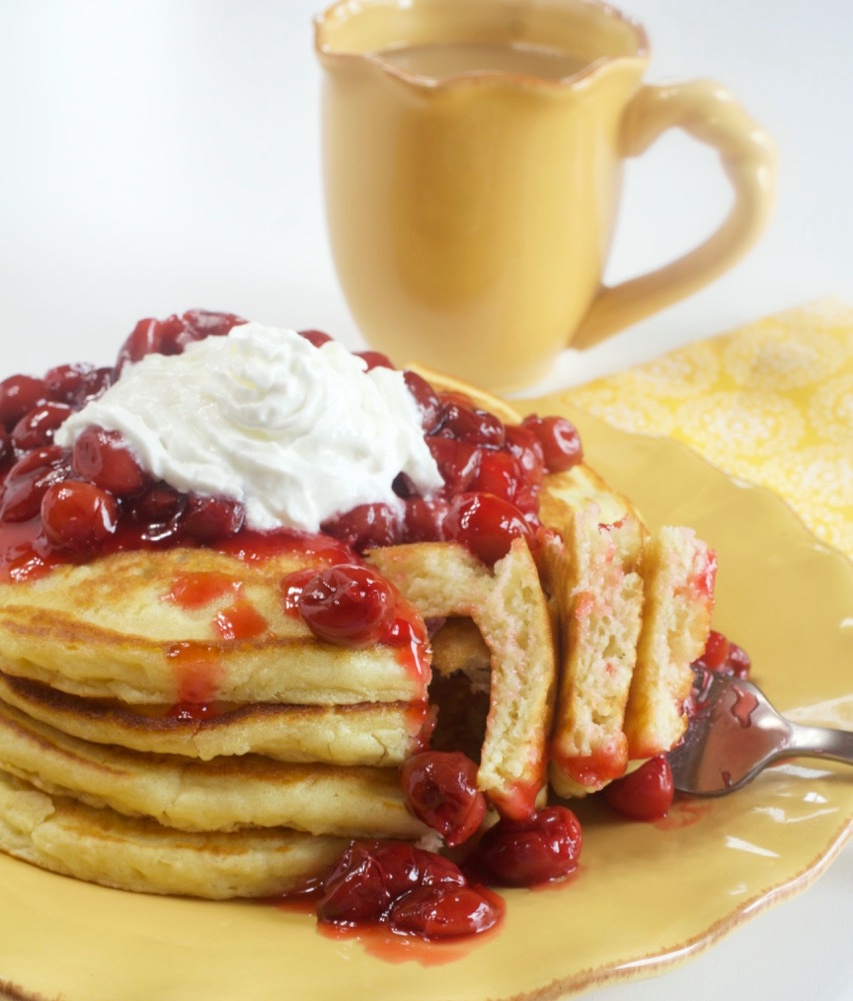 Do you know what's good about having lots of great breakfast recipes in your recipe repertoire? You can live in a stick house way out in the country and not have to worry about driving ten miles for a great breakfast. I love being able to fix what I'm craving for breakfast and to be able to fix it quickly. Sorry…but I wake up hungry and I get grumpy if I can't eat soon after getting out of bed.
So let's talk about pancakes, shall we? I don't know about you, but I've never met a pancake that I didn't like. I will also admit that I've probably eaten thousands of pancakes in my life. I can eat pancakes with a side of bacon for dinner anytime. Who says pancakes have to be reserved for breakfast or brunch?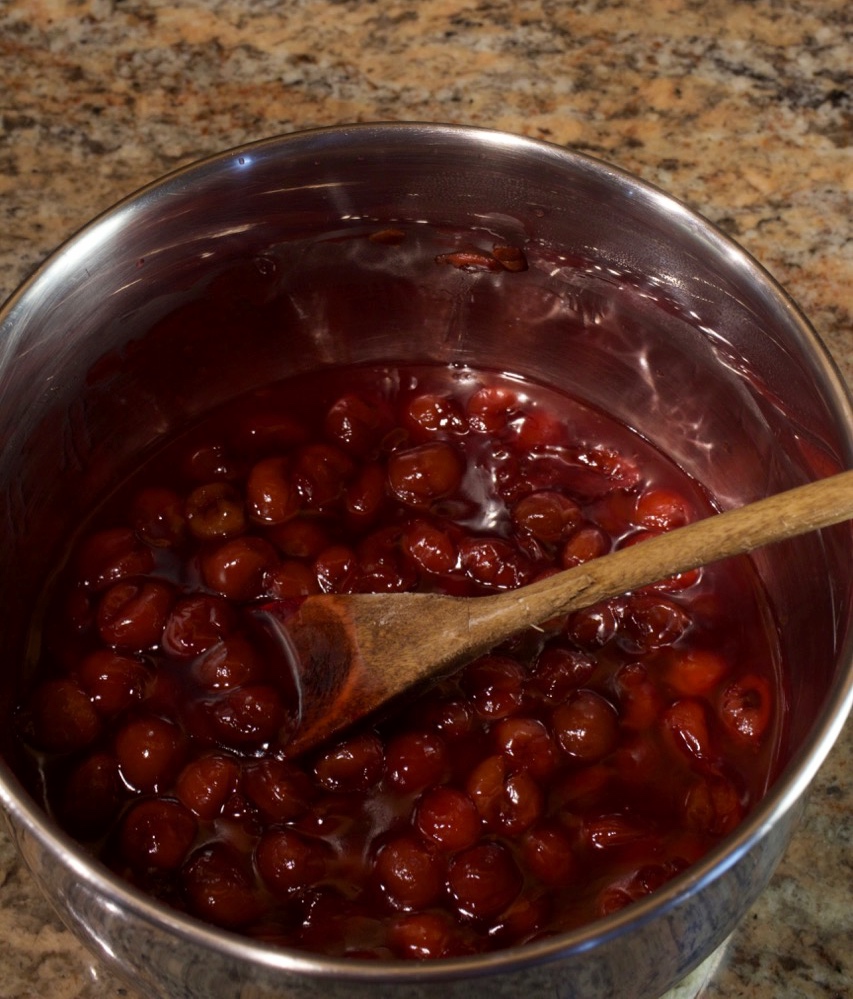 So this morning I had a hankering for a batch of my favorite Sour Cream Buttermilk Pancakes but I wasn't exactly in the mood for my usual warm maple syrup drizzled over the top. I was more in the mood for fruit. Something fruity yet a little tart to offset the sweetness in the pancakes. I already knew where my mind was headed, so I reached for a bag of frozen red tart cherries from my freezer and quickly thawed them in the microwave while starting a pot of coffee. The rest was history. It only took five minutes to add a little sugar, vanilla, and cornstarch to thawed cherries and turn them into delicious cherry compote.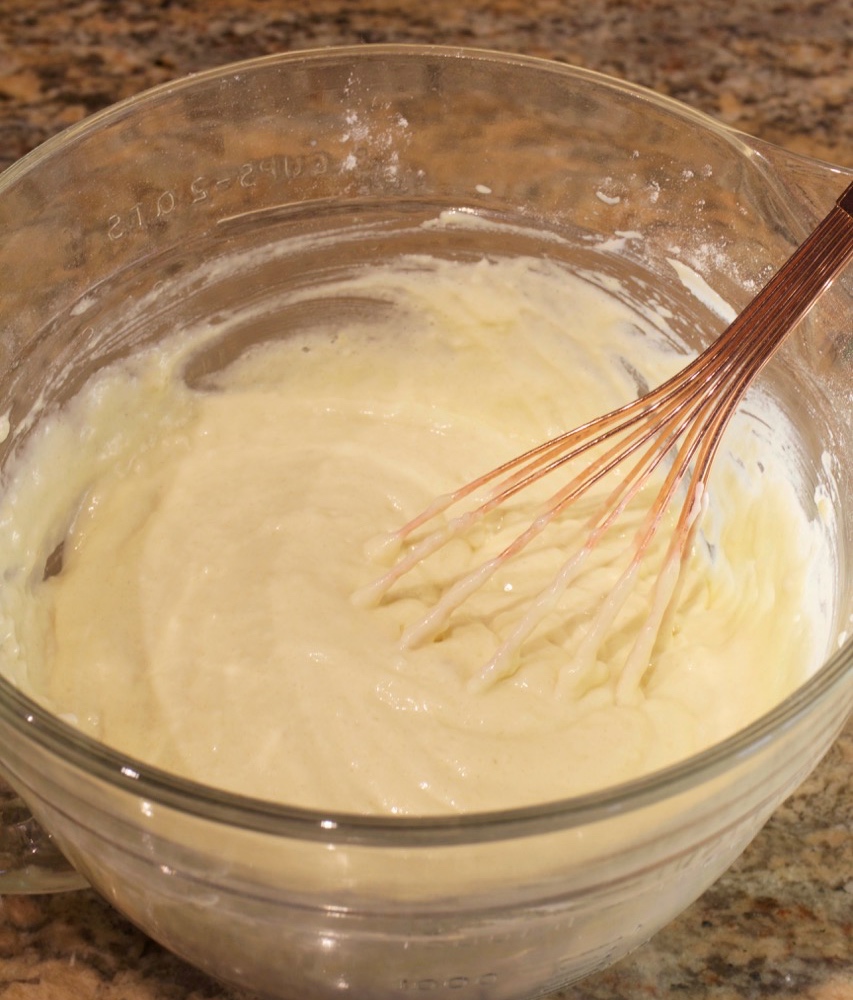 Now all I had to do was make the pancakes. Easy!! Trust me, homemade pancakes are SO easy to make and much better than that mix in a box. I've made these pancakes so many times, I could literally make them in my sleep. If you have ten minutes to spare, you can make these. This batter is simply a quick whisking together of flour, buttermilk, sour cream, eggs, and leaveners (baking powder & baking soda). It takes five minutes to mix up the batter.
Quick tips for mixing the batter:
Don't overmix the batter. It's okay if there are small lumps in the batter as long as all the dry ingredients are wet. That means just mix long enough to incorporate the dry ingredients, then STOP! Overmixing the batter will result in tough pancakes and we want fluffy and tender pancakes.
After mixing the batter, allow the batter to rest for 5 minutes before pouring.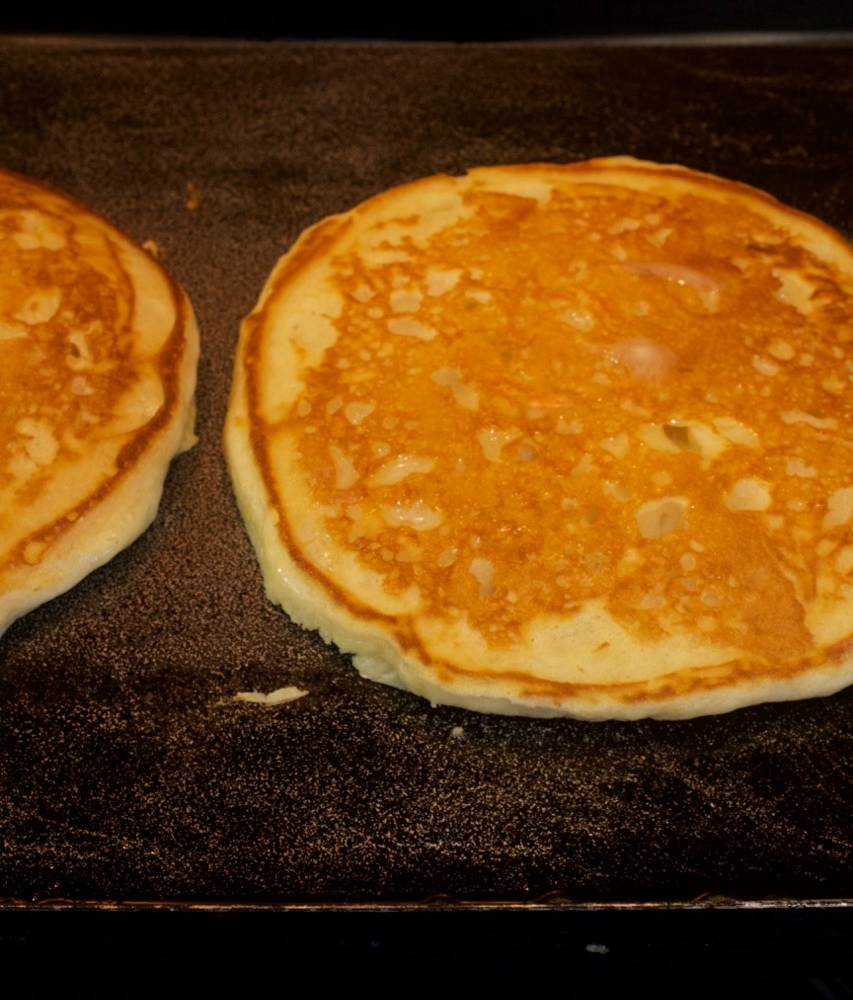 Quick tips on pouring the batter and making the fluffiest pancakes:
Preheat your griddle to 350 degrees and make sure it is very hot before you start pouring the batter. Test the griddle by dropping a tiny "dab" of butter on the griddle. If it sizzles, it's ready.
Brush the hot griddle with butter before pouring the batter.
Don't spread the batter too thin. Once you pour the batter, use the back of a spoon or spatula to spread the batter out a little and into a circular shape, but don't spread it too thinly.
Don't flip the pancakes until you see small air bubbles forming on top of the batter. This is how you know that the pancakes are cooked halfway through. If you flip them too soon, they won't be done in the middle, and who wants a doughy pancake. We want fluffy!!!!
Now go make your own pancakes, and I promise you won't be sorry. And hey, after you pour on the cherry compote, you might even want a dollop of whipped cream. YUM!
Print
Buttermilk Pancakes with Cherry Compote
Author:

Prep Time:

10 Minutes

Cook Time:

20 Minutes

Total Time:

30 minutes

Yield:

8

Servings

1

x

Category:

Breakfast

Method:

Cook
---
Description
These Buttermilk Pancakes with Cherry Compote start with fluffy, melt-in-your-mouth buttermilk pancakes and they get finished with a delectable homemade tart cherry compote.  If you really want to send them over the top, add some fresh whipped cream.  
---
FOR THE CHERRY COMPOTE
1

bag frozen red tart cherries, 16 ounces, thawed

1/2

cup

granulated sugar

1/2 teaspoon

pure vanilla extract

2 tablespoons

cornstarch
FOR THE PANCAKES
1 1/2

cups

all-purpose flour

1 teaspoon

baking soda

1 tablespoon

baking powder

1/4 teaspoon

salt

2 tablespoons

sugar

2

eggs slightly beaten

1 teaspoon

pure vanilla

1 tablespoon

vegetable oil

1/2

cup

sour cream

1

cup

plus 1

tablespoon

full-fat buttermilk*
---
Instructions
FOR THE CHERRY COMPOTE
Add the cherries, sugar, and cornstarch to a medium saucepan and bring to a boil over medium heat while slowly and constantly stirring.  Cook until mixture begins to thicken, about 5 minutes, and remove from heat.  Add the vanilla and mix to incorporate.  Set aside while making the pancakes.
FOR THE PANCAKES
Preheat a griddle to 350 degrees.
Combine dry ingredients in a medium bowl and whisk or use a fork to blend.
In a separate bowl, combine eggs, vanilla, oil, sour cream, and buttermilk.
Add the flour and wet mixtures together and mix until incorporated but do not over mix. The mixture will be slightly lumpy.
Brush some butter onto the preheated griddle.
Pour batter, depending on the size you prefer, onto the hot griddle.
Flip pancakes after you see the tops start to form small air bubbles.
Remove from the griddle when the bottoms are golden brown and slather with butter.
Serve with warm cherry compote and a dollop of whipped cream if desired.
---
Notes
The actual amount of servings depends on the size of the pancakes.
* Note: If you are in a pinch and do not have buttermilk, you can substitute by adding one tablespoon of vinegar to a cup of milk and let sit for five minutes, or you can use cultured dry buttermilk from a can. However, mixing vinegar to sweet milk results in an acidic flavor and powdered buttermilk adds a little buttermilk flavor, but they do not stand up to the real thing.
Pancakes are best if eaten the day they are made.
Keywords: food,recipes,breakfast,breads,pancakes,cherry,buttermilk,buttermilk pancakes,cherry pancakes,cherry compote,
There may be affiliate links in this post. We are a participant in the Amazon Services LLC Associates Program, an affiliate advertising program designed to provide a means for us to earn fees by linking to Amazon.com and affiliated sites.