Sour Cream Buttermilk Pancakes
These Sour Cream Buttermilk Pancakes have an extra bit of tang and moisture with the addition of sour cream, and they are super fluffy and tender. I've made these delicious pancakes a zillion times!!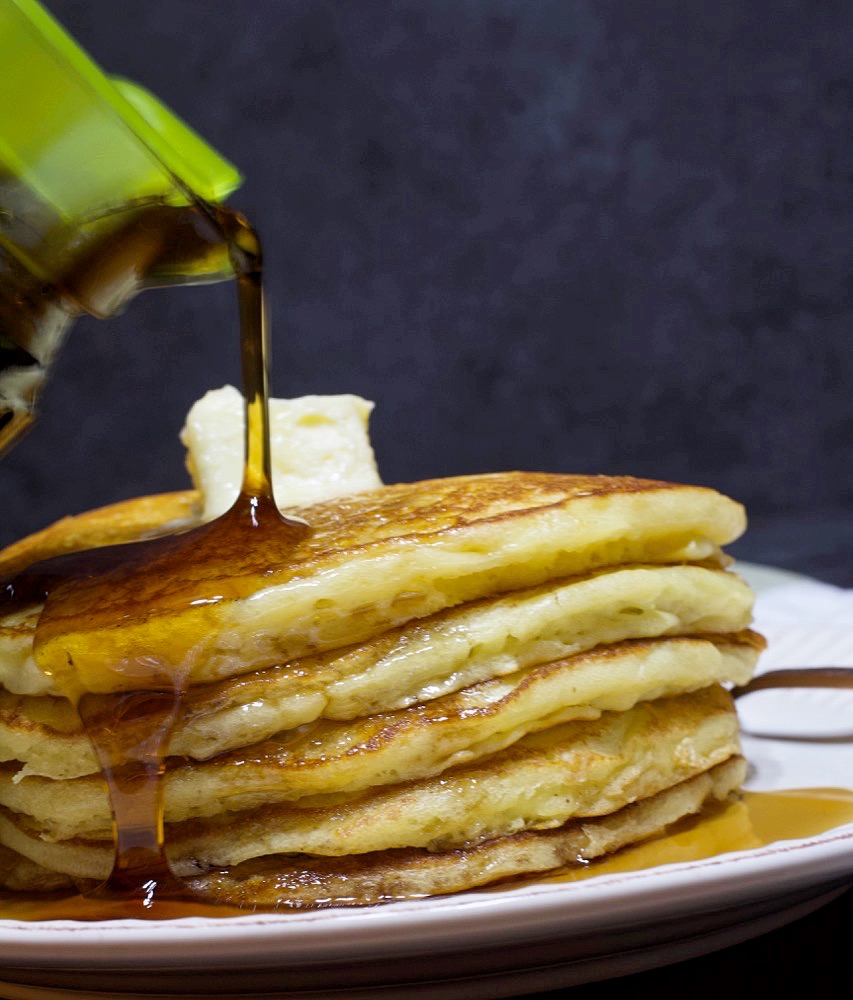 This is one of the first recipes I posted on my blog. However, with Mother's Day soon approaching, and because my recipe was in need of some updated pictures, I decided to repost it. When I initially posted this recipe, I got feedback from several readers that these were a huge hit on Mother's Day.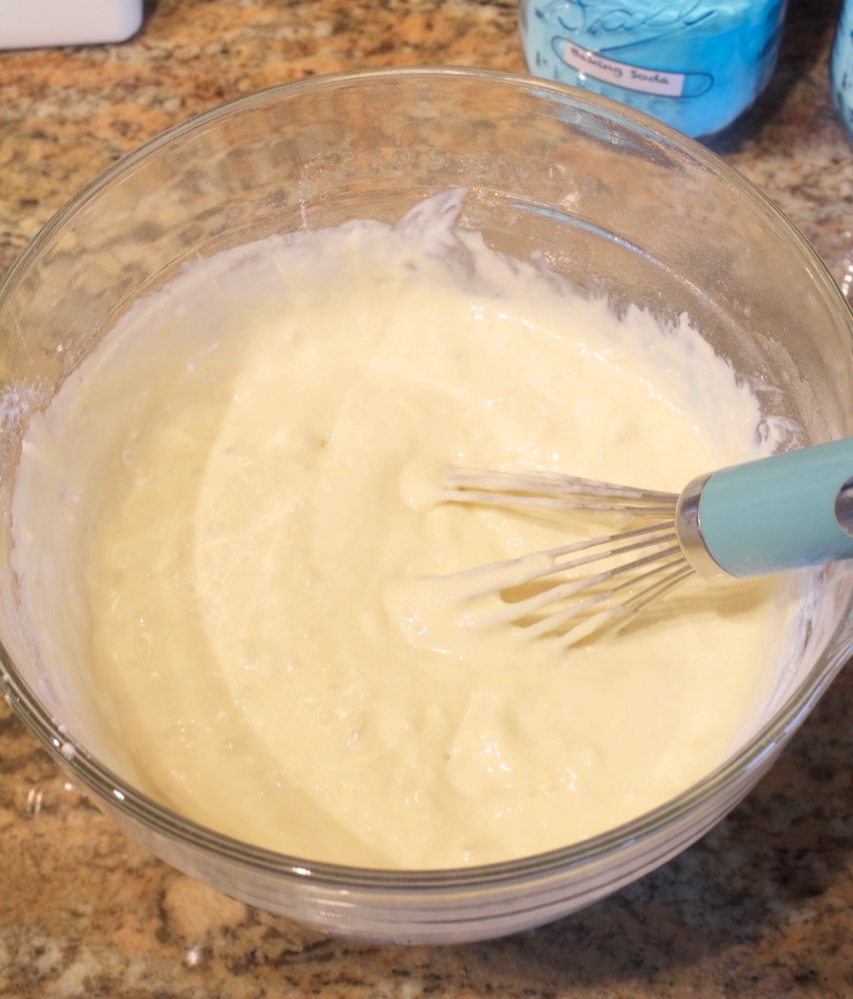 If you've never made homemade pancakes, you might think they are hard to make, but they aren't hard at all. Trust me, when I tell you it takes 5 minutes to whip up a batch of this pancake batter, and it's so worth it.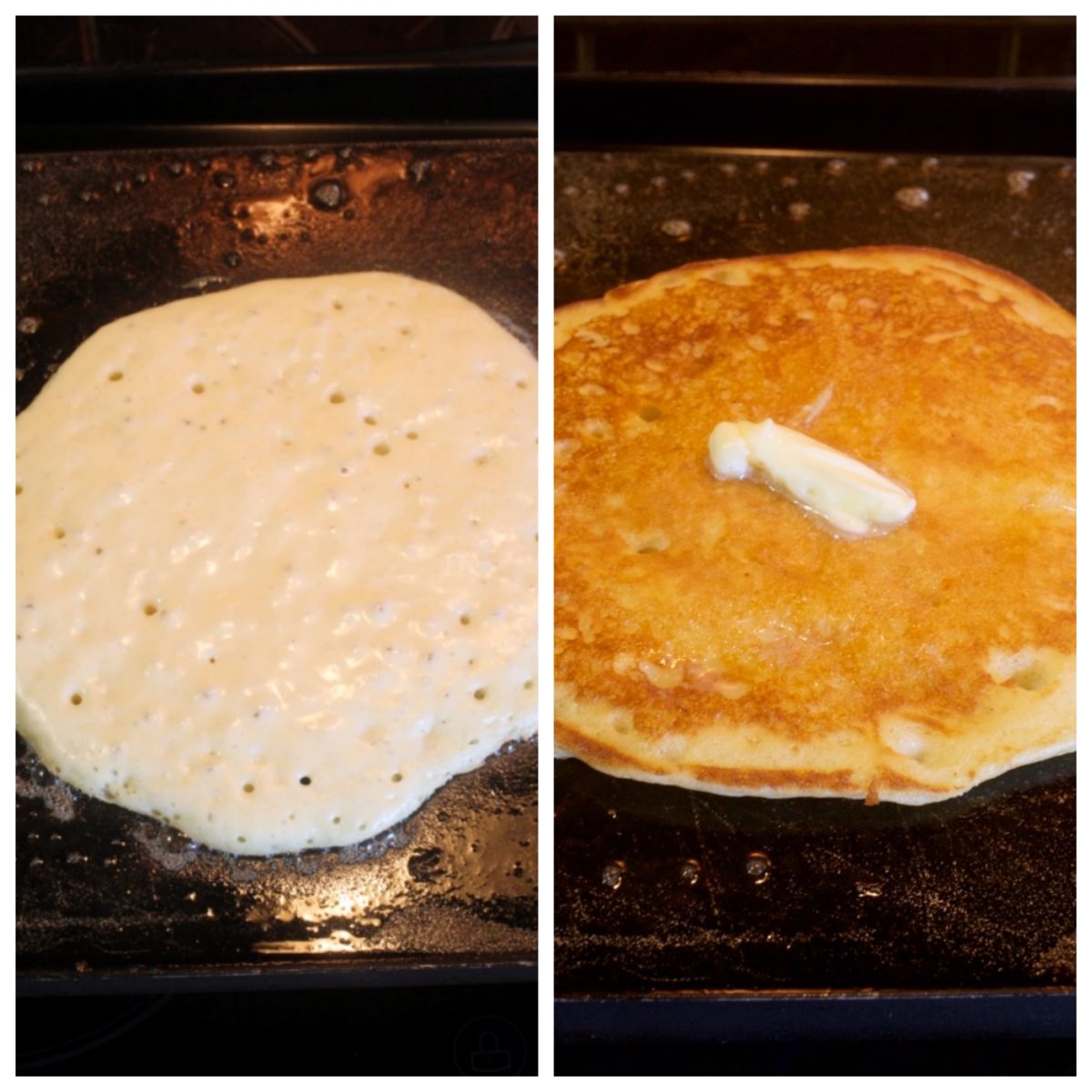 Tips for making perfect pancakes on the griddle…
Do not want to overmix the batter. Mix the batter just long enough to incorporate the dry ingredients. If the batter has small lumps in it, that's okay.
Make sure your griddle is very hot, by heating it to 350 degrees. Test the griddle by brushing it with butter. It's hot enough when the skillet sizzles when brushed with butter. If it doesn't sizzle, wait a few more seconds until it does.
Most people, even cooks on TV, say the first pancake is never a good one, and some people even pitch the first one that gets poured onto the griddle. This is because they do not give their griddle time to get hot enough before pouring that first pancake. You should never have to pitch a pancake.
Decide how big you want your pancakes to be. If you're not really experienced in flipping pancakes, you might want to make yours on the smaller side so they're easier to flip. Use a measuring cup or cookie scoop to make each one the same size. I used a 1/2 cup measuring cup to pour the batter in the pictures above. After you pour the batter, you can use a spoon and slightly spread the batter out a little more. That's what I do. When I'm making small silver dollar pancakes for my grandchildren, I use a medium-size cookie scoop.
Once you've poured the batter onto the griddle, don't flip the pancakes over until you see several air bubbles form on the batter, as you can see in the picture above. It usually takes about 1 minute per side. To see if the second side is done, raise up the edge of the pancake with a pancake turner and if it's browned on the underside, it's done. I like to butter the tops, while the pancakes are on the griddle, and waiting for the undersides to get done.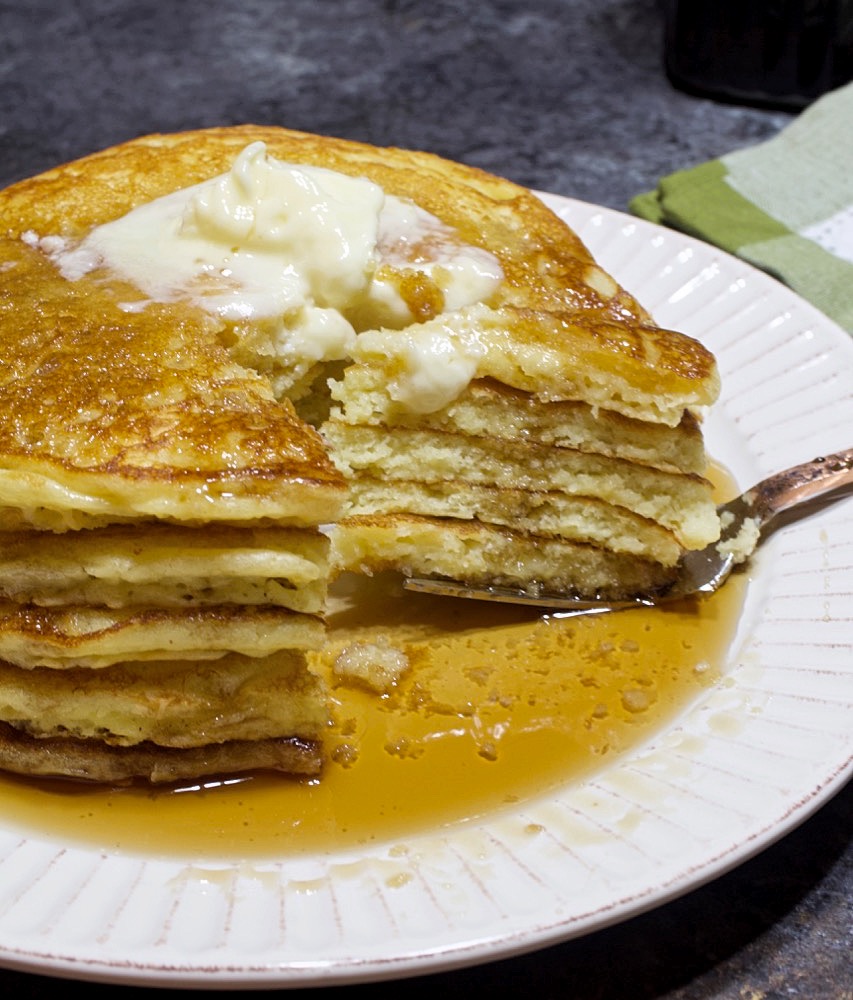 Fix these for your mom for Mother's Day and make her smile!!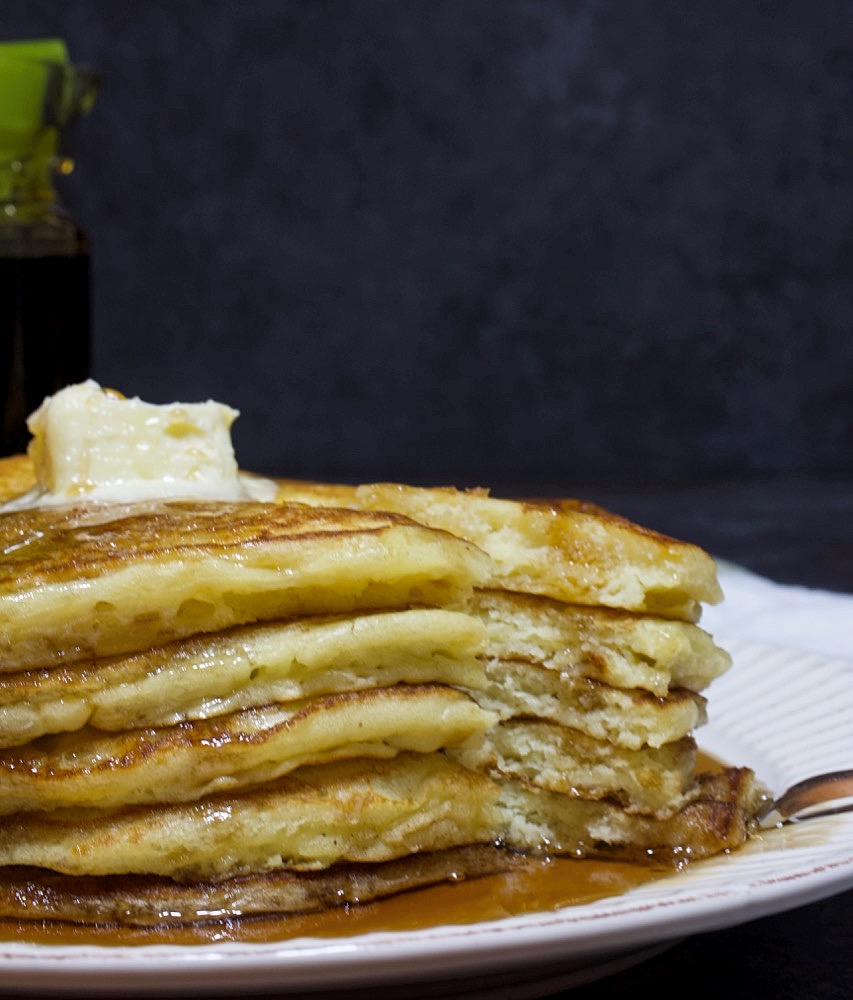 The pictures below are from my original post. I just had to move them over. My granddaughter Makayla eating Grandma's pancakes…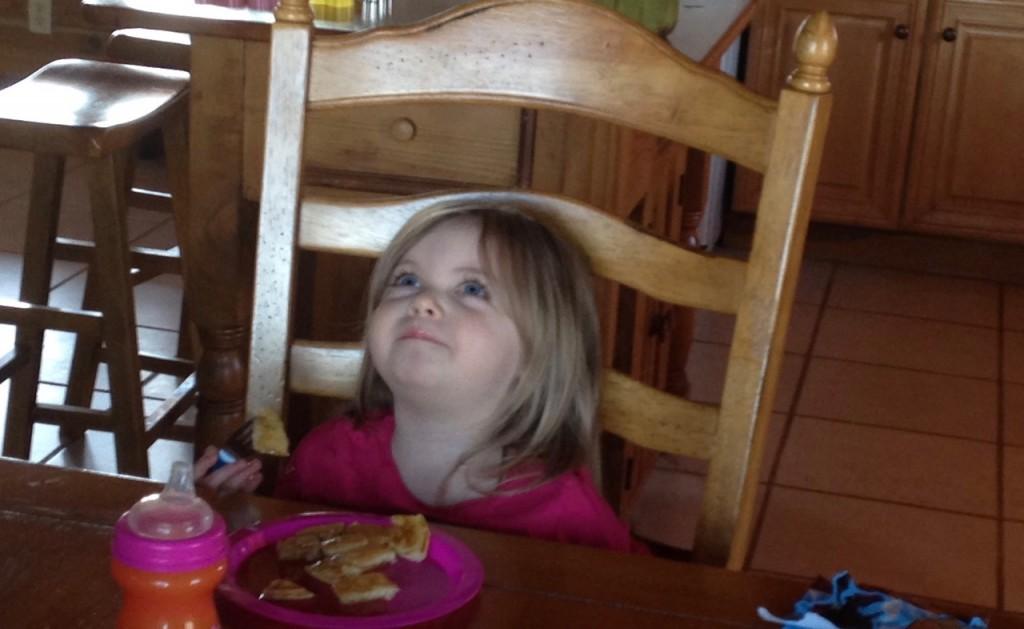 Print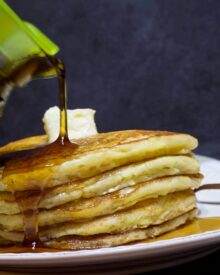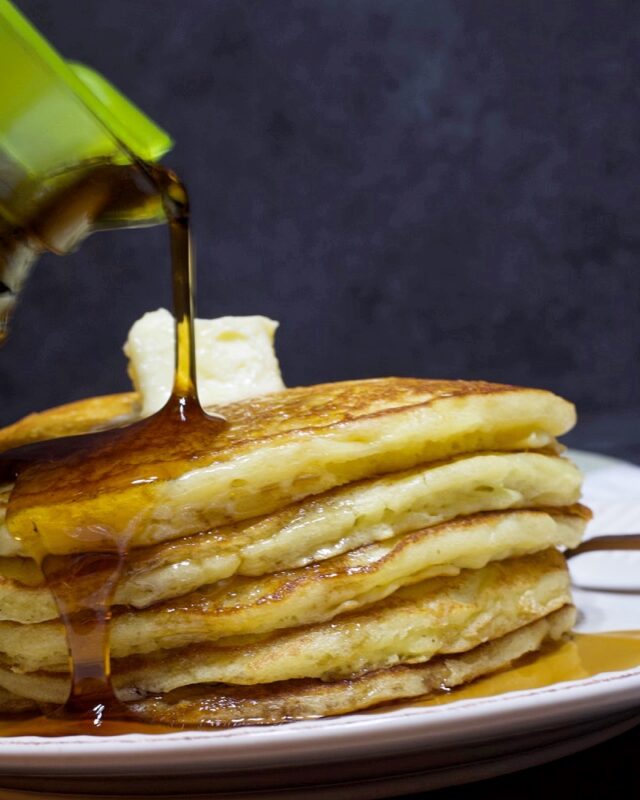 Sour Cream Buttermilk Pancakes
Author:

Prep Time:

5

Cook Time:

10

Total Time:

15

Yield:

8

1

x

Category:

Breakfast
---
Description
These Sour Cream Buttermilk Pancakes have an extra bit of tang and moisture with the addition of sour cream, and they are super fluffy and tender.  I've made these delicious pancakes a zillion times and there are never any left!!
---
1 1/2

cups

all-purpose flour

1 teaspoon

baking soda

1 tablespoon

baking powder

1/4 teaspoon

salt

2 tablespoons

sugar

2

eggs slightly beaten

1 teaspoon

pure vanilla

1 tablespoon

vegetable oil

1/2

cup

sour cream

1

cup

plus 1

tablespoon

full-fat buttermilk*
---
Instructions
Preheat a griddle to 350 degrees.
Combine dry ingredients in a medium bowl and whisk or use a fork to blend.
In a separate bowl, combine eggs, vanilla, oil, sour cream and buttermilk.
Add the flour and wet mixtures together and mix until incorporated but do not over mix. Mixture will be slightly lumpy.
Brush some butter onto the preheated griddle.
Pour batter, depending on the size you prefer, onto the hot griddle.
Flip pancakes after you see the tops start to form small air bubbles.
Remove from the griddle when the bottoms are golden brown and slather with butter.
Serve with warm maple syrup or the syrup of your choice.
---
Notes
* Note: If you are in a pinch and do not have buttermilk, you can substitute by adding one tablespoon of vinegar to a cup of milk and let sit for five minutes, or you can use cultured dry buttermilk from a can. However, mixing vinegar to sweet milk results in an acidic flavor and powdered buttermilk adds a little buttermilk flavor, but they do not stand up to the real thing.
Actual yield depends on the actual size of the pancakes.
Keywords: breakfast, pancakes, sour cream, buttermilk, buttermilk pancakes,
There may be affiliate links in this post. We are a participant in the Amazon Services LLC Associates Program, an affiliate advertising program designed to provide a means for us to earn fees by linking to Amazon.com and affiliated sites.