The Ultimate Vanilla Birthday Cake
This is The Ultimate Vanilla Birthday Cake. Tucked inside its moist and tender layers is a to-die-for vanilla mousse filling, and the frosting is the very best Italian Meringue Buttercream ever. Three kinds of heaven in one cake. Delicious!!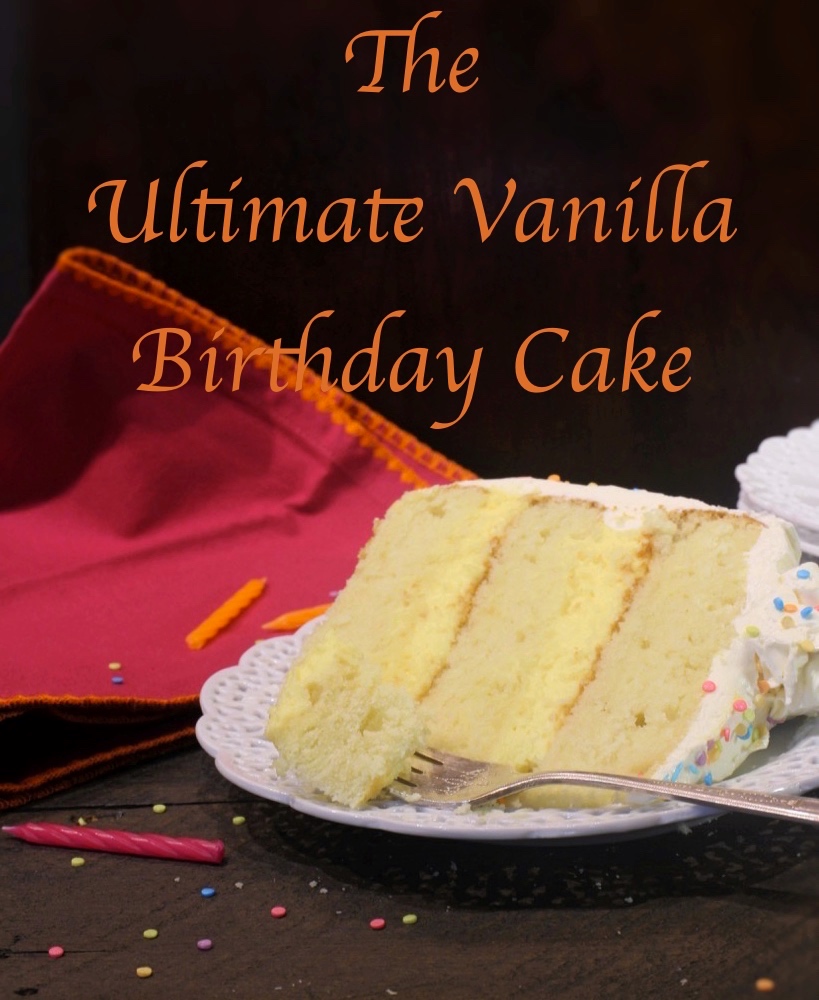 I am so excited today to be sharing a recipe with you that's been a long time in the making. Not only do I dearly love vanilla, but I've been planning this dream cake in my head for almost one year, and time after time it has been moved to the back burner behind other recipes that readers or friends have asked me to make. Well it just so happens that I had a birthday a few weeks ago, and I made myself a promise that I was making my dream cake come true for my birthday. What is my dream cake? The Ultimate Vanilla Birthday Cake.
So what makes the Ultimate Vanilla Birthday Cake in my mind? Three things…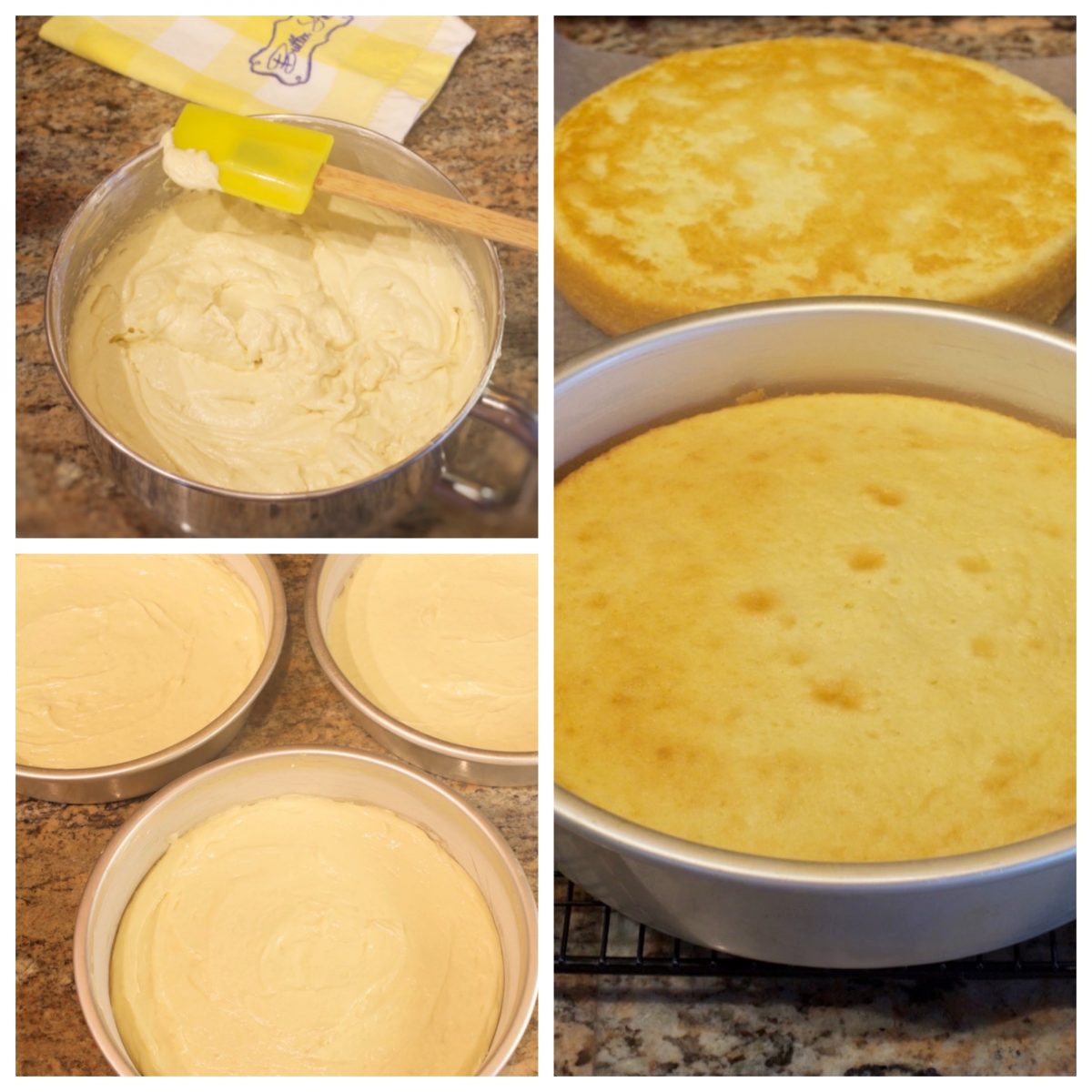 The cake itself must be moist with a wonderful vanilla flavor and the texture must be soft with a semi-fine crumb.
Here's what I used to accomplish making the perfect vanilla cake…
Butter & Vanilla – Lots of both for mega flavor.
Buttermilk – Lots of buttermilk for moistness.
Cake Flour – Part cake flour along with all-purpose flour for a finer cake crumb.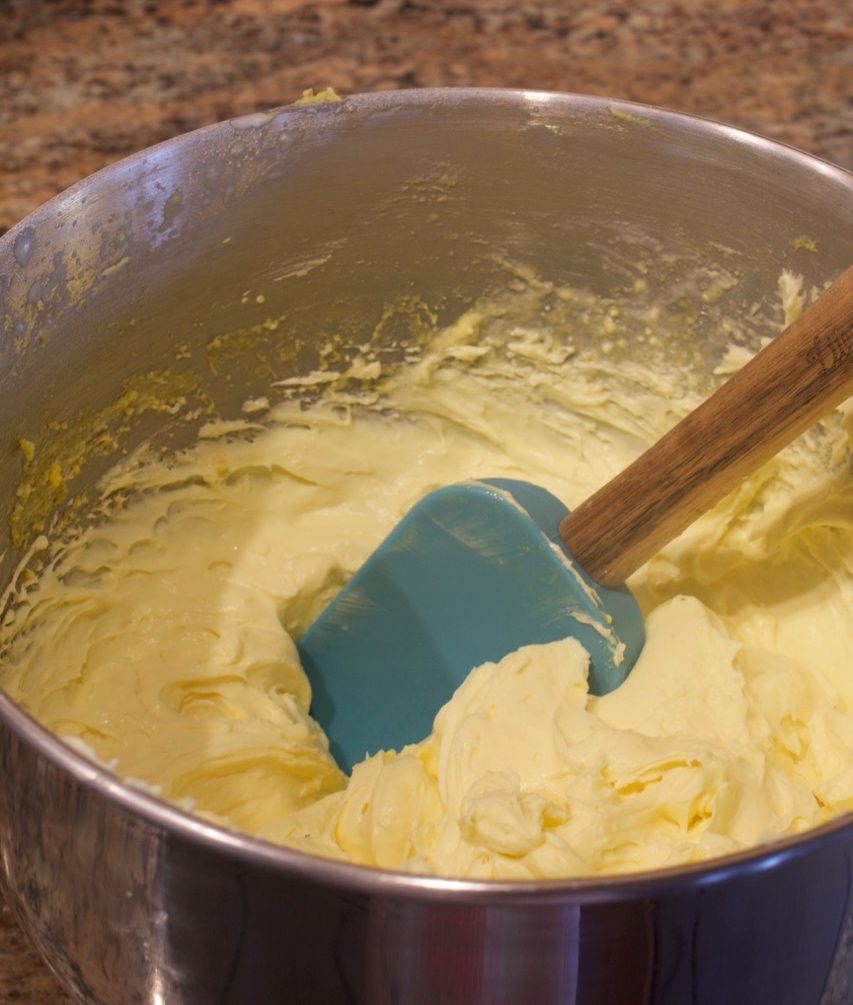 The filling between the layers must be different from the frosting on the cake. The filling should be something extra special such as a light and fluffy vanilla mousse filling.
Here's what I used to accomplish making the perfect vanilla mousse filling…
Heavy Whipping Cream – Lots of flavor and a fluffy whipped texture.
Pure Vanilla Extract – Lots of vanilla flavor.
Instant Vanilla Pudding – Added fluffiness and stabilization.
The frosting…oh yes, the frosting. Not a typical buttercream. No, the frosting must be kicked up a notch too. A special frosting such as an Italian Meringue Buttercream. Oh, and it can't be so sweet that it's sickening…just sweet enough.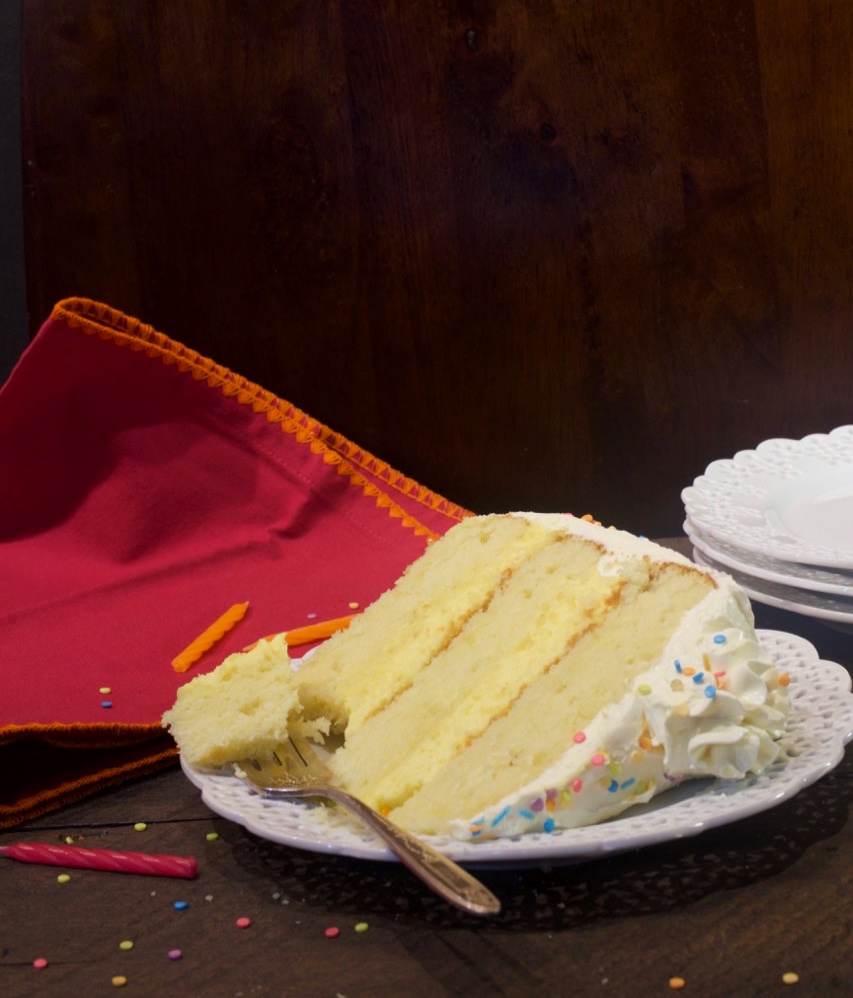 So talking about the perfect Italian Meringue Buttercream…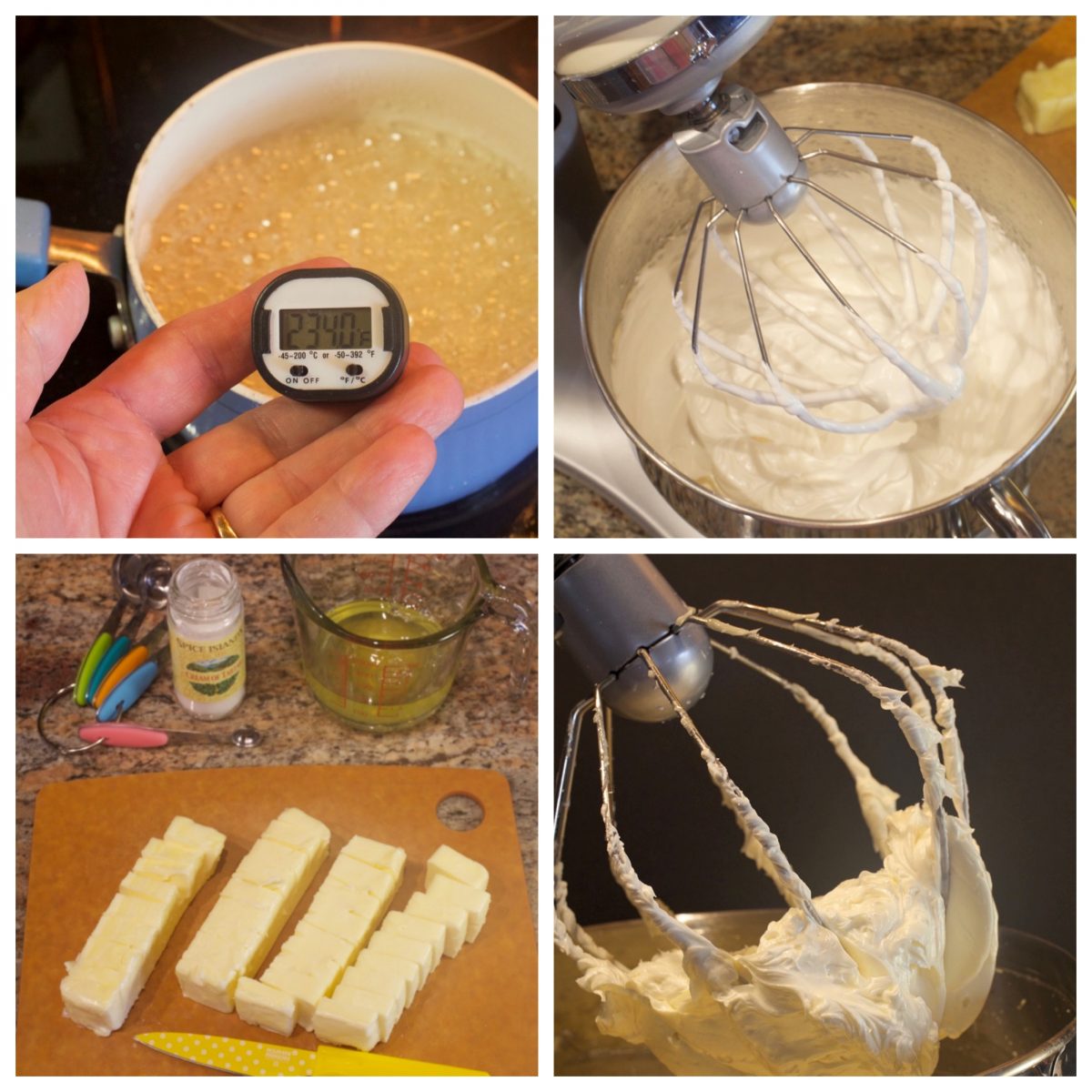 Here's what I did to accomplish the perfect Italian Meringue Buttercream…
Regular buttercream uses lots of powdered sugar, making the frosting very sweet. I wanted a silky smooth buttercream with just a light sweet taste. Therefore, I made a simple syrup by cooking water and granulated sugar together until they reached a softball stage.
I whipped egg whites until they were stiff and added the simple syrup to the egg whites.
Then I added lots of real butter and some vanilla.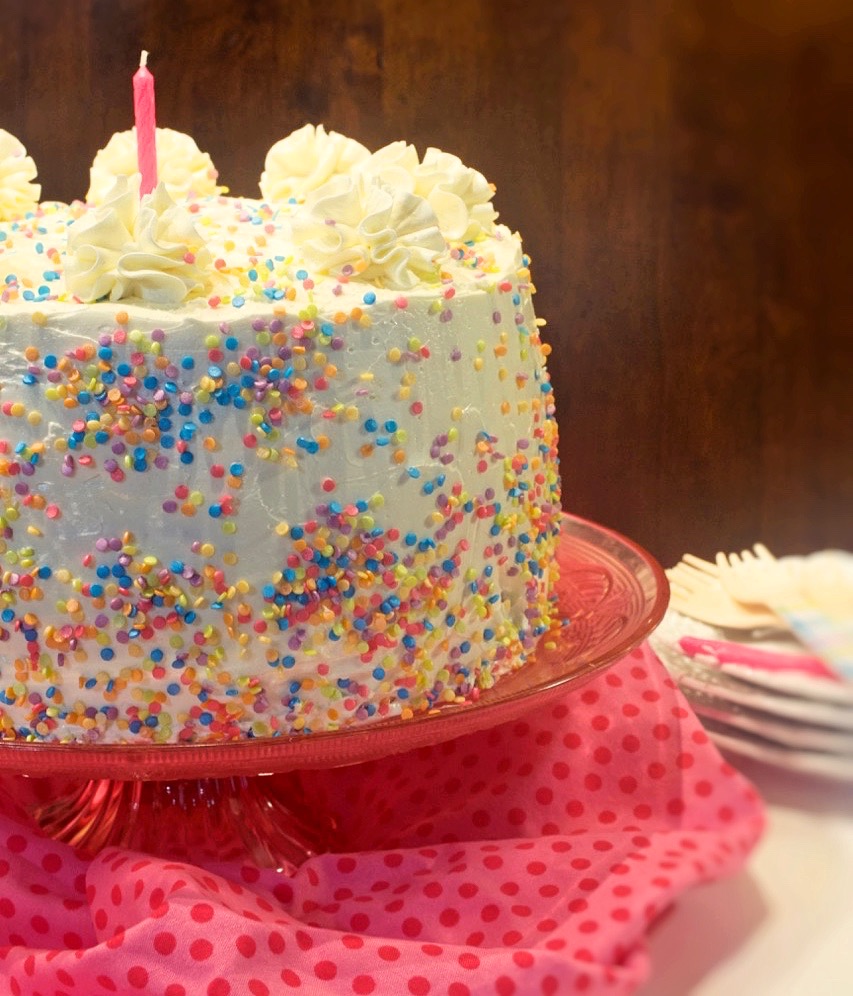 Make this cake and you'll have a very HAPPY BIRTHDAY!!
Print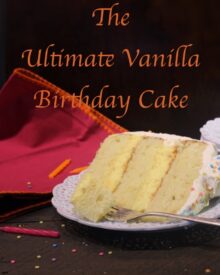 The Ultimate Vanilla Birthday Cake
Author:

Prep Time:

75

Cook Time:

35

Total Time:

110
---
For the Cake
1 3/4

cups

cake flour

2

cups

all purpose flour

1 teaspoon

salt

3/4 teaspoon

baking soda

1 1/2 teaspoons

baking powder

3

sticks unsalted butter, room temperature

2

cups

granulated sugar

5

large eggs, room temperature

1 tablespoon

pure vanilla extract

1

3/4

cups

plus 1 tablespoonn full fat buttermilk
For the Vanilla Mousse Filling
2

cups

heavy whipping cream

1

cup

2% milk

2

small packages instant vanilla pudding, 3.4 ounces each

1 teaspoon

pure vanilla extract
For the Italian Meringue Buttercream
2/3

cups

water

1 1/4

cups

granulated sugar

5

large egg whites
Pinch Cream of Tartar

4

sticks unsalted butter, chilled and cut into small pieces

2 teaspoons

pure vanilla extract
---
Instructions
For the Cake
Preheat oven to 350 degrees. Line three 9-inch cake pans with rounds of wax paper and lightly grease and flour, tapping off the excess flour.
Measure the cake flour, sift and remeasure it. Sift the remeasured cake flour, all purpose flour, salt, baking soda and baking powder together in a large bowl and set aside.
Add the butter to the bowl of a stand mixer fitted with the paddle attachment, or use a hand mixer. Mix the butter on high speed until it is light and creamy. Add the sugar and mix on high speed until the sugar and butter are well combined and the mixture is very light and creamy, about 4 minutes. Stop mixer halfway through and scrape down the sides of the bowl with a rubber spatula. Add the eggs, one at a time, mixing well, on medium speed, after each addition. Add vanilla and mix to incorporate.
Turn the mixer to low and add the dry ingredients in three additions, alternating with the buttermilk, and beginning and ending with the dry ingredients. Mix only to incorporate the dry ingredients. Do not over overmix when adding the dry ingredients. It only takes a few seconds.
Divide the batter equally between the 3 cake pans. I used about 2 3/4 cups of batter per pan. Feel free to use a kitchen scale if you want to be exact.
Bake cake layers until they are a light golden color on top or when a toothpick inserted in the centers comes out clean, around 20-25 minutes. Transfer cake layers to wire racks or a stove top to cool for 5 minutes. Run a sharp knife around insides of cake pans. Gently shake each pan up and down until you feel the cakes moving loosely in the pans. Invert cakes onto a wax paper lined wire rack and peel the wax paper rounds from the bottoms. Allow to cool completely before frosting.
For the Vanilla Mousse Filling
Combine all ingredients in the bowl of a stand mixer fitted with the whisk attachment, or use a hand mixer. Turn mixer on low and whisk on low speed for about 2 minutes, turn mixer to medium speed and whisk for about 1 minute. Turn mixer to high and mix for about 3 minutes. Mixer will be smooth but not very thick. Refrigerate mousse filling for at least 2 hours until it has thickened.
For the Italian Meringue Buttercream
Add the water and sugar to a small saucepan. Bring to a boil over medium heat, stirring during the first minute until sugar has dissolved. Using a candy thermometer or the cold water test, cook syrup until it reaches a soft ball stage, 238 – 240 degrees and remove from heat.
While syrup is cooking, add the egg whites to the bowl of a stand mixer, using the whisk attachment, or use a hand mixer. Whisk on medium speed just until egg whites become foamy. Add the cream of tartar and whisk on high speed until whites become stiff. Do not over beat or egg whites will become dry. Egg whites should form peaks that stand on their own. Turn mixer off until syrup is ready.
When syrup is ready, turn mixer on high and begin pouring the hot syrup into the whipped egg whites in a small but steady stream, trying not to let syrup run down the inside of the mixer bowl. Beat on high speed for about 5 minutes, until the mixture has completely cooled.
Add the butter a few pieces at a time and continue whisking on high speed until all the butter has been incorporated, about 3-4 minutes. Add the vanilla and whisk for about 30 seconds on medium speed. If buttercream starts to look curdled, keep mixing it until it becomes smooth again.
To Assemble
Place one cake layer on a cake plate. Spread half of the mousse filling over the layer stopping about 1/2 inch from the edge. There will be a lot of mousse filling. Place a second layer on top of the mousse filling and gently press down. Spread the second half of the mousse filling over the second layer. Place the third cake layer on top of the mousse filling. Using the back of a spoon, run the spoon around the cake between each layer to tuck in and smooth off the mousse filling.
Spread a thin crumb coat layer of the frosting around the sides of the cake and on over the top. Refrigerate for about 30 minutes.
Remove cake from refrigerator. If frosting looks a little clumpy or curdled, turn mixer on and mix it on medium speed for a few seconds. Frost cake as desired. I saved some of the frosting and filled a decorating bag with frosting. I used a Wilton 1M tip and piped little decorative swirls on top. I used pastel sprinkles to decorate it. I wanted it to look like a party cake.
Refrigerate cake until about 1 hour before serving. The mousse filling requires refrigeration.
---
Notes
Italian Meringue Buttercream adapted from Martha Stewart.
---
There may be affiliate links in this post. We are a participant in the Amazon Services LLC Associates Program, an affiliate advertising program designed to provide a means for us to earn fees by linking to Amazon.com and affiliated sites.