How To Make Homemade Egg Noodles
If you ever wondered How To Make Homemade Egg Noodles like the ones your mom or grandma made, you've come to the right place.  Egg noodles are much easier to make than you might think, and they are the perfect addition to beef or chicken.  They also make a satisfying and comforting side for a meal. 
I grew up eating homemade egg noodles.  I loved to watch my mom roll out and cut the egg noodles and I was always going back for seconds when they were served.  My mom never used a slow-cooker, but these days, I often use a slow-cooker when making them.  My mom added them to a pot of chicken or beef and they made the perfect comforting meal on a chilly day.
Back in the day, cooks would make homemade egg noodles and hang them up to dry for a day or two before using them.  I've found that step to not be necessary.  A few hours is sufficient to ensure the noodles don't stick together while cooking.  Homemade egg noodles really are easy to make and they taste one hundred times better than store-bought.
If you're intimidated by making homemade egg noodles don't be.  I'm here to show you just how easy it is to make them, and when you eat them you'll be so glad you made them.  I'll even show you my favorite recipe that I use them in.
Homemade egg noodles are super easy to make.  There's no milk or leavening here.  We're not making drop dumplings here so we don't need the noodles to rise and we don't need milk.  The noodles will automatically expand when they get dropped into hot broth.
For The Egg Noodles
2 cups

 all-purpose flour

1 teaspoon

 salt

1

 large egg, plus 3 egg yolks
Enough water to make a dough and form a ball, about 6 tablespoons
Honestly, homemade egg noodles are cheap to make.  Probably as cheap as a bag of store-bought.  They have a rich flavor and take on even more flavor from the beef or chicken broth they are cooked in.
Mixing The Dough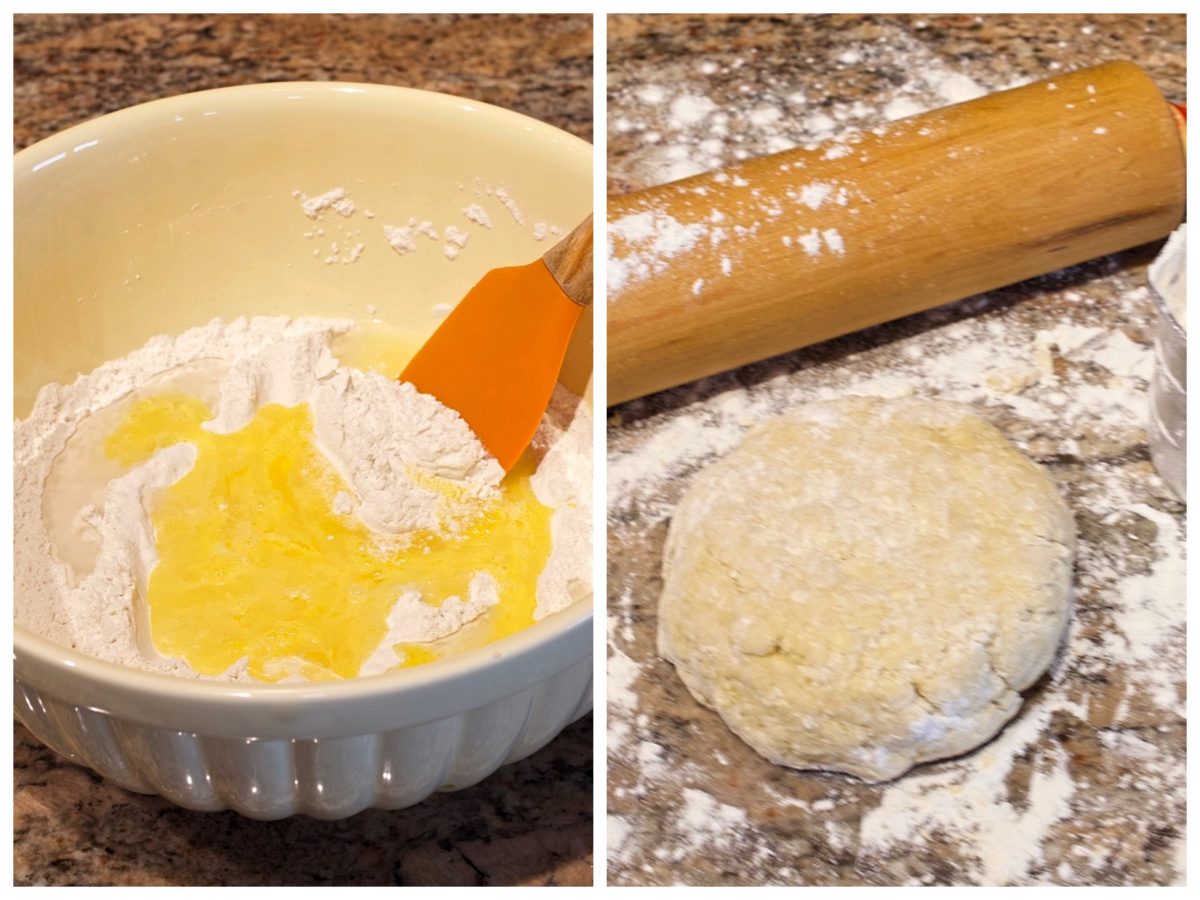 Add flour and salt to a large mixing bowl and mix together.
Make a well in the center and add the eggs and water.
Mix until it forms a sticky round dough ball.
Place the dough on a well-floured surface
Rolling and Cutting
Roll the dough on a well-floured surface to a thickness of 1/8 inch.  Don't be tempted to roll them thicker.  They will puff up quite a bit when they are dropped in the hot broth.  You can roll the dough in a rectangular shape if you want to be perfect, but as you see above, I rolled it into a more rounded shape.  It works either way.
Using a pizza cutter or sharp knife, (a pizza cutter works great), make a long vertical cutter down the center of the dough.  Then make horizontal cuts about 1/4 inch wide and 4 to 5 inches long.  It's really up to you.  If you want shorter noodles, cut the dough into thirds instead of halves and make shorter horizontal cuts.
Separate the noodles, and lightly flour them.  Leave them on a lightly floured surface or parchment paper while you cook your favorite meat, such as chicken or beef.  This will take several hours, so if you want to free up your work surface, I suggest spreading them on parchment-lined cookie sheets.  Just make sure they are not touching.  The longer the noodles are left to dry, the better.  They won't be as prone to stick together when you cook them in the broth.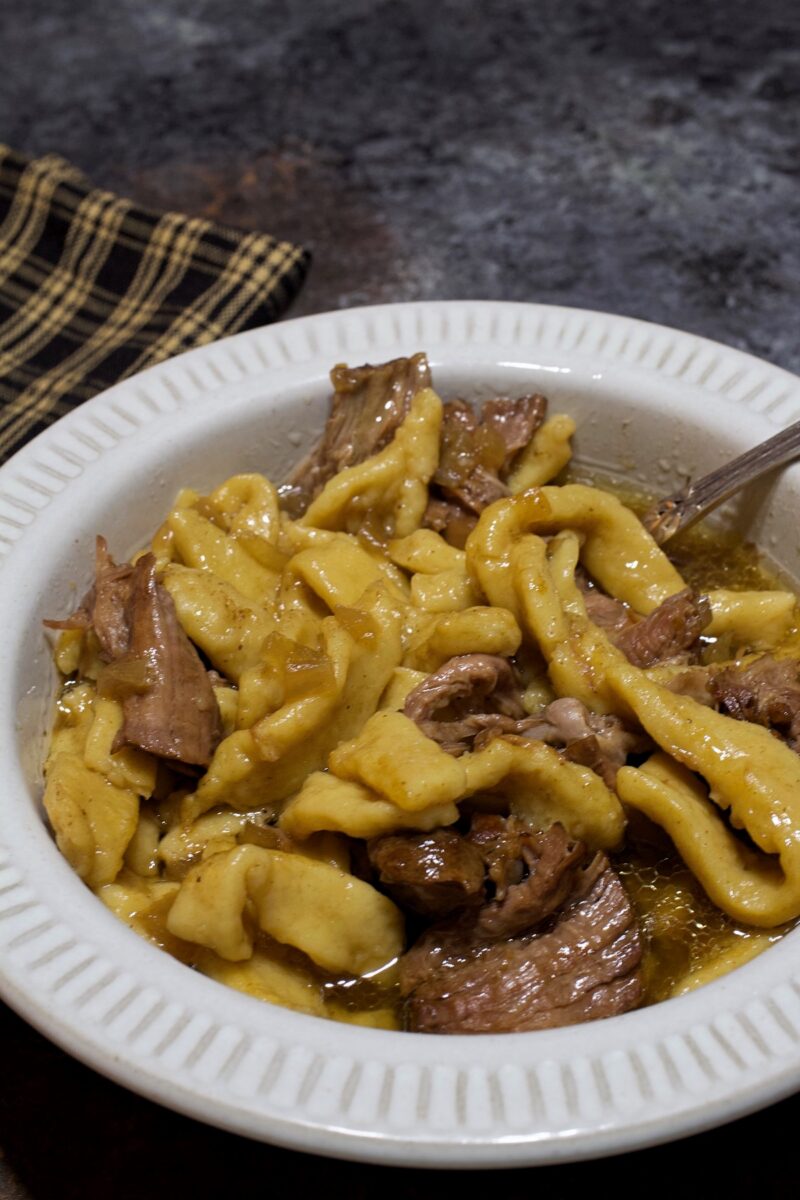 You might like my recipe for Slow Cooker Beef and Homemade Egg Noodles.
Print
How To Make Homemade Egg Noodles
Author:

Prep Time:

1 hour

Cook Time:

20 minutes

Total Time:

1 hour 20 minutes

Yield:

4

servings

1

x

Category:

Pasta

Method:

Cook

Cuisine:

American
---
Description
These homemade egg noodles have such a wonderful rich flavor. They are so much better than store-bought and they aren't hard to make. I dare you to make them just once. You'll never go back!
---
2

cups

all-purpose flour

1 teaspoon

salt

1

large egg, plus 3 egg yolks
Enough water to make a dough and form a ball, about 6 tablespoons
---
Instructions
Mix the dough.  

Add the flour and salt to a large bowl and whisk together to combine.  Make a well in the center of the flour.  Add the water and eggs to the well.  Mix with a wooden spoon or spatula until the mixture forms a slightly sticky ball.  Place the dough ball onto a well floured surface and knead the ball a couple of times until it's no longer sticky.

Roll and cut the noodles.  

Using a floured rolling pin, roll the dough out into a thickness of 1/8 inch.  You can roll it into a rectangle or round, it doesn't really matter.  It's important to roll the dough thin, because the egg noodles will puff up and become thick when they are cooked.  Using a sharp knife or pizza cutter, (the pizza cutter works great), cut the dough in half, down the center.  Starting at one side of the dough, cut strips of dough about 4 to 5 inches long…this is totally up to you as to how long you want your noodles.  My mother always made really long noodles.  I prefer shorter noodles myself.  See pictures above.  Once the noodles are cut, make sure they're dusted with flour and not touching.  Leave the noodles on a lightly floured surface and allow them to dry while you prepare the your favorite chicken or roast recipe.
Drop the noodles in boiling broth and turn the heat down to medium-low. Cover and cook until the noodles are fork tender, about 15 to 20 minutes.
---
Keywords: egg noodles, homemade egg noodles, pasta, pasta noodles, noodles, homemade noodles,
There may be affiliate links in this post. We are a participant in the Amazon Services LLC Associates Program, an affiliate advertising program designed to provide a means for us to earn fees by linking to Amazon.com and affiliated sites.