Modjeskas
Modjeskas candies start with the most delicious rich, buttery homemade caramel.  Once the caramel is made, it's cut into strips and wrapped around marshmallows.  This is the most divine candy ever!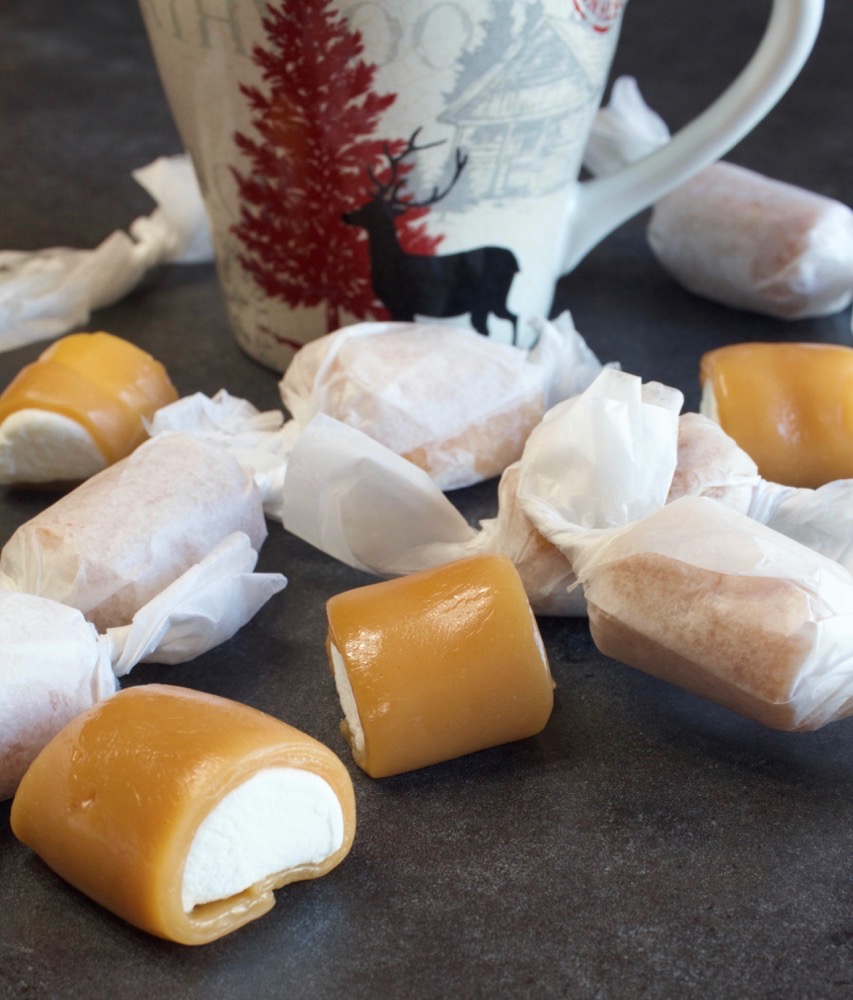 If you love marshmallows and caramel, you are gonna love, I mean LOVE this recipe.  What in the world is a Modjeska? Well, you're about to find out.  A Modjeska is a marshmallow that is covered with a buttery delicious homemade caramel candy.  It's that simple.
The origin of the Modjeska
This recipe originated years ago in my own birthplace, Kentucky.  Many years ago, we're talking 1883, a Kentucky candy maker, Anton Busath was inspired to make this candy.  Also in 1883, a well-known European actress, Helen Modjeska, made her American debut in Kentucky.  Anton Busath was so touched by her performance in "A Doll's House", that he asked her permission to name his newest confection after her.  That, my friends, is how the Modjeska candy got its name.  Unfortunately, in 1947, the Busath candy company was destroyed in a fire.
Today, there are still a couple of candy companies in Kentucky, Bauers Candy, and Muth Candies that make a version of the Modjeska, and I see the candy in some Cracker Barrel stores, but none of them compare to the homemade version.
The first time I was lucky enough to eat this candy I was 12 years old.  We had our church Christmas progaram, and my mother received a present from another Sunday school teacher.  When she brought it home and opened it, my eyes lit up.  A box full of these delightful looking little wrapped candies.  The rest is history!!
Decades later, my daughter Christin makes sure that a Christmas doesn't go by without me making these, and I have to hide them from her and my husband every time I make them.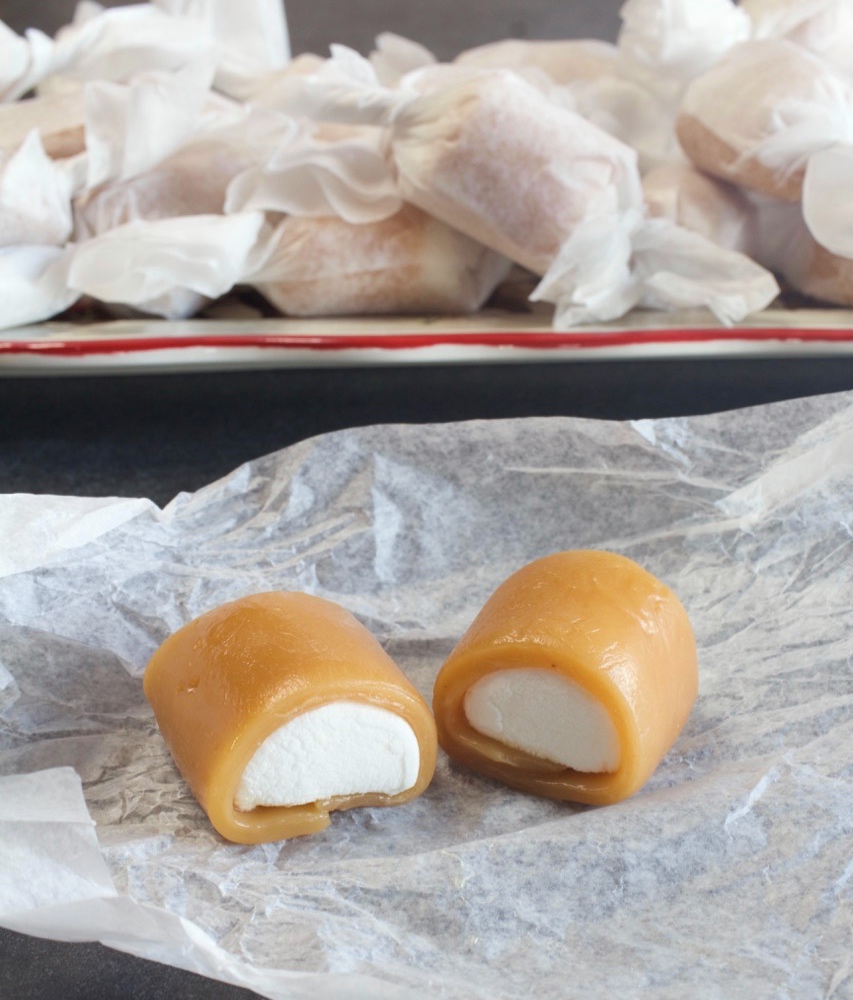 Prepping to make the candy:
You need to butter a marble slab or a heatproof counter top.  If using the marble slab, it doesn't need to be cold.  I actually recommend it not being cold for this candy.  If you pour this candy on a cold surface, it will begin to get too cold around the edges before you can work with it.
Now, open up a bag of large marshmallows.  Using scissors, cut each marshmallow in half lengthwise, and throw them in a large bowl and set them aside for now.  Now, I almost forgot, but you also need to cut several squares of wax paper for wrapping the candy pieces.
Cooking the candy
Next, you want to use a nice big heavy pot.  Now place the sugar, syrup, butter, and one cup of the whipping cream in the pot.  Oh my goodness!  Butter and whipping cream…..this should tell you where we're headed.
Now bring the mixture to a boil over medium heat while stirring constantly.  Cook until the mixture reaches a soft ball stage, 234 degrees, on a candy thermometer.  Now notice, in this picture I'm not using a candy thermometer.  I prefer to test my candy using the cold water method. See how to test candy in cold water.
Now slowly add the second cup of cream, while making sure that you don't let the mixture stop boiling. Continue to cook and stir slowly but constantly, until the mixture reaches 255 degrees on a candy thermometer or a hard ball when tested in cold water.  If you use a candy thermometer, make sure your thermometer is accurate.  See how to calibrate a candy  thermometer. 
Hardball test in cold water
A hardball is when you can drop a little bit of the mixture in cold water and then form it into a hard but pliable ball when you roll it between two fingers. Simply put…once the mixture has been cooled in the cold water, it should be the exact same consistency as it will be when you wrap it around a marshmallow.  If it doesn't look like it is hard enough to keep its shape when you wrap it around a marshmallow, then it's not ready yet.  When the caramel has cooked long enough, it will also be a nice caramel color, not too light.
Pour, cut, and wrap the caramel
Now pour the caramel onto a buttered marble slab or countertop.  Note:  If using a marble slab, the slab does not need to be chilled first.
Now, as soon as it cools enough that you can handle it in your hands, either tear off pieces with your hands or use a knife or sharp spatula to cut off small pieces.  You want the pieces to be just big enough to wrap around one of the marshmallow halves.  As you keep removing pieces of caramel, keep removing it from the outside edges as you go.  The edges get cold the quickest.
Now wrap a piece of caramel around a marshmallow half…eat a piece….wrap a piece. Now at this point, you can feel free to cover both ends of the marshmallow with the caramel, but I choose not to. Why? Well honestly, for years I covered the whole marshmallow half.  However, the reason I leave the ends of the marshmallows exposed these days is that there are believe it or not…those who don't like marshmallows. I would hate to see one of those marshmallow haters bite into one of these wonderful caramel confections, only to realize after the fact, that there is a marshmallow hidden inside.  Then what happens….toss it…..ooh…what a waste of a delicious piece of candy!
Allow the caramel wrapped marshmallows to totally cool before wrapping or they will stick to the wax paper.  Wrap each piece in a square of wax paper and twist the ends.  These don't have to be stored in an airtight container, but I highly suggest it, in case some pieces aren't wrapped securely.  I toss them in a large bowl with a lid, then hide the bowl. Over the years, my daughter Christin has always found my hiding place….lol.
These are best when eaten within a couple of weeks.  After that point, the sugar tends to start breaking down in them, and caramel begins to get grainy.  Trust me….don't worry…..they won't last that long!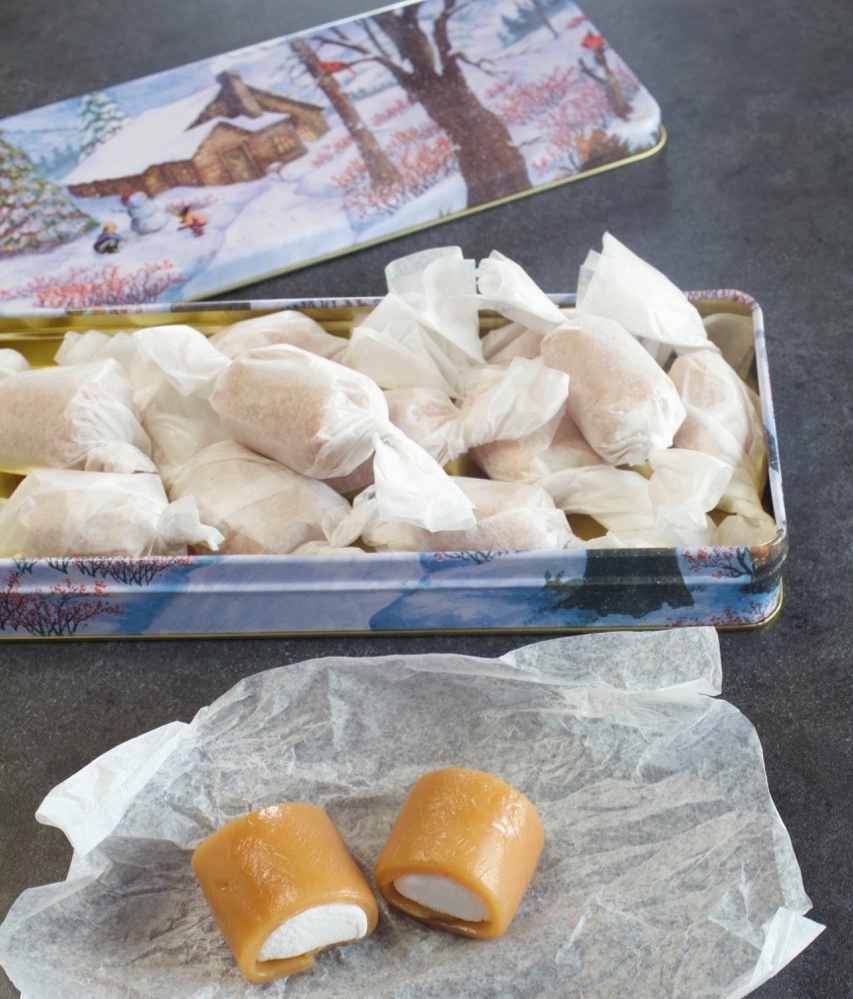 More yummy candy recipes you might like…
Old Fashioned Peanut Butter Fudge
Hershey's Old Fashioned Cocoa Fudge
There are more candy recipes under my "candy" category!
If you make this recipe please rate it, and leave a comment below on how you liked it. I love getting your feedback. 🙂
Wanna see different recipes each day? Feel free to follow me on Facebook, Pinterest, & Instagram!
Print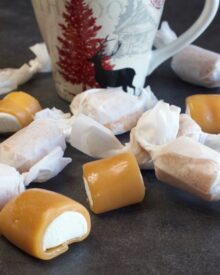 Modjeskas
Author:

Prep Time:

30

Cook Time:

20

Total Time:

50

Yield:

4

0

1

x

Category:

candy

Method:

cook

Cuisine:

American
---
Description
This delicious candy is made of rich, buttery, melt-in-your-mouth bites of caramel bliss wrapped around marshmallows.  It's absolutely divine!
---
2

cups

white sugar

3/4

cup

light corn syrup

1

stick real butter

2

cups

heavy whipping cream, divided

1

bag large marshmallows
squares of wax paper for wrapping
---
Instructions
Cut the marshmallows in half lengthwise and place in a bowl. Cut squares of wax paper, large enough to wrap around a caramel coated marshmallow half, approximately 40. Butter a marble slab or counter top.
Place the sugar, syrup, butter and one cup of the cream in a heavy pot over medium low heat.
Bring mixture to a boil while stirring constantly. Cook until the mixture reaches 234 degrees on a candy thermometer or forms a soft ball in cold water.
Slowly add in the second cup of cream while stirring constantly, but not allowing the mixture to stop bubbling.
Cook until the mixture reaches 255 degrees on a candy thermometer or forms a hard but pliable ball when a small amount is dropped into cold water.
Remove the pan from the heat and pour the hot caramel mixture onto a buttered marble slab or countertop. Working around the edges of the caramel, cut or pull off small pieces of caramel that are big enough to wrap around a marshmallow half. Keep working from the outside edges of the caramel as you go, (it cools and sets up the quickest), until you're finished using all of the caramel.
Allow the caramel wrapped marshmallows to completely cool before wrapping or they will stick to the wax paper.  Wrap each Modjeska in a wax paper square, twisting the ends.
Store the Modjeskas in a large bowl, until ready to eat. You might want to hide them as well. They don't need to be refrigerated.
---
Notes
Modjeskas are best eaten within two weeks of making. After two weeks, the sugar begins to break down in them and they start to taste grainy. Don't worry, they won't stick around that long anyway!
Keywords: modjeskas, caramel candy, candy recipes, Christmas candy, caramel, caramel recipes, Christmas candy, candy,
There may be affiliate links in this post. We are a participant in the Amazon Services LLC Associates Program, an affiliate advertising program designed to provide a means for us to earn fees by linking to Amazon.com and affiliated sites.