Old Fashioned Potato Candy
If you've never tasted Old Fashioned Potato Candy you've been missing out on a delicious irresistible old fashioned candy. Potato Candy is a very rich candy with a wonderfully unique flavor, thanks to the addition of mashed potatoes yet it doesn't taste like potatoes. You must try it at least once in your life!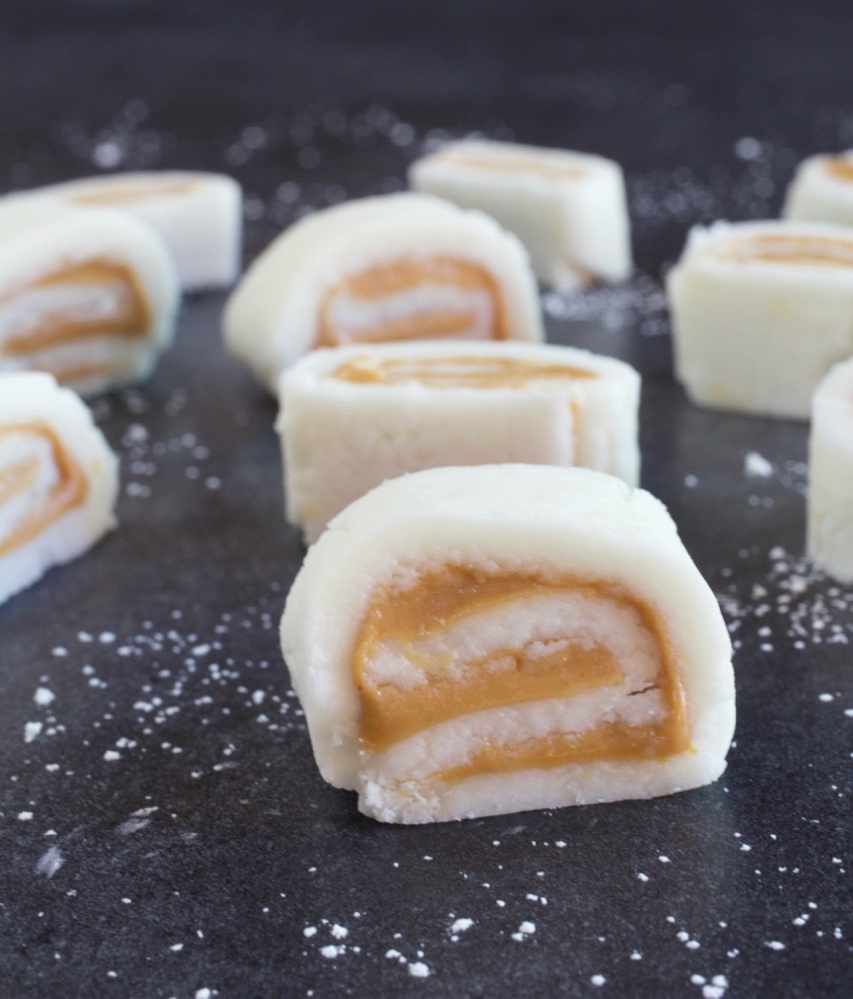 I will never forget those wonderful bake sales back in the day when I was young. They were the real deal! Homemade popcorn balls, fudge, pralines, cupcakes, caramel apples, cookies and oh my….homemade potato candy. Yes, back in the day, when such wonderful homemade treats were still allowed at bake sales in schools. I feel so lucky to have grown up back in those days. I can remember my mother being a "room mother", (is there even such a thing now), and she made homemade treats for my classroom. I think I was about 12 years old when our school was having one of its quarterly bake sales. I vividly remember running up to the bake sale table with my .25 cents and eagerly scanning over the baked goods. My eyes suddenly fell upon two little white-colored pieces of candy in a sandwich bag, that appeared to be formed in a jelly roll manner, with a peanut butter center. This was a candy I had never seen or tried before, so I grabbed one of the little bags and handed over my .25 cents. I ran outside to the playground and opened the bag. I think I had devoured both pieces within one minute. OMG! I later found out that my friend Marlene had brought the candy, so of course, I begged her to have her mother write down the recipe. I want you to know that I made major messes in my mom's kitchen when I was first learning to make this candy. Now, forty-some years later, I've made 100's of batches, and to this day I still make a huge mess when I'm making it. Some things never change!
This candy is so rich that most of my friends like eating it cold. I have seen recipes that are referred to as Potato Candy, but they do not contain mashed potatoes. This candy looks like Potato Candy but is actually a "Peanut Butter Roll", not to be confused with "Potato Candy". The potato in this candy adds a wonderful flavor to this candy that really can't be described, and no it doesn't taste like a potato! You just have to try it and you'll see. It is rich and delicious!! I have to make this candy every year at Christmas by huge demand.
Okay, are you ready to make Old Fashioned Potato Candy?
First, you need to peel and cook a medium-size potato until it's fork-tender and drain it. Trust me when I say, a medium potato is large enough to make a large batch of this candy. The bigger the potato, the more sugar, and more candy.
Now, using a potato masher, mash the potato until there are no lumps remaining in the potato. It needs to be very smooth. Add a little, butter, vanilla, and salt.
Start adding powdered sugar a cup or so at a time. The mixture will become very runny at first before starting to become thick. Just keep adding sugar until the mixture is pliable and barely sticky.
Look at the picture below.
You should add enough sugar to make the candy pliable but just slightly sticky. You will add a little more sugar when you roll it out. By the way, you can also use a mixer to mix this candy as shown below, or mix it by hand.
Ready to roll? Let's go…
Start by transferring about one-third of the mixture to a piece of waxed or parchment paper that has been generously sprinkled with powdered sugar. Now start rolling it out, using more powdered sugar as needed. If you use a rolling-pin, rub it all over with powdered sugar. You can also lay a piece of wax or parchment paper on top of the candy before rolling it out. Roll the candy into the shape of a rectangle and to about 1/8 inch in thickness. Don't roll it out any thicker than 1/4 inch. If the candy seems to be sticky, sprinkle additional powdered sugar over it.
Generously spread peanut butter over the candy, but don't go crazy with it. You don't want it oozing out everywhere when you roll it up.
Starting on a long side, slowly start rolling the candy into a roll. Use a knife, metal spatula or bench scraper to help roll it, and start at one edge and work your way across to the other end, and repeat as necessary. Once you've formed the roll, use your hands and gently push on each side of the roll to make it uniform in width from one end to the other.
Repeat steps 1 thru 3 with the other 2 portions of candy. Note: you could divide this into two rolls versus three, but I find it harder to work with and roll.
Transfer rolls to a wax paper-lined cookie sheet and place it in a freezer for ten minutes. Cut into 3/4 inch pieces and store in an airtight container.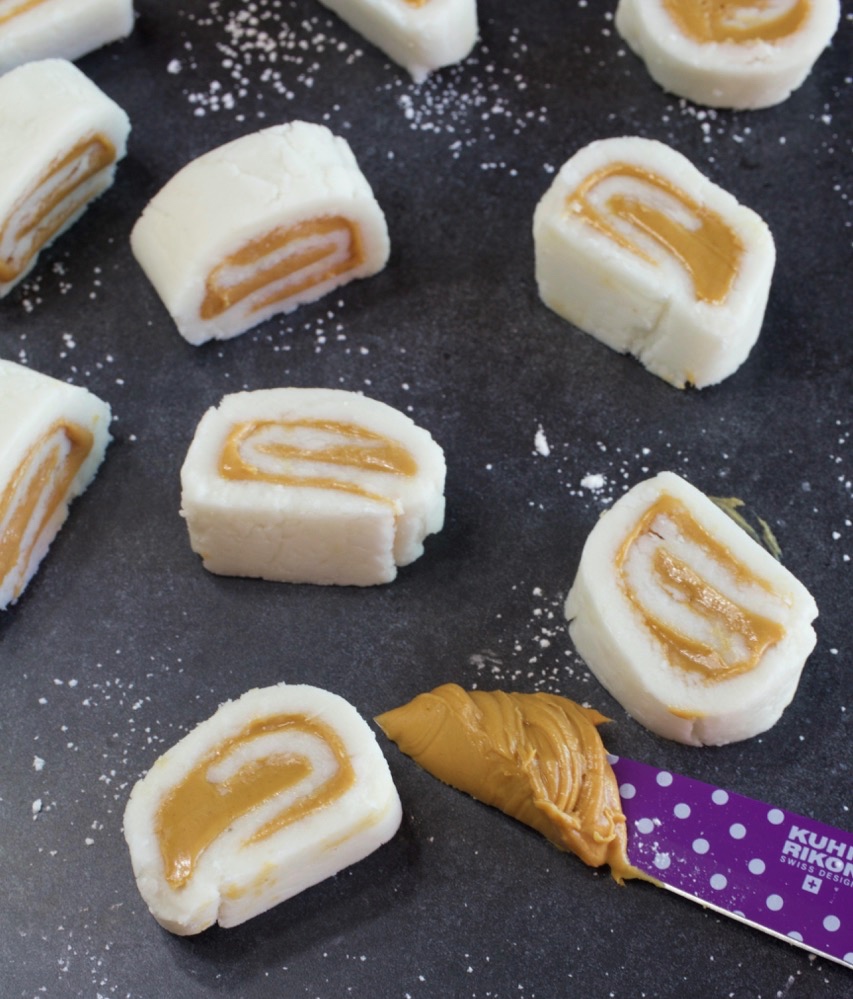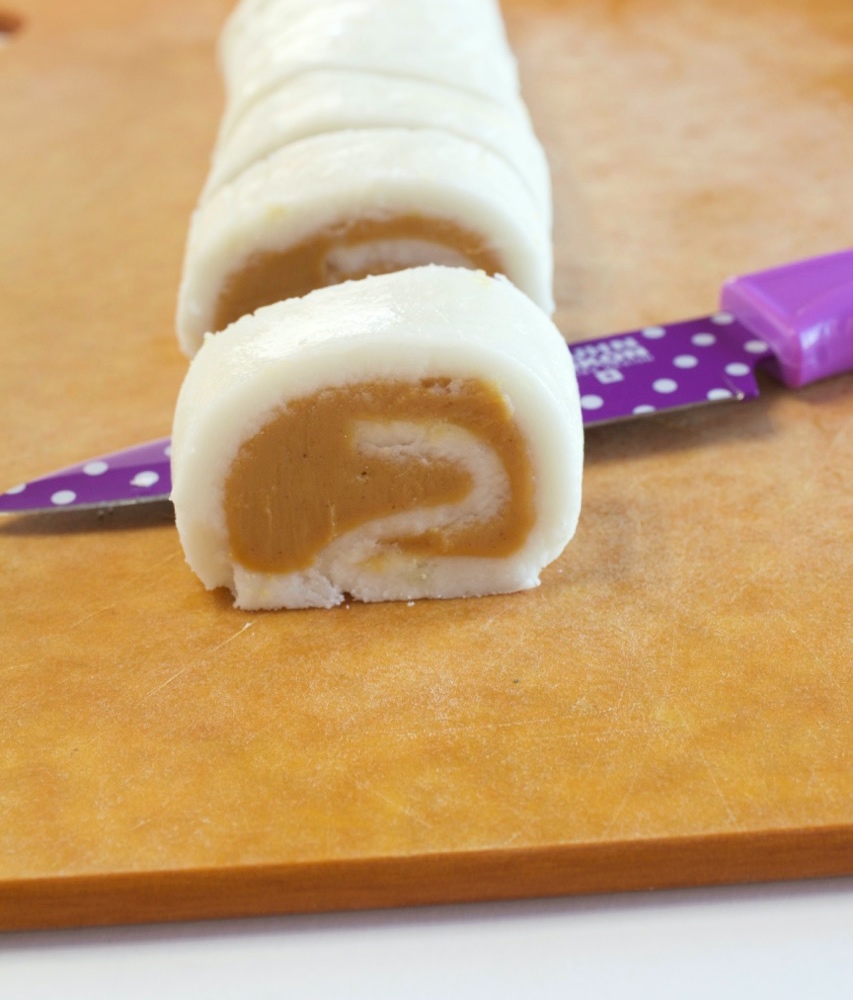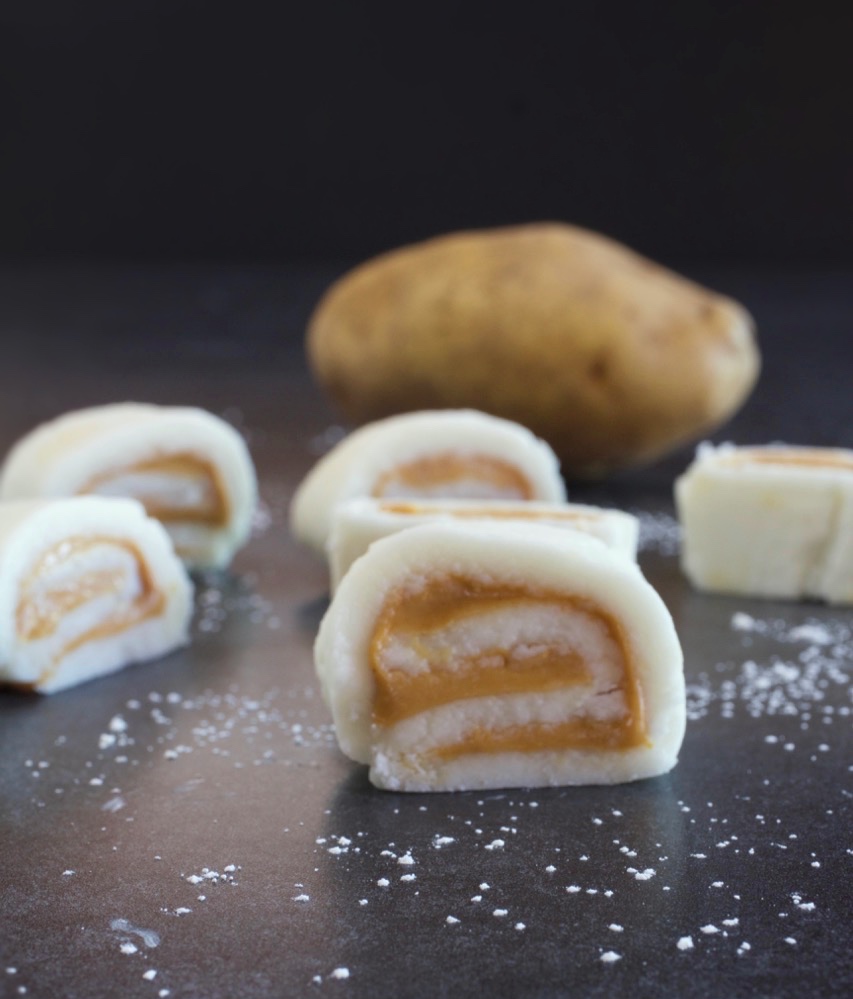 You should make some of this Old Fashioned Potato Candy at Christmas. Everyone will love it.
Print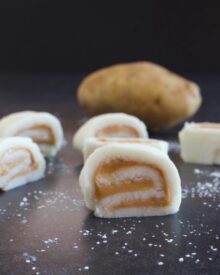 Old Fashioned Potato Candy
Author:

Prep Time:

30

Cook Time:

40

Total Time:

70

Yield:

2

pounds

1

x

Category:

candy

Method:

cook

Cuisine:

American
---
Description
A mashed potato contributes to the uniquely delicious flavor in this sinfully rich old-fashioned potato candy and hidden inside is pure creamy peanut butter.
---
1

medium potato

2 tablespoons

real butter
Pinch of salt

1 teaspoon

pure vanilla

2

pounds

powdered sugar, more for rolling out candy

1

jar creamy peanut butter, 16 ounces, (may not use all)
---
Instructions
Peel and slice the potato. Cook in a small pan of water until it is very tender. Drain off the water.
Place the potato in the mixing bowl of a stand mixer or mix by hand with a wooden spoon.  Add the butter, vanilla, and salt. Using a potato masher, mash the potato until it is free of all lumps.
Add the powdered sugar about 2 cups at a time, while mixing on low speed and using the whisk attachment. Continue adding the sugar until the candy mixture becomes thick and pliable yet just slightly sticky.
Lay a piece of wax or parchment paper on a countertop and sift powdered sugar heavily on the paper. Place one-third of the candy mixture on the paper and form it into a ball. Sift additional powdered sugar on top of the formed ball.
Place a piece of wax or parchment paper over the top of the ball and slightly flatten the ball with the palm of your hand. Using a rolling pin, roll the candy out to no more than 1/4″ in thickness, rolling it into a rectangular shape. Remove the top piece of paper.
Place a large heaping spoonful of peanut butter onto the candy. Spread it out, stopping about 1/4″ from the edges of the candy.
Using a sharp metal spatula, knife, or bench scraper, roll the candy into a roll, working from left to right. Place the roll onto a cookie sheet lined with foil, wax, or parchment paper.
Roll the remaining two rolls and place on the cookie sheet. Transfer to a freezer for 10 minutes until very cold before slicing.
Slice candy into 3/4″ slices, discarding or eating the end pieces. Store in an airtight container.
Yields about 2 pounds.
---
Notes
It's easy to get carried away with the peanut butter when making this candy. Try not to use more than 1/2 cup of peanut butter per roll, the first time you make this candy. If the peanut butter oozes out of the candy, you will know to use less the next time you make the candy.
This candy is very rich! Although it's not required, most people prefer to eat this rich candy cold!
It's extremely important to mash out all of the lumps in the candy before adding the powdered sugar.
Keywords: candy, potato candy, potato, Christmas candy, peanut butter candy, old fashioned potato candy, old fashioned candy,
There may be affiliate links in this post. We are a participant in the Amazon Services LLC Associates Program, an affiliate advertising program designed to provide a means for us to earn fees by linking to Amazon.com and affiliated sites.