Soft Crust Blackberry Cobbler
This Blackberry Cobbler starts with a batter that magically comes to the top when baked and forms a perfect soft crust. The crust is ideal for soaking up lots of blackberry juice and this cobbler is loaded with blackberries.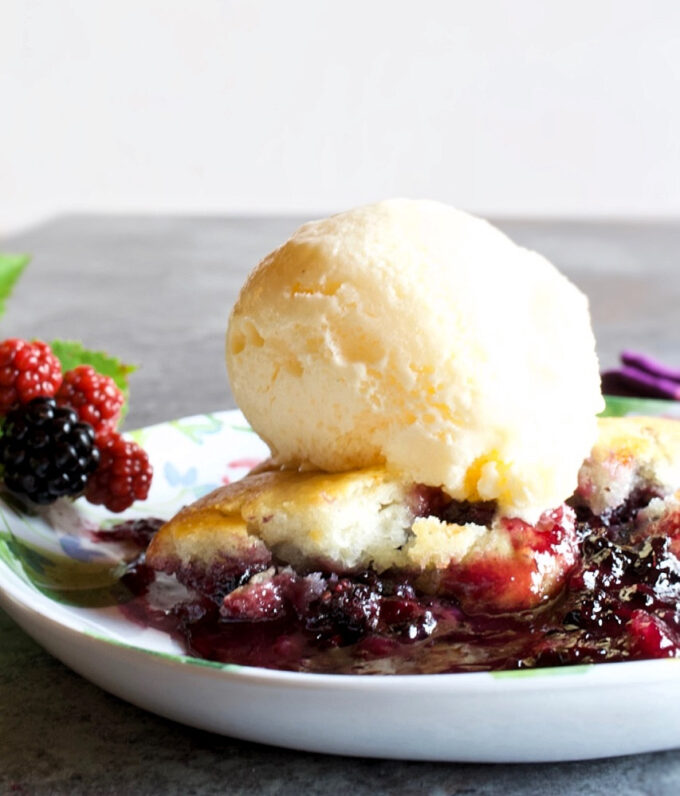 Anytime I eat a blackberry cobbler or pie, my mind goes back to a time when I got in trouble as a kid.  We lived on a large farm and had an abundance of wild blackberries in the summer…you know those thorny ones.  My mother made my sisters and I pick blackberries for what seemed like weeks, and I remember that it was really hot.
I also remember that I had to go to church on Sunday with purple-stained fingers and scratches and prick marks from the thorns. We use to go out in the hot sun and pick those wild thorny things for hours on end. Some things you just never forget!
I will never forget the time I refused to listen to my mother, when she told me to not get above a thicket of blackberries when she was below the thicket, in fear that I would chase a snake down upon her. Needless to say, I did just that…and my mother dropped her pail of berries as she ran to scale a nearby fence. She was also yelling CINDY ANN and a few adjectives as she was scaling the fence.
That being said, I also remember that I couldn't wait to taste the homemade blackberry jam on one of my mother's homemade biscuits or the hot blackberry cobbler that she topped off with a mixture of ice cream and cold cream.  
Well…anyway, moving forward, my husband Don and I decided to plant thornless blackberries a few years back on our property, and we have been blessed most summers with a bountiful supply, and oh yes….NO thorns…
Simple ingredients for this cobbler
2 cups fresh blackberries
1 1/4 cups sugar, divided
1 stick real butter
2 tablespoons cornstarch
2 teaspoons baking powder
3/4 cup all purpose flour
pinch of salt
3/4 cup milk
1 teaspoon pure vanilla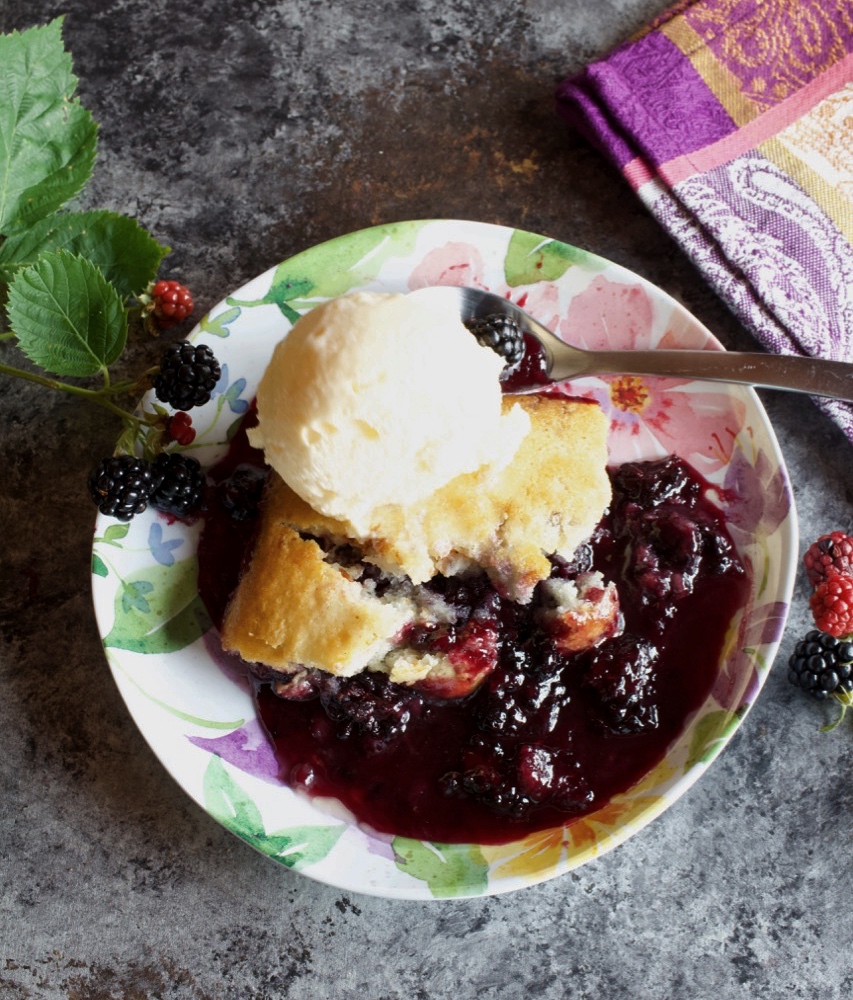 If you've ever eaten both the large thornless blackberries and the wild ones, you'll know what I'm talking about when I say the thornless blackberries have an abundance of juice compared to the wild ones. This cobbler recipe is the perfect recipe for extra juicy berries. The super-soft crust literally soaks up the juices as it bakes and has a wonderful finished flavor.
This cobbler takes no more than 10 minutes to mix and pop in the oven. 
How to make
Here's all I did…
I melted a stick of butter in an 8 x 8 baking dish in a preheated oven.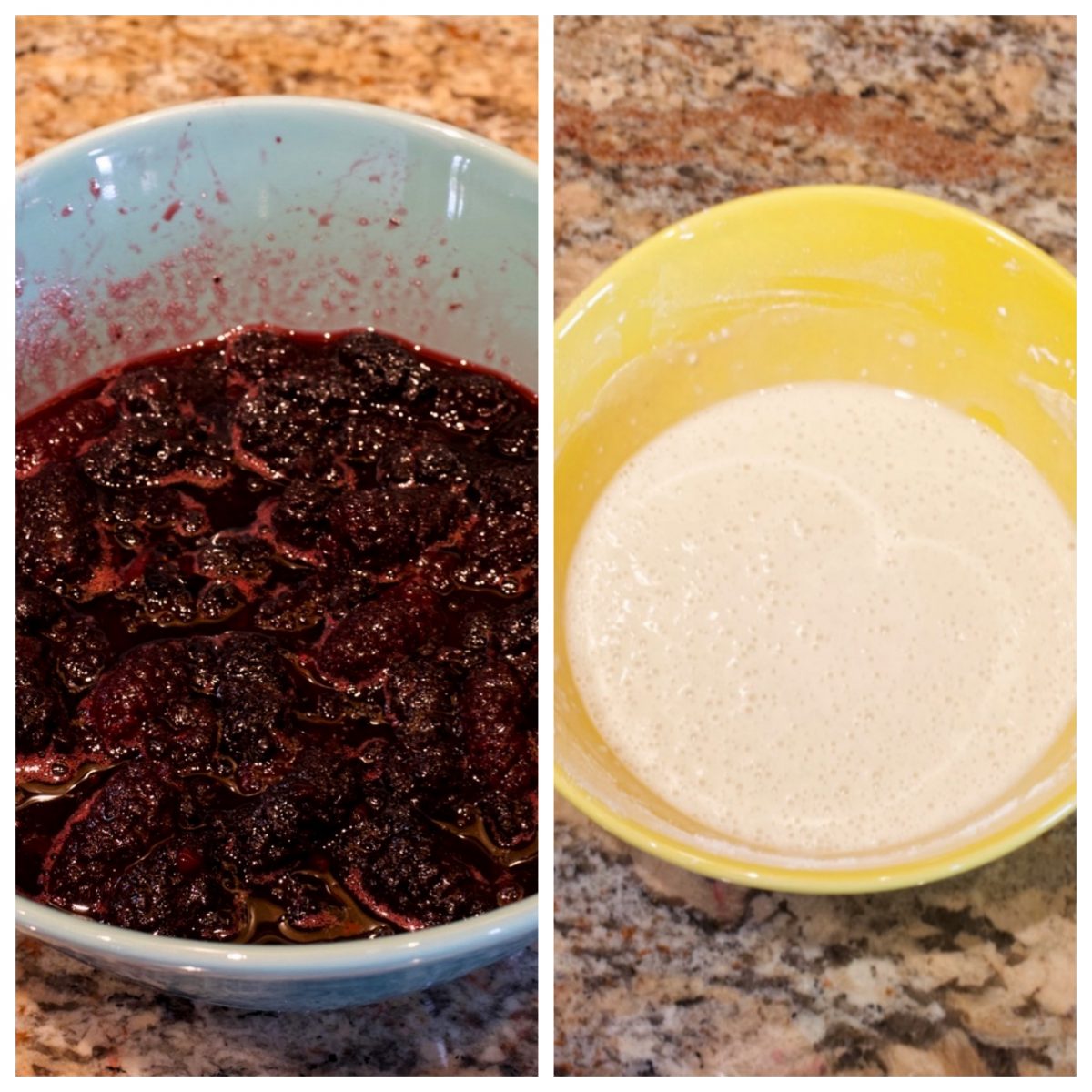 I combined the berries with some sugar, and I combined the flour and other dry ingredients, then added some milk.
I poured the batter over the melted butter in the baking dish.
And lastly, I dolloped the berry mixture all over the top but I didn't mix it in.
Then all I did was bake it until it was golden brown on top and the juices were bubbly.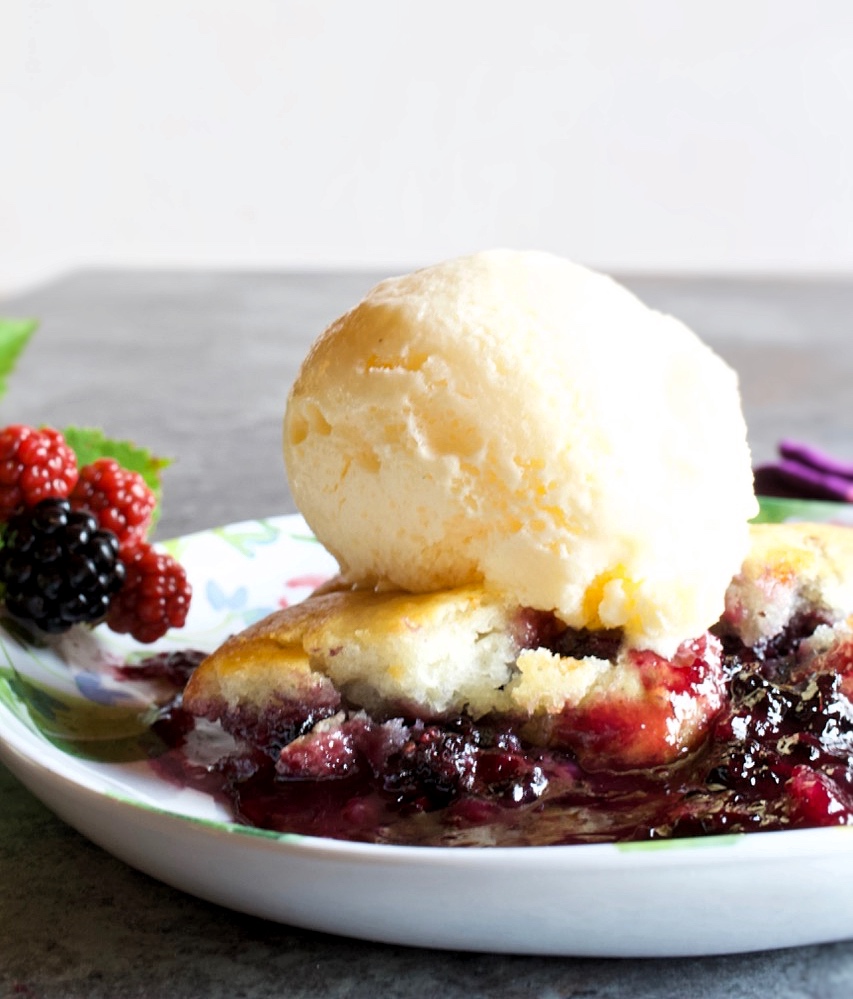 This cobbler has a wonderfully soft crust that soaks up the juicy and delicious berries and it only needs one thing….a huge scoop of vanilla ice cream. A bite of Heaven!
More delicious blackberry recipes…
If you make this recipe please rate it, and leave a comment below on how you liked it. I love getting your feedback.
Wanna see different recipes each day? Feel free to follow me on Facebook, Pinterest, & Instagram.
Print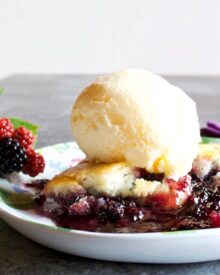 Soft Crust Blackberry Cobbler
Author:

Prep Time:

10

Cook Time:

45

Total Time:

55

Yield:

6

Servings

1

x

Category:

Pies

Method:

Bake

Cuisine:

American
---
Description
This Blackberry Cobbler starts with a thin batter that magically comes to the top when baked and creates a wonderful soft crust.  The crust is perfect for soaking up all those blackberry juices and there's lots of blackberries in the mix.  This cobbler is super delicious and even more delicious when served warm with a scoop of vanilla ice cream.
---
2

cups

fresh blackberries

1 1/4

cups

sugar, divided

1

stick real butter

2 tablespoons

cornstarch

2 teaspoons

baking powder

3/4

cup

all purpose flour
pinch of salt

3/4

cup

milk

1 teaspoon

pure vanilla
---
Instructions
Preheat oven to 400 degrees.
Mix the berries and 1 cup of sugar in a medium bowl and set aside.
Place the butter in a 8″ x 8″ dish and melt in the preheated oven.
Mix the flour, 1/4 cup sugar, baking powder, salt, cornstarch, vanilla and milk together in a medium bowl. Pour the batter over the melted butter.
Spoon the sugared blackberries evenly over the batter mixture, but do not mix them into the batter.
Place in the preheated oven and bake for approximately 45 minutes or until the crust is golden brown on top.
Serve warm topped with a scoop of vanilla ice cream. Enjoy!
---
Notes
It's a good idea with any fruit pies or cobblers, to place an old cookie sheet on the oven rack under the pie or cobbler. They are known for bubbling over.
---
Keywords: blackberry cobbler, soft crust blackberry cobbler, cobbler fruit cobbler, blackberry, Summer desserts,
There may be affiliate links in this post. We are a participant in the Amazon Services LLC Associates Program, an affiliate advertising program designed to provide a means for us to earn fees by linking to Amazon.com and affiliated sites.