Peanut Butter Fantasy Fudge
If you've never made fudge, this Peanut Butter Fantasy Fudge is the perfect recipe for you.  This creamy fudge requires just 4 minutes of cooking once it comes to a boil.  It's super easy to make and turns out perfect every time!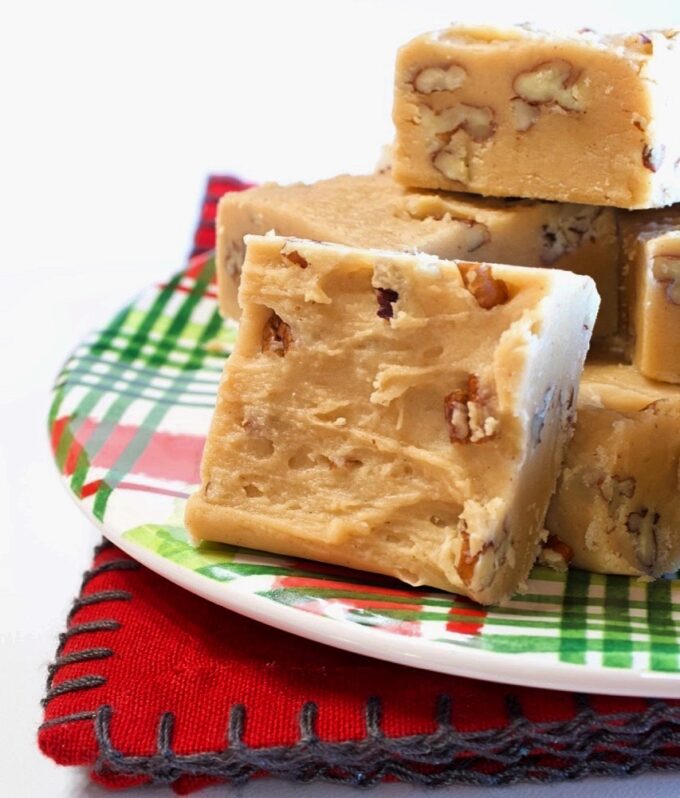 This is the perfect fudge recipe for anyone who is afraid to use a candy thermometer or test candy in cold water.  The difference between this recipe and my Old Fashioned Peanut Butter Fudge recipe is the addition of marshmallow creme in this recipe and you don't need to test this recipe in cold water or use a candy thermometer.  This recipe is adapted from the original recipe on the back of the Kraft Marshmallow Fluff jar.  Some people call this recipe Five Minute, Marshmallow Creme, or No-Fail Fudge. This fudge is very creamy and very easy to make.  If you have never made fudge before, you should start by making this recipe.  Like I said…no cold water test and no candy thermometer.  Just bring it to a boil and cook it for 4 minutes.
This creamy fudge stays fresh for several days and it freezes beautifully, so if you want to make it ahead of the busy holidays, go ahead.  You can also make it ahead, place in an airtight container, and store it in a cold environment such as your garage.
Good ingredients = good fudge!!!
With some recipes, you can skimp on certain ingredients and it may not make a real noticeable difference in the flavor.  Fantasy Fudge is not one of those recipes.   If you want to make a batch of delicious creamy Peanut Butter Fudge, don't skimp on the ingredients.
NOTE:  If you're already familiar with and make this recipe, you may not have noticed the recent changes to the recipe.  Many people probably wrote down the recipe to a recipe card from the back of the jar of Marshmallow Creme years ago, and don't realize the recipe has changed.
Original recipe:  The small can of evaporated milk was a 6-ounce can.  The fudge was cooked for 5 minutes.
Revised recipe:  The size of a small can of evaporated milk is now 5-ounces, thus reducing the amount of cooking time.  The new cooking time is 4 minutes.
TIPS FOR PERFECT PEANUT BUTTER FANTASY FUDGE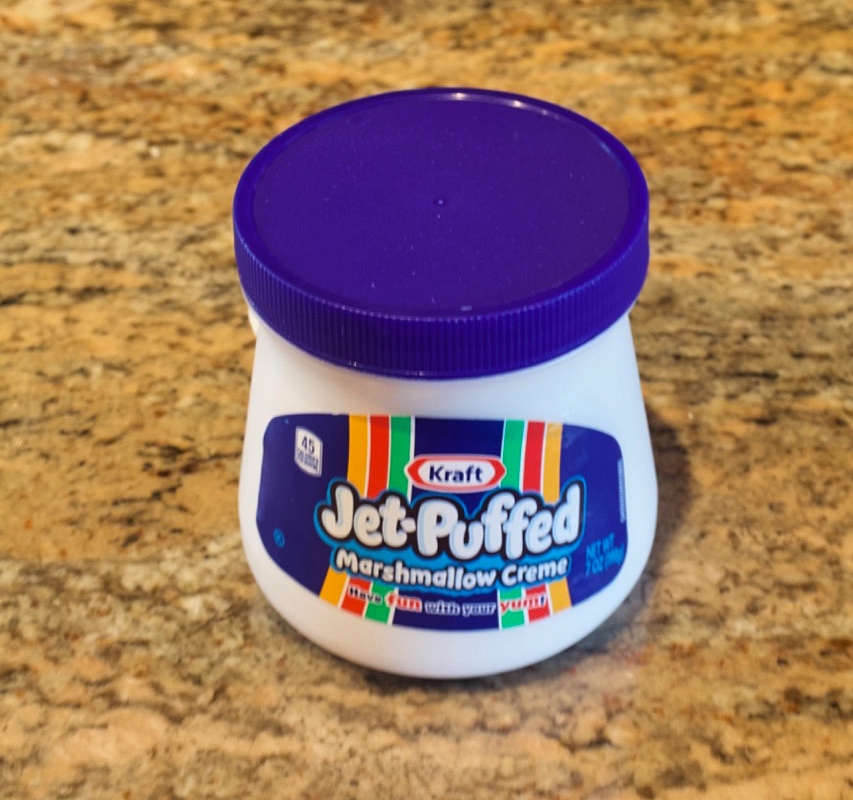 Use a good-quality Marshmallow Creme.  I use Kraft Marshmallow Creme.  Sometimes my local Kroger will be out of it and I substitute the Kroger brand.  However, those other cheap off-brands are not the same.  Trust me on this one.  I've tried them, and my fudge ended up in the garbage can.
This one will SHOCK you!
Don't use real butter in this recipe if you can use margarine.  That's right!  There is one recipe and only one recipe where I substitute margarine for real butter and it's this fudge.  Here's why…Peanut butter has a high-fat content and when you add pure butter, also a high-fat ingredient, you end up with greasy fudge.  You can actually see the greasiness on top of the fudge after spreading it into the pan.  I actually use good quality margarine, such as I can't believe it's not Butter for this recipe.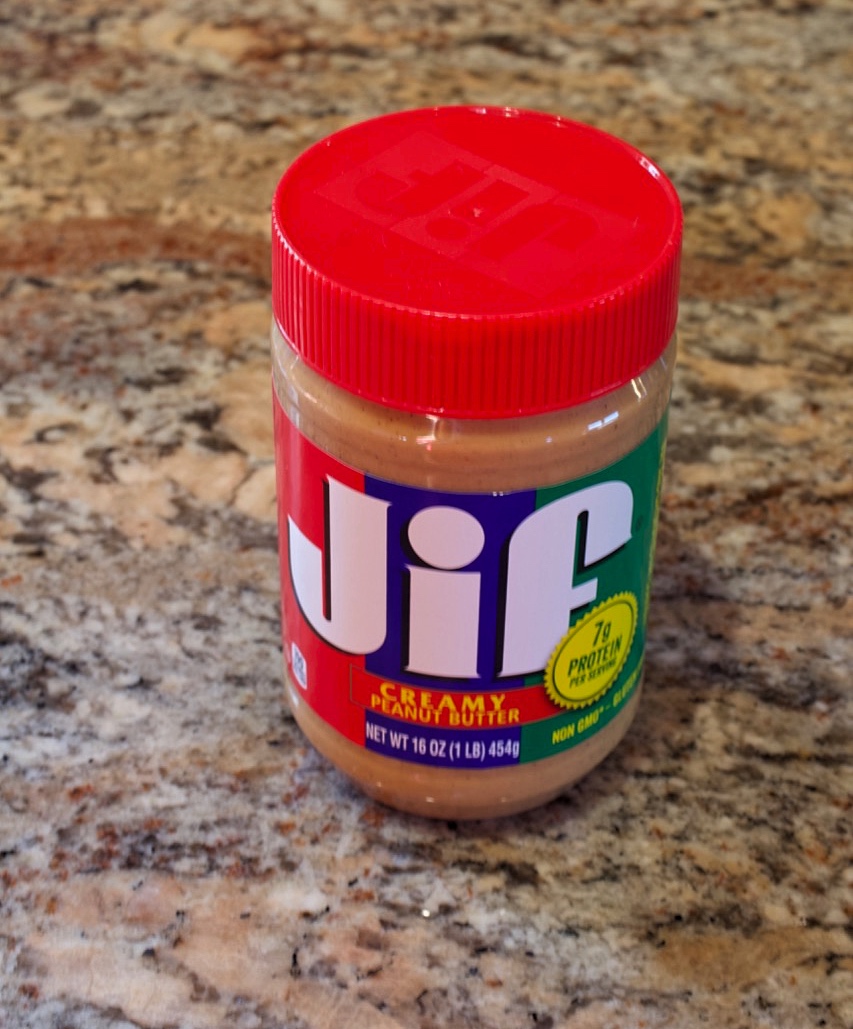 Use Jif Creamy Peanut Butter in this recipe.  Trust me I've tried the other ones.  The off-brands just don't compare in the peanut butter flavor.  They are also more greasy.  You can make a mediocre batch of fudge with the others but why would you want to?  This is Peanut Butter fudge.  You want a pure peanut butter flavor here.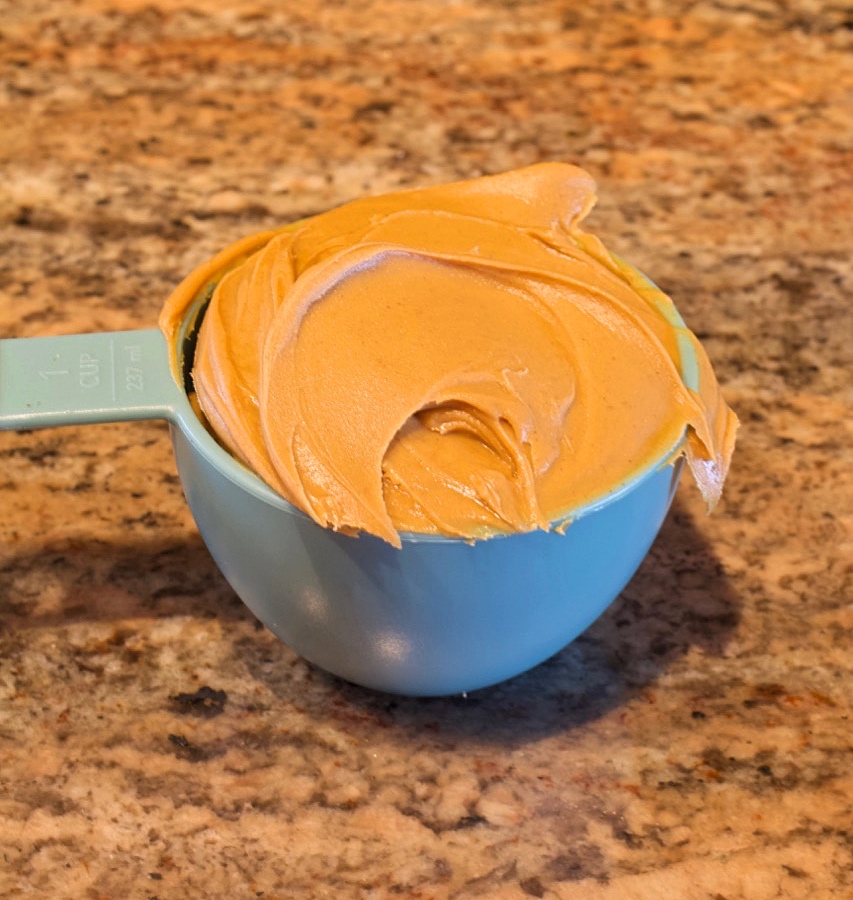 I have adjusted the amount of peanut butter in this recipe to acquire the perfect peanut butter flavor after adding the marshmallow creme.  I use 1 slightly rounded cup of peanut butter.  See the picture above if you're not sure of how much to use.
EASY STEPS FOR MAKING THIS FUDGE…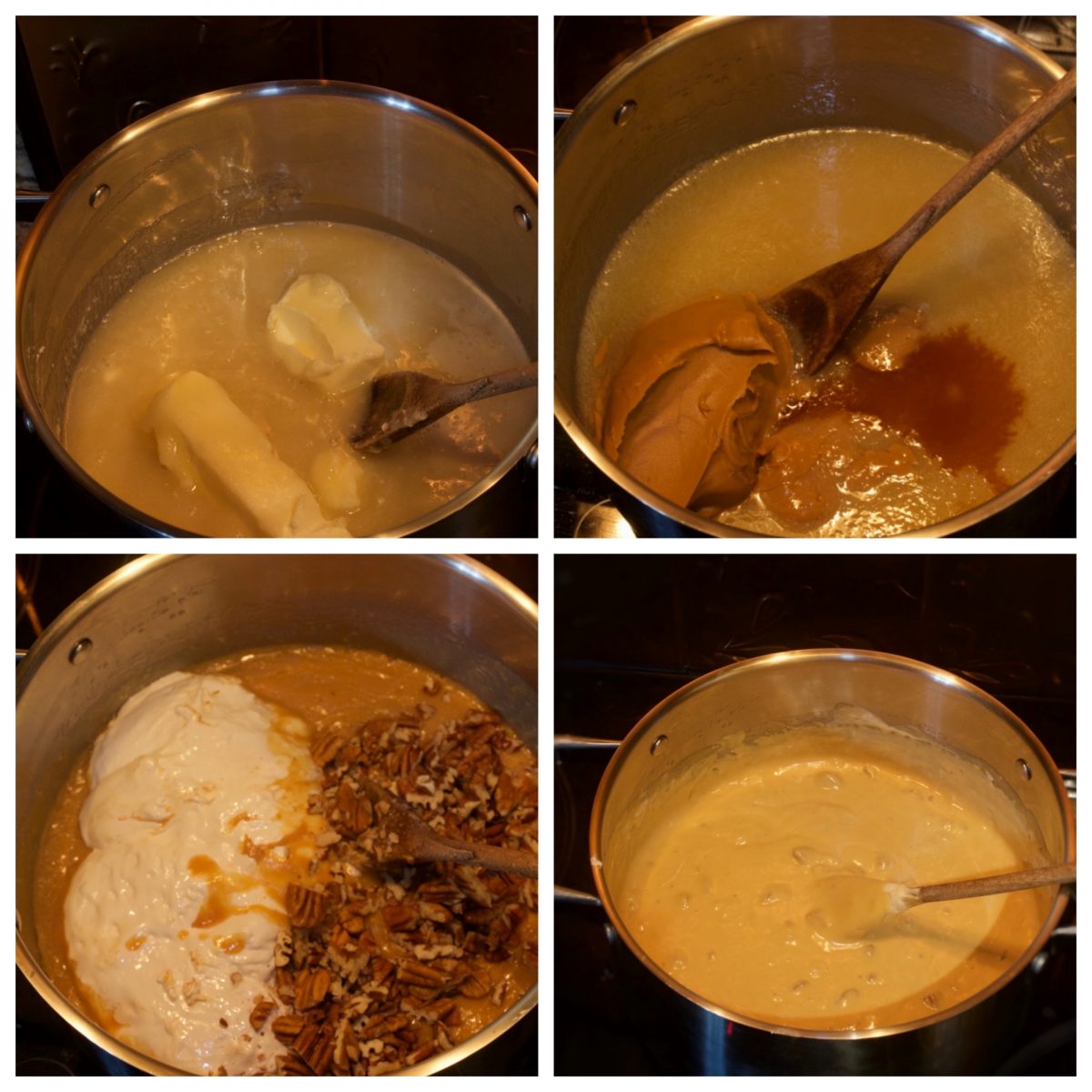 Top Left:  Add some sugar, evaporated milk and butter to a 2-quart saucepan.  Bring mixture to a boil over medium heat.  As soon as the mixture starts to bubble on top, cook for exactly 4 minutes and remove from heat.
Top Right:  Add some peanut butter and vanilla and mix until smooth.
Bottom Left:  Add a jar of Kraft Marshmallow Creme and add nuts if using.
Bottom Right:  Mix until well combined and smooth.  Pour into a prepared dish.
If you've never made fudge, you can make this and impress your family.  It's SO easy!!
Check out this recipe for Chocolate Fantasy Fudge.
Recipe revised on 11/16/2019.
Print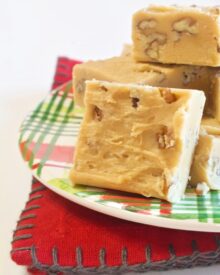 Peanut Butter Fantasy Fudge
Author:

Prep Time:

10 Minutes

Cook Time:

10 Minutes

Total Time:

20 minutes

Yield:

20

Pieces

1

x

Category:

Candy
---
Description
This recipe is the perfect no-fail recipe for anyone who has not made fudge.  It is super easy!  It also originates from the label on the Kraft Marshmallow Creme Jar.  Over the years, this recipe has changed, due to changes in packaging sizes of ingredients.  This recipe is the new revised recipe.  If you have the old recipe from years ago, please review this recipe for updates.
---
3

cups

white sugar

3/4

cup

(1 1/2 sticks) margarine or butter

2/3

cup

evaporated milk, one 5 ounce can

1

dry measuring cup slightly rounded of creamy peanut butter

1 teaspoon

pure vanilla extract

1

jar Kraft Marshmallow Creme, 7 ounces

1 1/2

cups

chopped pecans or walnuts, optional
---
Instructions
Line a 9″ x 13″ pan or two 8″ x 8″ pans with parchment paper or foil, allowing it to hang over the edges for easy removal.
Combine the sugar, margarine and evaporated milk in a large pan. Mix and bring to a boil over medium heat. As soon as the mixture starts to form a few bubbles, continue stirring and time candy for exactly 4 minutes. Remove from heat.
Add the peanut butter and vanilla and mix until smooth. Add the marshmallow creme and mix well again. Mix in nuts if desired.
Spread the fudge into the prepared dish. Place in a freezer or cold place until the fudge becomes completely cooled.
Lift the foil and candy from the dish and onto a counter. Cut the fudge into squares.
Store in an airtight container.
Fudge will stay fresh for up to two weeks.
---
Notes
Do not use natural peanut butter in this recipe.
Do not use real butter in this recipe or it will make the fudge too greasy when combined with the peanut butter.
The original recipe for this classic fudge called for cooking it 5 minutes.  That's when small cans of evaporated milk came in 6-ounce cans.  Nowadays the milk comes in 5-ounce cans, thus decreasing the cooking time to 4 minutes.
This candy freezes beautifully.  Feel free to make it ahead and freeze it.  Wrap it tightly in plastic wrap, then foil or an airtight container.  I place wax paper between layers, but you really don't need too.
Yiled depends on the size pan you're using and how big you want each piece to be.  If you wan't extra thick fudge, you can use one 9 x 9 inch pan.  If you don't want really thick pieces, use a 9 x 13 or two 8 x 8 pans.
---
Keywords: peanut butter fudge, candy, peanut butter, fudge, creamy, Christmas candy, holiday candy, fantasy fudge,
There may be affiliate links in this post. We are a participant in the Amazon Services LLC Associates Program, an affiliate advertising program designed to provide a means for us to earn fees by linking to Amazon.com and affiliated sites.