10 Minute Peanut Brittle
Published January 4th, 2016 · Modified January 4th, 2023
This 10 Minute Peanut Brittle is buttery and crunchy and takes only 10 minutes to make in the microwave. It's so delicious and it's a great candy to make for the holidays. I make several batches of this easy candy and gift it. But why make it just for the holidays? It's great anytime!
You can forget making Peanut Brittle the old fashioned way of standing over the stove and using the candy thermometer. I am the first person to say, that I don't use a microwave for anything but defrosting, reheating or melting butter or chocolate. That is except for making this Ten Minute Peanut Brittle.
I stopped cooking peanut brittle over the stove years ago when my sister gave me this easy and delicious recipe for Peanut Brittle. I will never go back. I make several batches of this at Christmas to give as gifts. This is the easiest candy recipe you will ever make. I promise!
Easy steps for this easy peanut brittle
Start by combining some sugar, salt and corn syrup in a large bowl and microwave it for exactly 5 minutes. The bowl will be hot so be careful…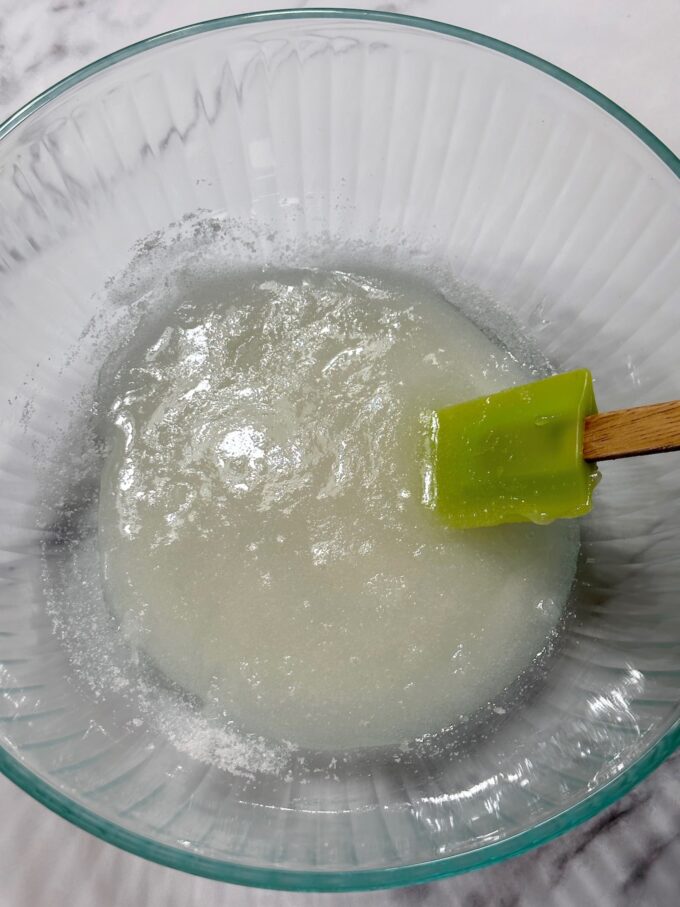 Add some raw Spanish peanuts. Using a heatproof spatula, mix the peanuts into the sugar mixture, making sure to cover all the peanut with the wet mixture. Microwave for exactly 2 minutes.
Remove the bowl from the microwave. Again, be careful, it will be very hot. Using a spatula, stir the mixture for about 30 seconds, giving the peanuts time to slightly brown. It won't be much of a change. Now microwave for 1 additional minute.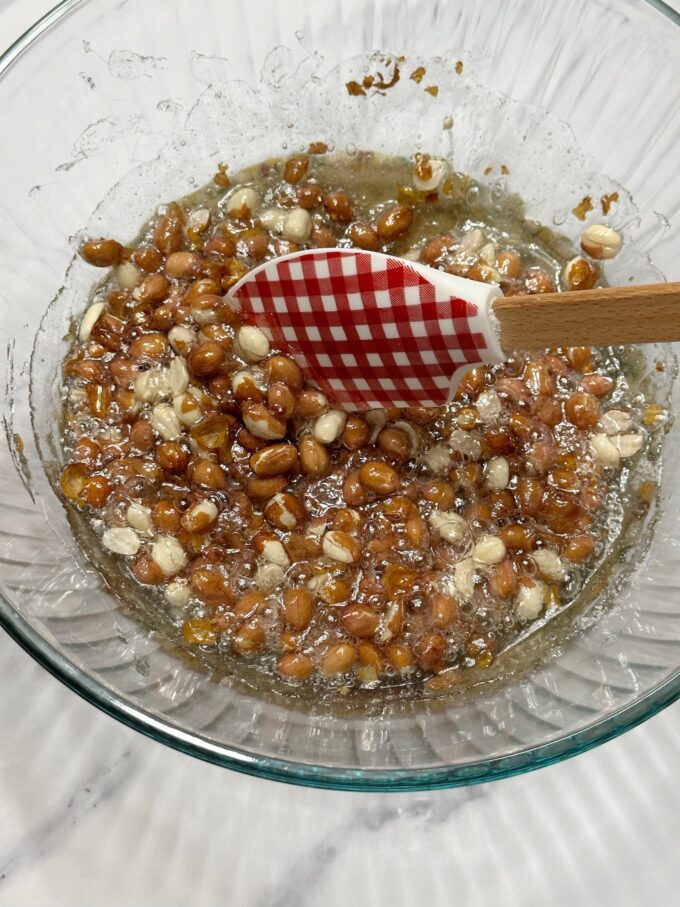 Remove the bowl from the oven, add some butter and vanilla and mix to incorporate.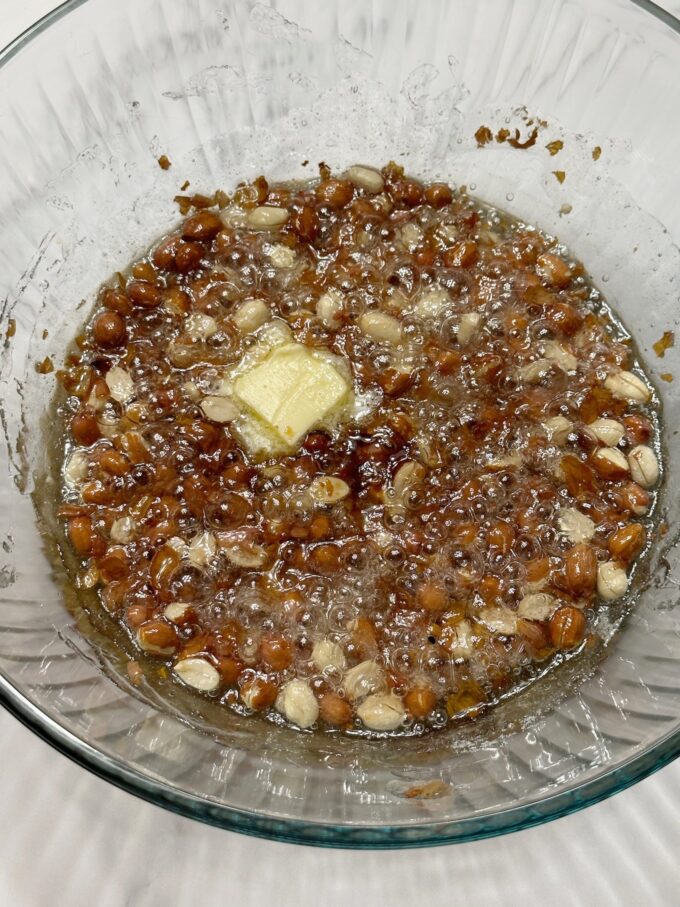 Sprinkle some baking soda over the mixture.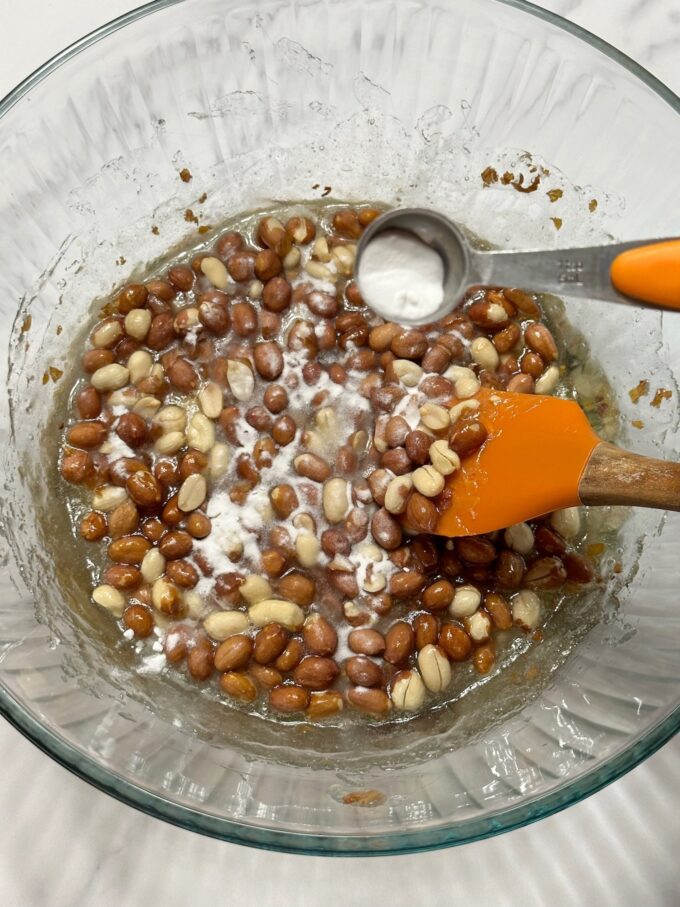 Now mix the baking soda in and allow the baking soda to perform its magic. See how it magically makes the candy foam up? This is what makes the Peanut Brittle light and airy…
Immediately scoop the mixture onto a baking sheet covered with a piece of parchment paper. Spread it out quickly with the spatula.
Place the peanut brittle in a freezer for about 10 minutes to completely cool before trying to break into pieces. In the winter, I place mine outside on my deck. Once the candy is cooled, place it in a 1 gallon freezer, use the handle of a butter knife and break it into pieces.
Note: The times I used were based on an 1800 watt microwave. If yours is lower, your candy might take 1 or even 2 minutes longer based on the wattage. I recommend doing one test batch first.
Tip
The hardest thing about making this candy is cleaning the bowl. You can soak the bowl with hot tap water, but it will take quite a long time to soak and clean it. Here's my easy tip. Before you start making this candy, bring a pan of water to a boil and set aside. As soon as the candy is done and you transfer it from the bowl, place the bowl in a sink and fill it with the extremely hot water. After 10 minutes, you can easily clean the bowl.
You might also like these candy recipes…
If you make this 10 minute Peanut Brittle, please give it a rating and let me know in the comments how it turned out. I'd love to hear from you!
Print
10 Minute Peanut Brittle
Author:

Prep Time:

2

Cook Time:

8

Total Time:

10

Yield:

1

Pound

1

x
---
Description
This 10 Minute Peanut Brittle is buttery and crunchy and takes only 10 minutes to make in the microwave.  It's so delicious and it's a great candy to make for the holidays.  I make several batches of this easy candy and gift it.
---
1

cup

granulated sugar

1/2

cup

light Karo, or other corn syrup

1/2 teaspoon

salt

1

to

1 1/2

cups

raw Spanish Peanuts

1 tablespoon

real butter

1 teaspoon

pure vanilla extract

1 teaspoon

baking soda
---
Instructions
Lay a piece of parchment paper on a small cookie sheet or other small pan.
Combine sugar, salt and syrup in a large microwavable bowl. Make sure you mix both together so that all of the sugar is wet.  Microwave on high for 5 minutes.
Remove bowl from microwave. Stir in the peanuts and mix to cover all of the peanuts with the syrup mixture.
Microwave on high for 2 minutes. Remove from microwave and mix well for about 30 seconds until the mixture is syrupy and the nuts start to turn slightly brown.
Microwave on high for 1 minute. Remove from microwave and add the butter and vanilla. Mix to combine. Add the baking soda and mix until the mixture becomes foamy.
Using a large spatula, work quickly, and spread the mixture onto one end of the parchment lined pan. Stop and immediately place the bowl in a sink and fill with hot water to soak.
Place pan in a cold place for approximately 10 minutes until candy has completely cooled. Slide the slab of candy into a storage bag and securely close bag. Using a knife handle, break the candy into pieces.
Store candy in a plastic bag or airtight container. Candy keeps well for a couple of weeks.
---
Notes
Note: Microwaves vary. You might consider experimenting with your first batch to see if you need to adjust the cooking times.
Note: Give your microwave at least 10 minutes to cool between batches.
Yields: Approximately 1 pound
Keywords: candy, peanut brittle, peanuts, Christmas candy, Christmas candy recipes, candy recipes, microwave peanut brittle, ten minute peanut brittle,
There may be affiliate links in this post. We are a participant in the Amazon Services LLC Associates Program, an affiliate advertising program designed to provide a means for us to earn fees by linking to Amazon.com and affiliated sites.