Thick & Chewy Peanut Butter Chocolate Chip Cookies
These Thick & Chewy Peanut Butter Chocolate Chip Cookies are simply loaded with pure peanut butter flavor and what complements peanut butter? None other than chocolate and more chocolate!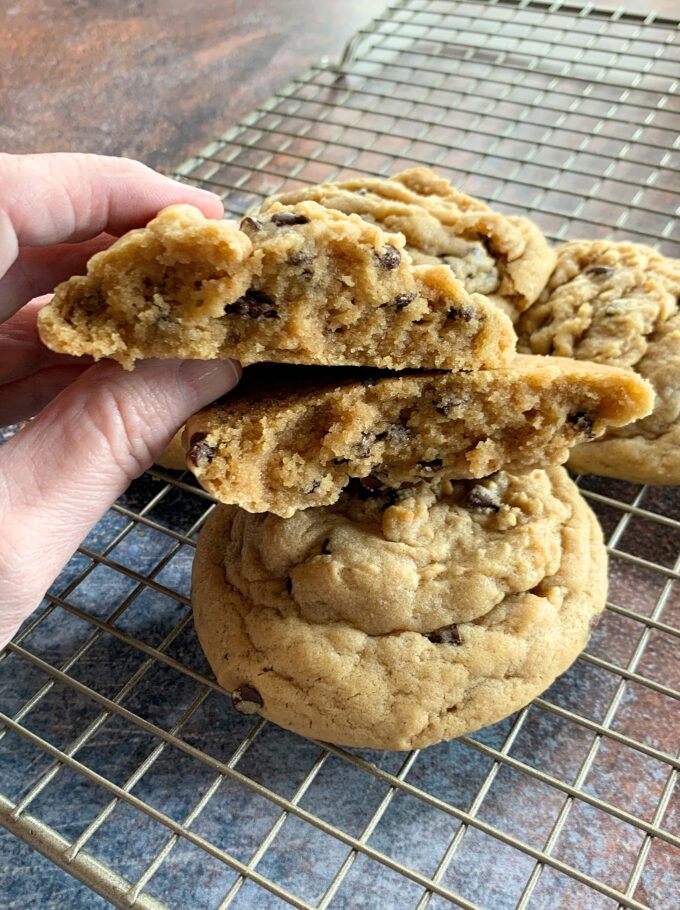 Calling all peanut butter and chocolate lovers!!! If you love this flavor combo, you're going to instantly love these Peanut Butter Chocolate Chip Cookies! They are mega thick, chewy, and moist, and you couldn't pack any more pure peanut butter flavor into these babies if you tried.
When I decided to create a peanut butter cookie that was moist, chewy, and mega thick, I decided to start with my most popular soft cookie recipe and go from there. Therefore, I reached for my Sour Cream Brown Butter Cookies recipe. They are thick and soft, and I knew they would make a great base recipe for starters.
How I adapted the recipe
I already had a thick, soft cookie to work with. I just needed to add peanut butter, make them even thicker, and manage to turn them into a chewy versus soft & cakey cookie. So here is what I did…
I increased the baking powder from 1/2 to 3/4 teaspoon. Peanut butter is heavy, and I felt these cookies needed a little help, not necessarily in rising, but to keep them from sinking in the centers.
I added 1 cup of peanut butter to the recipe. I wanted lots of pure peanut butter flavor. Therefore, I knew I had to compensate by decreasing something else. I decreased the sour cream from 1 to 1/2 cup. That still left plenty of sour cream to add moistness to the cookies.
I changed the sugar in this recipe from 1 1/4 cups of granulated sugar to 1 cup of light brown sugar and 1/4 cup of granulated sugar. Brown sugar also adds moistness and results in a chewier versus a a soft cakey cookie.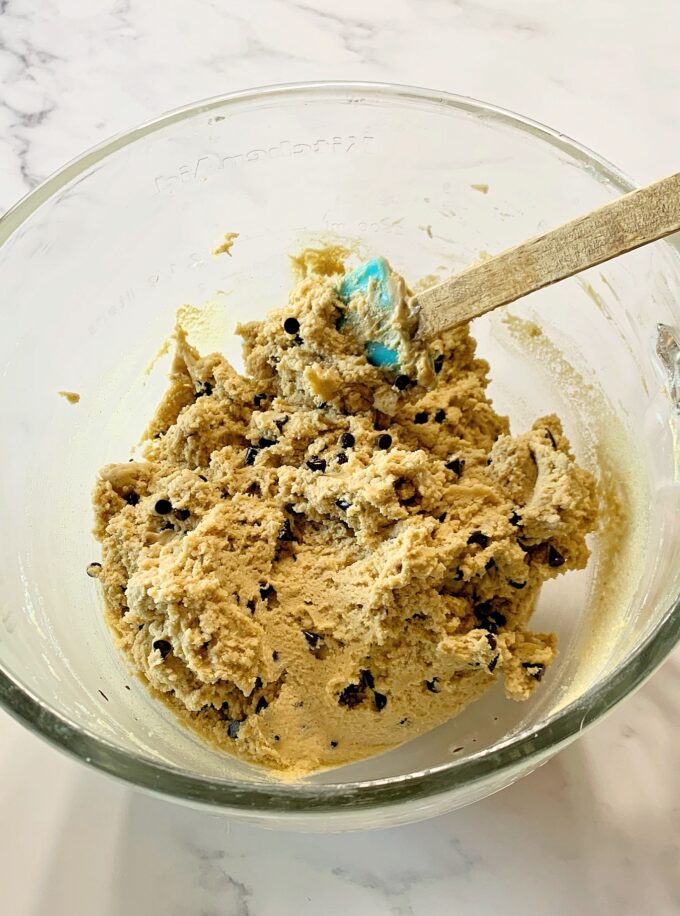 What makes cookies chewy and moist?
I already mentioned a couple of things that make a chewy and moist cookie, but let's recap and cover all the ingredients you need for moist and chewy cookies.
Brown sugar contains molasses, resulting in a softer, moister, thicker and chewier cookie.
Sour cream adds lots of moistness to cookies.
Butter adds moistness to cookies.
Eggs add moistness to cookies.
Tips for making thick and chewy peanut butter chocolate chip cookies that don't spread or sink after they're baked
Use your fingers to press the sides of the cookie dough slightly inward and upward, making them somewhat taller, this way they will be even thicker as they bake. The taller the thicker! Look at how thick the baked cookies in the picture below are. This is after they've had time to cool for 5 minutes and they are still thick.
Mix the cookie dough and place it in the refrigerator for 15 to 20 minutes. Chilled cookie dough doesn't spread as much. Don't preheat the oven until you've placed them in the freezer for a few minutes.
Only place 4 cookies at a time on the baking sheet. These are BIG cookies!
Make sure your cookie sheet is completely cooled between batches. Warm cookie sheet equals spreading cookie dough.
Don't overbake the cookies. I baked them for 13 minutes, (ovens vary). Bake them until they are just starting to lightly brown on the tops, (see picture below). They will be just slightly under baked, but that's okay. They will continue baking for at least 1 more minute on the hot cookie sheet once you remove them from the oven. Leave them on the cookie sheet for 5 minutes before transferring them to a cooling rack.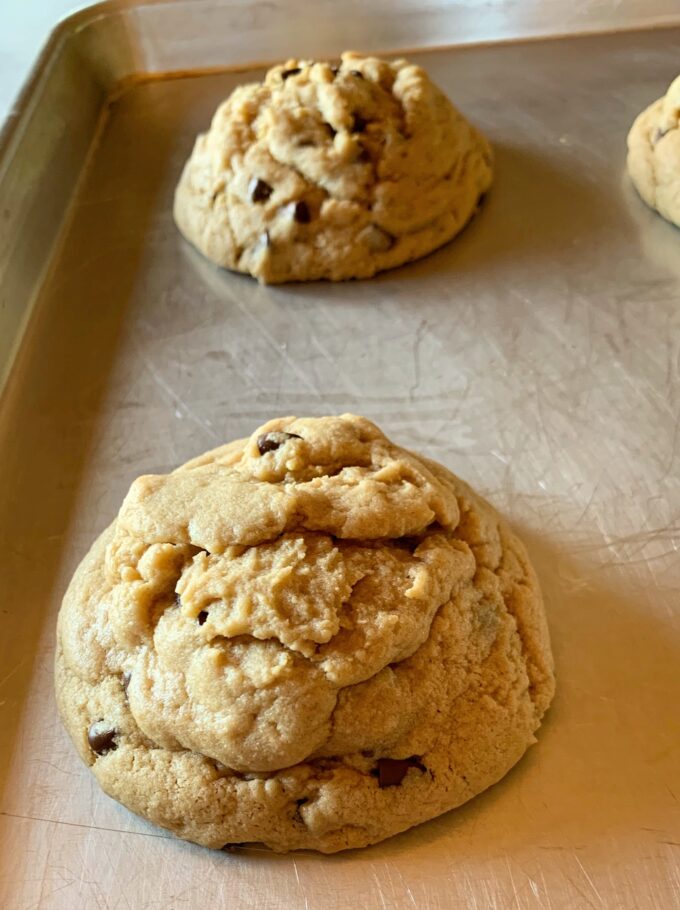 These cookies have just enough baking powder to keep them from sinking. Remember, peanut butter is heavy, so we increased the amount of baking powder to keep them from sinking, but not really for rising purposes. The cookie dough is pretty dense, and with more brown sugar than white, the cookies don't spread much.
Can I use Natural Peanut Butter in these cookies?
The answer is yes! However, when using natural peanut butter, not all are the same. Some have more oil than others. I like to use a good quality processed peanut butter such as Jiff for peanut butter cookies. It's the same every time, and I don't have to worry about adjusting the recipe due to the oil content or guess at anything. Here's the difference between the two…
Natural peanut butter typically has more oil than process brands such as Jiff. Due to the extra oil, the cookies usually spread more, so if you're wanting a thick cookie, you'll have to adjust other ingredients.
Processed peanut butter: The cookies spread less, have a less crumbly texture. You don't have to adjust your recipe due to the extra oil, if you want them to spread less.
Can I freeze this cookie dough?
You sure can! Wrap it securely and freeze for up to 3 months. Here's what I do. I go ahead and scoop the dough into dough balls onto a cookie sheet. Then I place the cookie sheet in a freezer for a few minutes until the dough is cold and hard. I place each cookie ball into a ziploc sandwich bag, the I place several together in a gallon size freezer bag and freeze them. That way, if I only want one or two cookies at a time, I just remove one or two, place them on a counter to semi-thaw, (they should still be cold), and then bake them.
Can I freeze baked cookies?
Sure can! Wrap them securely, and freeze for up to 3 months. Allow them to thaw to room temperature and eat!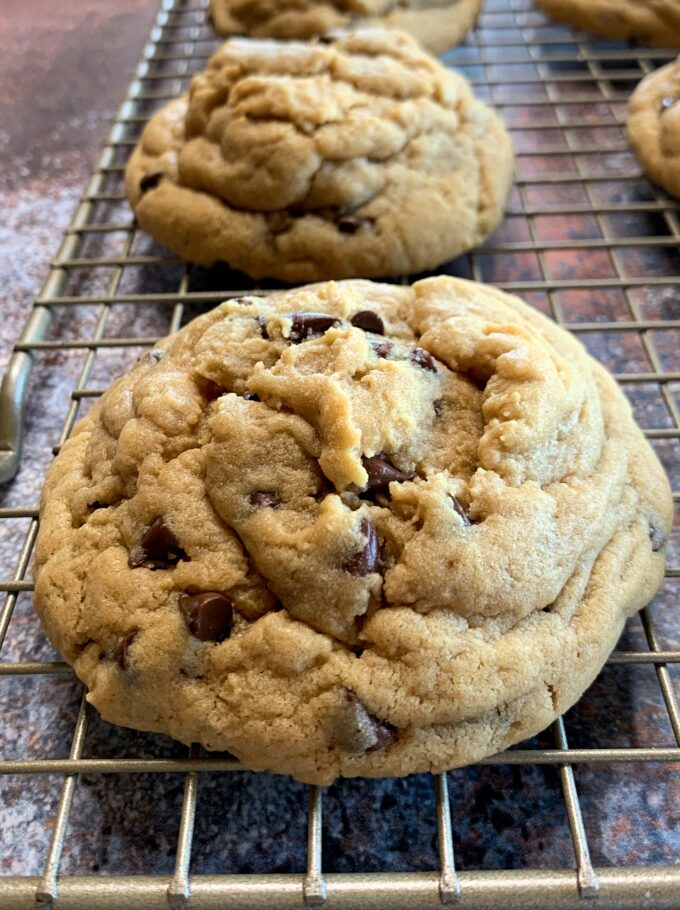 More delicious peanut butter cookie recipes…
Reese's Pieces Peanut Butter Cookies
Soft & Chewy Peanut Butter Cookies
Peanut Butter Sandwich Cookies
If you make this recipe please rate it, and leave a comment below on how you liked it. I love getting your feedback! 🙂
Wanna see different recipes each day? Feel free to follow me on Facebook, Pinterest, & Instagram!
Print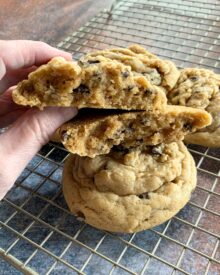 Thick & Chewy Peanut Butter Chocolate Chip Cookies
Author:

Prep Time:

15 Minutes

Cook Time:

13 Minutes

Total Time:

28 minutes

Yield:

12

Mega Cookies

1

x

Category:

Cookies

Method:

Bake

Cuisine:

American
---
Description
These mega thick and chewy peanut butter cookies are dense and moist too. They have a ton of peanut butter in them, and just enough baking powder to keep them from sinking once they're cooled. Add chocolate chips and they're to die for!
---
2 1/3

cups

all-purpose flour, spoon & leveled

1 teaspoon

baking soda

1/2 teaspoon

salt

3/4 teaspoon

baking powder

1

stick (1/2 cup) unsalted butter, room temperature

1

cup

creamy peanut butter (I recommend Jif)

1

cup

light brown sugar, packed

1/4

cup

granulated sugar

2

large eggs, room temperature

1 teaspoon

pure vanilla extract

1/2

cup

sour cream

3/4 cup

mini semi-sweet chocolate chips
---
Instructions
In a medium bowl, whisk together the flour, baking soda, salt, and baking powder. Set aside.
Add the butter and peanut butter to the bowl of a stand mixer or use a hand mixer. Beat the butter and peanut butter until they are smooth and creamy, about 1 minute. Add the sugars, eggs, and vanilla and beat for about 1 more minute. Add the sour cream and dry ingredients in additions, starting and ending with the dry ingredients. Fold in the chocolate chips.
Place the bowl of batter in the refrigerator for 15 minutes. Meantime preheat an oven to 350 degrees.
Using a large 1/2 cup cookie scoop, or you can use a measuring cup, place four large leveled-off scoops of cookie dough on a cookie sheet, leaving plenty of space between them. Place the remaining dough back into the refrigerator. Use your hands to slightly squeeze each dough ball making them slightly taller.
Bake the cookies for 13 to 14 minutes or until the cookies are lightly browned on the tops and bottoms. Remove the cookies from the oven and allow them to sit on the cookie sheet for 5 minutes, before transferring to a wire rack to cool completely*. 
---
Notes
*The cookies will be just slightly underbaked when they come out of the oven but will continue to bake on the hot cookie sheet for an additional minute.
See my notes above this recipe for how to freeze the raw cookie dough or baked cookies.
Keywords: peanut butter cookies, peanut butter chocolate chip cookies, cookies, peanut butter, chocolate chips, desserts, cookie recipes,
There may be affiliate links in this post. We are a participant in the Amazon Services LLC Associates Program, an affiliate advertising program designed to provide a means for us to earn fees by linking to Amazon.com and affiliated sites.