Soft and Chewy Peanut Butter Cookies
If you're looking for a peanut butter cookie that's soft and chewy, and a cookie dough that doesn't need to be chilled before baking, you've come to the right place. These Soft and Chewy Peanut Butter Cookies are loaded with peanut butter flavor and they're super easy to make!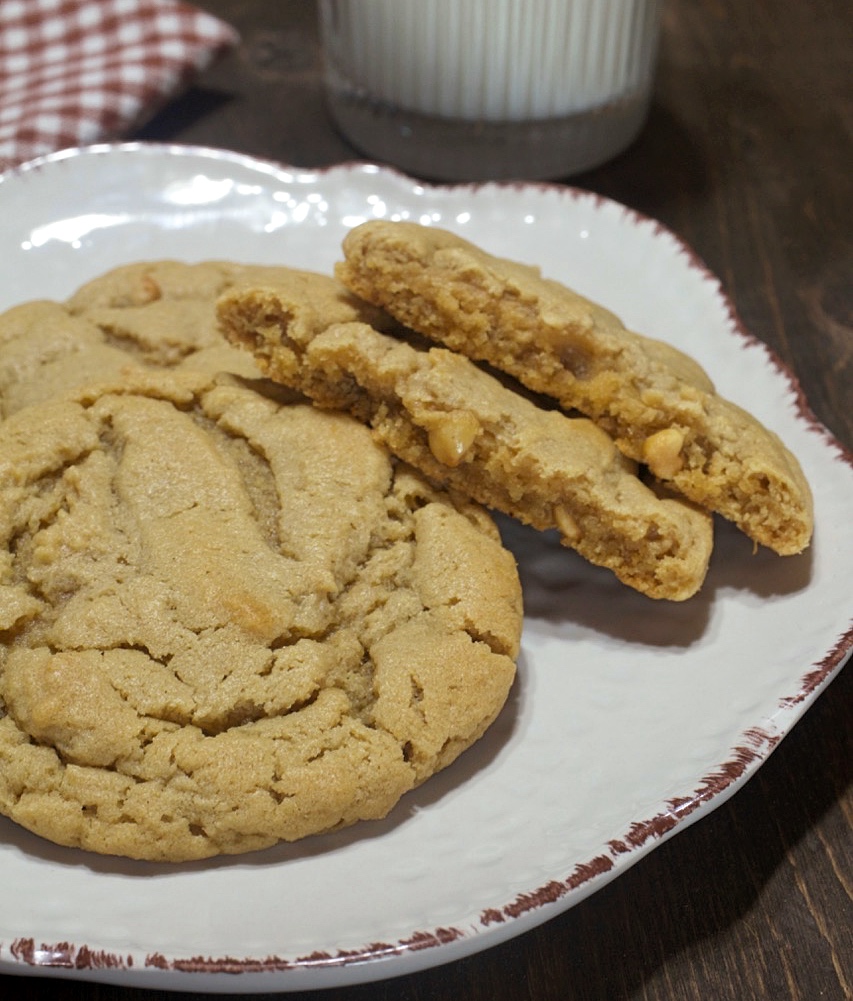 I have to admit something.  In between baking new recipes for my blog, I've also been re-making and updating my recipe pictures from 2 years ago,  Why?  Because when I first started my little food blog, I took all of my food pictures horizontal and with my cell phone    Back then I didn't know much about Pinterest, but I later realized that 99.9% of all pictures on Pinterest are vertical.  Honestly, I really didn't know much about anything back then, except that I loved to bake and share my recipes.  The other day I decided to make a batch of my Soft & Chewy Peanut Butter Cookies and I felt the need to take a few new pictures.  Although I love making sweets, my photography skills have lots of room for improvement.
Making a cookie that is both soft and chewy isn't hard.  You just need to know the correct ratios of your ingredients.  I didn't want a thin and crispy cookie, nor did I want a light and cakey cookie for this recipe.  I want the cookie to be soft & chewy
What makes a cookie both soft and chewy?
A chewy cookie has a high ratio of brown sugar to white granulated sugar.  Brown sugar contains molasses and molasses loves moisture, therefore, resulting in a chewy cookie.  Brown sugar also adds a caramelized flavor to cookies.   I don't recommend using dark brown sugar.  Dark brown sugar contains more molasses and can make your cookie taste more like a molasses cookie rather than a peanut butter cookie.  Brown sugar absorbs moisture from the air and helps keep the cookies soft.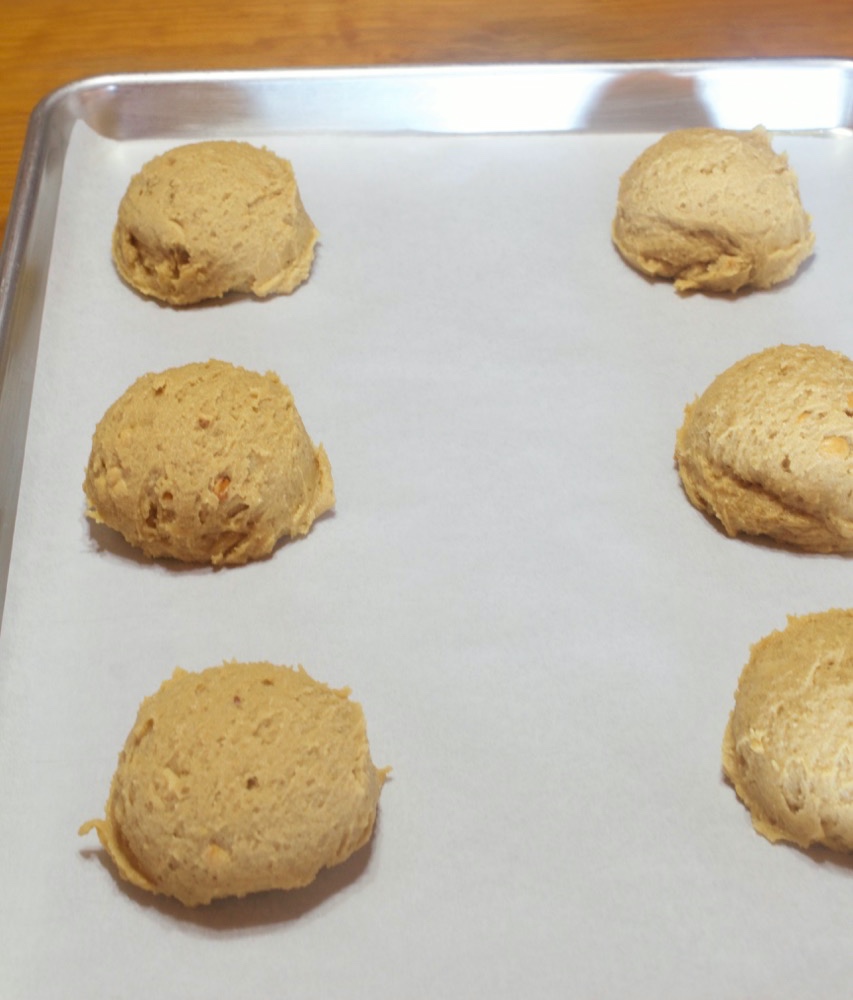 These cookies are super easy to make, and you don't need to refrigerate the dough.  Below are a few tips for making these cookies soft and chewy and the perfect thickness.   We don't want a super thick cookie here, but we also don't want a super-thin cookie.  We want these cookies to be somewhere in between thin and thick.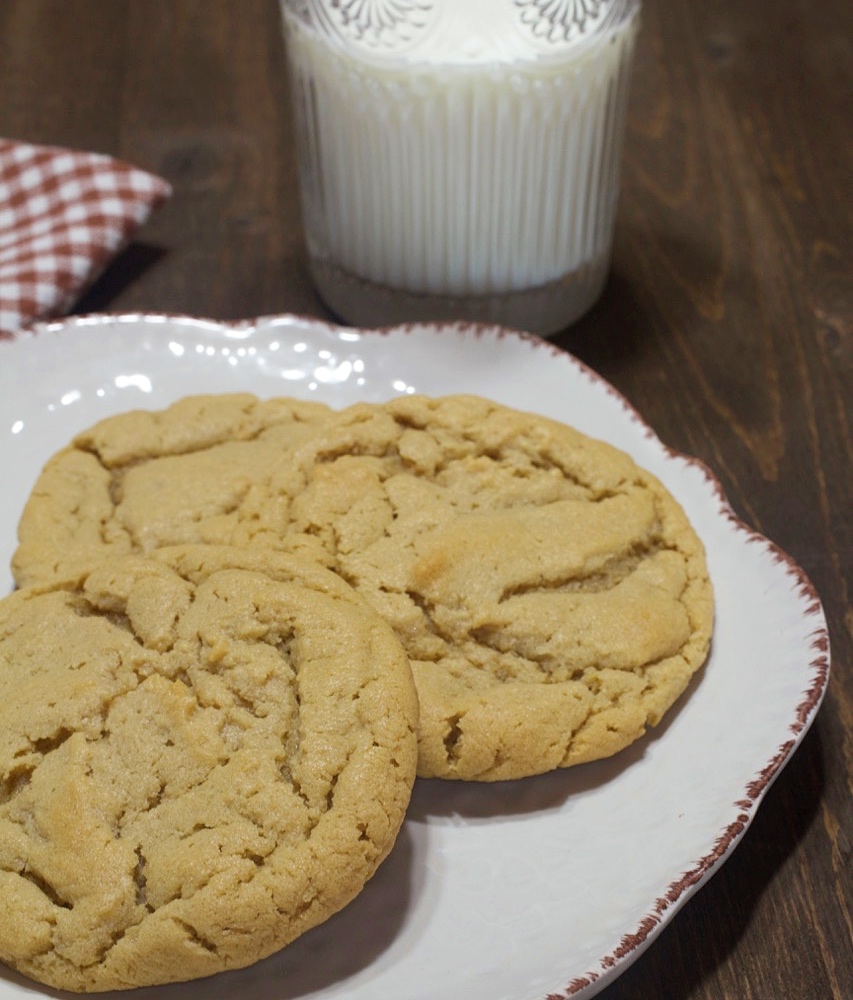 Tips
Don't refrigerate the dough.  You want it to spread some while baking.
Use parchment paper or a silicone mat on your cookie sheet.  This will prevent excess spreading.
Don't use a fork to flatten the cookies.  Remember, we're not making thin and crispy here.  The cookies will puff up in the oven, but they will flatten as they cool.
Bake the cookies until they are golden brown on the bottom, no darker.  Allow the cookies to rest on the hot cookie sheet for 2 minutes before you transfer them to a wire rack.
Below are some of my original pictures of these soft and chewy cookies.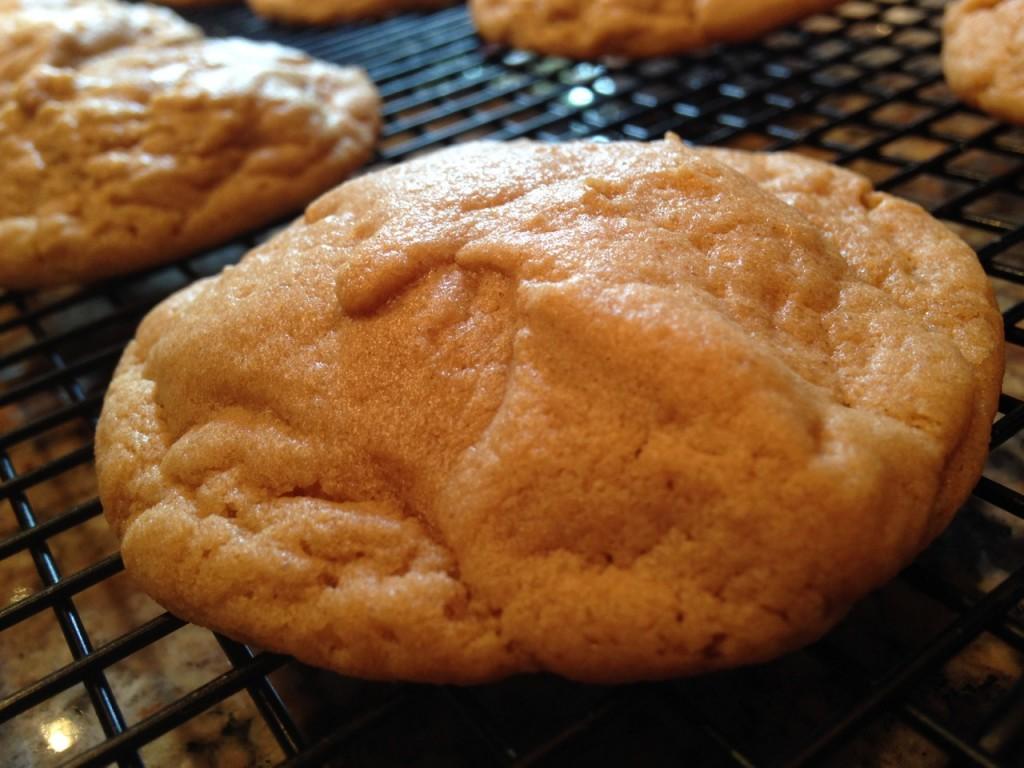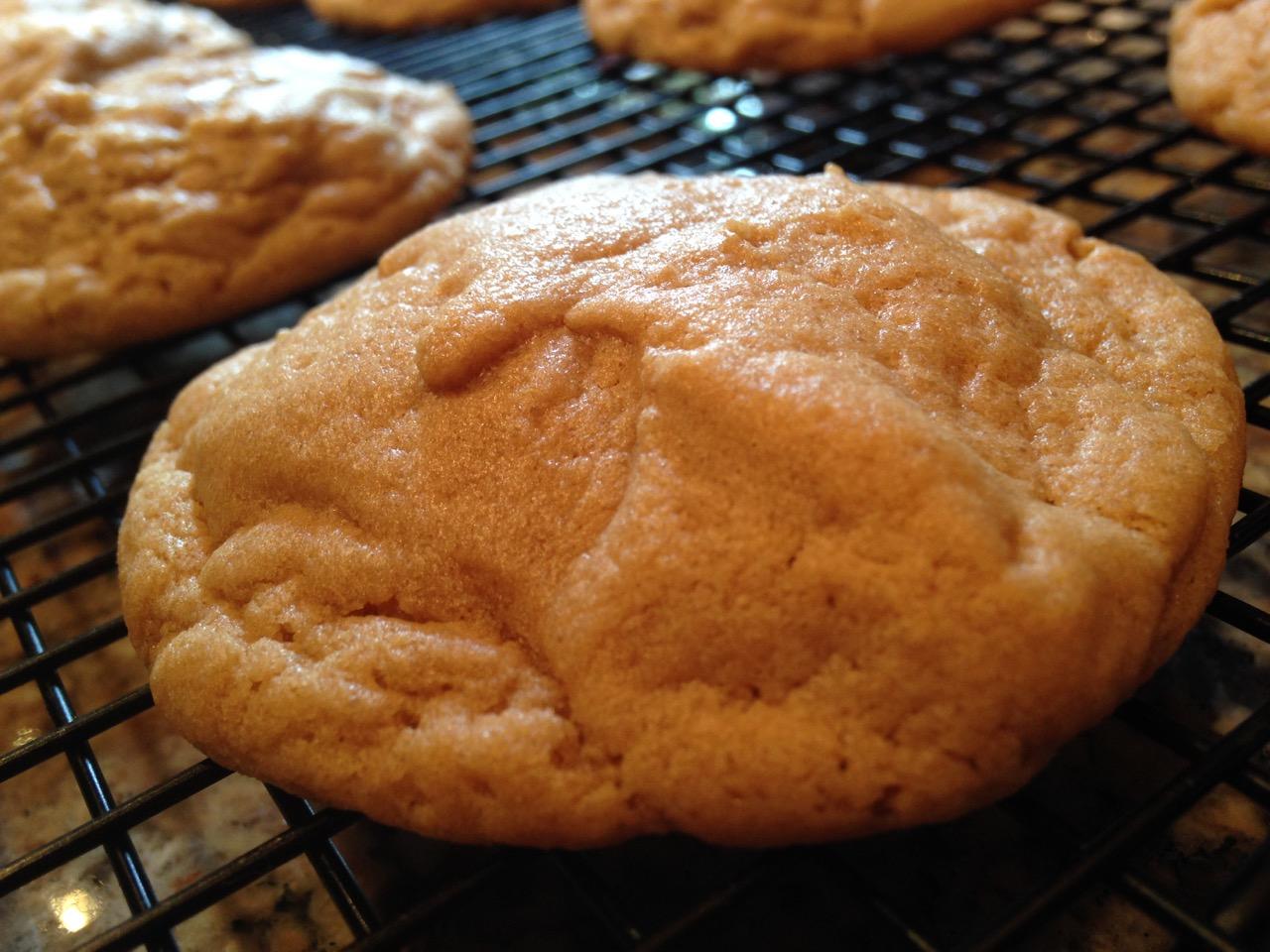 I want to show you how these cookies puff up when baked.  These cookies don't get flattened with a fork like the thin crunchy version of a peanut butter cookie.  As the cookies cool, they will flatten and be soft and chewy.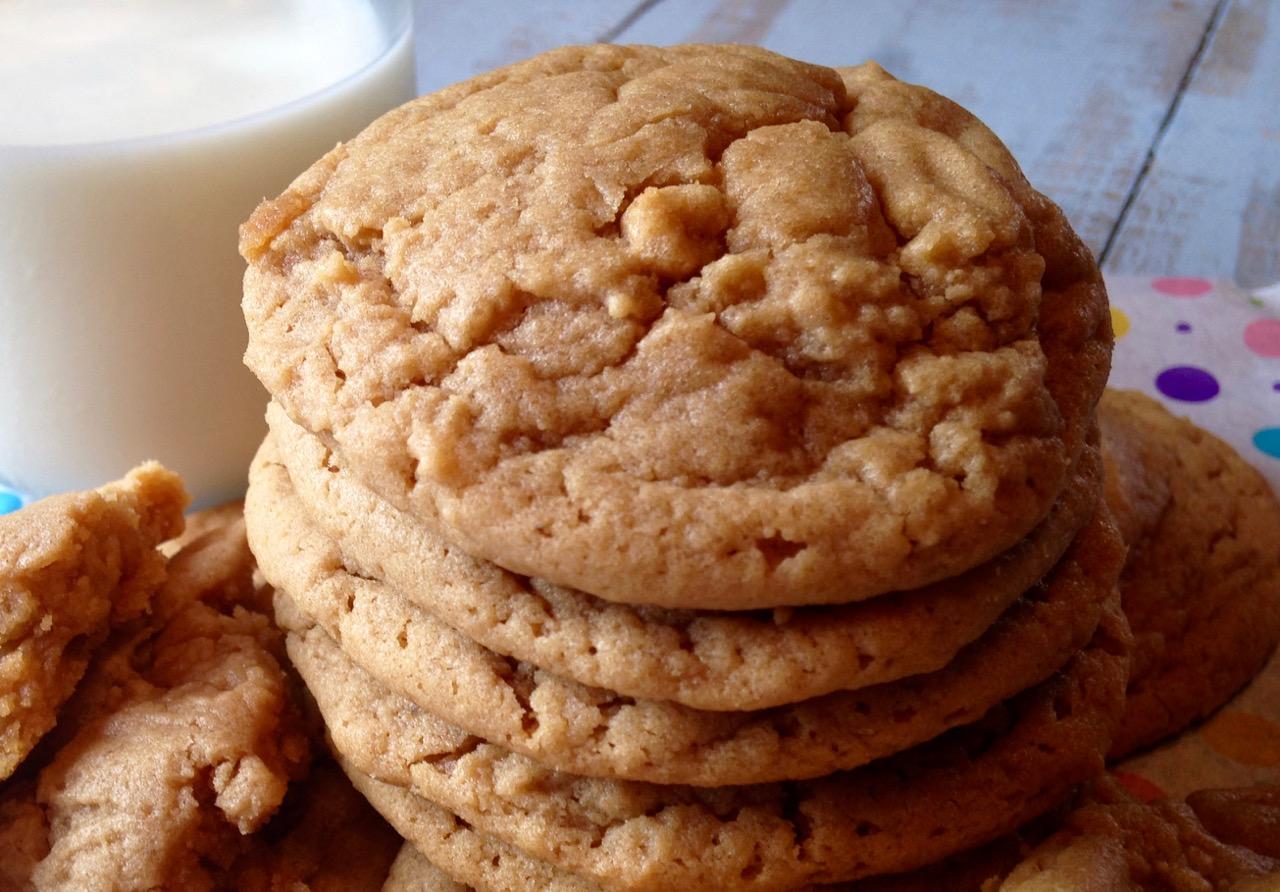 Another old picture above, but shows a close-up of the thickness of the cooled cookies.  Again, they aren't too thin or too thick.  Just right for a soft and chewy cookie.
You might also like these Classic Peanut Butter Cookies.
Print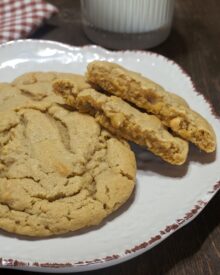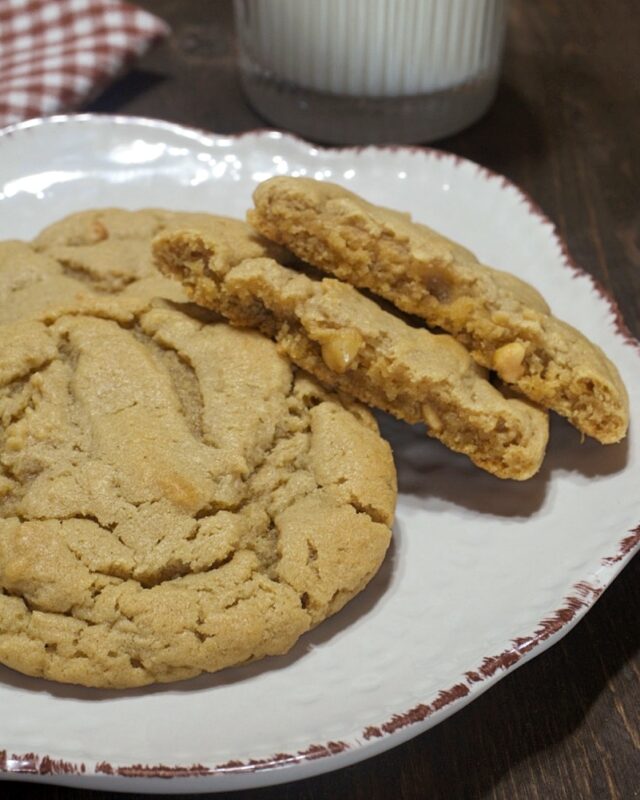 Soft and Chewy Peanut Butter Cookies
Author:

Prep Time:

15

Cook Time:

10

Total Time:

25

Yield:

2

0

1

x
---
Description
Soft and chewy, yummy peanut butter loaded, cookies!
---
1 1/2

cups

all-purpose flour

1 teaspoon

baking soda

1

cup

chunky peanut butter, (not natural)

1

cup

light brown sugar

1/2

cup

granulated sugar

1

stick real butter, softened

1 teaspoon

pure vanilla

2

eggs

1 tablespoon

light corn syrup
---
Instructions
Preheat oven to 350 degrees.
Whisk the flour and baking soda together in a medium bowl and set aside.
In the mixing bowl of a stand mixer, using the paddle attachment, mix the peanut butter, sugars, butter, vanilla, corn syrup and eggs together on medium speed. Mix until smooth and creamy and there are no lumps remaining in the brown sugar, about one minute.
Add the dry ingredients and mix just until incorporated.
Using a large cookie scoop, drop mounds onto an ungreased cookie sheet.
Bake for 10 minutes until the bottoms are golden brown and the tops are light brown. Let cookies cool on the cookie sheet for two minutes. Transfer cookies to a wire rack to finish cooling.
---
Notes
One cup of peanut butter baking chips can be added to the cookie dough if desired.
There may be affiliate links in this post. We are a participant in the Amazon Services LLC Associates Program, an affiliate advertising program designed to provide a means for us to earn fees by linking to Amazon.com and affiliated sites.