Lemon Blueberry Layer Cake
Lemon Blueberry Layer Cake presents moist lemony cake layers that are dotted with fresh blueberries and slathered with a creamy lemon cream cheese buttercream. A great mouthwatering cake to welcome Spring!
Yep, I just can't stop making lemon desserts right now. They are getting me through until Spring pops its sunshiny head. Lemon desserts just seem to bring a ray of sunshine into my kitchen and they're also delicious. This Lemon Blueberry Layer Cake is no exception!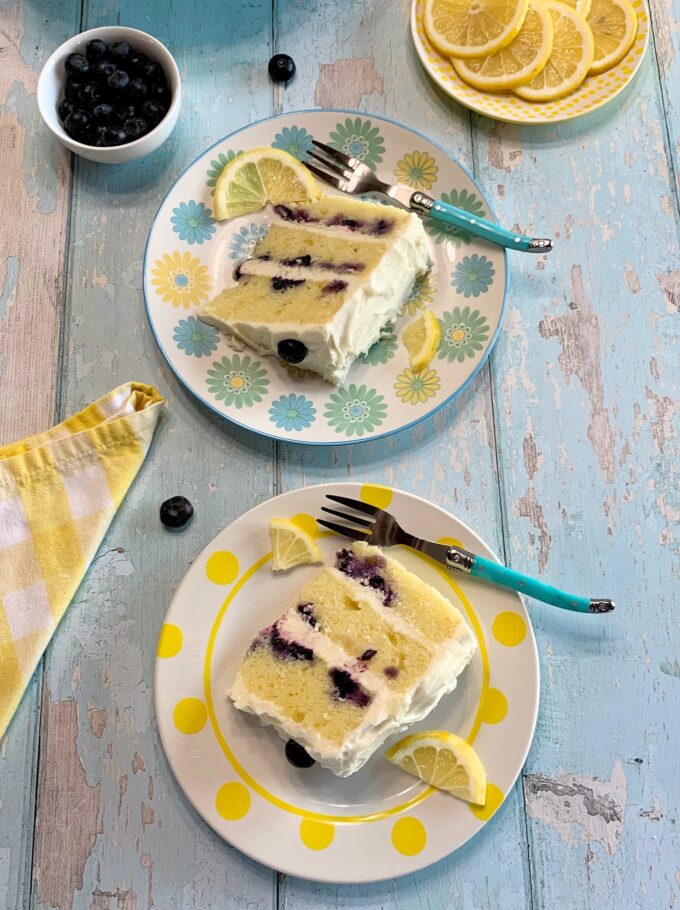 My super moist Lemon Layer Cake is a very popular recipe here on MCT. Therefore, I decided to adapt it into a lemon/blueberry version, dotting it with fresh juicy blueberries. Oh my, the rest is history!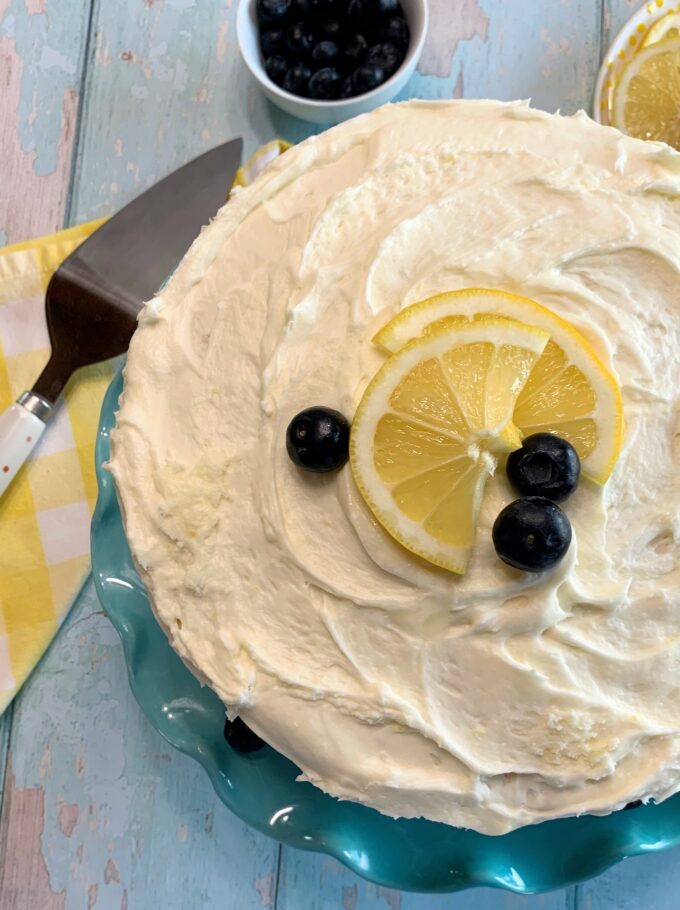 Here's what makes this cake perfect!
CAKE FLOUR: I tested all-purpose flour in this cake first. I sifted it, then measured it. It just wasn't giving me the fluffy or soft texture I was looking for. For the second test, I used cake flour that I sifted before measuring. Big difference in the softness and fluffiness! This recipe calls for "sifted" cake flour. This means to sift the flour before measuring it. Alternately, if the word "sifted" follows the word flour, it means to measure the flour, then sift it. This is important to know. If you were to measure the flour first, then sift it in this recipe, you would end up using too much flour, thus resulting in a drier cake. I used all-purpose flour in my Moist & Tangy Lemon Loaf Cake because I wanted a more dense texture.
BUTTER: I used butter for the pure buttery flavor, and it helps to aerate and tenderize the cake.
BUTTERMILK: I used buttermilk in this cake for several reasons. Using buttermilk results in cakes that have a lighter texture and a finer crumb. It also adds a bit of tanginess.
OIL: I used part oil, versus all butter. Butter adds structure and flavor, but too much butter lends a more dense texture, sort of like pound cake. The oil adds moisture and creates less density.
EGGS: I used 4 eggs in this cake. The protein & water in eggs helps the cake hold its shape. The eggs are a binding agent that holds everything together. Think structure! But that's not all. They offer moisture too.
BAKING POWDER: I used 2 teaspoons of baking powder for leavening to make the layers rise up tall and fluffy. I didn't want a dense cake such as poundcake here, I wanted tall and fluffy!
BAKING SODA: I used baking soda as a leavening agent also. However, I only used 1/2 teaspoon, since I was using buttermilk. A general rule of thumb is for every 1 cup of buttermilk, only use 1/2 teaspoon of baking soda.
LEMON JUICE & ZEST: Baked lemon desserts seem to lose some of their lemon flavor once baked. In this recipe, I used the zest of 2 lemons, 1/4 cup of pure freshly squeezed lemon juice and I added 1 teaspoon of pure lemon extract, the second time I tested the recipe and finally got the perfect lemony tangy flavor I wanted.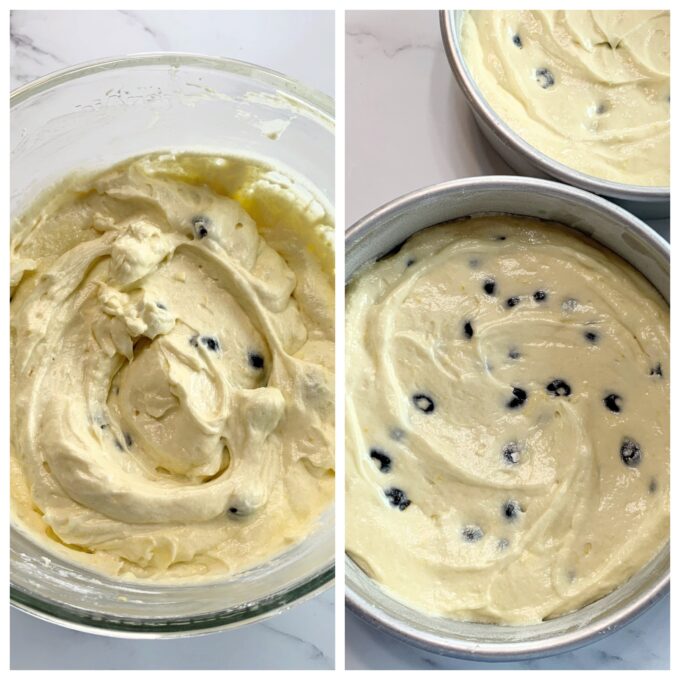 Tips for making this cake
Reserve a small amount of the flour and toss the blueberies in the flour. This helps to keep the blueberries from sinking to the bottom of the cake.
Make sure to sift the cake flour first, then measure it and whisk it together with the other dry ingredients. Gently fold the floured blueberries into the batter at the end.
Don't overmix the batter. Mix only long enough to incorporate the flour and stop!
This cake batter is thick. Once you transfer it to the pans, use an offset spatula to smooth it out and gently shake the cake pans back and forth to level it out.
Don't over bake the cake layers. The cake layers should barely begin to brown around the edges when they're done. Do a toothpick test. If the toothpick comes out clean or with a few moist crumbs, the cakes are done.
If you use frozen blueberries, do not thaw them!
Can I freeze this cake
Yes! You can freeze the cake layers for up to 2 months ahead of time. Wrap them securely in plastic wrap, then a layer of heavy foil. I don't recommend freezing the frosting for this cake. Thaw the cake layers overnight in a refrigerator, then frost.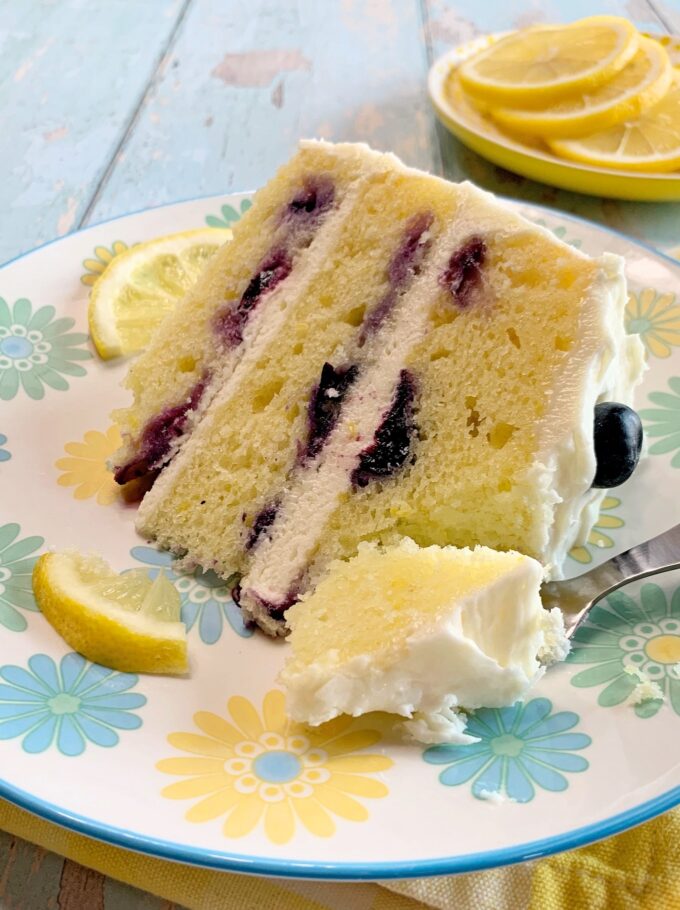 Can you tell I love LEMON desserts? Below are just a few more of my lemon desserts!
Lemon Blueberry Bread with Lemon Glaze
Lemon Butter Shortbread Cookies with Lemon Glaze
Print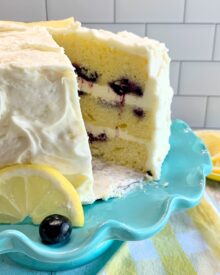 Lemon Blueberry Layer Cake
Author:

Prep Time:

60 minutes

Cook Time:

25 minutes

Total Time:

1 hour 25 minutes

Yield:

12

servings

1

x

Category:

Cake

Method:

Bake

Cuisine:

American
---
Description
This Lemon Blueberry Layer Cake has a light texture and tangy lemon flavor and it's loaded with fresh blueberries. It's finished with a lemon cream cheese buttercream that totally complements the cake. It is absolutely delicious!
---
CAKE
3

cups

sifted cake flour, spooned & leveled (sift first, then measure)

2 1/4 teaspoons

baking powder

1/2 teaspoon

baking soda

1/2 teaspoon

salt
Zest of

2

lemons

1 1/2

sticks (3/4 cup) unsalted butter, room temperature

1 3/4

cups

granulated sugar

4

large eggs, room temperature

1 1/4

cup

full-fat buttermilk

1/3

cup

canola or vegetable oil

1/4

cup

fresh lemon juice, (not from a bottle)

1 teaspoon

pure lemon-extract

1 1/4

cups

fresh blueberries (you can use frozen but don't thaw them)
LEMON CREAM CHEESE BUTTERCREAM FROSTING
1

(8-ounce) block of cream cheese, (not fat-free), room temperature

2

sticks of real butter, room temperature

3 tablespoons

fresh lemon juice

1 1/2 teaspoons

fresh lemon zest
Pinch of salt

4

to

4 1/2

cups

powdered sugar
---
Instructions
CAKE
Preheat oven to 350 degrees. Grease and lightly flour three 8-inch round cake pans.  Tap out any excess flour.  Set aside.
Mix the cake: In a medium bowl, whisk together the sifted cake flour, baking powder, baking soda, salt, and lemon zest.  
Add the butter to the bowl of your stand mixer fitted with the paddle attachment, (or use a hand mixer).  Mix on medium-high speed until it becomes very light and smooth.  Add the sugar and mix on medium speed for about 3 to 4 minutes until the mixture is very light and smooth.  It should be paler in color and there should be no grainy granules of sugar.  Add the eggs one at a time, mixing just to incorporate each time, and scraping down the sides of the bowl as needed.
Add the oil, lemon juice, and lemon extract and mix to incorporate.
Add about 1/3 cup of the dry ingredients to a medium bowl, and toss the blueberries and flour together.
Add the remaining dry ingredients and buttermilk mixture in three additions on medium-low speed, beginning and ending with the dry ingredients.  Mix only to incorporate.  Do not overmix!
Fold in the blueberries with a spatula or spoon.
Divide the batter equally between the 3 prepared cake pans. 
Bake the cake: Bake for 25 to 30 minutes or until a toothpick inserted into the center of each cake comes out with slightly moist crumbs on it.  Allow cakes to cool for 10 minutes.  Run a knife around the edges and gently shake each pan to ensure the cake is loose from the pan.  Invert cake layers onto a wire rack to completely cool.
LEMON CREAM CHEESE BUTTERCREAM FROSTING
Make the frosting:  

Make sure the cream cheese is very soft.  Add the cream cheese to a large mixing bowl.  I prefer to use the whisk attachment for cream cheese, but you don't have to.  Beat the cream cheese on medium speed until it's very smooth and there are no lumps.  Add the butter and beat until the mixture is very smooth and light about 2 minutes.  Add the lemon juice, zest, and salt and mix to incorporate.
Add the powdered sugar on low speed, 2 cups at a time, mixing the sugar in thoroughly before adding more.  If the frosting seems a little too thin for spreading, add a bit more sugar.  If it seems a little too thick for spreading, add a tiny bit of milk or lemon juice, adding only 1 teaspoon at a time.

Assemble & frost:  

If you want perfect flat layers, use a serrated knife and slice the dome top off of each cake layer.  I did not.  Place one cake layer on a cake plate or a turntable.  Spread about 1 1/4 cups of frosting over the layer.  Add the second layer and spread 1 1/4 cups of frosting.  Add the top layer and spread the remaining frosting over the top and sides. it.

To serve: 

 For nice neat slices, chill the cake for about 1 hour before slicing.  Use a long sharp knife to slice the cake.  Dip the knife in a tall glass of hot water before each cut and wipe the knife dry, then wipe the knife clean after each cut.  This way the frosting will not stick to the knife and will look perfect on each slice of cake.
Cover tightly and refrigerate the leftover cake for no more than 4 days for best freshness.
---
Notes
Measuring the flour: 

This recipe calls for sifted cake flour.  This means to sift the flour first, then measure it.

Freezing the cake:  

The cake layers can be baked and frozen up to 3 months in advance.  Bake the cake layers and allow them to cool completely.  Wrap each layer tightly with plastic wrap.  Do this twice.  Then wrap each layer with a layer of heavy-duty foil.  If you're not sure when you're going to use the layers, use a marker and write the date on the foil of when you froze it.  When ready to use, thaw the cake layers overnight in the refrigerator.

Freezing the frosting:  

I don't recommend freezing the frosting.  You can make the frosting a day or two in advance and bring it to room temperature before spreading it on the cake.

Cake pans:  

This cake can also be made in two 9-inch round cake pans.  The bake time will be a few minutes longer.  I don't advise using three 9-inch pans or the cake layers will be rather thin.  I also don't recommend using a 9 x 13 pan for this cake.  There's quite a bit of batter, and the cake may not be done in the center when the rest of the cake is done.

Cupcakes:  

I have not made cupcakes with this recipe, but it should easily make 24 cupcakes, maybe more with plenty of frosting.
Keywords: lemon, lemon cake, lemon blueberry cake, blueberry, lemon layer cake, cake recipes, cakes, desserts,
There may be affiliate links in this post. We are a participant in the Amazon Services LLC Associates Program, an affiliate advertising program designed to provide a means for us to earn fees by linking to Amazon.com and affiliated sites.