Mini Lemon Curd Pavlovas
Mini Lemon Curd Pavlovas have a crispy texture on the outside with a soft marshmallow inside, encasing lemon curd. and they are piled high with fresh whipped cream and fruit.  They are so show-stopping and the perfect single-serve dessert.  Make these a day ahead, and simply add the whipped cream and fruit when you're ready to serve them.
WHAT IS PAVLOVA?
Pavlova is a super easy show-stopping dessert, named after the Russian ballerina, Anna Pavlova.  It's made with egg whites, sugar, cornstarch, and vanilla for basic pavlova.  The great thing about pavlova is its versatility.  It can be made in different flavors, with different fillings, different toppings.  The options are endless!  Once pavlovas are baked, a crisp exterior forms around soft centers.  They are commonly topped with a dollop of whipped cream and fresh fruit, but again, they are so versatile.  Fee free to change them up and do your own thing.
CAN I MAKE PAVLOVAS AHEAD OF TIME?
Definitely!  That's the great thing about making pavlovas.  You can make them up to 2 days in advance.  Make sure you cover them loosely wrapped, and DON'T refrigerate them.  They don't like humidity or moisture of any kind.  Then all you do is assemble them, adding your filling and toppings the day you serve them.
CAN I USE STORE-BOUGHT LEMON CURD?
Of course!  I used my recipe for Easy Homemade Lemon Curd, but you can use any lemon curd.  If you do make my recipe, it makes about 2 cups.  You'll have some left to enjoy on ice cream or a breakfast pastry.  Also, when you make the meringues, you'll have plenty of egg yolks to use for something.  Why not lemon curd?  The homemade lemon curd will stay fresh for up to 2 weeks refrigerated.
TIPS FOR MAKING MINI PAVLOVAS
Don't place baked meringues in the refrigerator.  They don't like a humid or moist environment.
Use parchment paper, not wax paper to line your cookie sheets.  They will stick to wax paper.
Don't overbake the meringues.  They should not brown on top.  Once they're dry to the touch, they are done.
Don't open the oven door while cooling the meringues.  Turn the oven off and leave the door closed until the meringues have completely cooled.  You can actually leave them in the turned-off oven and go to bed.
Separate the egg whites while the eggs are cold.  They are easier to separate when cold.  Then let them come to room temperature before using.  ALWAYS use room temperature egg whites for meringues.  Room temperature egg whites whip up more voluminous.
If using a hand mixer, allow an extra couple of minutes for stiff glossy peaks.
TIPS FOR FILLING THE MERINGUES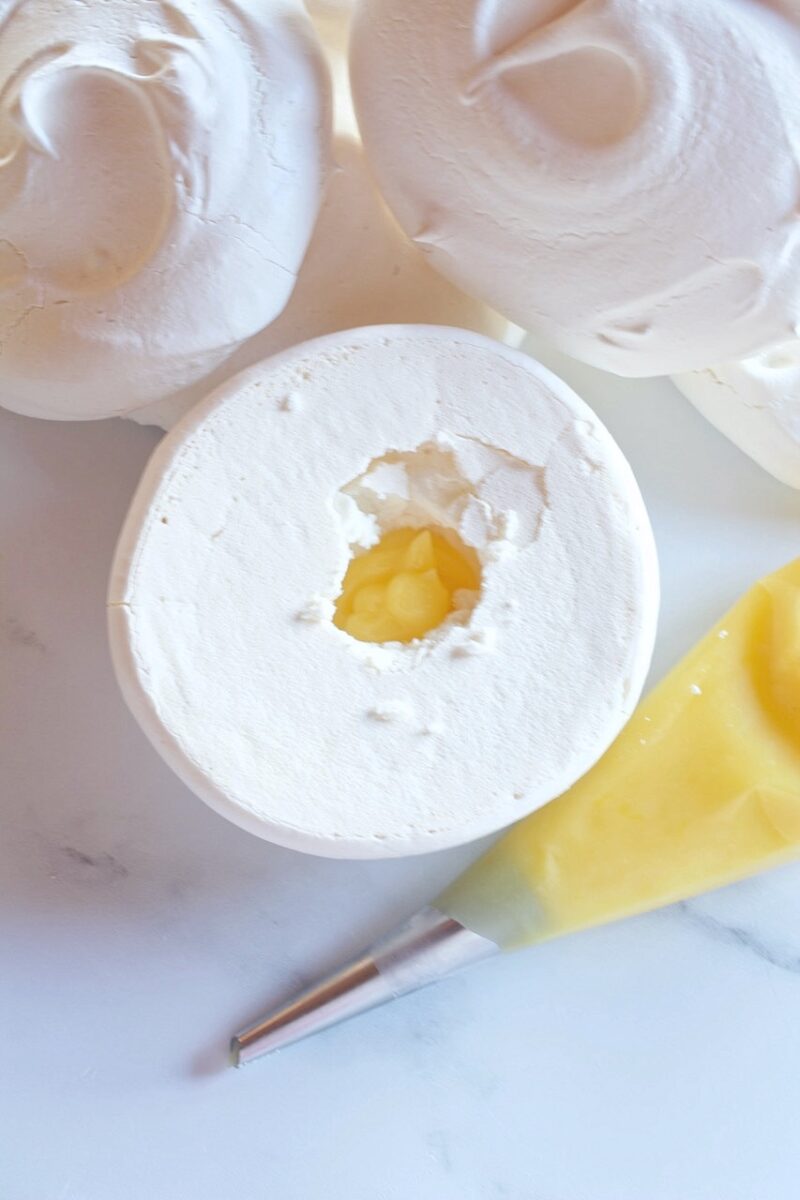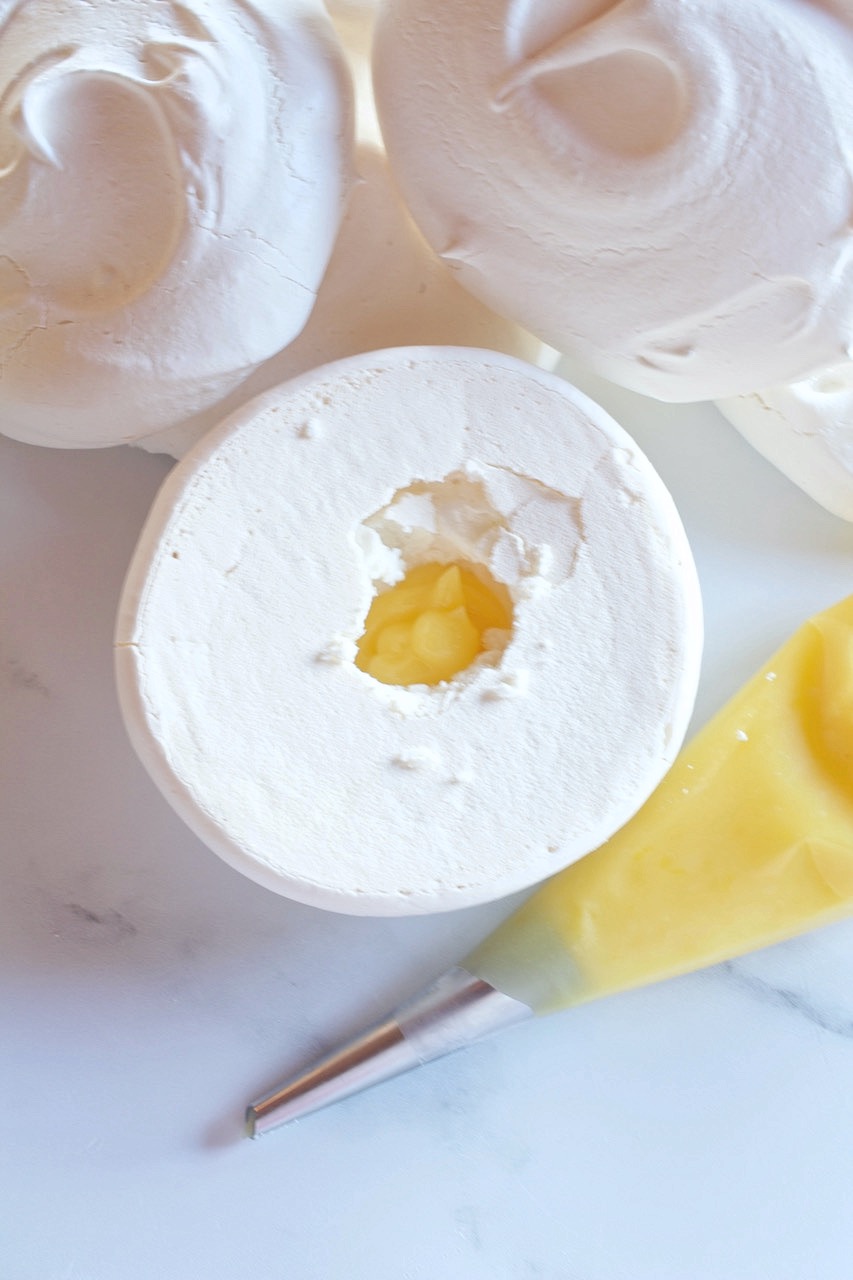 Make sure you fill the meringues from the bottom.  The exteriors are crispy and slightly fragile.  The tops are not flat and tend to break and crumble much easier.  Use a small sharp knife and slowly go up and down in a sawing motion.  Cut a hole just big enough to pipe the filling into it.
Don't overfill the meringues.  I used about 1 tablespoon of lemon curd per meringue.  You can use more, but chances are that some of it will run back out of the meringues when you turn them upright.
Place the meringues on individual dessert plates, or place a small square of wax paper under each one, just in case some of the lemon curd decides to escape.
Don't fill the meringues with the lemon curd until the day you are serving them.  The cooked lemon curd needs to be refrigerated.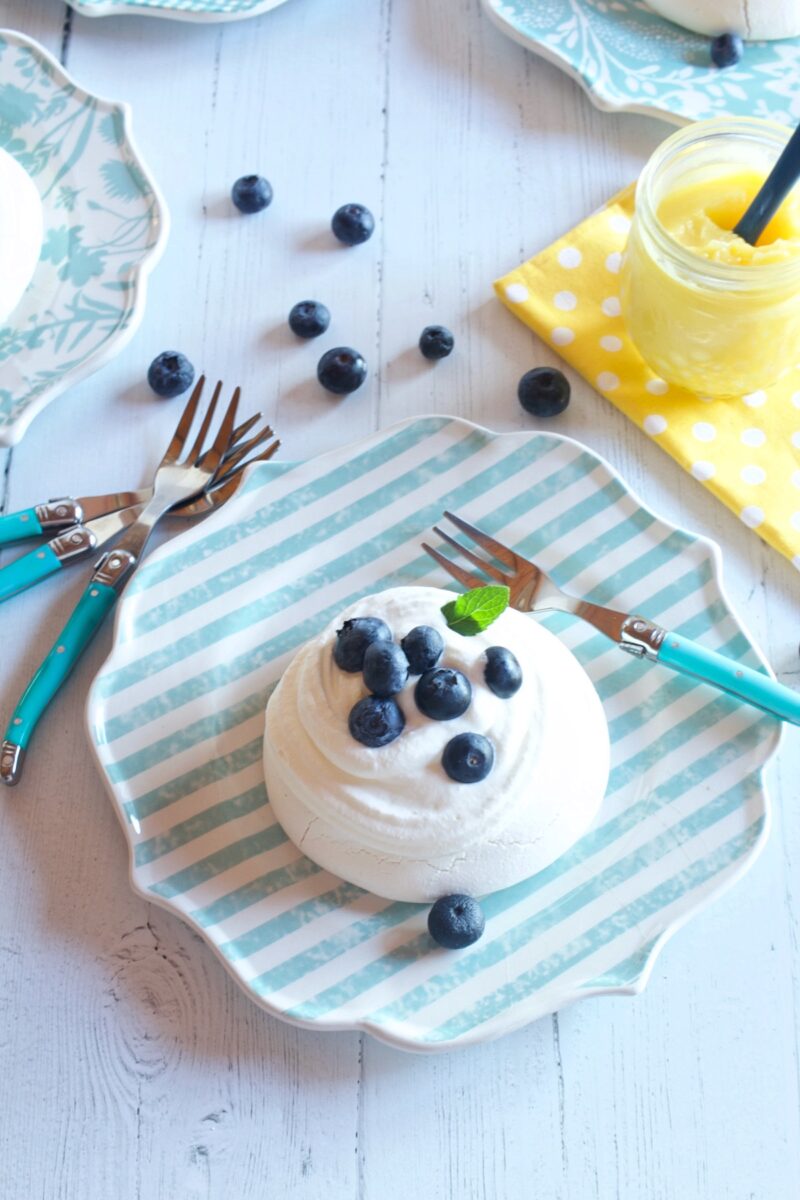 If you're a fan of the combo of blueberries and lemon, you might also like Lemon Blueberry Bread.  
If you make this recipe please rate it and leave a comment below on how you liked it. I love getting your feedback! 🙂
If you like seeing different recipes each day, feel free to follow me on Facebook, Pinterest, & Instagram.
Print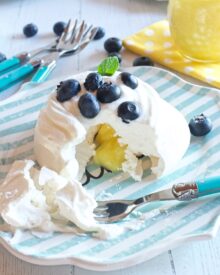 Mini Lemon Curd Pavlovas
Author:

Prep Time:

30 minutes

Cook Time:

1 1/4 hours

Total Time:

28 minute

Yield:

1

2

1

x

Category:

dessert

Method:

bake

Cuisine:

Russian
---
Description
These Mini Lemon Curd Pavlovas are crispy on the outside with soft and chewy centers.  The lemon curd perfectly complements them, just like a piece of lemon meringue pie!
---
MERINGUES
8

large egg whites, room temperature

1/8 teaspoon

salt

2 1/4

cups

castor sugar*

2 teaspoons

cornstarch

2 teaspoons

white vinegar

2 teaspoons

pure vanilla extract
LEMON CURD
TOPPING
1 1/4

cups

heavy whipping cream

2 tablespoons

powdered sugar

3/4 teaspoon

pure vanilla extract

2

cups

blueberries
Zest of

one

lemon, optional
---
Instructions
MERINGUES
Preheat oven to 300 degrees.  Place oven racks in the upper and lower third of the oven.
Prepare 2 cookie sheets with parchment paper.  Using a 3-inch** cookie or biscuit cutter and a sharp pencil, trace 6 circles on each piece of parchment paper, spacing them apart.  Flip the parchment paper over onto the cookie sheets with the pencil side down.  Set aside.
Add the egg whites and salt to the bowl of a stand mixer fitted with the whisk attachment, or use a hand mixer.  Beat on medium-high speed until the egg whites are no longer foamy but starting to form very soft peaks.  With the mixer running, slowly add the sugar, 1 tablespoon every few seconds.  Turn the mixer to high and beat until you see stiff glossy peaks form.  Note:  Do not overbeat.  As soon as the peaks are stiff stop beating.  If the peaks become stiff and dry-looking instead of shiny, you've overbeaten them.  Sprinkle in the cornstarch, vinegar, and vanilla, and gently fold in with a spatula.
Using 2 spoons, scoop a mound of meringue in the center of each circle.  I use one of the spoons to kind of swoop it up a little, like the meringue on a pie, but you don't have to.  Transfer the cookie sheets to the preheated oven.  Immediately reduce heat to 200 degrees.  Bake for approximately 1 to 1 1/4 hours, until the meringues are firm and dry to the touch, but not brown.  Turn off the oven, leaving the door shut, and allow meringues to stay in the oven until cooled, about 1 1/2 hours.  Note:  I fix these in the evening and leave them in the turned-off oven and go to bed.
LEMON CURD
Turn each meringue upside down.  Use a sharp knife and cut out a small hole on the bottom of each meringue.
Transfer the lemon curd to a small piping bag with any small tip.  If you don't have piping bags, simply snip off a tiny corner of a ziplock bag and fill it with the curd.  Squeeze about 1 tablespoon of the lemon curd into the hole of each meringue.
Place each meringue on individual dessert plates.
TOPPING
Prepare the whipped cream:  Add the whipping cream, powdered sugar, and vanilla to the mixing bowl of a stand mixer or use a hand mixer.  If using a stand mixer, I place an old towel over the mixer, to keep the whipping cream from splattering everywhere.  Beat the whipping cream on high for about 2 minutes until medium-soft peaks form.  You don't want it runny, but you don't need really stiff peaks either.
Place a large dollop of whipping cream on the top of each meringue.  Top with a generous amount of blueberries, and a sprinkle of lemon zest, optional.
Serve immediately.  Do not refrigerate leftovers.
---
Notes
*Castor sugar is simply superfine sugar.  Don't worry if you don't have it.  Place regular granulated sugar in a blender and pulse it a few times.
Vinegar:  Make sure you don't omit the vinegar in this recipe.  The vinegar helps stabilize the egg whites and keep them from collapsing in the oven.
Cornstarch:  Make sure you don't omit the cornstarch.  It's another important ingredient.  Cornstarch helps to create the crispy exterior and the soft marshmallowy centers.
DO NOT refrigerate the pavlovas.  They don't like humidity or moisture of any kind.  Leave them tightly covered on a countertop.  They will keep for up to 2 days at room temperature.
**Use a 3-inch cookie or biscuit cutter.  In the pictures above this recipe, I actually used a 3 1/2-inch cutter.   Next time, I will use a 3-inch cutter.  I think the smaller size is more perfect for a single-serving size.  However, you can change these up and make them any size you prefer.  If you prefer to make a large pavlova, this recipe will make two 8-inch pavlovas.
Keywords: pavlova, mini pavlovas, lemon curd pavlovas,
There may be affiliate links in this post. We are a participant in the Amazon Services LLC Associates Program, an affiliate advertising program designed to provide a means for us to earn fees by linking to Amazon.com and affiliated sites.