Lemon Bars with Tender Shortbread Crust
These Lemon Bars with Tender Shortbread Crust have a lemon curd filling that is perfectly balanced between tangy and sweet. Not bitter!! They also have the perfect proportion of crust versus filling. This is the ultimate perfect lemon bar recipe!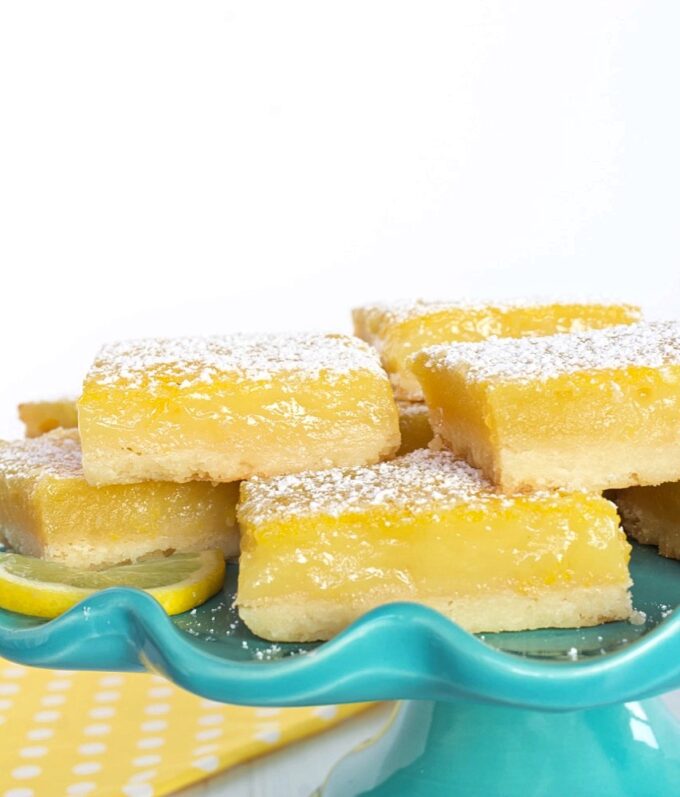 Today I'm updating my Lemon Bar recipe, with newly updated pictures, and I'm also sharing new tips for making perfect lemon bars. I've recently tested variations of my lemon bar recipe, actually trying tips from some of the pros, but in the end, I came right back to my original recipe.
WHY THESE ARE THE PERFECT LEMON BARS…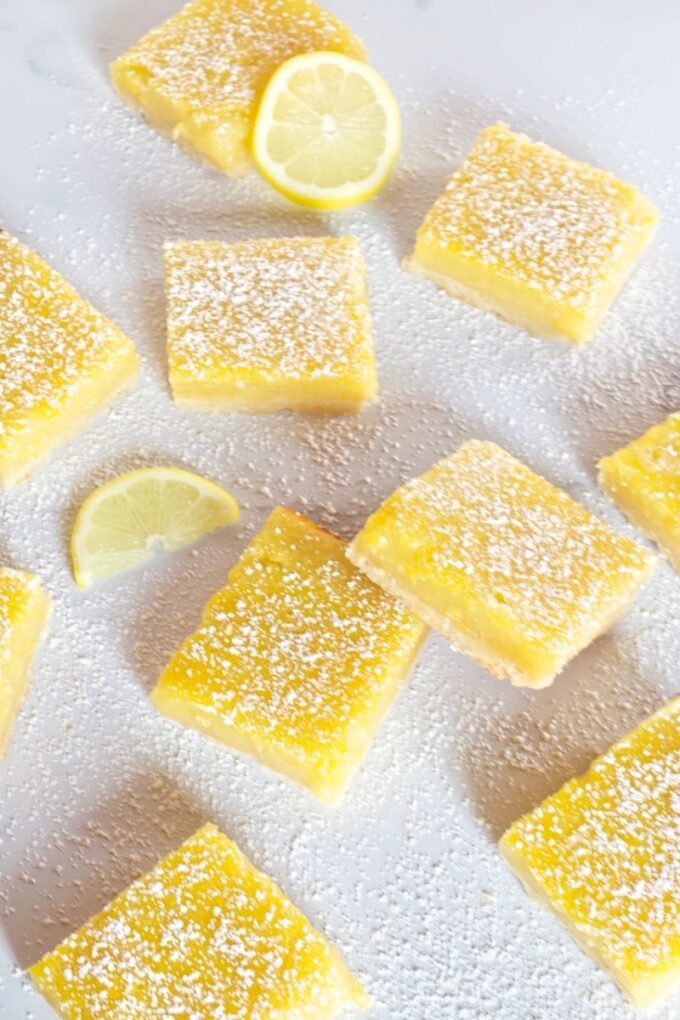 THE CRUST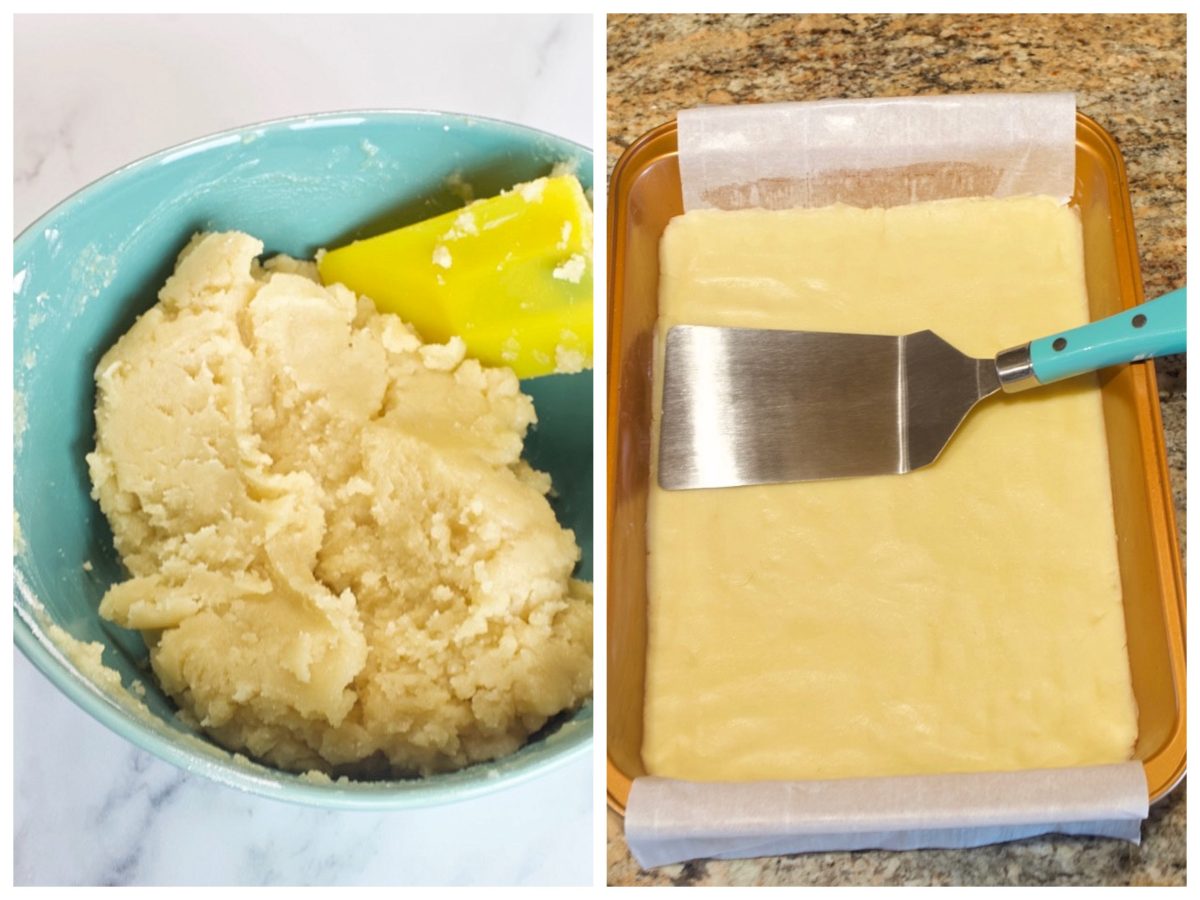 BUTTER
I used melted butter for the crust. Why? It makes the dough more pliable and easier to pat out in the pan. I experimented with using softened butter but found it harder to pat the filling out evenly in the pan. Mixing it was also much easier. The result when baked, was the same whether I used melted or softened.
Tip: Use your hands to pat the filling out across the bottom of the pan and into the corners. Once you've finished, use a large flat metal spatula or the bottom of a measuring cup to even the dough out and ensure that it's the same thickness all the way across the bottom of the pan.
SUGAR
I used a combination of powdered sugar and cornstarch in the crust. In my research and testing, I realized that some of the baking pros insisted on using granulated sugar. This results in a harder crunchier crust, and that's okay if that's the kind of crust you want to make. However, I prefer a shortbread crust that is buttery and tender with a soft crumb, yet holds its shape and doesn't crumble apart when you bite into it. I don't want to bite into a creamy lemony filling, followed by a bite of hard crunchy crust. Powdered sugar produces the perfect soft crumb, resulting in a soft yet sturdy crust that melts on your tongue. I also replaced one-fourth of the powdered sugar with cornstarch. Cornstarch also enhances the softness of the crust.
THICKNESS
There are those who think the only purpose of a shortbread crust, is to serve as a vehicle for transporting the lemon curd filling to your mouth and it doesn't really matter how thick the crust is. I'm sorry but I totally disagree with this way of thinking. I feel the crust is just as important as the filling. Sure it needs to be sturdy enough to support the filling in any kind of bars, but the crust should not be as thick as the filling. There should be a perfect proportion of filling versus shortbread crust and in my testing, I've found that the perfect proportion is 1/3 crust to 2/3 filling. I look at it like this…you wouldn't make a pie with a crust as thick as the filling, so why would you make a pie bar that way! The ingredients in this shortbread crust, are the exact amounts needed for the perfect thickness.
DONENESS
The crust gets prebaked before the filling gets added to it. Make sure you don't underbake it. Bake the crust for 15 to 20 minutes until it is golden brown around the edges and the top is slightly golden brown. The crust will not brown much more once it's put back in the oven with the filling. You don't want a crust that is undercooked. It will be doughy, taste like raw flour, and it won't hold up under the filling when you cut the bars.
LEMON BAR FILLING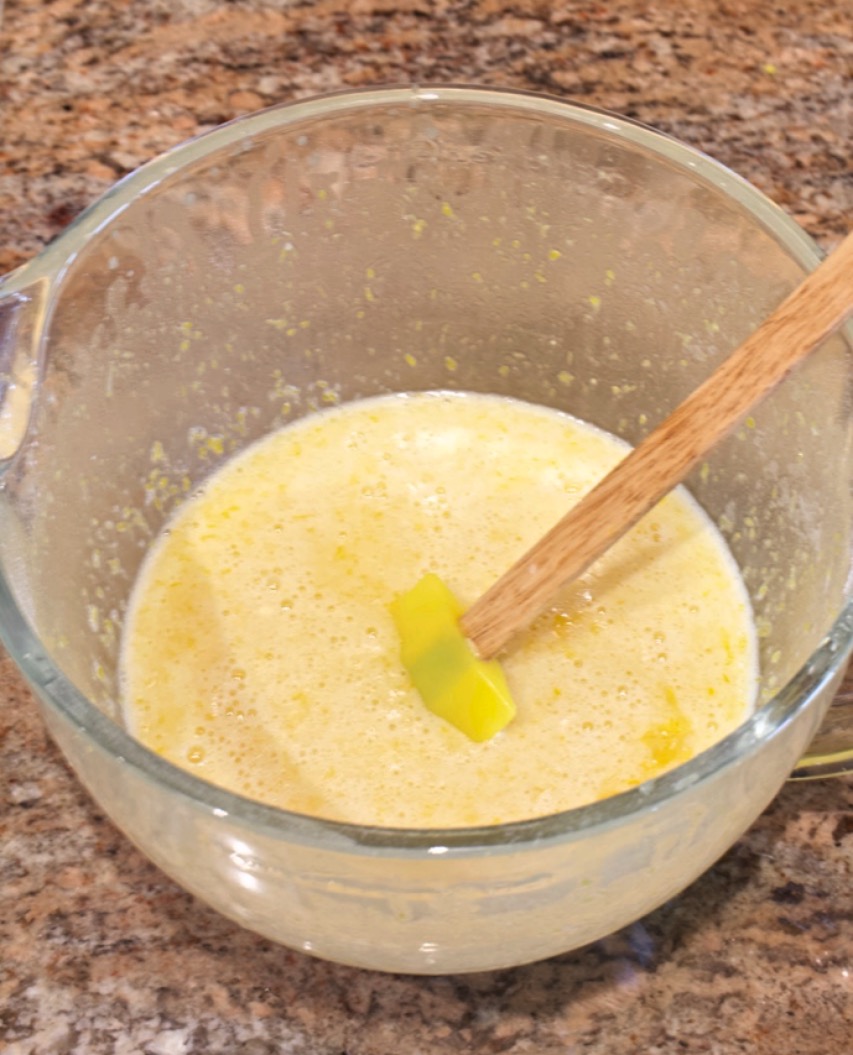 EGGS
I don't know about you, but I don't like an eggy tasting lemon filling. Most recipes for lemon bars call for 5 to 6 whole eggs. In this recipe, I used 4 large eggs and 2 large egg yolks. I know what you're thinking. Why decrease the egg whites instead of the egg yolks? Don't the egg yolks cause the eggy flavor? Well, actually no, but I used to think the same thing. In my research, I found that egg whites actually contain sulfur compounds that cause an eggy flavor. When I thought about this, it made sense. When I visit one of my favorite places here in Kentucky, Natural Bridge, I always shy away from the outdoor water fountains. The water is sulfur water, and to me, it sort of has a rotten egg taste. Note: Always use room temperature eggs.
LEMON JUICE
If you're going to make lemon bars, make them real!!! Do not use reconstituted lemon juice from a bottle and do not use lemon zest from a jar. Use fresh lemons!! Fresh lemons aren't that expensive. I just buy a bag of them. Buy fresh lemons and you'll have both your fresh lemon juice and lemon zest right in front of you. This recipe calls for 1 whole cup of fresh lemon juice. After all, it is the star of the show here!
LEMON ZEST
Lemon juice alone, adds lemon flavor to lemon recipes, but if you really want an added punch of lemon flavor, you need to add lemon zest as well. Lemon Zest is the yellow thin outer layer of the lemon. It is full of aromatic oils and will add a more lemony flavor that lingers on your tongue.
Zesting Tips:
Make sure you always zest lemons before juicing them. It's hard to zest a lemon that has already been juiced.
Cold lemons zest easier and room temperature lemons juice easier.
Only zest the yellow outer layer of lemons. The white layer underneath the yellow layer is called the pith and it is very bitter.
Click here to find out more about grating, zesting and juicing lemons!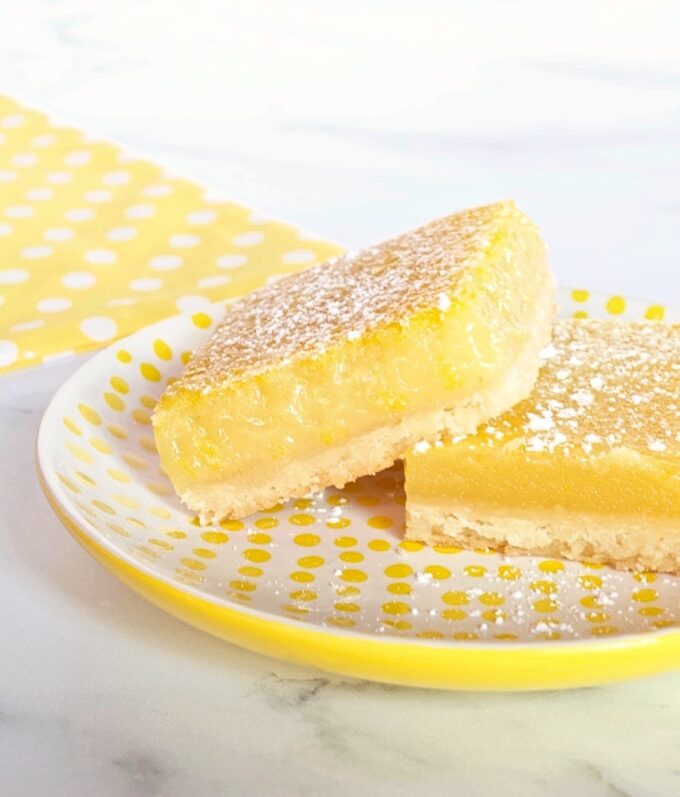 Are you a HUGE lemon fan? You might like some of these other delicious lemon recipes…
Print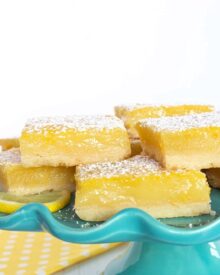 Lemon Bars with Tender Shortbread Crust
Author:

Prep Time:

15

Cook Time:

55

Total Time:

1 hour 10 minutes

Yield:

1

6

1

x

Category:

Bars/Brownies

Method:

Bake

Cuisine:

American
---
Description
These Lemon Bars have a perfect tender, buttery, yet stable shortbread crust, and the lemon curd filling is perfectly balanced between tangy and sweet.  Not bitter!!  They also have the perfect proportion of crust versus filling.  This is the ultimate perfect lemon bar recipe!
---
SHORTBREAD CRUST
2

sticks (

1 cup

) unsalted butter, melted

1 3/4

cups

all-purpose flour

1/4

cup

cornstarch

1/8 teaspoon

salt

3/4

cup

powdered sugar

1 teaspoon

pure vanilla extract
LEMON FILLING
2 tablespoons

fresh lemon zest

1

cup

fresh lemon juice, about 5 large lemons

4

large eggs, plus 2 large egg yolks

2 1/4

cups

granulated sugar

1

cup

all-purpose flour
Powdered sugar for dusting
---
Instructions
SHORTBREAD CRUST
Preheat oven to 350 degrees.
Lightly butter the bottom and sides of a 9″ x 13″ baking pan. Line the pan with parchment paper, allowing the paper to hang over the long sides of the pan by at least one inch for easy removal of the bars later.
Add butter, flour, cornstarch, salt, powdered sugar, and vanilla to a large bowl.  Using a wooden spoon or spatula, mix the ingredients until they are thoroughly combined.
Using your hands, pat the dough evenly into the bottom of the prepared pan.  Once I pat the dough into the bottom of the pan, I use a flat metal spatula to flatten the dough and make it even and smooth.
Bake for about 15-20 minutes until the edges of the crust are just slightly browned.
Remove from the oven and let it slightly cool while you prepare the filling.
LEMON FILLING
Zest the lemons, making sure to not zest any of the white pith. Juice enough lemons to have one full cup of juice.
Add the lemon zest, lemon juice, eggs, egg yolks, and sugar to the bowl of a stand mixer. Mix on medium speed for about a minute. Add the flour and mix for about 30 seconds just to incorporate the flour.
Spread the filling over the shortbread crust and spread evenly. Bake for approximately 30-35 minutes until the center of filling is set.
Remove from oven and allow to cool completely. Dust with powdered sugar.
Cut into 2″ x 2″ squares and place in an airtight container with wax paper between layers.
Lemon bars keep better if refrigerated until ready to serve and will stay fresh for up to three days if refrigerated.
Dust with additional powdered sugar just before serving.
---
Keywords: lemon bars, bars, lemon recipes,
There may be affiliate links in this post. We are a participant in the Amazon Services LLC Associates Program, an affiliate advertising program designed to provide a means for us to earn fees by linking to Amazon.com and affiliated sites.