Lemon Chiffon Layer Cake
This Lemon Chiffon Layer Cake is moist, lemony, delicate, and delicious. It has a moist and tender crumb, and the texture is between a dense butter cake and a light and airy sponge cake.  Lemon curd is tucked between the layers and it's finished with a delicious whipped frosting!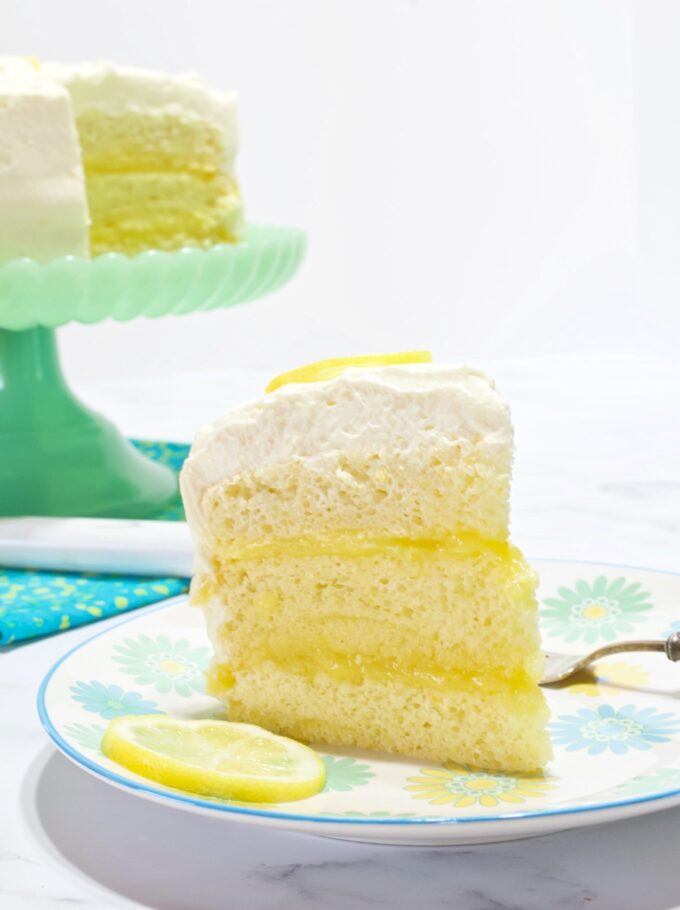 Lemon Chiffon Layer Cake is one of my favorite desserts to make in the summer when I want something light and refreshing and it's so versatile.  You can bake it in layers, or as one large cake.  You can frost it with whipped frosting, a lemon buttercream, or a thin lemony glaze, or simply serve it with a dusting of powdered sugar,  fruit, and a dollop of whipped cream.  The options are literally endless!
You're probably wondering what the differences are between chiffon, angel food, and butter cakes.  Here they are…
CHIFFON CAKE is a moist, tender, light, and airy cake that is sort of a cross between a butter and a sponge (angel food) cake.  It has the richness of a butter cake but the springy texture of a sponge cake. It's similar to a butter cake but uses oil instead of butter.  It depends on beaten egg whites and baking powder for leavening.  The egg yolks are added to the cake batter first, and the egg whites are beaten until stiff and folded in at the end.  The beaten egg whites make a Chiffon cake light and airy like a sponge (angel food) cake but richer like a butter cake because the egg yolks are also being used.
ANGEL FOOD CAKE is made using egg whites only.  There are no egg yolks, oil, or butter.  Beaten egg whites are the sole leavening in this cake.  It has a high sugar content to help support and stabilize the egg whites.  Angel food cake must be made in an angel food cake pan and inverted in the pan until cooled so it won't deflate.
BUTTER CAKE is the type of cake you're probably most familiar with.  Butter cakes are made with whole eggs and butter and depend on baking powder and soda for leavening.  If your recipe calls for creaming the butter first, then adding sugar, eggs, etc…, it's a butter cake.
WHIPPING AND FOLDING IN EGG WHITES
Beating the egg whites to the perfect consistency is important when making chiffon cakes.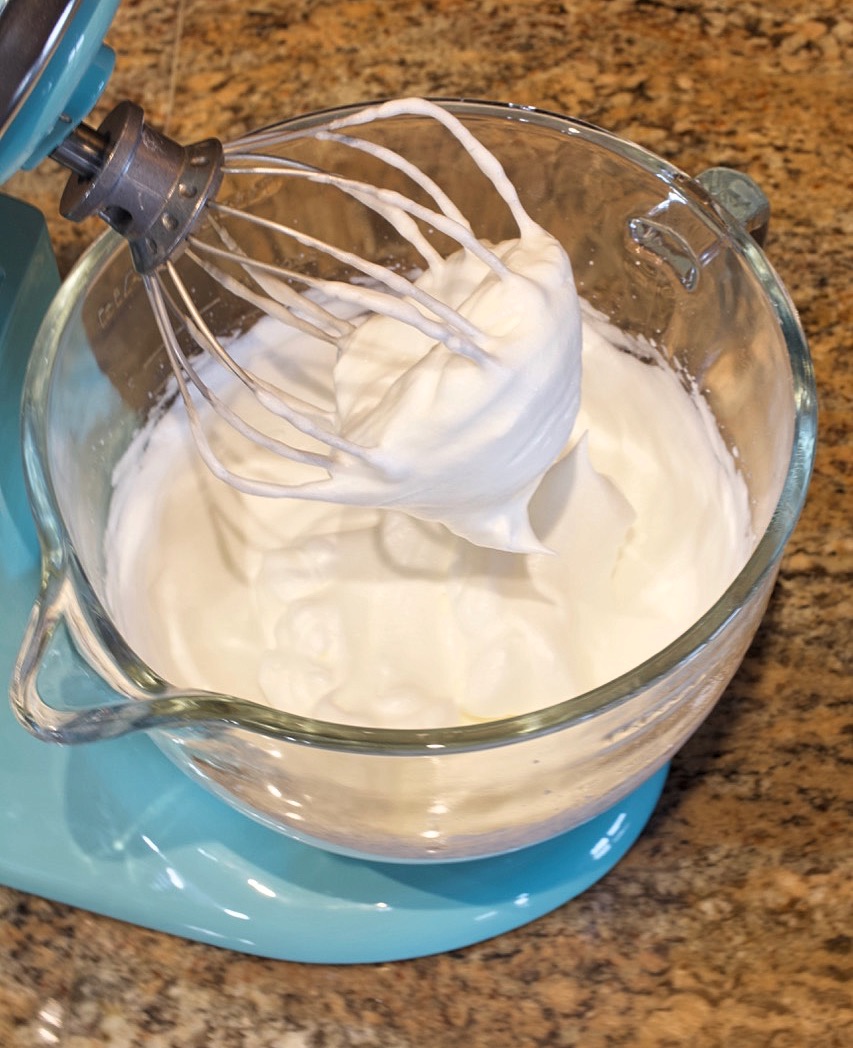 It's important to not under or overbeat the egg whites.  If you under beat them, you won't incorporate enough air into the egg whites for them to do their job.  If you overbeat them, you will end up with a drier cake.  Once the egg whites are beaten until they form stiff peaks that will stand on their own, they are ready.
Correctly folding in the egg whites is just as important as correctly beating them.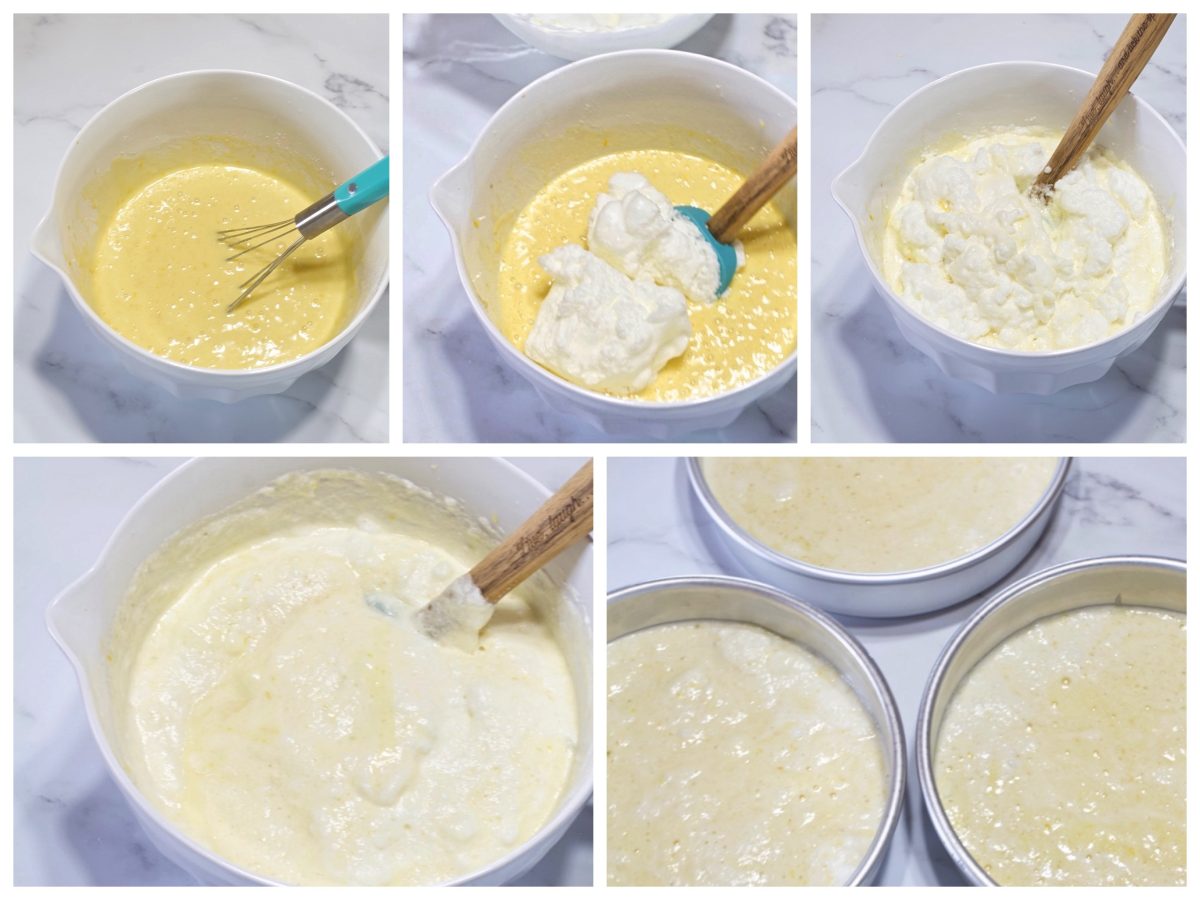 Egg whites need to be gently folded into the cake batter, not mixed in.  Here's how to fold them correctly without deflating them.
Gently transfer the beaten egg whites onto the top of the cake batter with a large spatula.
Slowly and gently run the spatula under the bottom of the cake batter. bringing the spatula up along the side of the bowl, and folding the mixture over onto the top of the batter.
Keep repeating this process until you see foamy streaks of egg whites remaining in the batter.  It's okay that you see streaks.  That's why you're not mixing it.  Mixing it would totally incorporate and deflate the egg whites.
Divide the batter into your pans.  As you can see in the picture above of the batter in the cake pans, there are still streaks of egg whites remaining.
LEMON TIPS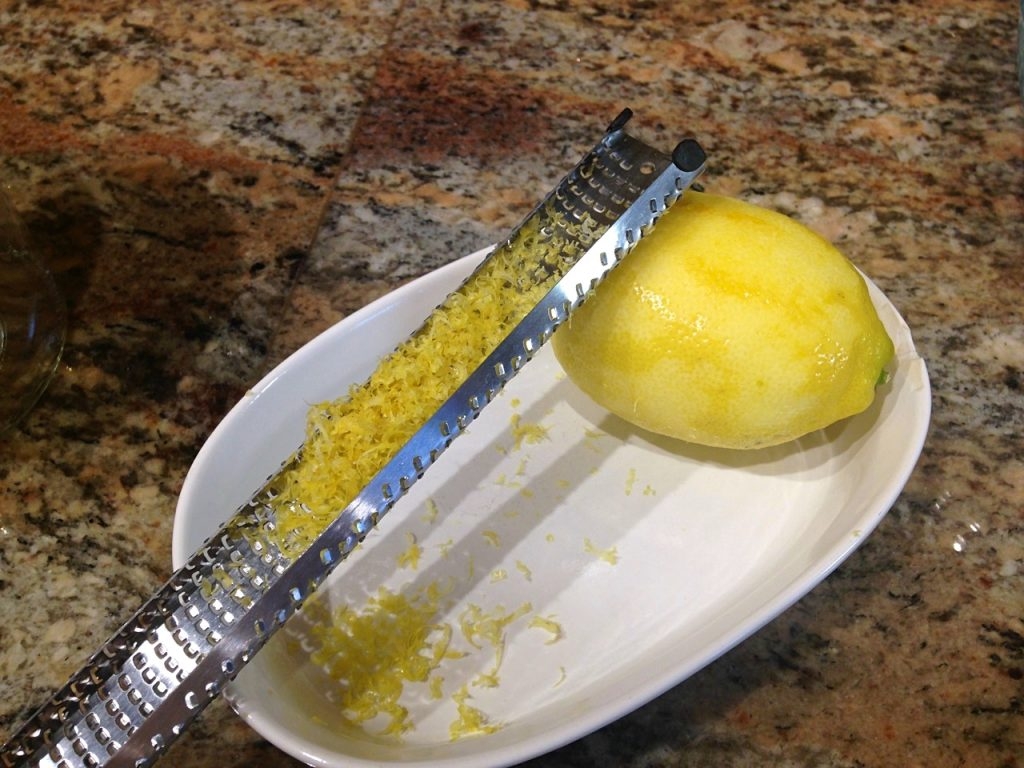 Don't use lemon zest from a jar.  Use a fresh lemon for lemon zest.
Zest only the outer yellow zest, not the white pith underneath.  The pith is bitter.
Zest your lemons before juicing them.  It's hard to zest a juiced lemon.
Use fresh lemon juice from fresh lemons, not bottled reconstituted lemon juice.
For more information on how to properly grate, zest, and juice a lemon, click here.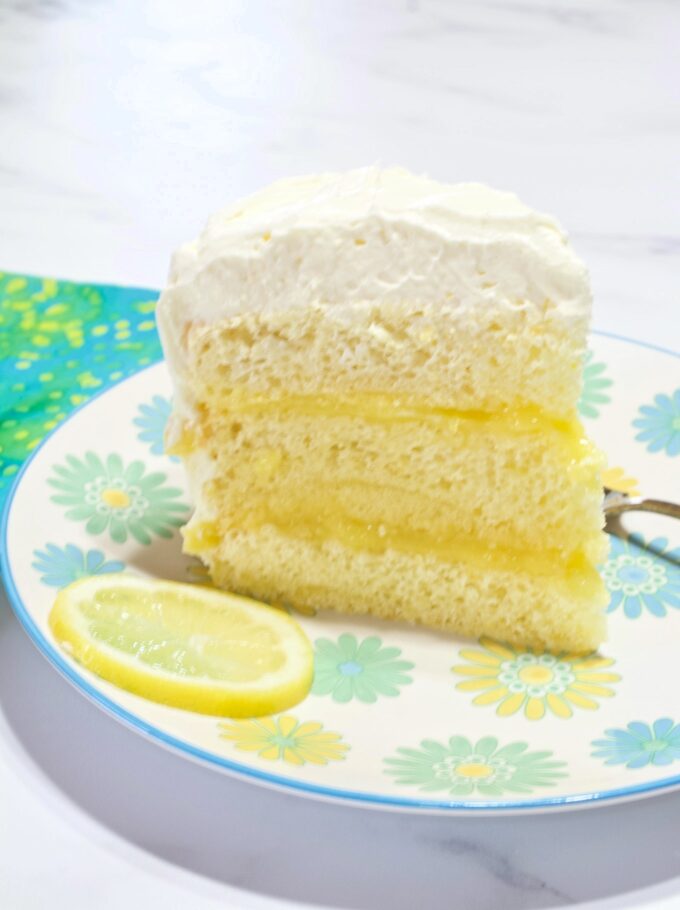 I used my Easy Homemade Lemon Curd in this recipe, but you can also substitute store-bought.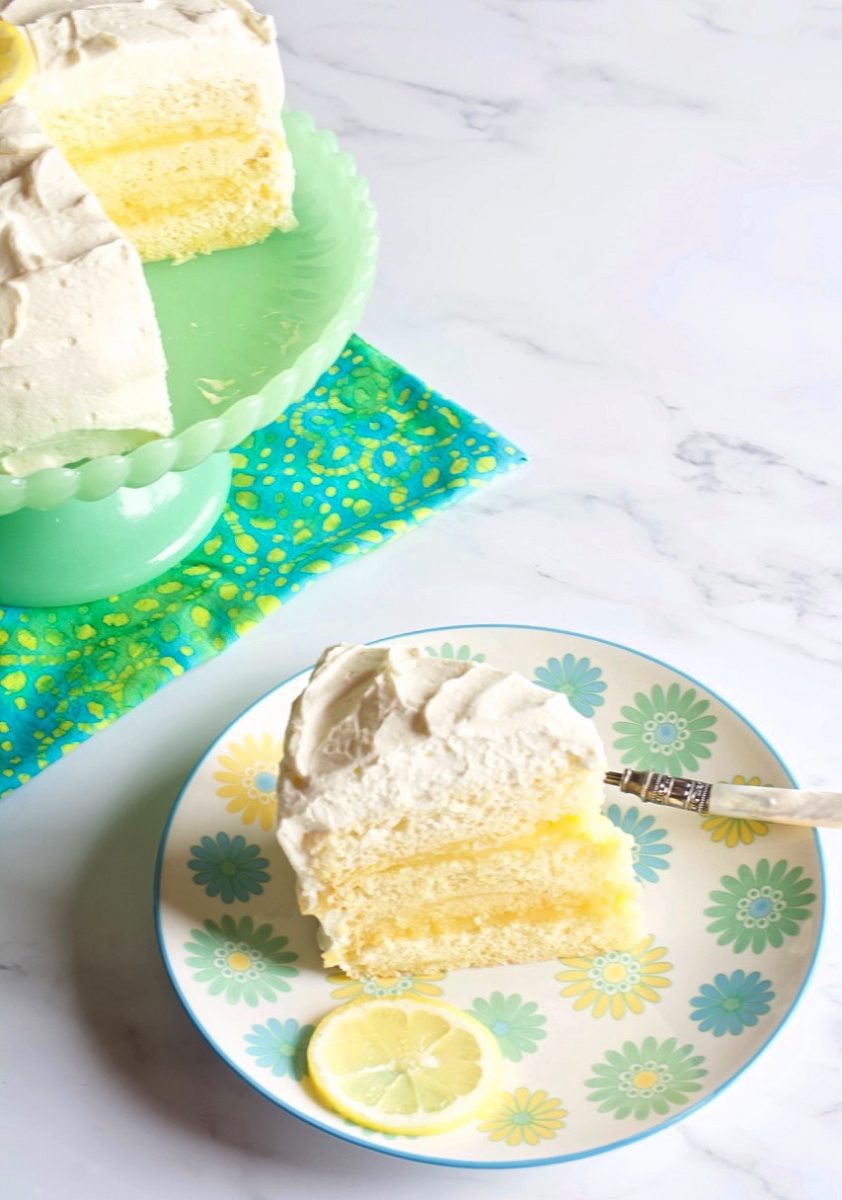 I adapted this recipe for Lemon Chiffon Cake from my very old 1961 Betty Crocker cookbook…a cookbook that has never let me down.  The cake is very moist, light, and airy and does not dry out after a day or two.  I frosted it with a lemon whipped cheese frosting here, and I spread homemade lemon curd between the layers.  However, I've also made this cake using a lemon buttercream frosting.  I have included both recipes on the recipe card below.
Here are some other great lemon desserts you might like…
Lemon Bars with Tender Shortbread Crust
Moist Lemon Cupcakes with Mousse Filling
Print
Lemon Chiffon Layer Cake
Author:

Prep Time:

20

Cook Time:

35 to 40 Minutes

Total Time:

30 minute

Yield:

12

Servings

1

x

Category:

Cakes

Method:

Bake

Cuisine:

American
---
Description
This Lemon Chiffon Cake is moist, lemony, delicate, and delicious. It has a moist and tender crumb, and the texture is between a dense butter cake and a light and airy sponge cake.  Lemon curd is tucked between the layers and it's finished with a delicious whipped frosting!
---
 Cake
2 1/4

cups

cake flour such as Softasilk

1 1/2

cups

sugar

1 tablespoon

baking powder

1 teaspoon

salt

1/2

cup

vegetable oil

5

large eggs

1/2

cup

water

2 teaspoons

pure Vanilla extract

2 tablespoons

fresh lemon zest, about

2

large lemons

1/4

cup

fresh lemon juice

1/2 teaspoon

cream of tartar
Lemon Curd Filling
1

cup

lemon curd, either storebought or homemade. I made homemade. It's very easy and delicious! Click here for my homemade recipe. You can make this in advance and refrigerate.
Lemon Buttercream Frosting (option1)
5 tablespoons

real butter, softened

3

cups

powdered sugar

4 tablespoons

fresh lemon juice

2 teaspoons

lemon zest
Extra zest for garnish, optional
 Lemon Whipped Cream Frosting (option 2) This is the one pictured on the cake.
2

cups

heavy whipping cream

1/2

cup

powdered sugar

3 tablespoons

lemon curd
---
Instructions
Preheat oven to 325 degrees. Line three ungreased 8-inch or 9-inch cake pans with a round of parchment paper.  I used 9-inch pans, but if you prefer thicker layers, use the 8-inch.
 Cake
Measure and sift the cake flour into a medium bowl. In a large bowl, measure and resift the cake flour along with the sugar, baking powder, and salt.
Zest and juice the lemons, reserving 2 tablespoons of zest and 1/4 cup of lemon juice.
Separate the eggs, adding the yolks to a small bowl and the whites to the large bowl of a stand mixer.
Make a well in the center of the flour mixture. Add the oil, egg yolks, water, vanilla, lemon zest and juice. Whisk together until well combined. Set aside.
Add the cream of tartar to the egg whites. Using the whisk attachment, whisk the egg whites on high speed until stiff peaks form, about two minutes.
Add the egg yolk mixture to the egg whites and gently fold the whites into the egg yolk mixture using a spatula. Don't worry if you see little lumps of egg white. It doesn't have to be totally mixed in.
Pour batter into the prepared cake pans. Bake approximately 35 to 40 minutes until the cakes spring back when lightly touched.
Once the cakes are baked, transfer them to a wire rack to cool completely.  Once they have cooled, run a sharp knife around the edges to loosen cakes and invert them onto the wire rack.  Peel off the parchment paper.
Lemon Curd Filling
Place one cake layer on a cake plate.  Spread 1/2 cup of the lemon curd over the cake layer.  Place a second cake layer on top of the lemon curd and spread the remaining 1/2 cup of lemon curd over it.  Top with the third cake layer and finish cake with the frosting of your choice.
Lemon Buttercream Frosting (option 1)
Cream the butter in a mixing bowl with an electric mixer. Add the lemon zest, sugar, and the lemon juice, one tablespoon at a time. Mix until smooth and creamy. Spread over top and sides of cake.
Garnish the top of the cake with extra zest if desired.
Lemon Whipped Cream Frosting (option 2)
Add the whipping cream to the bowl of a stand mixer fitted with the whisk attachment.  Cover mixer with an old kitchen towel to prevent splattering.  Beat on high speed until the whipped cream becomes thick, about 1 minute.
Add the sugar and lemon curd and mix on medium-low speed to combine.  Refrigerate until ready to use.
Spread the frosting over the top and sides of the cake.
Refrigerate cake until ready to serve.
---
Notes
This cake needs to be refrigerated if you're using the Lemon Whipped Cream Frosting.  It will stay fresh for up to 3 days refrigerated.
Keywords: chiffon cake, lemon chiffon cake, lemon cake, lemon chiffon layer cake,
There may be affiliate links in this post. We are a participant in the Amazon Services LLC Associates Program, an affiliate advertising program designed to provide a means for us to earn fees by linking to Amazon.com and affiliated sites.