Cocoa Brownies with Coconut Pecan Frosting
These Cocoa Brownies with Coconut Pecan Frosting are moist and dense and made with pure cocoa, and this classic frosting that we all know and love is perfect for spreading thick on these scrumptious brownies!
The other day I had Coconut Pecan Frosting on my mind and I wanted to make something chocolate that wasn't too time-consuming…something that would serve as a great base for this delicious classic Coconut Pecan Frosting, and I decided to turn to my favorite cocoa brownie recipe. Using no leavening agent makes these brownies super dense and eggs give them structure. And the flavor…just pure dark bitter cocoa! I love the flavor of pure natural cocoa in chocolate baked goodies and this frosting just sends them over the top!
MAKING THE BROWNIES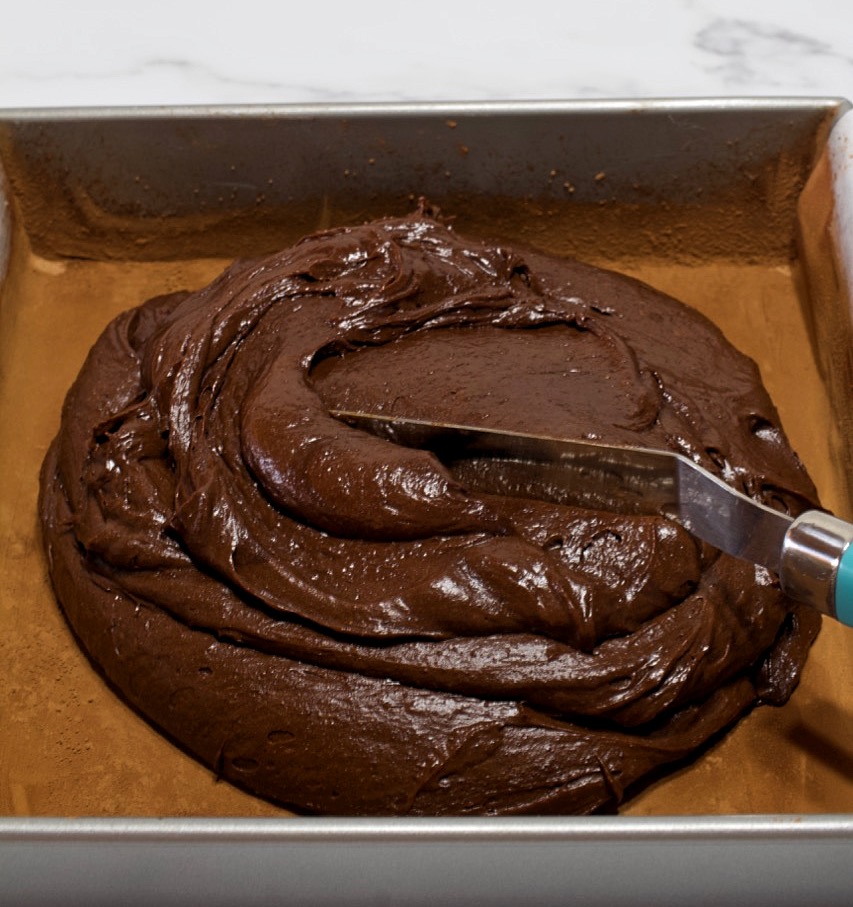 These scrumptious dark fudgy brownies were so easy to make. Here's all I did…
I lined a 9 x 9-inch baking pan with parchment paper. I buttered the paper and insides of the pan and coated all of it with a sprinkling of cocoa.
Mixed together some melted butter, eggs, and vanilla.
Sifted some dry ingredients into the mix.
And mixed everything together.
I baked them and allowed them to cool before frosting.
BROWNIE TIPS
Don't overbake the brownies. This recipe calls for baking the brownies for 45 minutes. Ovens vary. In my oven, 45 minutes is perfect. I recommend testing the brownies after 40 minutes by inserting a toothpick into the center. If the toothpick comes out with slightly moist crumbs, take them out. Brownies will continue to bake in the hot pan for a couple of minutes after they are removed from the oven.
Make sure to use parchment paper if you want to easily remove the cooled brownies from the pan.
Always use cocoa to dust the pan when making brownies. Don't use flour, unless you want brownies with a dusting of white on the sides and underneath.
Allow the brownies to cool for at least 15 minutes before lifting them out of the pan. Run a sharp knife around the edges first.
This recipe calls for 1/2 cup of all-purpose flour and no leavening agents. Make sure you correctly measure the flour. I recommend spooning it into the cup and leveling it off with a knife. We want fudgy brownies here, not cakey.
MAKING THE FROSTING
This frosting has been my favorite since I was a child. You're probably already very familiar with this delicious frosting that finishes the Authentic German's Chocolate Cake, but if you're not you're in for a great treat.
MAKING THE FROSTING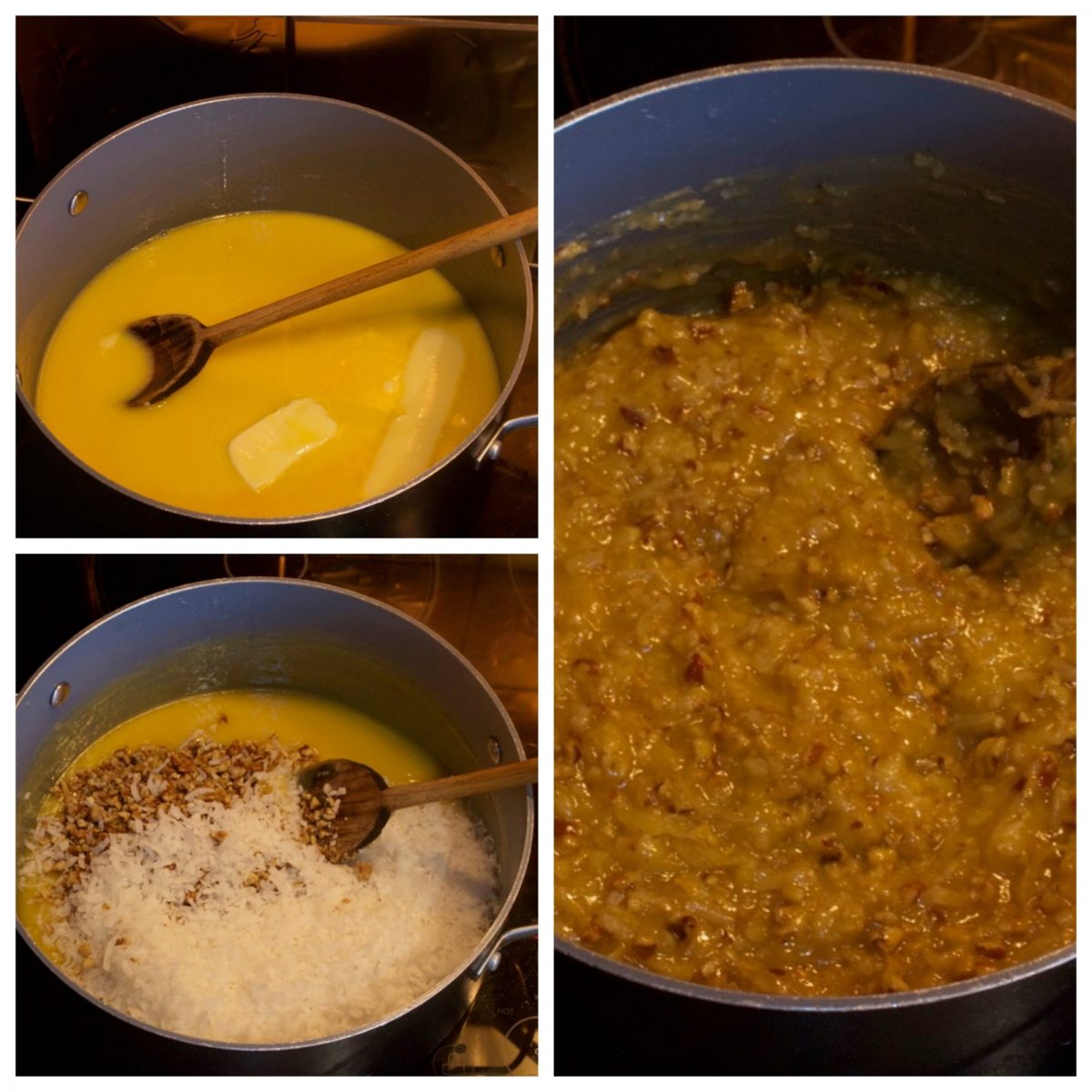 Here's how I made the frosting…
I added milk, sugar, egg yolks, butter, and vanilla to a large saucepan.
I cooked it over medium heat, stirring constantly until the mixture thickened. This took about 12 minutes, start to finish.
I removed the pan from the heat and added coconut and pecans and mixed everything together.
I had to stop and taste it a few times before frosting the brownies. OMG… I promise you will want to take a large spoon and just keep eating the frosting by itself. You need lots of self-discipline here!!!
I placed the pan of frosting in the refrigerator for a few minutes to cool before spreading it over the brownies. The rest is history!
FROSTING TIP
It's important to constantly stir the frosting while it is cooking. This frosting scorches easily, due to the evaporated milk and egg yolks. The egg yolks will also cook up separately from the other ingredients if you don't constantly stir, and the result will be little bits of cooked egg yolk throughout the frosting.
More recipes you might like…
If you make this recipe please rate it, and leave a comment below on how you liked it. I love hearing from you!
Wanna see different recipes each day? Feel free to follow me on Facebook, Pinterest and Instagram.
Print
Cocoa Brownies With Coconut Pecan Frosting
Author:

Prep Time:

15 Minutes

Cook Time:

60 Minutes

Total Time:

1 hour 15 minutes

Yield:

9

Large Brownies

1

x

Category:

Bars/Cookies

Method:

Bake

Cuisine:

American
---
Description
These Cocoa Brownies are moist and dense and made with pure cocoa, and they're finished with the most delectable Coconut Pecan Frosting!!
---
BROWNIES
4

large eggs

1 cup

granulated sugar

1 cup

light brown sugar

1/2 cup

flour

1/2 teaspoon

salt

1 1/4 cup

s Hershey's Cocoa

2 teaspoon

s pure vanilla extract

2

sticks unsalted butter, melted
Butter for greasing parchment paper
Cocoa for dusting parchment paper
COCONUT PECAN FROSTING
1 cup

evaporated milk

1 cup

sugar

3

egg yolks

1

stick real butter

1 teaspoon

pure vanilla

1 1/3 cup

s flaked sweetened coconut

1 cup

chopped pecans
---
Instructions
BROWNIES
Preheat oven to 300 degrees.
Grease the bottom and sides of a 9″ x 9″ square pan with butter. Lay a piece of parchment paper across the bottom and up the sides of the pan, allowing the paper to hang over the sides of the pan by one to two inches. Butter the bottom and sides of the paper, and dust the bottom and all sides with cocoa. Set aside.
In the bowl of a stand mixer, fitted with the paddle attachment, mix the eggs on medium speed until they are light, foamy, and lemony.  Add the vanilla and mix to incorporate.
Place a wire mesh strainer or a sifter over the mixing bowl. Place the sugars, flour, salt, and cocoa in the strainer, and sift the ingredients into the mixing bowl. Mix the ingredients on medium speed just until the dry ingredients are incorporated.
Slowly add the butter with the mixer on low speed. Mix only until the butter is mixed in and stop mixing.
Spread the batter into the prepared pan.
Bake for exactly 45 minutes. A toothpick inserted into the center of the brownies should come out clean. Let brownies set in the pan for fifteen minutes.
Run a sharp knife along the two sides of the pan that don't have parchment paper.  Grab the edges of the parchment paper and pull straight up as you lift the brownies and transfer them to a wire rack to finish cooling.
While they are cooling make the frosting.
COCONUT PECAN FROSTING
Place the milk, sugar, egg yolks, butter, and vanilla in a large saucepan. Cook over medium heat while stirring slowly but constantly until the mixture has thickened. This usually takes about 12 minutes. If you double the recipe, it takes 3 to 4 minutes longer.
Remove the mixture from the heat and add the coconut and pecans. Mix to combine.  For neater spreading, place the frosting in a freezer for about 10 minutes before spreading on the brownies.
Use an offset spatula to spread the frosting over the brownies.  Slice brownies with a clean sharp knife.  Cut into 9 large brownies, wiping knife clean between cuts.  A large pizza cutter also works great for cutting these brownies.
Store in an airtight container until ready to serve.
---
Keywords: brownies, cocoa brownies, fudgy brownies, german chocolate, coconut pecan frosting,
There may be affiliate links in this post. We are a participant in the Amazon Services LLC Associates Program, an affiliate advertising program designed to provide a means for us to earn fees by linking to Amazon.com and affiliated sites.