Fudgy Marbled Cocoa Brownies
These Fudgy Marbled Cocoa Brownies are moist and rich and made with pure bittersweet cocoa and there's a delicious cream cheese filling marbled throughout each brownie. When you make these scrumptious brownies you'll want to double the recipe because they disappear quickly!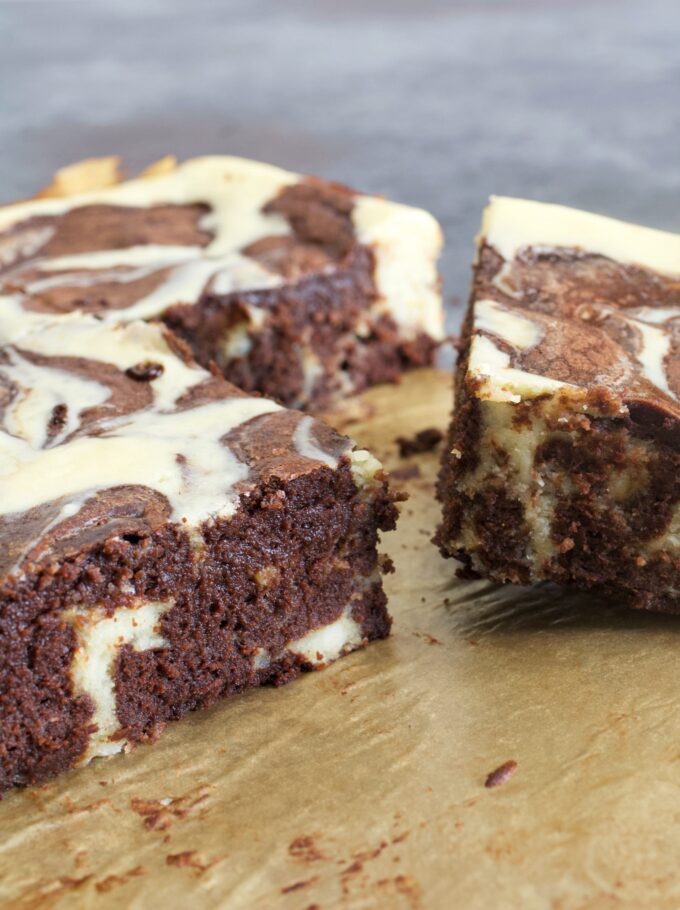 I love the taste of homemade fudgy brownies made with pure bittersweet cocoa and this recipe for Perfect Fudgy Cocoa Brownies is my all-time favorite fudgy brownie recipe. For some time I've wondered what it would be like to add a cream cheese filling to the recipe for a different spin on it, and I finally decided to try it. What an easy addition to this recipe and the cream cheese filling marbled throughout the brownies is the ultimate compliment to these fudgy brownies.
Let's talk about making these scrumptious brownies,..
Tips for preparing the pan…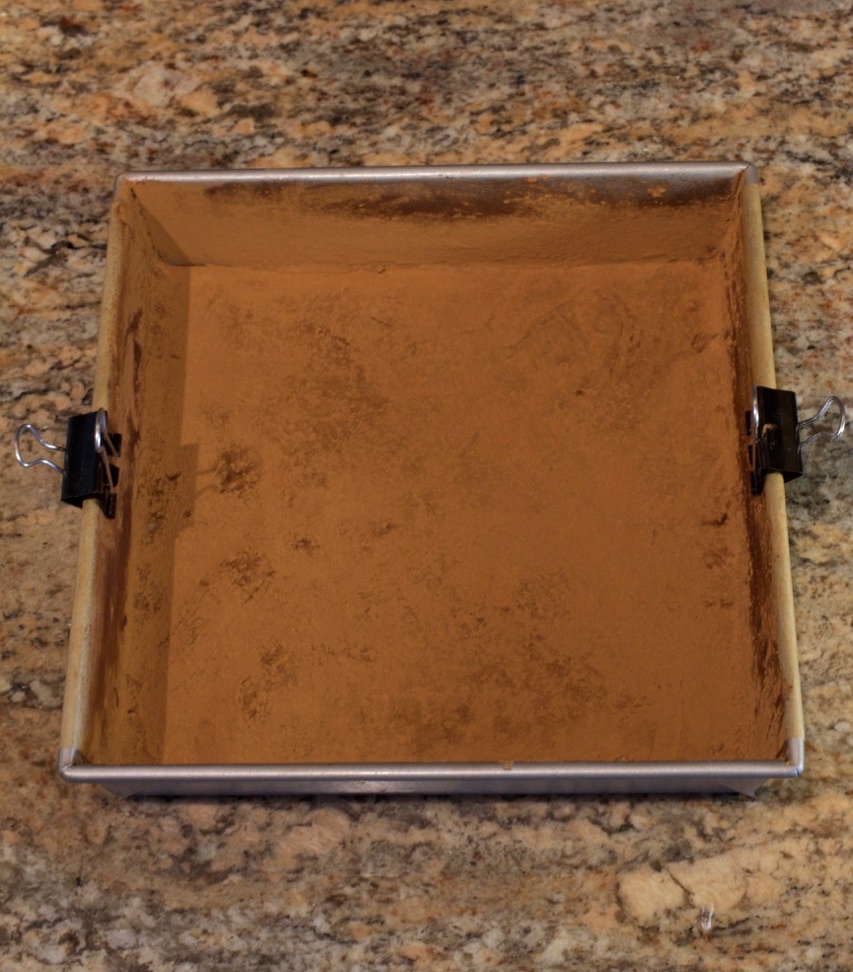 For easy removal of baked brownies, line the pan with parchment paper, allowing it to extend over two sides of the pan. I like to place paper clips on each side to hold the paper in place and out of the way while I'm pouring the batter into the pan, then I remove the clips.
Butter the insides of the pan and the parchment paper.
Anytime you bake chocolate recipes such as brownies & cakes, dust your pan with cocoa instead of flour. Who wants to see remnants of white flour on the bottom of their chocolate brownies anyway? And don't worry, you can't use too much cocoa for dusting the pan in my opinion. The more the better!!
The batters
There are two easy batters for this recipe.
Cream Cheese Batter:
The cream cheese batter takes 5 minutes to mix. It's a combination of cream cheese, flour, egg, vanilla, and sugar. Mix the cream cheese filling first and set aside while you make the cocoa batter.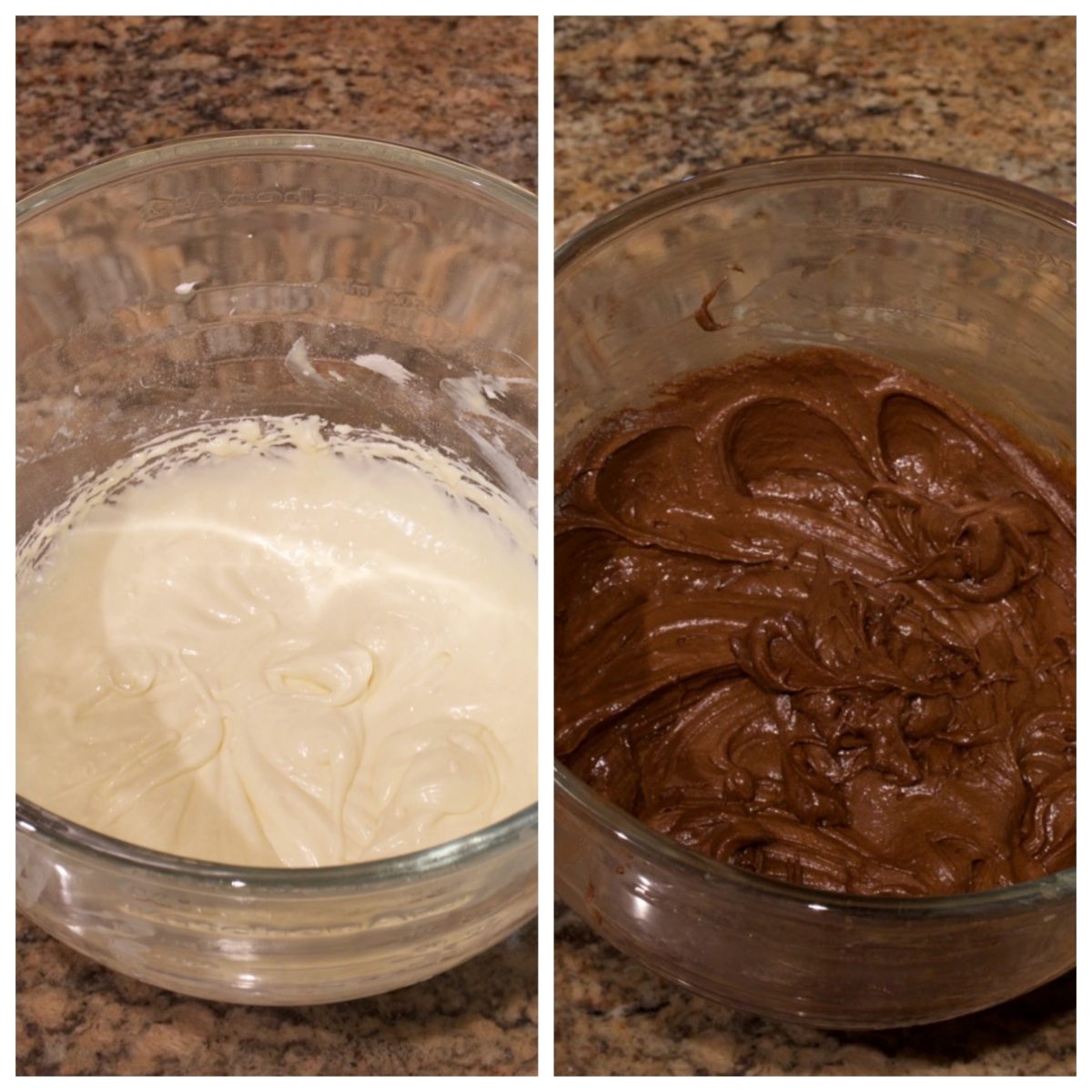 Tips:
Always use softened cream cheese.
Always mix the cream cheese by itself first. Make sure it is smooth and free of all lumps before adding the remaining ingredients.
Ingredients
Cocoa Batter:
Once the cocoa batter is baked, the result is a dense, moist, rich brownie with a supreme cocoa flavor. Here are the star ingredients and how they work:
Eggs – Eggs act as a binding agent in the batter, but that's not all. They add richness and structure to the brownies
Flour – We only use 1/2 cup of flour in this recipe. The less flour, the more dense and fudgy the brownie. The more flour, the more cake-like the brownie and we don't want cakey brownies for this recipe. Also in this recipe, we use 1 1/4 cups of cocoa, and cocoa takes the place of flour.
Butter – Real butter adds SO MUCH flavor to baked goods. Always use real butter, not margarine, if you want the purest and best flavor.
Brown sugar – Brown sugar adds moistness and richness. If you use all white sugar in brownies, the result is a crispy top and edges. In this recipe, I want the entire brownies to be moist and fudgy, so brown sugar is added.
White sugar – White sugar liquifies as the brownies bake and creates a softer center.
Cocoa – I consider cocoa to be the STAR ingredient in these brownies. Cocoa is unsweetened with no added sugars or milk. Therefore, you might want to add a little more sugar to any recipe you use it in. The cocoa powder also takes the place of some of the flour, so less flour is needed. The cocoa is so pure and adds MEGA richness to the brownies. I used Hershey's regular unsweetened cocoa in these brownies. For the ultimate dark rich brownie, you can opt to use Hershey's special dark cocoa, but I think these brownies are perfect the way they are.
The Marbling:
The marbling is super easy…
Add 1/2 of the chocolate batter to the prepared pan. Smooth it out evenly with an offset spatula.
Add large dollops of the cream cheese batter over the top.
Using your offset spatula, spread the layer of cream cheese filling out over the chocolate layer.
Spread the remaining chocolate batter over the cream cheese batter, and using a knife or your offset spatula, marble the batters by going back and forth in a vertical motion, then a horizontal motion, or just do your own thing. The only thing that matters is marbling the cream cheese batter throughout the chocolate batter.
MORE GREAT BROWNIE RECIPES…
Chocolate Pumpkin Swirl Brownies
Cocoa Brownies with Coconut Pecan Brownies
If you make this recipe please rate it, and leave a comment below on how you liked it. I love hearing from you!
Wanna see different recipes each day? Feel free to follow me on Facebook, Pinterest and Instagram.
Print
Fudgy Marbled Cocoa Brownies
Author:

Prep Time:

15 Minutes

Cook Time:

48-50 Minutes

Total Time:

40 minute

Yield:

9

large brownies

1

x

Category:

Brownies

Method:

Bake
---
Description
These super moist brownies have a superior rich cocoa flavor and they are dense, fudgy and sinfully delicious!  Oh, and the cream cheese filling totally compliments the fudgy brownie filling.
---
Cream Cheese Batter
8

ounces

cream cheese, room temperature

1/3

cup

granulated sugar

1

large egg, room temperature

1/2 teaspoon

vanilla extract

3 tablespoons

all-purpose flour
Cocoa Batter
4

large eggs, room temperature

1

cup

granulated sugar

1

cup

light brown sugar, packed

1/2

cup

all-purpose flour

1/2 teaspoon

salt

1 1/4

cups

Hershey's cocoa

2 teaspoons

pure vanilla extract

2

sticks unsalted butter, melted
Butter for greasing parchment paper and pan
Cocoa for dusting pan
---
Instructions
Preheat oven to 300 degrees.  Line a 9 x 9 pan with a long piece of parchment paper, allowing the paper to hand over the sides for easy removal later.  See picture above.  Butter the parchment paper and insides of the pan.  Dust the parchment paper and insides of the pan with cocoa and set aside.
Cream Cheese Batter
Add the cream cheese to a mixing bowl.  Mix on high speed with an electric mixer until the cream cheese is smooth and creamy and free of any lumps.  Stop and run a spatula under the bottom to make sure there are no lumps of cream cheese on the bottom of the bowl.
Add the sugar, egg, vanilla, and flour and mix on medium speed for 1 minute.  Set batter aside while you make the cocoa batter.
Cocoa Batter
In the bowl of a stand mixer using the paddle attachment, (or using a hand mixer), mix the eggs on medium speed until they are foamy and lemony.  Add the vanilla and mix to incorporate.
Pace a wire mesh strainer or sifter over the mixing bowl.  Place all of the dry ingredients including the sugars in the strainer or sifter and sift into the mixing bowl.  Mix on medium speed just until the ingredients are incorporated.  Do not over mix.
Add the butter slowly, a little at a time, on low speed.  Don't add too much butter at one time or it will float on top and be harder to incorporate.  Mix only until the butter is incorporated and stop mixing.
Spread half of the batter into the prepared pan, making sure you spread it into the corners.  I used a small offset spatula for this.
Drop dollops of the cream cheese batter all over the top of the cocoa batter.  Run a knife back and forth in a horizontal and vertical motion a few times.
Drop dollops of the remaining cocoa batter over the cream cheese batter and smooth out with an offset spatula.  Now run the knife through the batter once again in a horizontal and vertical motion.
Shake the pan gently back and forth on a counter to even out the batter and release any air bubbles.
Bake for approximately 48 to 50 minutes until a toothpick inserted in the center of the brownies comes out with moist crumbs.
Allow brownies to cool for 5 minutes and run a sharp knife around the edges.  Place pan on a wire rack and allow brownies to completely cool.  Once cooled, remove the brownies by pulling and lifting up on the overhang of parchment paper.  Transfer brownies to a counter and use a long sharp knife to cut brownies into 9 large or 18 small brownies.
Store brownies in an airtight container.  Brownies will stay fresh for up to 3 days or 5 days if refrigerated.
---
Notes
Wiping the knife clean between cuts, will result in clean neat slices.
Brownies can be frozen if placed between sheets of wax paper and placed in an airtight container.
Keywords: fudgy marbled cocoa brownies, fudgy brownies, marbled brownies, cocoa brownies, brownies,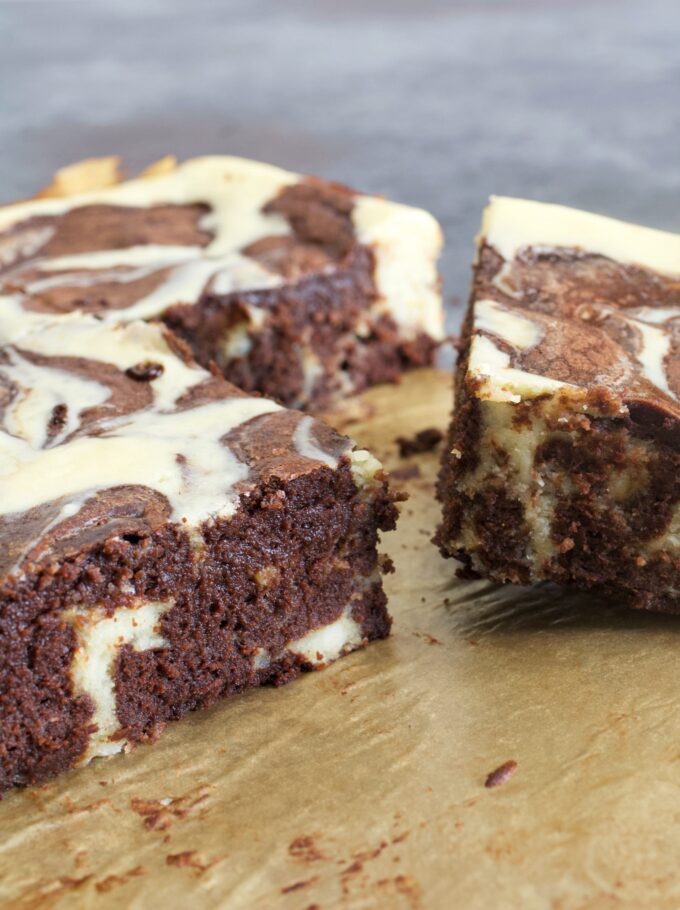 There may be affiliate links in this post. We are a participant in the Amazon Services LLC Associates Program, an affiliate advertising program designed to provide a means for us to earn fees by linking to Amazon.com and affiliated sites.