Tender & Flaky Buttermilk Biscuits
These Tender & Flaky Buttermilk Biscuits will become your favorite. Made with buttermilk, they are tender, buttery, and flaky, and they take no time to make. A great breakfast biscuit!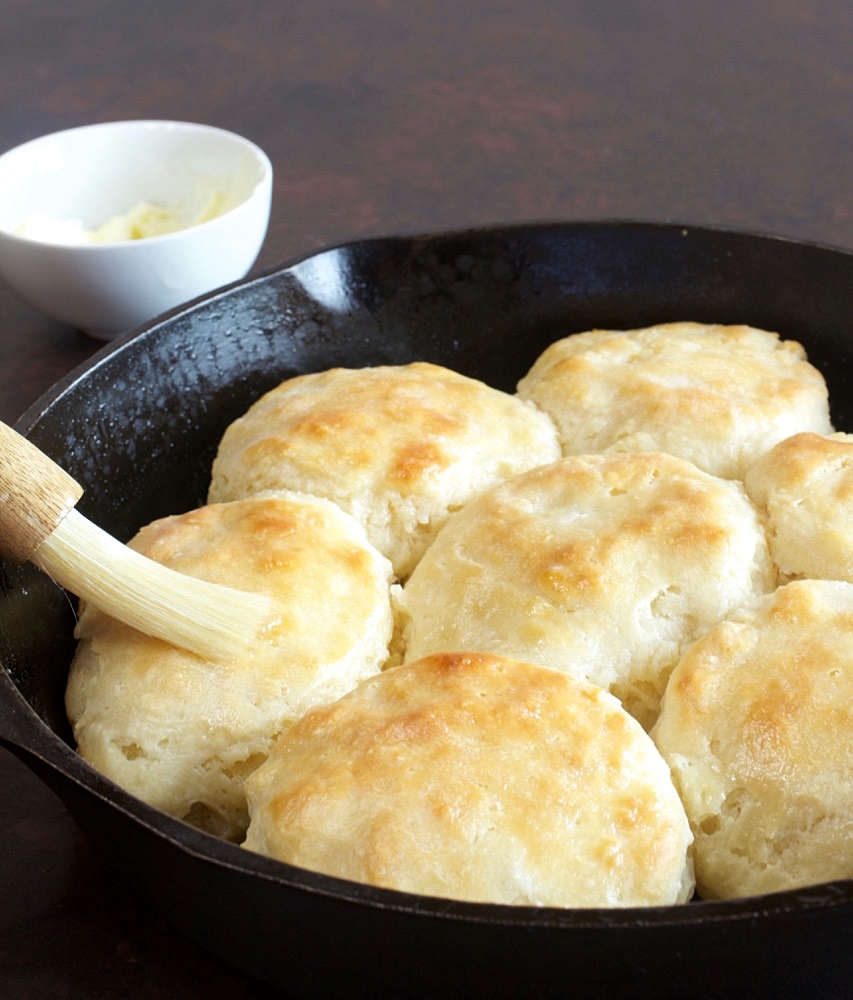 HAPPY NATIONAL BISCUIT DAY!!! I posted this recipe exactly 3 years ago on National Biscuit Day, and I'm reposting it today with some updated tips. I've been making biscuits since I was 5 years old with my mom and I could eat my weight in biscuits. Oh wait, I think I have!!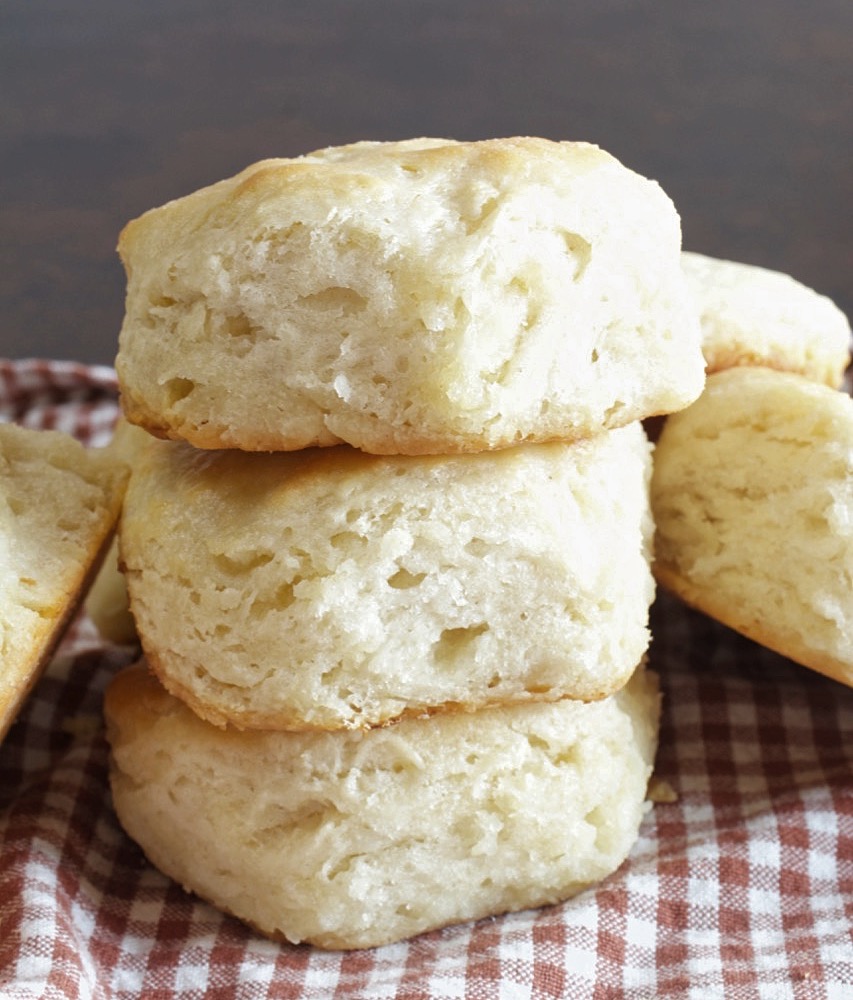 Did you know, there are many different types of biscuits, flaky layered, soft & airy, drop biscuits, cathead biscuits, cream cheese biscuits,…too many to name! When I was a little girl, (tomboy), my mom would wrap up the leftover biscuits from breakfast and let me take them with me on my day of adventures in the woods. I'd share them with my pony, sit on a swinging bridge and eat them while I played my harmonica or sometimes I'd share one with the birds. Whether they were hot or cold, I loved them.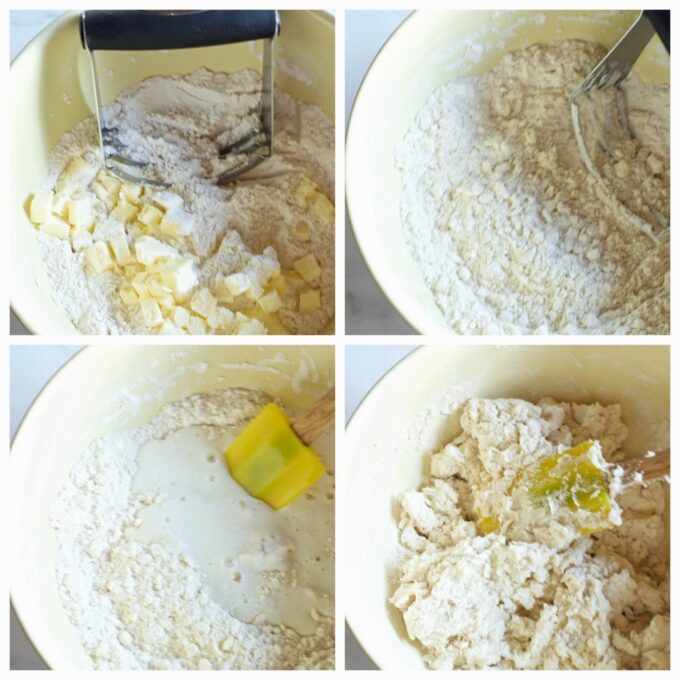 Biscuits are one of the easiest breads to make. If you follow my easy tips below, you'll make perfect biscuits every time, and once you see how easy it is to make them, you'll never buy canned biscuits again.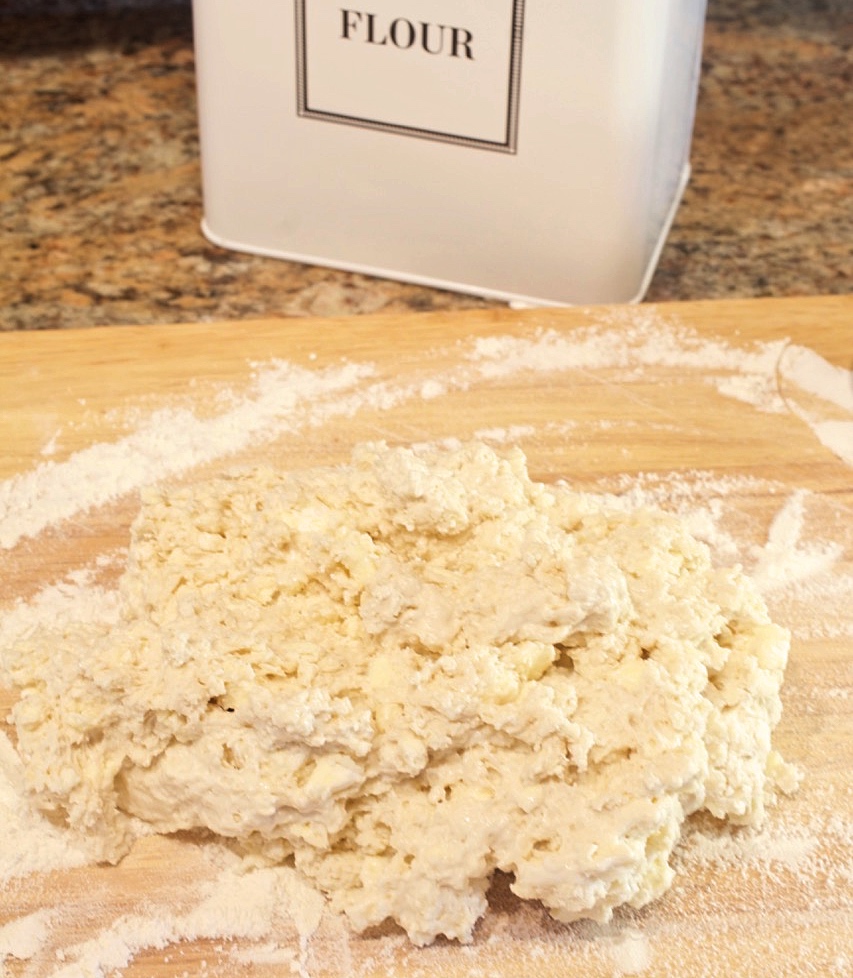 TIPS FOR MAKING HOMEMADE BISCUITS
Butter: It's imperative to use very cold butter in your biscuit dough. Cut the butter into small pieces and cut it into the dough with a pastry blender. If you don't have a pastry blender, use a fork and a knife. Why cold butter? As the biscuits bake, the small chunks of butter slowly melt into the biscuits, creating air pockets which in turn make the biscuits nice and airy.
Buttermilk: Buttermilk adds a tangy richness to biscuits, and because it's acidic, it adds tenderness to baked goods such as biscuits. Make sure you use cold full-fat buttermilk.
Working the dough: Do not overwork the dough. Once you've added the wet to the dry ingredients, use a spatula or wooden spoon to gently fold the dry ingredients into the wet. Once all of the dry ingredients are wet, stop! See the picture above. The dough will be wet and messy but that's okay. Dump it onto a lightly floured work surface where you'll add more flour as you fold it. See below.
Cutting the biscuits: Do not twist the biscuit cutter, and dip it in flour between each cut. Press the cutter straight down and pull it straight up from the dough. This is something my mother taught me when I was 5 years old in the kitchen. Why not twist? Because if you twist the cutter, you will not only smoosh the sides of the dough, resulting in uneven biscuits, but you will seal the edges of the dough preventing them from rising.
Baking Powder: Baking powder is a star ingredient in almost all biscuit recipes. Baking powder is what causes biscuits to rise tall. It's very important to check your baking powder for freshness. Baking powder has a short shelf life. Click here to see how to test baking powder for freshness.
Place with sides touching in a pan: Place biscuits as close together as possible, preferably with sides touching. They rise taller when placed with sides touching.
TIPS FOR MAKING BISCUITS WITH FLAKY LAYERS (see pictures below)
Fold & Flatten method:
This method is not used for all biscuit recipes. Only for recipes where you want lots of flaky layers. Sometimes I don't want a biscuit with lots of flaky layers, like when I know I'm going to smother them with gravy. It's a personal preference thing. However, if you do want lots of flaky layers, use the fold & flatten method.
The dough gets patted into a rectangle. Then (in the picture below), the right side of the dough gets folded into the center, followed by the left side. The dough will get flattened into a rectangle again, and the process repeated at least 2 more times, a total of 5 times for the ultimate amount of flay layers. In this recipe, I did the fold & flatten method 3 times.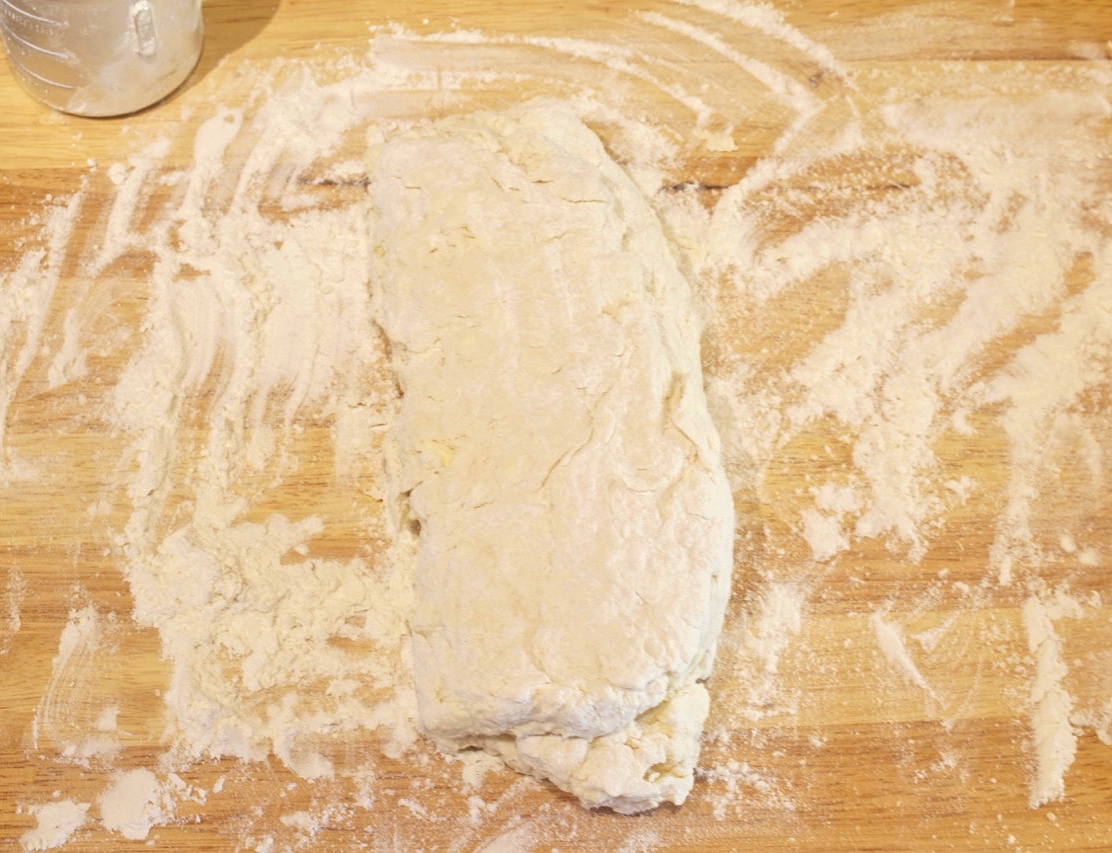 In the picture below, I patted the dough out to 1/2 inch in thickness. I used a 3-inch round biscuit cutter to cut the dough, making sure I pressed straight down and back up, without twisting the cutter. I also cut the biscuits as close to each other as possible, resulting in less scrap dough that had to be re-worked.
If you want biscuits that are taller, feel free to use a smaller cutter, and only pat the dough out to 3/4 inch in thickness. It's simply a personal preference thing.
Brushing the tops
The biscuits get brushed with buttermilk just before they get baked. The buttermilk promotes even browning on the tops. Once the biscuits are baked, they get brushed with very soft or melted butter.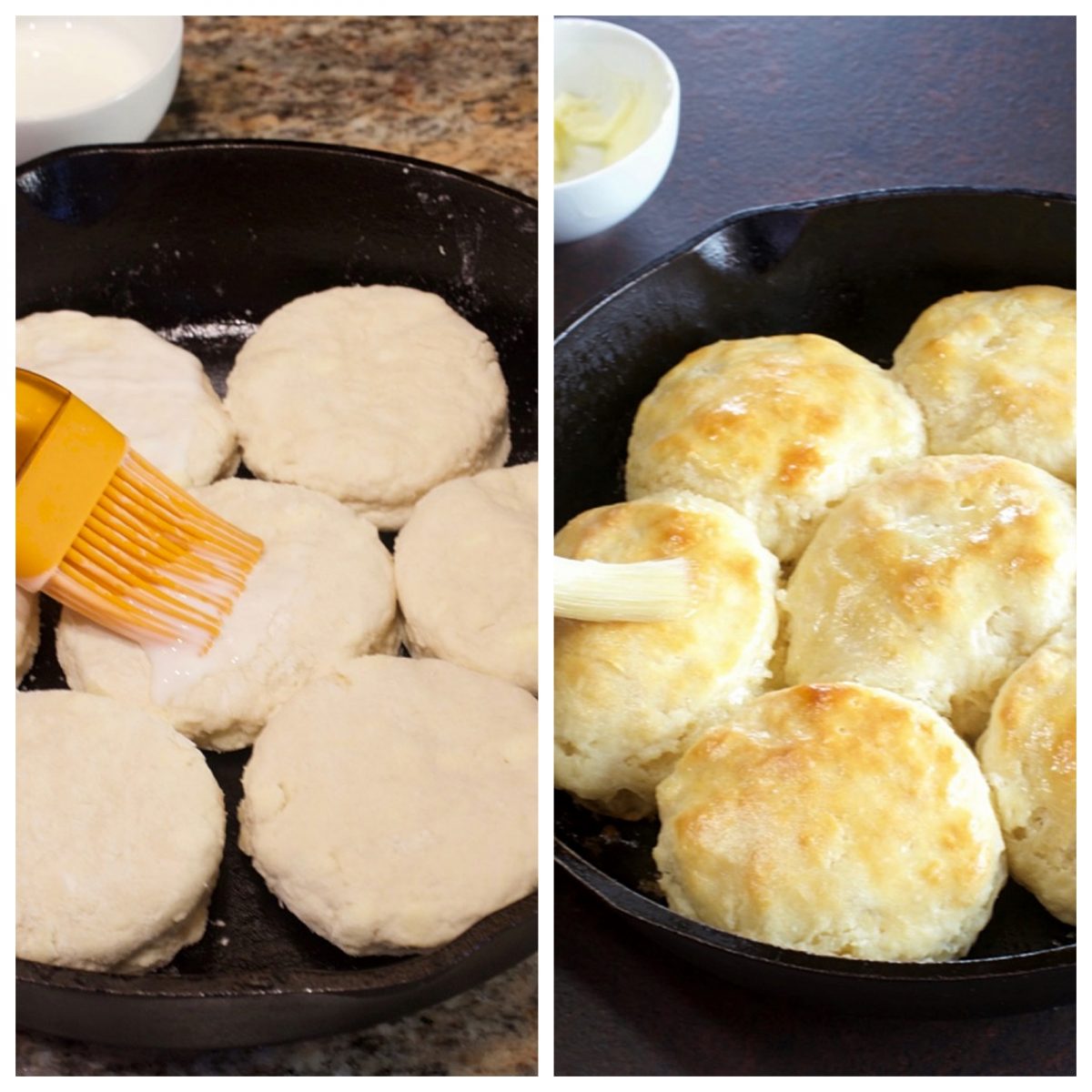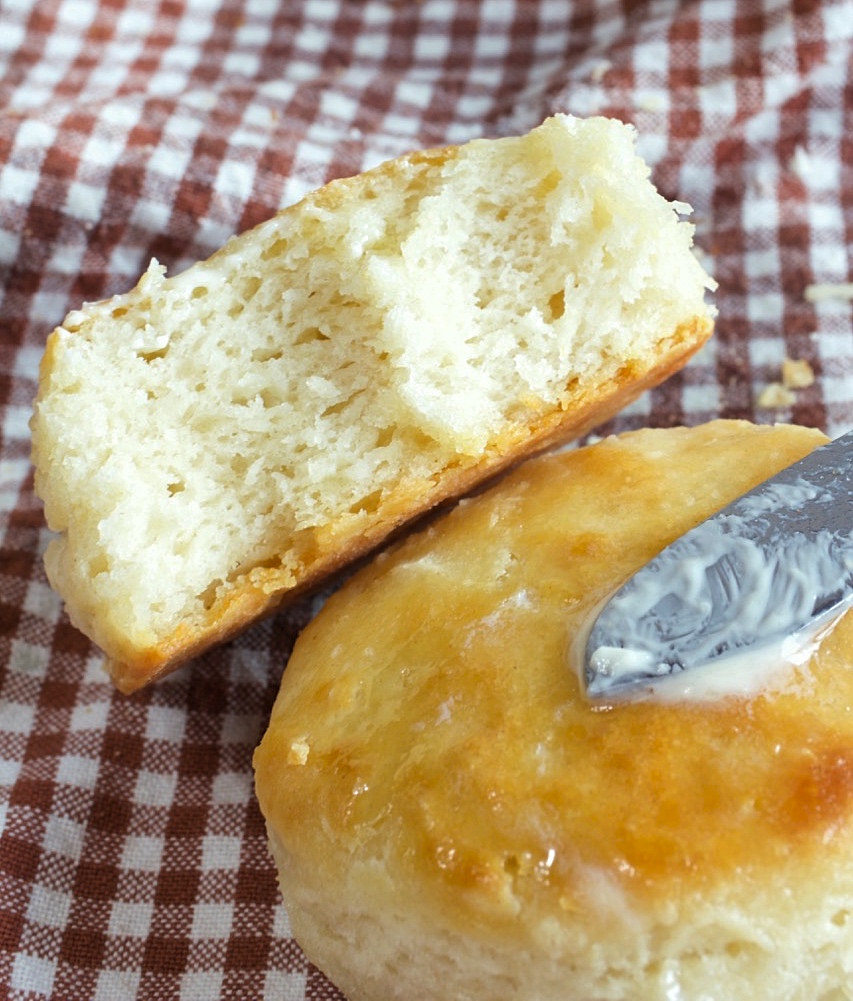 What type of biscuit do you prefer? If you're looking for a good biscuit to smother in gravy, you might be like me and not want fancy flaky layers. In that case, you might want to check out my Big Fluffy Buttermilk Biscuits or my Soft & Tender Drop biscuits.
CHECK OUT MORE YUMMY BISCUIT RECIPES…
Buttermilk Butter Dip Biscuits
Sweet Blueberry Biscuits with Lemon Glaze
If you make this recipe please rate it, and leave a comment below on how you liked it. I love getting your feedback! 🙂
Wanna see different recipes each day? Feel free to follow me on Facebook, Pinterest, & Instagram!
Print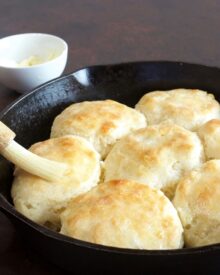 Tender & Flaky Buttermilk Biscuits
Author:

Prep Time:

15 Minutes

Cook Time:

16 – 17 Minutes

Total Time:

6 minute

Yield:

9

large biscuits

1

x

Category:

Bread

Method:

Bake

Cuisine:

American
---
Description
These buttermilk biscuits are soft & buttery and have lots of flaky layers.  They take no time to make and they'll become your favorite biscuit recipe.
---
2

cups

all-purpose flour, spoon and leveled

1 tablespoon

baking powder

1/4 teaspoon

baking soda

1/2 teaspoon

salt

1 tablespoon

granulated sugar

1

stick very cold unsalted butter

1

cup

plus

2

tablespoons

full-fat buttermilk
Very soft or melted butter for brushing baked biscuits
---
Instructions
Preheat oven to 425 degrees.
Grease a 9-inch iron skillet and set aside.  If you don't have an iron skillet lightly grease a round cake pan or small cookie sheet.  I don't recommend buttering your skillet or pan.  Butter causes biscuits to brown too much on the bottom before the tops get brown enough.  I always use solid Crisco shortening to grease my pan, but liquid shortening should work too.
Add the flour, baking powder, baking soda, salt and sugar to a large bowl.  Use a fork or whisk to thoroughly combine the dry ingredients.
Cut the stick of butter into 3 long pieces.  Flip the butter over one turn and repeat.  (see picture above).  Now slice the butter off into small chunks and transfer them to the bowl of flour.  Using a pastry cutter, cut the butter into the flour until the butter is about the size of peas.
Make a well in the center of the flour and pour 1 cup plus 2 tablespoons of buttermilk into the well.  Using a wooden spoon or spatula, gently fold the flour into the buttermilk and mix just slightly until all of the flour is wet.  It's important to not overwork the dough.  Overworking the dough will result in tough biscuits.
Transfer the dough to a floured work surface.  Using floured hands, pat the dough into a rectangle, about 8 x 10 inches or so.  It doesn't have to be a specific size, just big enough to fold.  Gently fold one side of the dough into the center, then fold the other side into the center.  Turn the dough so that it's horizontally in front of you.  Lightly press the dough out into a rectangle again.  Turn one side of the dough into the center, then the other.  Repeat this process one more time, a total of 3 times.
Using your hands, pat the dough into a rectangle, about 3/4″ in thickness.  You can use a rolling pin if you prefer.  Using a sharp biscuit cutter, cut the biscuits by cutting down through the dough and straight up.  It's important to not twist the cutter.  Cut them as close together as possible.  Gather up any scraps and rework the dough as little as possible and cut out with the cutter.  Try to use a cutter that is at least 2.25 inches in diameter if you want pretty good sized biscuits.  I used a 3-inch cutter.
Transfer the biscuit rounds to the greased skillet or pan, making sure they are close together with sides touching.  Brush the tops with buttermilk.
Bake for approximately 17-18 minutes until biscuits are golden brown on top.
Brush the tops with very soft or melted butter.
Serve hot with your favorite jam or with gravy.
Biscuits will stay fresh for up to 1 day at room temperature.
---
Notes
I used a 3-inch cookie cutter for these biscuits and they made 9 large biscuits.  If you use a smaller cookie cutter, you'll get more biscuits.
I usually place my butter in the freezer for about 10 minutes prior to making my biscuits.  It should be very cold but not frozen.
Keywords: buttermilk biscuits, biscuits, flaky biscuits, national biscuit day, baking powder biscuits,
There may be affiliate links in this post. We are a participant in the Amazon Services LLC Associates Program, an affiliate advertising program designed to provide a means for us to earn fees by linking to Amazon.com and affiliated sites.