Homemade Cake Flour Substitute
Did you know you can make Homemade Cake Flour Substitute by simply mixing together all-purpose flour and cornstarch?  Lots of cake recipes call for cake flour and it's one staple that you might not always have on hand.  Use these tips for making it yourself at home.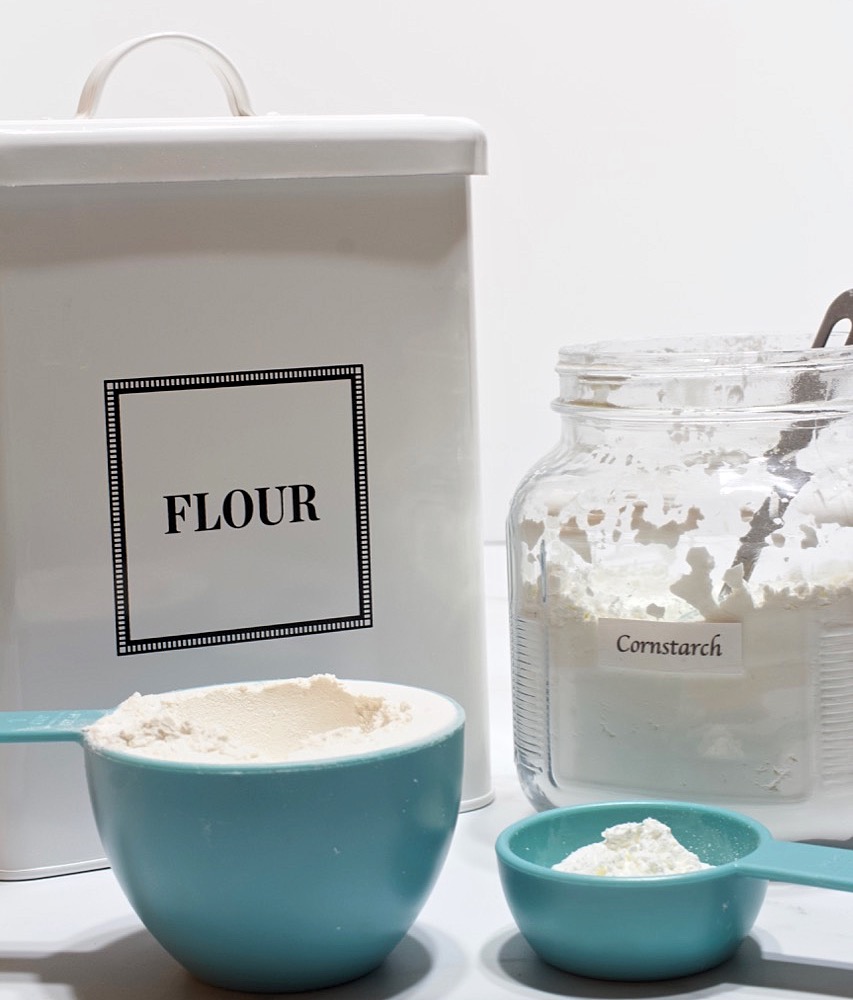 If you're not a frequent baker, you may not keep cake flour on hand.  Therefore, when you come across a cake recipe that you really want to make, and it calls for cake flour, what do you do?  Disregard the recipe and move on to another one?  Use all-purpose flour?  Use bread flour?  I'm here to tell you that you don't have to consider any of these options. You can make your own cake flour substitute, and by the way, you should never substitute all-purpose flour for cake flour.
WHAT ARE THE DIFFERENCES BETWEEN CAKE FLOUR, ALL-PURPOSE FLOUR, AND BREAD FLOUR?
Cake Flour gets milled into a very fine consistency and contains only about 7 to 9 percent protein.  The lower the protein content, the less gluten, and the less gluten means a softer and fluffier texture.
All-Purpose Flour doesn't get milled as much as cake flour and it also has a higher protein content of 9 to 11 percent which makes it form more gluten, thus creating a less soft texture.
Bread Flour has a much higher protein content than both cake and all-purpose flour, 11 to 13 percent making it form more gluten and resulting in a chewier texture.  The more gluten, the more stretch, and elasticity.
The key to making homemade cake flour substitute is in the SIFTING!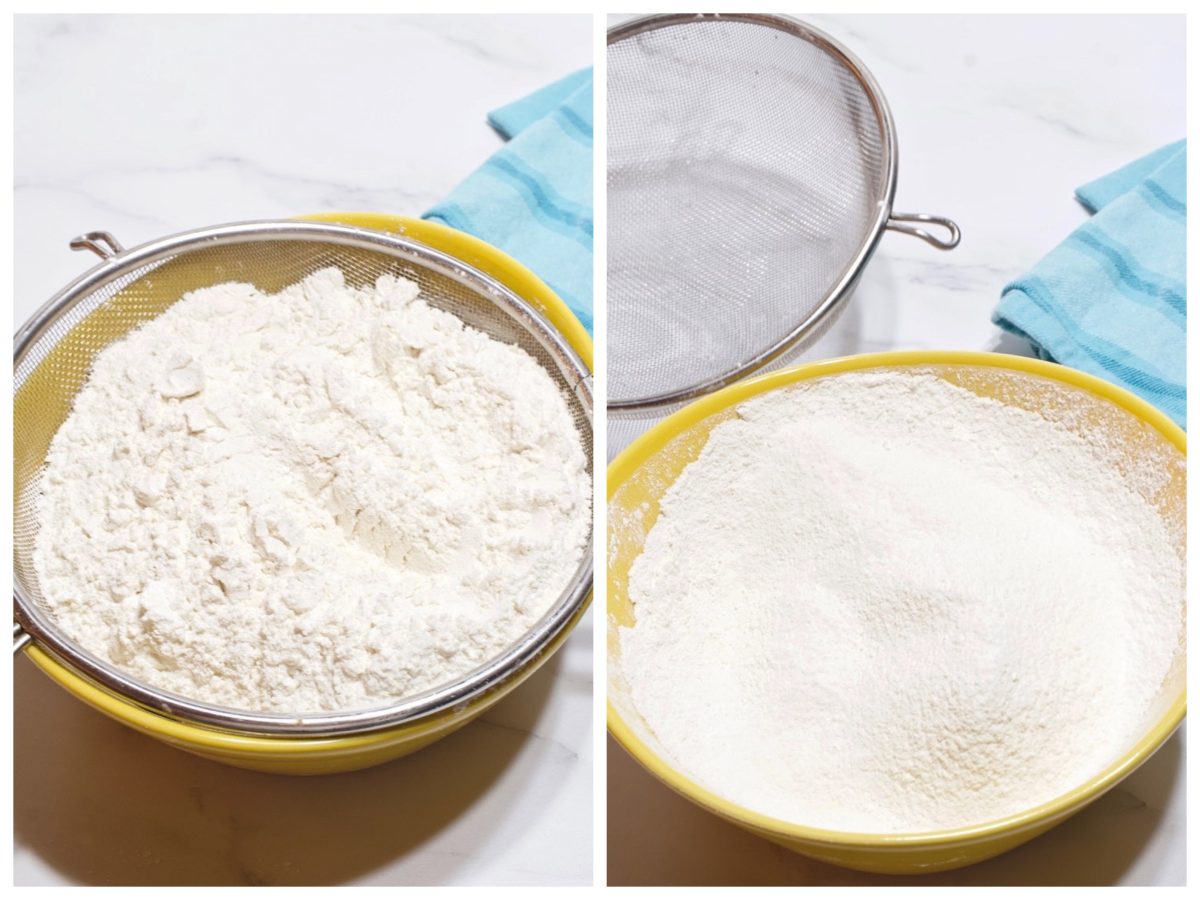 Sifting produces a softer flour and it also aerates the flour, giving it a softer consistency.  Notice the difference in the two pictures above.  The one on the left has not been sifted and the one on the right has been sifted twice.
WHEN TO USE CAKE FLOUR
You should use cake flour when you want a cake to have a soft and fluffy texture, such as a basic yellow, lemon, or vanilla cake.  I used it here in my Lemon Chiffon Layer Cake.
WHEN TO NOT USE CAKE FLOUR
Anytime you make cakes that are extra moist with wet ingredients such as fresh fruit cakes or pound cakes that are meant to be dense and heavy you should not use cake flour.  These cakes need a more sturdy flour such as all-purpose.  You also wouldn't want to use cake flour in bread recipes.  Bread needs a heavy flour such as bread flour.
Now go bake something yummy!
Print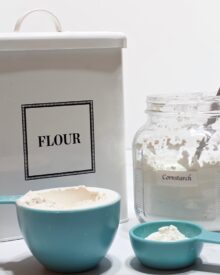 Homemade Cake Flour Substitute
Author:

Prep Time:

5 Minutes

Total Time:

5 minutes

Yield:

1 Cup

1

x

Category:

Baking/Cooking Tips
---
Description
With just 2 simple ingredients, all-purpose flour & cornstarch, you can make homemade cake flour substitute.  The secret is to sift the flour twice and use the exact amount of cornstarch!  Use this quick and easy recipe the next time you need cake flour and don't have any on hand.
---
1

cup

all-purpose flour, spoon & leveled

2 tablespoons

cornstarch
---
Instructions
Measure out 1 cup of flour, by spooning the flour into a 1 cup measuring cup and leveling it off with the edge of a knife.
Using a tablespoon measuring spoon, remove 2 tablespoons of the flour and return it to your flour canister.
Sift the flour and cornstarch together into a bowl, then sift again.
Remeasure the flour for your recipe.  It's important to remeasure the flour because once it's been sifted, you might have a tiny bit more than 1 cup.
Go bake your favorite cake.
---
Keywords: Cake flour substitute, cake flour, homemade cake flour, how to make cake flour,
There may be affiliate links in this post. We are a participant in the Amazon Services LLC Associates Program, an affiliate advertising program designed to provide a means for us to earn fees by linking to Amazon.com and affiliated sites.