Key Lime Pie
This Key Lime Pie is the perfect balance of sweet and tart.  A buttery and slightly crunchy crust is the vehicle that carries the most delicious, creamy, and refreshing tart filling to your mouth.  This is the most perfect Key Lime Pie and it takes no time to make.  Add dollops of freshly whipped cream on top for a perfect finishing touch!
There's something about lemon and lime desserts that definitely bring on a warm-weather sunshiny mood and this delicious tangy Key Lime Pie is no exception!
The great thing about a true Key Lime Pie is its undeniably delicious and tangy flavor. It's not a heavy dessert, just light and refreshing. It's a perfect dessert for a warm or hot day. Serve it cold with a dollop of whipped cream to complement the tanginess. Delicious! 
So What's not in a True Key Lime Pie
Artificial green food coloring
Regular (Persian) limes
Cream cheese
Artificial key lime flavoring
Sour cream
Bottled regular Persian lime juice
The difference between Key limes and Persian limes
Key limes have a high juice content and an intense aroma.  They have very thin skins and are smaller than the bigger Persian limes.  They are also sweeter than regular Persian limes.  Persian limes have a lower pH balance and are therefore more acidic.
Don't use bottled regular (Persian) Lime Juice
Don't use bottled regular (Persian) lime juice unless you just can't find key lime juice. The Persian lime juice is more bitter tasting. Bottled key lime juice can be found in your local grocery store. I used Nellie & Joe's Key West Lime Juice. It's concentrated pure key lime juice. My local Kroger carries it. 
It takes quite a few key limes to squeeze out 1 1/4 cups of juice for this pie. Therefore, you really want bottled Key Lime juice. I picked up a bag of key limes simply for the zest in my recipe and for garnish on my pie.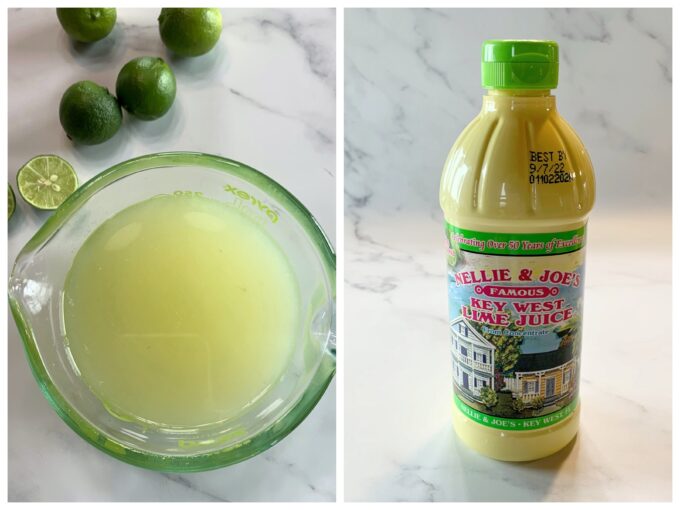 Graham Cracker Crust Ingredients
Sugar
Melted butter
Graham cracker crumbs
Making the graham cracker crust
I don't know about you, but I don't like a graham cracker crust that is too thick and hard.  I feel you shouldn't have to force your fork to break through the crust.  I prefer a thinner crust that is just slightly crunchy, holds together well, is buttery, and easy to cut through with a fork. So…here we go!
Mix the graham cracker crumbs with the melted butter and sugar.
Press it into a pie dish. Use the flat bottom of a measuring cup to press it firmly across the bottom of the dish. Then press the remaining crumbs up the sides and slightly over the edges. 
Bake the crust for 10 minutes and set aside while you make the filling.
Once you add the filling to the crust, use your finger or a knife edge to gently go around the edge and fold some of the edge cracker crumbs badk onto the edge of the filling.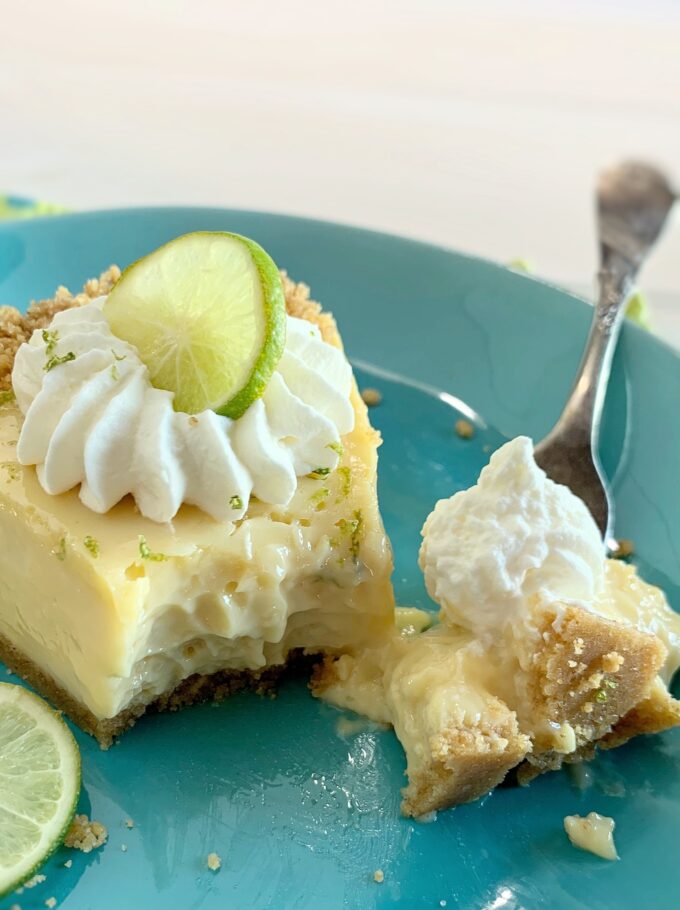 In case you didn't know, back in the day many refrigerator pies contained raw eggs.  That's right, raw eggs.  Nowadays, most people are afraid to eat anything containing raw eggs, therefore, many old recipes have been converted to eggless recipes.  But no worries here.  This Key Lime Pie has cooked eggs!
The filling
The filling is made with 5 easy ingredients, and they can all get whisked together in one bowl by hand, in less than 3 minutes.
Eggs
Sweetened condensed milk
Sugar
Key lime juice
Key lime zest
More light and refreshing desserts you might like…
This recipe was originally posted in July 2018, and reposted on April 18th, 2022 with updated pictures and tips!
If you make this recipe, please rate it and leave a comment below on how you liked it. I love getting your feedback! 🙂
If you wanna see different recipes each day, feel free to follow me on  Facebook, Pinterest, & Instagram. 
Print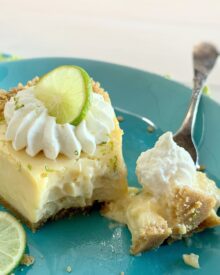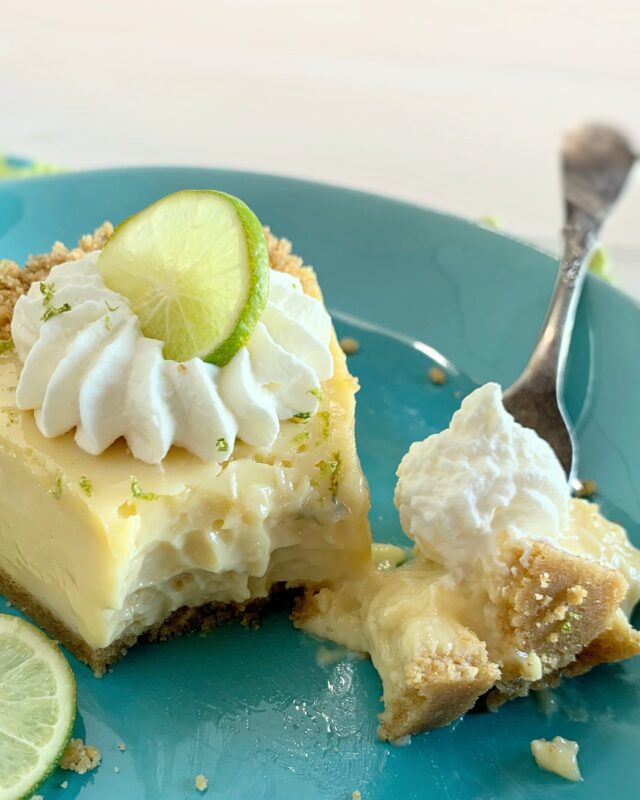 Key Lime Pie
Author:

Prep Time:

15 Minutes

Cook Time:

35 Minutes

Total Time:

50 minutes

Yield:

8

Servings

1

x

Category:

Pies

Method:

Bake

Cuisine:

American
---
Description
This Key Lime Pie is the perfect balance of sweet and tart.  A buttery crunchy crust holds the most delicious, creamy tart filling that simply melts on your tongue.  The perfect dessert to put you in the Summer mood!
---
FOR THE CRUST
1 1/2

cups

graham cracker crumbs, about 9 crackers

2 tablespoons

granulated sugar

6 tablespoons

unsalted butter, melted
FOR THE FILLING
4

large egg yolks

2

cans of sweetened condensed milk, 14-ounces each

2 teaspoons

cornstarch

1 1/4

cups

fresh key lime juice (not lime juice)*

1 teaspoon

freshly grated lime zest
Lime zest for garnish, optional
FOR THE WHIPPED CREAM
1

cup

heavy whipping cream

3 tablespoons

powdered sugar

1 tablespoon

cornstarch

1/2 teaspoon

pure vanilla extract
---
Instructions
Preheat oven to 350 degrees.
FOR THE CRUST
Preheat oven to 350 degrees. Lightly spray a 9-inch pie dish with baking spray.
Add the graham cracker crumbs, sugar, and butter to a small bowl, and mix with a fork until thoroughly combined.
Using a small measuring cup, press the graham cracker mixture into the bottom and all the way up the sides of a 9″ pie dish.  There should be an abundance of crumbs at the top edge of the pie dish.  This is okay.
Bake for 10 minutes to set crust.  Remove the crust from the oven and set it aside.  Leave the oven on while you make the filling.
FOR THE FILLING
In the bowl of a stand mixer, or use a hand mixer, mix the egg yolks until they are lemony in color.  Add the condensed milk and cornstarch and mix for about 30 seconds to incorporate.  Add the key lime juice, and lime zest,and mix for about 1 minute on medium speed until filling is well combined.
Pour filling into the graham cracker crust.  Using your finger or the edge of a spoon or knife, gently rake some of the heaped up crumbs along the top edge of the crust into the filling.
Bake pie for 20 to 25  minutes until the pie is slightly jiggly in the center.  Transfer the pie to a wire rack to cool completely. Place the pie in the refrigerator to chill for at least 2 hours before garnishing with whipped cream.
FOR THE WHIPPED CREAM
Add the whipping cream to the bowl of a stand mixer, using the whisk attachment, or use a hand mixer. Whisk on low speed for about 1 minute until cream begins to thicken slightly (or it will splatter everywhere).  Add the powdered sugar and whisk on medium-high speed until soft peaks form.  Add the cornstarch and vanilla and beat on high speed until stiff peaks form.
Place dollops of whipped cream around the top of the pie next to the edge, or use a piping bag and tip to pipe dollops.
Grate about 1/2 teaspoon of lime zest over the top of the pie, including the whipped cream if desired.
Refrigerate until ready to serve.
---
Notes
*True Key Lime Pie needs real key limes, not regular limes. I used Nellie & Joe's concentrated key-lime juice. You can find it at Kroger, Walmart, or most all grocery stores. If you don't see it, ask for it.
If using a store-bought crust, it is not necessary to pre-bake the crust for 10 minutes.
If you prefer a softer whipped cream, simply whisk it until soft peaks form and stop.  Place dollops on the pie when you are serving it.  However, if you are piping it on the pie before refrigerating (if you want it to look pretty), you will want it to form stiff peaks.
Keywords: key lime pie, key lime, pie recipes, Summer recipes, desserts, lime desserts,
There may be affiliate links in this post. We are a participant in the Amazon Services LLC Associates Program, an affiliate advertising program designed to provide a means for us to earn fees by linking to Amazon.com and affiliated sites.