Twice Baked Potatoes
Twice Baked Potatoes are the ultimate comfort food!! These are heaped over the top with creamy sour cream potatoes, cheddar cheese, bacon, and green onions. Super filling!! I haven't met anyone who doesn't love a good twice baked potato!!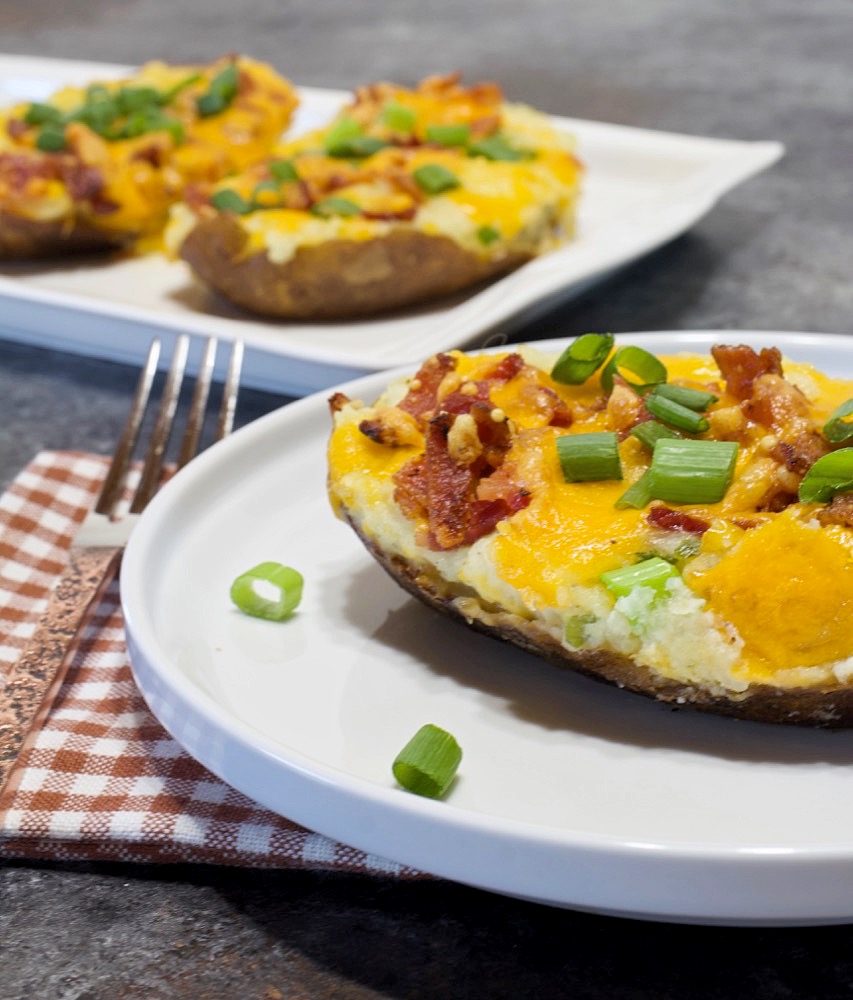 Twice baked potatoes are so filling and comforting and you can make each one to the liking of each person in your family. If you have a vegetarian, just leave off the bacon. They are so versatile. They are normally served as a side, but I could actually make a meal out of these. This recipe calls for 4 large russet potatoes, therefore, the results are 8 servings, once the potatoes are halved and filled, and trust me they are abundantly filled!!
TIPS FOR BAKING & PREPPING THE POTATOES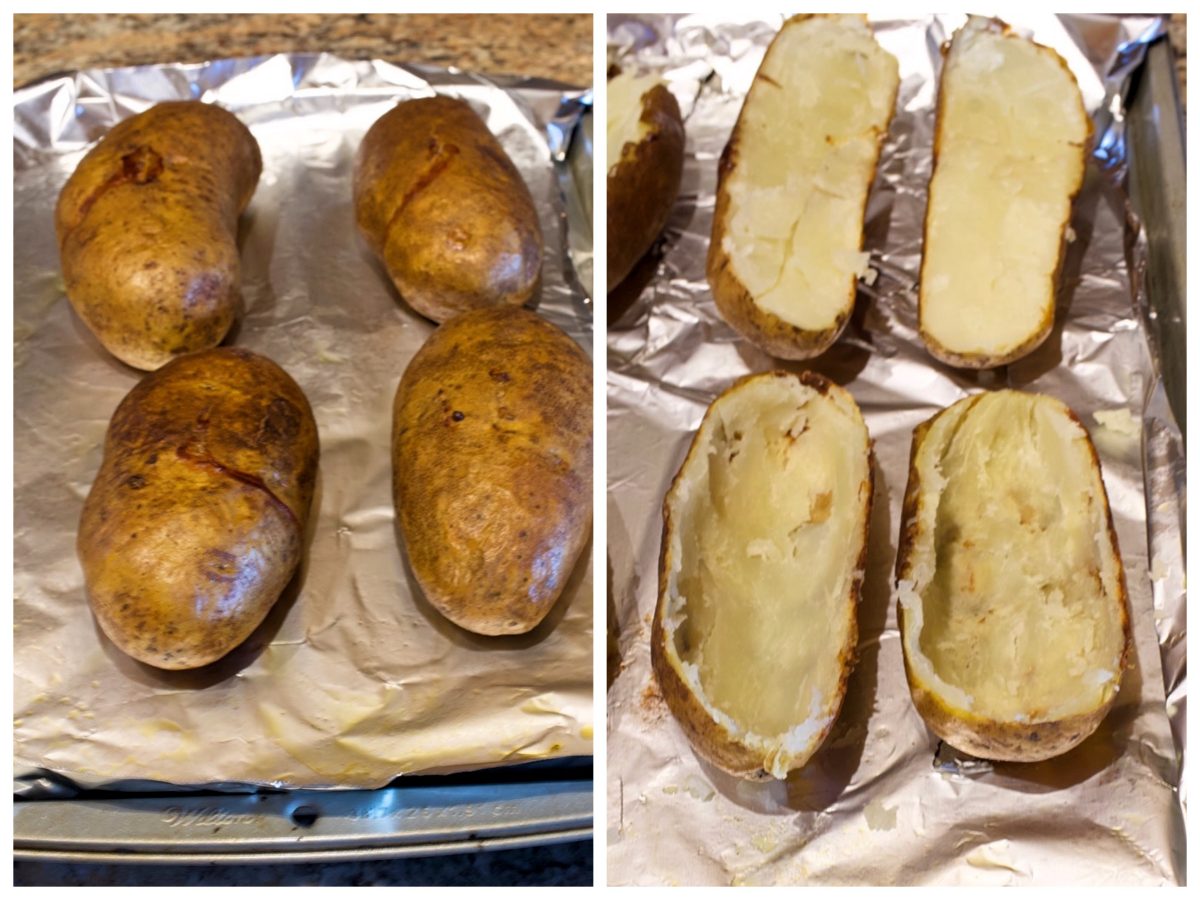 Do not wrap the potatoes in foil before baking. Foil makes for a softer skin that falls apart easier. If you bake them without wrapping them in foil, the skin will be more sturdy.
Fork each potato a few times before baking, and brush them all over with canola oil.
Do not hold the potatoes in your hand when removing the insides. This makes it easier to puncture the skin. Lay the potatoes on a flat surface and use a spoon to remove the insides.
Don't scrape out the entire insides of each potato. Leave about 1/8 inch of the insides intact in the potato skin.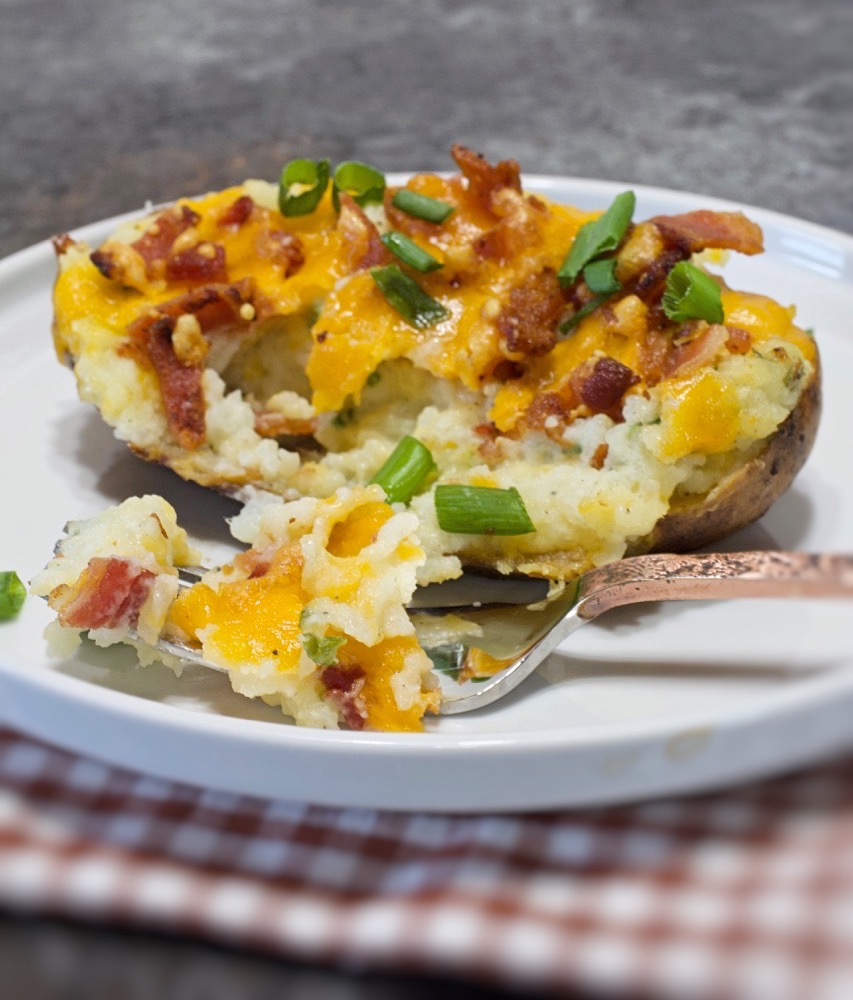 TWICE BAKED POTATO INGREDIENTS
Russet potatoes – Large russet baking potatoes are preferred when you're making these as a dinner side. However, the smaller ones are great to use when you're serving them as an appetizer. Don't forget, 4 large russet baking potatoes equals 8 servings. Each half is very filling, so you'll have plenty to feed the family.
Milk and half & half – If you don't have half & half, no problem. You can use all milk. I suggest adding a little extra butter if you don't have half & half.
Cheddar cheese – If you don't like sharp cheddar feel free to use your preference of sharpness.
Sour cream – You can use low-fat sour cream if preferred.
Bacon – Feel free to use any type of bacon you prefer, or you can omit it for vegetarians. The potato will still be loaded with flavor from the other ingredients.
Green onions – You can opt to use scallions if you prefer. Scallions are just a little bit milder in flavor than green onions. Chives can also be used instead of the onions.
Salt & pepper – Make sure you don't leave out salt & pepper. These are both essential for any baked or cooked potato recipe.
MAKING CREAMY POTATOES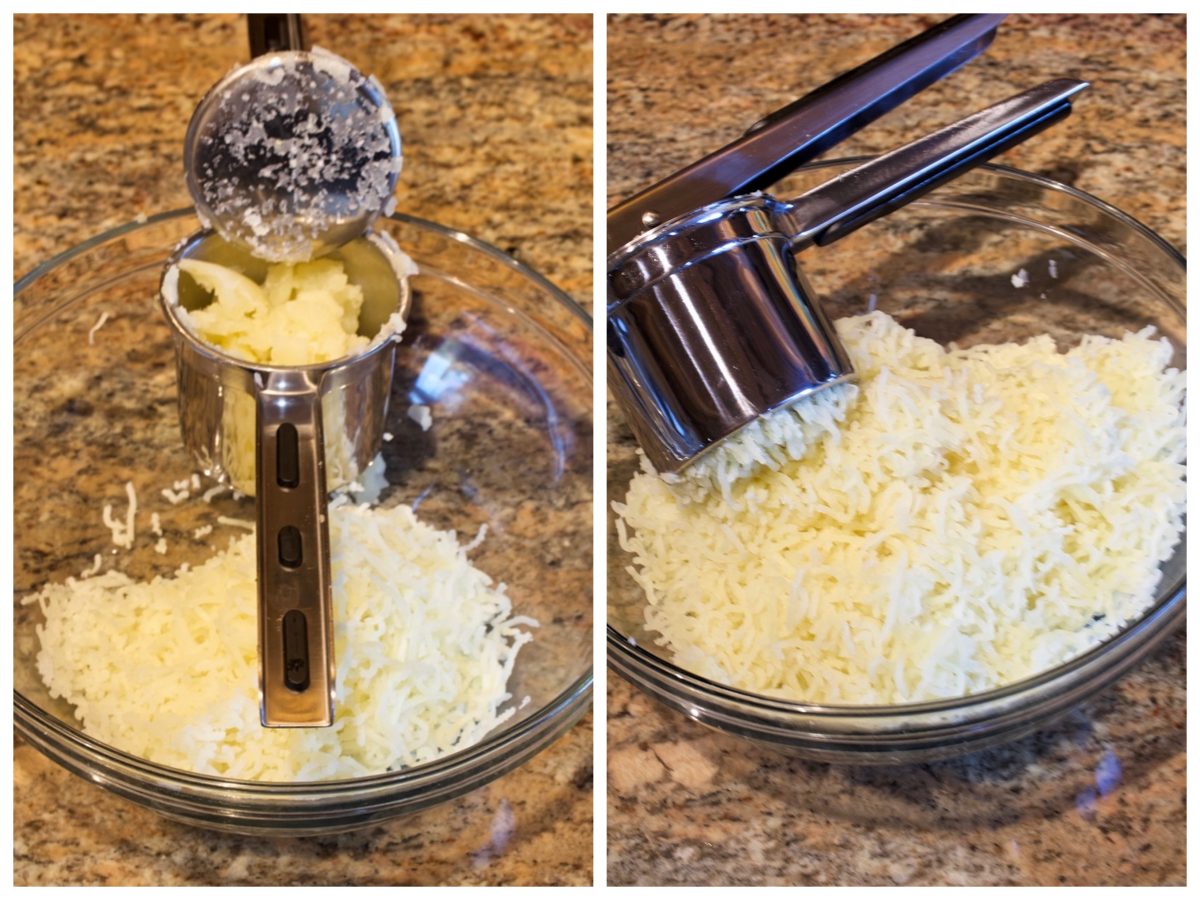 DON'T FRET if you don't have this kitchen tool. In case you're not familiar with it, this is a potato ricer. I never owned one in my life until recently, and I love it. It makes the fluffiest mashed potatoes ever! Mine is by Good Grips. However, you don't have to use it for this recipe. However, if you do have one…use it. If you don't have a potato ricer, simply mash the potatoes really well. Then I suggest adding them to a mixing bowl and mixing them really well with the other ingredients, using a mixer, to make sure there are no lumps remaining.
EASY STEPS
It's super easy to make these twice baked potatoes. Here are the simple steps…
Wash and dry 4 large russet baking potatoes. Fork each potato a few times and rub with canola oil.
Bake potatoes at 425 degrees for about 1 hour and 15 minutes until they are fork tender. You can actually do this the day before if you prefer.
Cut each potato in half and allow them to cool slightly. Leave the potatoes on the baking sheet, and use a spoon to remove the insides of each potato half. Don't hold the potato in your hand, because it's easier to puncture the outside skin.
Once you've scooped out the insides, add them to a bowl and mash them. Add the other ingredients and bake for about 15 to 20 minutes longer until the cheese melts and starts to slightly brown around the edges.
Check out these other great side dishes…
Print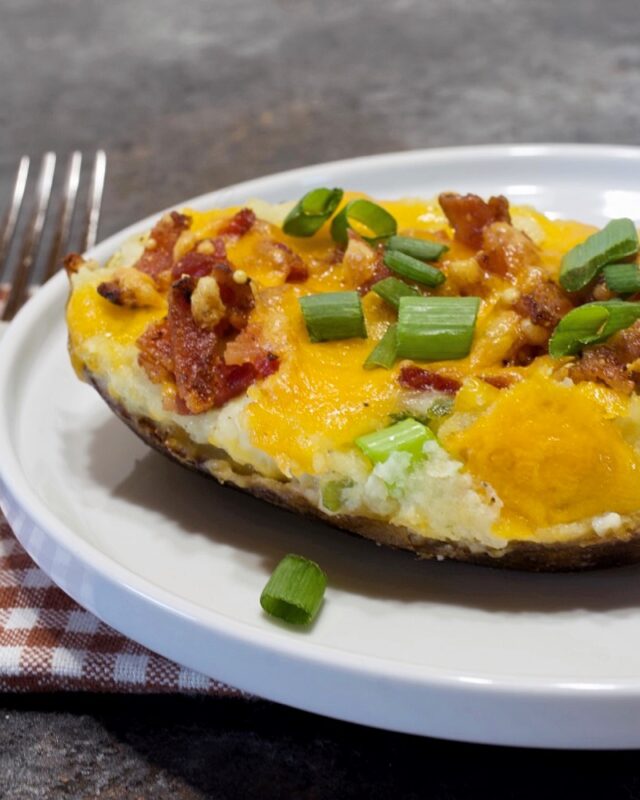 Twice Baked Potatoes
Author:

Prep Time:

30 Minutes

Cook Time:

2 hours

Total Time:

2 hours 30 minutes

Yield:

8

potato halves

1

x

Category:

Sides

Method:

Bake

Cuisine:

American
---
Description
Twice Baked Potatoes are the ultimate comfort food!!  These are heaped over the top with creamy sour cream potatoes, cheddar cheese, bacon, and green onions
---
4

large russet baking potatoes

2 tablespoons

canola oil

1/2

cup

milk

1/2

cup

half & half
1

8

ounce

bar sharp cheddar cheese, shredded (divided)

3/4

cup

sour cream

3 tablespoons

softened butter

2 teaspoons

kosher salt

1/2 teaspoon

fine black pepper

1/4

cup

finely diced green onions

5

slices cooked bacon, roughly chopped
Coarsely chopped green onions for garnish
---
Instructions
Preheat oven to 425 degrees.
Wash and pat dry the potatoes.  Fork the potatoes several times.  Place the potatoes on a baking sheet lined with foil.  Brush the potatoes with the canola oil, making sure you brush the bottoms too.  Each potato should be completely coated with the oil.  Bake the potatoes until a knife slides through them easily, about 1 hour and 15 minutes, and remove them from the oven.  Allow them to cool for 15 minutes.
Slice each potato in half lengthwise.  As soon as the potatoes are cool enough to handle, use a spoon to scoop out the insides and transfer them to a bowl, being very careful not to pierce the skin of the potatoes.  I find it easier to leave the potato on a flat surface.  I hold the potato with one hand while using the other hand to scoop out the inside.  If you hold the potato in your hand, it's easier to pierce the skin.  I also recommend not removing every little bit of the insides, in order to keep the skin intact.
Arrange the potato skins on a foil-lined baking sheet.  Using a potato ricer, rice the potatoes into a large mixing bowl.  If you don't have a potato ricer, don't worry.  Just mash the potatoes with a potato masher.  Add the milk, half & half, 1/2 of the cheese, sour cream, butter, salt, pepper, and finely diced green onions.  Mix everything together until it well combined and make sure there are no lumps in your potatoes.  Divide the mixture evenly among the potato skins.  I like to heap the filling up, using as much as I can per potato skin.  You will have plenty.  Top with the bacon and remaining cheese.
Bake until the potatoes are heated through and the cheese is melted and starting to brown a little around the edges, about 20 minutes.
Garnish with coarsely chopped green onions and serve.
These keep well in the refrigerator for a couple of days.  Cover them so they don't dry out.  I recommend not garnishing the tops with green onions if you know you're going to refrigerate them.  Reheat in the microwave and then garnish them.
---
Notes
The potatoes can be frozen for up to 3 months, but don't freeze them with the green onions on top.
Keywords: twice baked potatoes, baked potatoes, potatoes,
There may be affiliate links in this post. We are a participant in the Amazon Services LLC Associates Program, an affiliate advertising program designed to provide a means for us to earn fees by linking to Amazon.com and affiliated sites.