Favorite White Cake
If you're looking for the best White Cake recipe, you've come to the right place. This cake has a tender, velvet-like texture and a wonderful vanilla flavor, and it tastes incredible when finished with light and marshmallowy Seven-Minute frosting! This recipe also uses the reverse creaming method, resulting in a more refined cake crumb.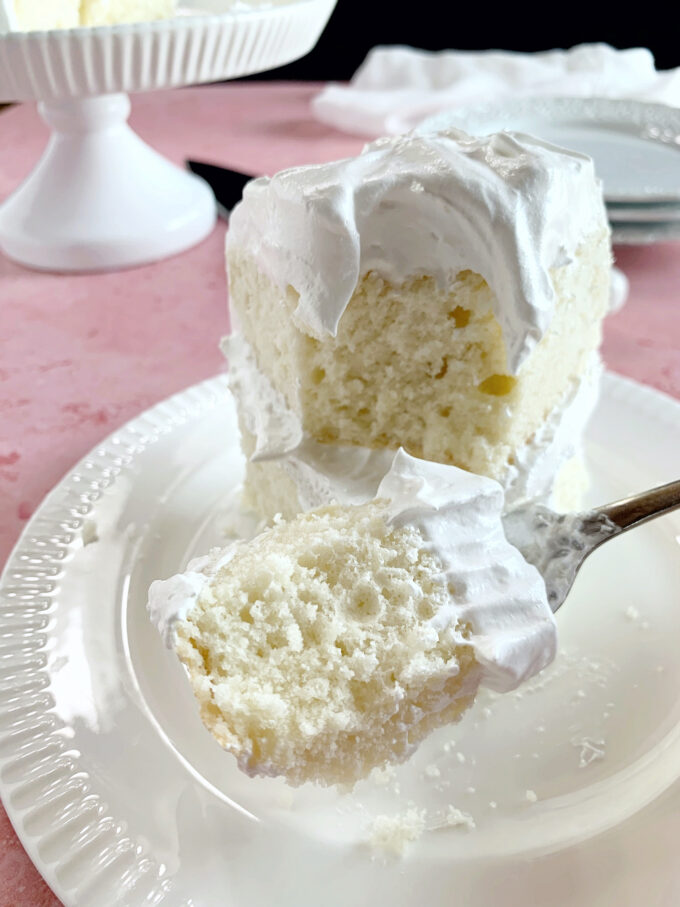 Do you ever find yourself wondering what the difference is between white and vanilla cake? Don't worry, you're not alone. It seems there are lots of people scratching their heads, trying to figure out the same thing. I hope I can clear up the confusion for you 🙂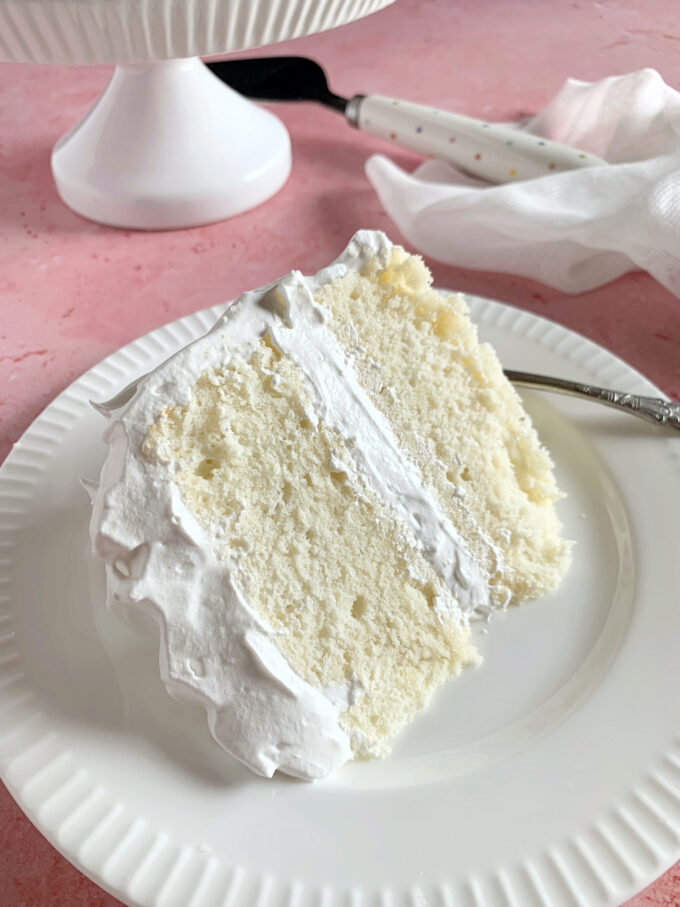 What's the difference between white and vanilla cake?
Vanilla cake is made with whole eggs and the usual, butter or oil, sour cream or buttermilk, vanilla, etc. The color of the cake is an off white or pale yellow color, due to egg yolks, butter, and vanilla.
White cake is made with egg whites only. It's made a couple different ways depending on how pristine white the baker wants the cake to be. See options #1 & #2.
#1 White Wedding Cakes are usually preferred to be pristine white. Therefore the baker usually prefers to use clear (imitation) vanilla extract, and crisco solid shortening in place of butter. They usually make a pristine white frosting to go on the cake.
#2 My Favorite White Cake is not pristine white, but that makes abosolutely NO difference to me. You know why? Because I prefer a cake that has a great flavor and if you look at my pictures here, I think you'll agreee it's probably white enough. What's the difference between option #1 and #2? The second one, (my favorite), is made with pure vanilla extract, (it's not clear, it's brown), and real butter. Flavor…flavor…flavor! The one thing that is the same is the use of egg whites only, no egg yolks.
Creaming or Reversed Creaming Method
Most cakes are mixed in one of two ways. The creaming method or the reverse creaming method, the creaming method being the most common.
For over 50 years I've used the standard creaming method for mixing cake batter. It was ingrained in my brain to always mix the butter and sugar first, followed by the eggs, then by the liquid and dry ingredients that were added alternately. Adding the dry ingredients last kept the flour from being over incorporated, and mixing the butter and sugar together first, helped leaven the cake batter by driving air into the butter with the help of the sugar crystals.
I've seen quite a bit of the reverse creaming method used by bakers these days, so it got my curiosity up. You see, in the reverse creaming method, the dry ingredients and sugar are mixed together first. Then the butter and a portion of the liquids are mixed in, followed by the remaining liquids. My first thought on this was, no way can this work. Adding the flour first will result in over incorporating the flour. I was always taught this would result in a tough or rubbery texture. Well, I'm here to tell you that's not totally true!
In the reverse creaming method, adding the fats to the dry ingredients first ensures that all of the flour particles are coated with butter. This, in turn, minimizes gluten formation. It also minimizes the size of the air particles that are incorporated, resulting in a finer crumb. Hmmm…makes sense.
To sum it up…the creaming method helps to lighten the texture of the cake, and the reverse creaming method results in a finer cake crumb.
Which method did I choose to use for this recipe? You got it…the reverse creaming method. By using the reverse creaming method my cake resulted in a fine crumb, and I didn't have to wonder about using the creaming method to get a light texture. I whipped my egg whites before adding them in, and the whipped egg whites resulted in a perfect light texture.
Seven Minute Frosting
Now let's talk about the frosting. I wanted a perfect frosting for this cake. Not the usual buttercream or cream cheese frosting. I wanted something light and airy and not overly sweet. A perfect match for this yummy white cake, and I knew exactly what I wanted… seven-minute frosting!
The seven-minute frosting takes 7 minutes to make! That's right! Oh, and it's super easy to make. What does it taste like? Whipped fluffy homemade marshmallowy goodness!! 🙂
Update: I've recently made this cake with Swiss Meringue Buttercream. It's also a great frosting for this cake. It's not overly sweet, and it holds up for a very long time…longer than seven-minute frosting. So if you're taking this cake to an event where it will be sitting out for hours, you might want to make this one.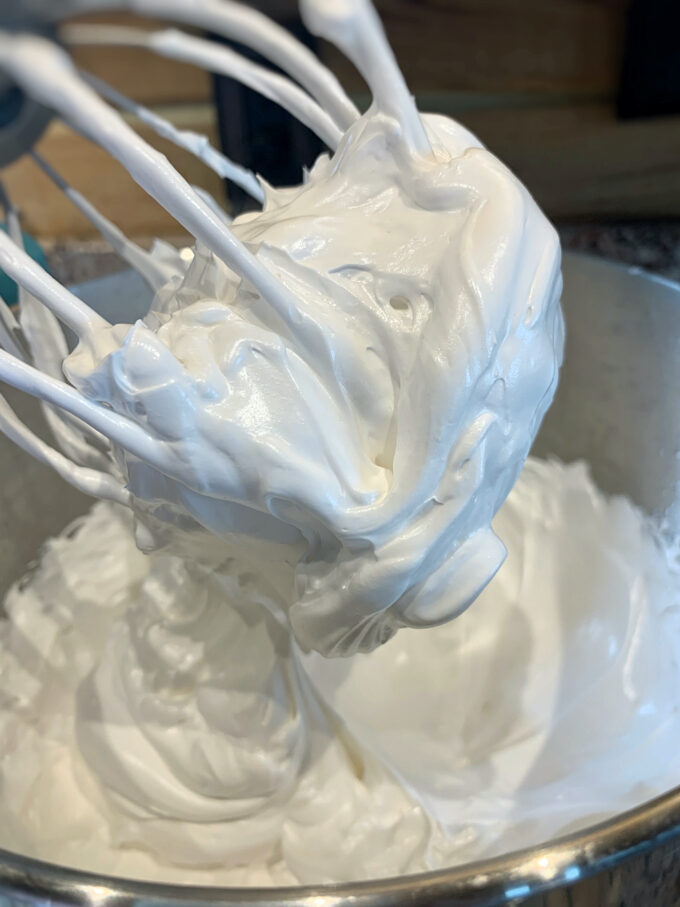 Recommended for this recipe,
You'll have 9 leftover egg yolks when you make both the cake and the frosting. Here are a few recipes you can use those egg yolks in,
Print
Favorite White Cake
Author:

Prep Time:

35 minutes

Cook Time:

35 minutes

Total Time:

1 hour 10 minutes

Yield:

12

servings

1

x

Category:

Cake

Method:

Bake

Cuisine:

American
---
Description
This velvety soft cake uses the reversed creaming method, and it has a perfect tender and moist crumb. 
---
CAKE
2

cups

cake flour

1/2 teaspoon

baking soda

3/4 teaspoon

baking powder

3/4 teaspoon

salt

1 1/2

cups

granulated sugar, divided

1

cup

sour cream, room temperature

2

sticks (1 cup) unsalted butter, room temperature

1 tablespoon

canola or vegetable oil

1 tablespoon

pure vanilla extract

6

large egg whites, room temperature

1/2 teaspoon

cream of tartar
SEVEN MINUTE FROSTING
3

large egg whites

1 1/4

cups

granulated sugar

5 tablespoons

water

1/4 teaspoon

cream of tartar

1 teaspoon

pure vanilla extract
---
Instructions
CAKE
Preheat oven to 350 degrees.  Line two 8-inch cake pans with a piece of waxed or parchment paper. Grease and lightly flour the paper, but not the sides of the pans.
To the bowl of a stand mixer, (or use a hand mixer), add the cake flour, baking soda, baking powder, salt and 1 cup of the granulated sugar.  Turn the mixer on low to thoroughly combine all of the ingredients.  On low speed, add 1/2 of the sour cream and the butter, one tablespoon at a time.  Stop and scrape down the sides and bottom of the mixing bowl.  Mixing on low speed, add the remaining sour cream,  oil, and vanilla.  Mix on medium speed until the mixture becomes light and airy, about 2 minutes.
In a separate bowl, using the whisk attachment, whip the egg whites and cream of tartar together on medium-high speed until they form soft peaks.  Turn the mixer to medium-low and slowly add the remaining 1/2 cup of sugar.  Turn the mixture to medium-high speed and mix until stiff shiny peaks begin to form.  Do not over beat!  Once the egg whites look stiff and shiny, stop the mixer.  If they look dry, you've over mixed, and the cake layers may not rise as much.
Using a spatula, fold the egg whites into the first mixture, one third at a time, folding only until there are slight streaks of egg white remaining.  Note:  To fold, simply run a spatula down the side of the mixing bowl, under the mixture and back up and over.  Divide the batter evenly between the two cake pans, using an offset spatula to spread evenly.  Gently tap the pans on a counter to remove air bubbles.
 Bake the cakes for 30 to 35 minutes until the cakes are golden brown on top and a toothpick inserted comes out with moist crumbs on it.  Ovens vary!  I suggest doing the first toothpick check at 25 minutes.
Cool for 15 minutes in the pans and invert the cakes onto a wire cooling rack to finish cooling.
SEVEN MINUTE FROSTING
Fill a medium saucepan about 1/2 full with water.  Bring it to a boil over medium heat and reduce the heat to medium-low so that it just simmering around the edges, not boiling.
Add the egg whites, sugar, water, and cream of tartar to a large heatproof bowl of a stand mixer.  If you don't have a stand mixer, just make sure you use a heatproof bowl.
Place the bowl over the saucepan of simmering water.  Whisk the mixture frequently, for about 5 minutes, until the sugar has completely dissolved and it will also be foamy.  This takes about 5 minutes.  Check it by rubbing a tiny bit of the mixture between two fingers.  If it feels grainy, the sugar has not dissolved yet.
Place the bowl on the stand mixer fitted with the whisk attachment.  Beat on high speed until the frosting is very glossy and triples in volume, about 7 minutes.  Mix in the vanilla and any food coloring, if using.
 Spread the frosting on a cake or cupcakes as desired.
This frosting will hold up for 1 day at room temperature.  After day 1, this frosting will slowly begin to disintegrate and seep into the cake.  It's best to serve cake, the day it's made or the very next day.
---
Notes
If your frosting breaks down or disintegrates the same day it's made, it was under whipped.
If your frosting has a grainy texture, the simple syrup wasn't cooked long enough to completely dissolve the sugar crystals.
This cake batter will also fill 3 6-inch cake pans.
Cake recipe adapted from Baking Sense.
Keywords: velvet white cake, white cake, seven minute frosting, marshmallow frosting, cake, white cake recipe,
There may be affiliate links in this post. We are a participant in the Amazon Services LLC Associates Program, an affiliate advertising program designed to provide a means for us to earn fees by linking to Amazon.com and affiliated sites.