Pumpkin Spice Cookies with Brown Butter Cinnamon Icing
These Soft Pumpkin Spice Cookies with Brown Butter Cinnamon Icing are warmly spiced, thick, and cakey. You don't need to chill the cookie dough either… just mix, scoop, and drop! These cookies are irresistible!
This recipe was originally posted on 10/10/2017. Updated with new pictures on 9/30/2021.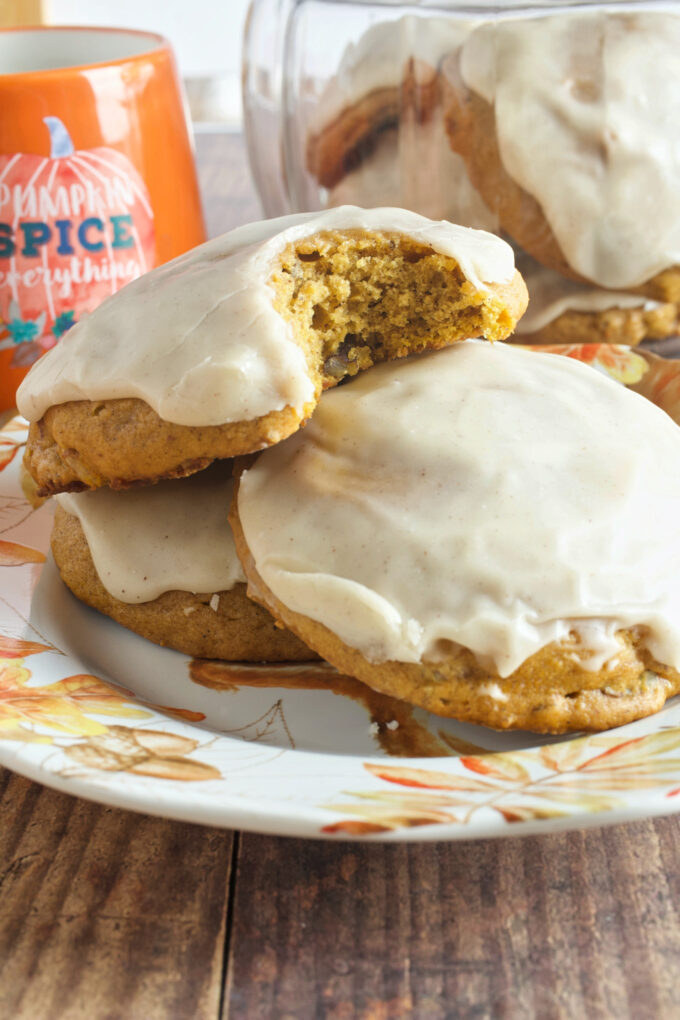 I'm so glad fall is finally here. Now, if it would just stick around for a while. Long enough for all of us to enjoy the changing leaves, fall walks, and most of all…fall desserts. I love all fall desserts, but pumpkin is hands down my favorite. Now let's talk about a particular pumpkin dessert, Pumpkin Cookies.
I know you've heard me talk about my top two cookie recipes, one of them being my Sour Cream Brown Butter Cookies. Well, I got to thinking about what these big and soft cake-like cookies would taste like if they were pumpkin flavored, and the little wheels started turning. Oh, and in case I didn't mention it, I love pumpkin so much that I created a category just for pumpkin recipes here on my blog.
Okay, back to these cookies. These cookies are made of pure pumpkin puree, warm spices, and coarsely chopped pecans. However, you can omit the pecans and they're still delicious! You probably have all the ingredients in your pantry right now to make these big soft babies! Uh…did I mention I have 17 cans of pumpkin puree in my pantry right now? I'm on top of my game this year, in case there's some kind of shortage of canned pumpkin.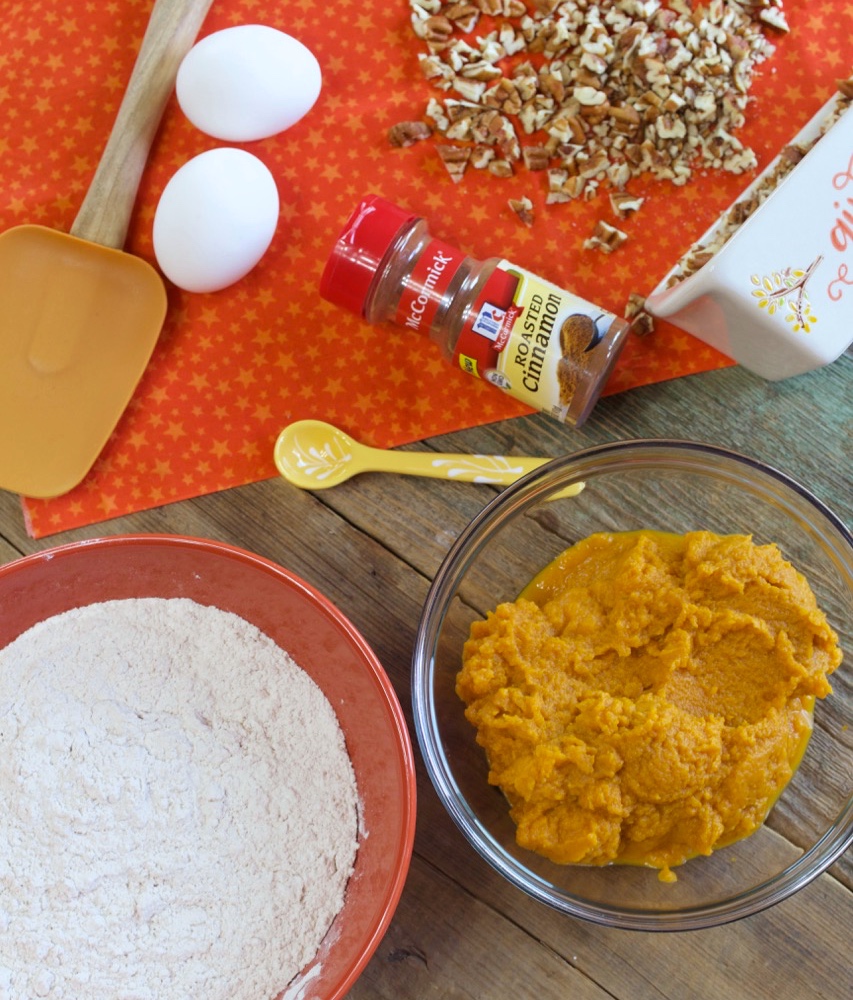 Things To Like About These Pumpkin Cookies
No chilling: The dough doesn't need to be chilled. Just mix, scoop, and drop the dough onto cookie sheets.
Flavor: These cookies have the perfect fall flavors, pumpkin, cinnamon, and nutmeg. Not over powering, just perfect!
Texture: These cookies have a soft and cakey texture, and by the way, they're big and thick too.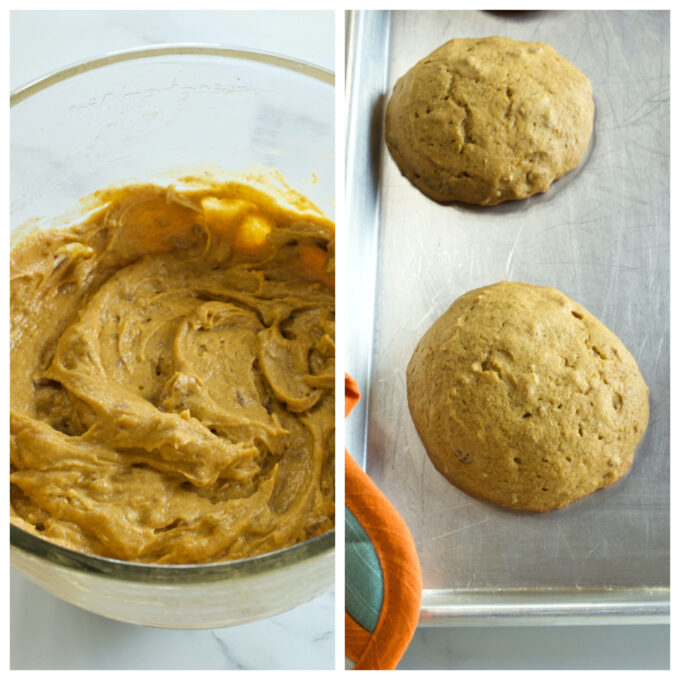 How many cookies does the recipe make?
I used a large 1/2 cup cookies scoop for these big babies! They made 12 jumbo cookies. Feel free to use a smaller cookie scoop if you prefer and of course, the yield will increase.
Can I Use Freshly Cooked Pumpkin?
YES! However, the freshly cooked pumpkin will have more moisture in it than canned pumpkin puree. Therefore, you'll need to drain the excess water from it. The best way is to drain it is through a piece of cheesecloth for a few minutes. If you don't have a cheesecloth, place the pumpkin in a bowl lined with several paper towels and allow it to sit for several minutes.
Can I Use Canned Pumpkin Pie Filling?
NO! Pumpkin Pie Filling is totally different than Pumpkin Puree and it's used only in pies. Besides, it already has sugar, spices, and other ingredients added to it. We want to use pure Pumpkin Puree in these cookies and add our own additional ingredients.
BROWN BUTTER CINNAMON ICING
These cookies don't need a thick frosting on them. In fact, they really don't need anything on them. They're that good! However, I decided to complement them with a thin Brown Butter Cinnamon Icing. The icing is made of brown butter, vanilla, cinnamon, salt, half & half, and powdered sugar, and it takes no time to make.
Melt and brown the butter, add it to a mixing bowl with the remaining ingredients and mix to combine. Voila!!
ICING TIPS:
If the icing starts to thicken, add a tiny bit more of half & half or milk.
Allow the cookies to sit for a couple of hours before trying to stack or layer them.
What could be better than a cookie jar full of Pumpkin Spice Cinnamon Cookies with brown butter icing? Nothing that I can think of
More great PUMPKIN recipes…
Marbled Pumpkin Spice Cheesecake
Recommended for this recipe:
Print
Pumpkin Spice Cookies with Brown Butter Cinnamon Icing
Author:

Prep Time:

20 minutes

Cook Time:

15 minutes

Total Time:

35 minutes

Yield:

1

8

1

x

Category:

Cookies

Method:

Bake

Cuisine:

American
---
Description
These big soft cookies are more like little pumpkin cakes that have a melt in your mouth Brown Butter Cinnamon Icing.
---
FOR THE COOKIES
2 1/3 cups

all-purpose flour

1 teaspoon

baking powder

1 teaspoon

baking soda

1/2 teaspoon

salt

1 1/2 teaspoons

cinnamon

3/4 teaspoon

nutmeg

1

stick unsalted butter, (

1/2 cup

) room temperature

2

large eggs, room temperature

1 1/2 cups

granulated sugar

1 teaspoon

pure vanilla extract

1

can pumpkin puree, 16 ounce (not pumpkin pie filling)

1 cup

pecans, coarsely chopped
FOR THE ICING
1/2 cup

(1 stick) unsalted butter

1 teaspoon

pure vanilla extract

1/4 teaspoon

cinnamon

1/8 teaspoon

salt

5 tablespoons

half & half, divided

2 cups

powdered sugar
---
Instructions
FOR THE COOKIES
Preheat oven to 350 degrees.
In a large bowl, whisk or sift together the dry ingredients and set them aside.
In a saucepan, melt the butter. Lightly whisk or stir the butter until it has browned and remove from the heat. This will take up to 5 minutes. It should go from a golden color to a light brown color and you should smell the  nutty aroma. Transfer the butter to a large mixing bowl. Mix it on medium speed until it cools down. Add the eggs, sugar, vanilla and pumpkin. Mix on medium speed for about one minute to combine. Add the pecans and dry ingredients and mix just long enough to incorporate.
Using a large cookie scoop, place scoops of cookie dough on ungreased cookie sheets, leaving plenty of room between cookies for spreading. Bake for approximately 15 minutes until cookies are set and a toothpick comes out clean. Transfer to a wire rack to cool.
FOR THE ICING
Add the butter to a medium saucepan over medium heat.  Melt the butter, swirling the pan occasionally.  Continue until the butter has lightly browned.  Don't over brown or you will burn it.  Allow the butter to cool for a minute.
Add the butter to a large mixing bowl. Add the vanilla, cinnamon, salt, 3 tablespoons of half & half, and one cup of sugar. Mix to combine. Add the remaining half and half as needed until you have a thin icing. followed by the last cup of sugar. Mix until smooth. This is thin icing, not a thick frosting.  If it's too thin, just add a tiny bit of sugar.
Spread icing over cookies in a thin layer, (not thick like frosting). Allow icing to set before storing cookies. Store in an airtight container.
Cookies will stay fresh for up to five days.
---
Notes
I used a 1/2 cup cookie scoop for this recipe and it yielded 12 jumbo cookies.  You can use a medium cookie scoop and the yield will be 18.
Keywords: pumpkin cookies, cookies, pumpkin, pumpkin recipes, pumpkin desserts, pumpkin spice cookies, fall cookies,
There may be affiliate links in this post. We are a participant in the Amazon Services LLC Associates Program, an affiliate advertising program designed to provide a means for us to earn fees by linking to Amazon.com and affiliated sites.