Cinnamon Rum Caramels
Cinnamon & rum extracts give these chewy and buttery Cinnamon Rum Caramels a perfect touch of warmth and they are deliciously addicting!!
Meet my new favorite caramel. These chewy & buttery caramels are excellent on their own, but wait until you taste the added flavor and touch of warmth from a small addition of cinnamon & rum extracts.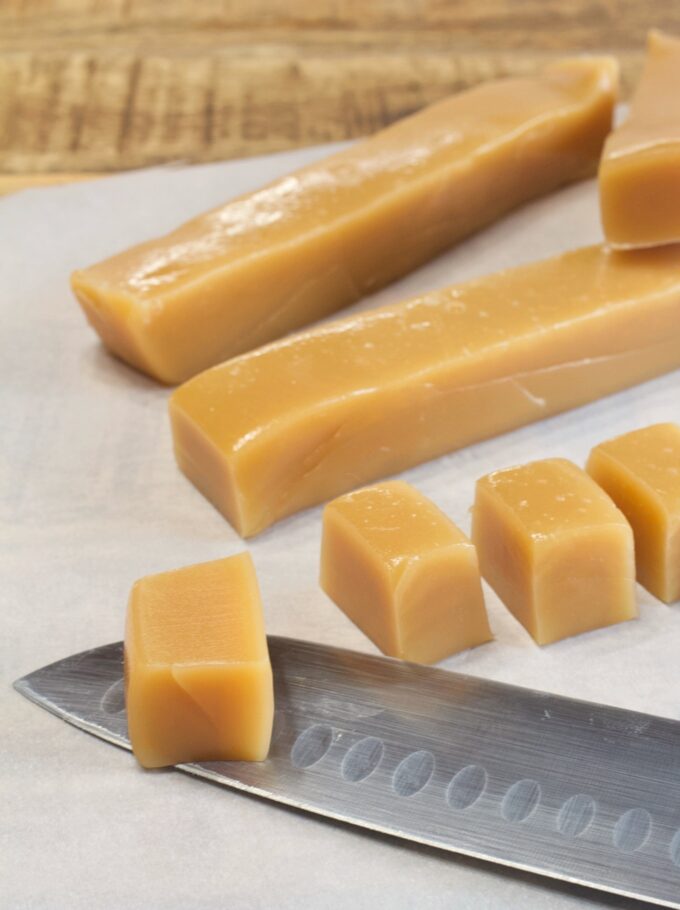 Don't worry! If you've never made caramels, I'm here to give you all my tips for making them. I'll even show you what not to do…learn from my mistakes so you don't have to make them.
Tips for making this candy
Tip #1 See anything that looks wrong with the above picture? I do!! See how the sides of the candy not lined with parchment paper adhere to the dish? With candy recipes such as fudge, it's usually safe to use one piece of parchment paper or foil in the dish. However, I have found with making soft chewy caramels such as these, that it is best to place two pieces of parchment paper in the dish…one going in each direction. Trust me, it will make your life easier when go get ready to remove the candy from the dish. Learn from my trial and error.
Tip #2 Allow the caramels to set in the refrigerator overnight to set up. Once they're set up, allow them to come to room temperature before trying to remove from the pan or dish.
Tip #3 Wrap the candies separately in nonstick wrappers such as waxed, cellophane or foil. I used cellophane wrappers that I purchased online and they stay twisted. I really like them.
Tip #4 If using a candy thermometer, make sure it is correctly calibrated. If it's not, make sure you allow for the difference in degrees that it is off. Click here to see how to calibrate your candy thermometer. If you do not have a candy thermometer, click here to see how to test candy in cold water.
Tip #5 Don't try substituting real rum for rum extract in this recipe. I experimented with this. You might think pure rum will taste more prominent in this recipe but it's not. I used up to 2 teaspoons of pure rum and couldn't taste it in the candy. Also, if you substitute cinnamon oil for cinnamon extract, cut the amount in half.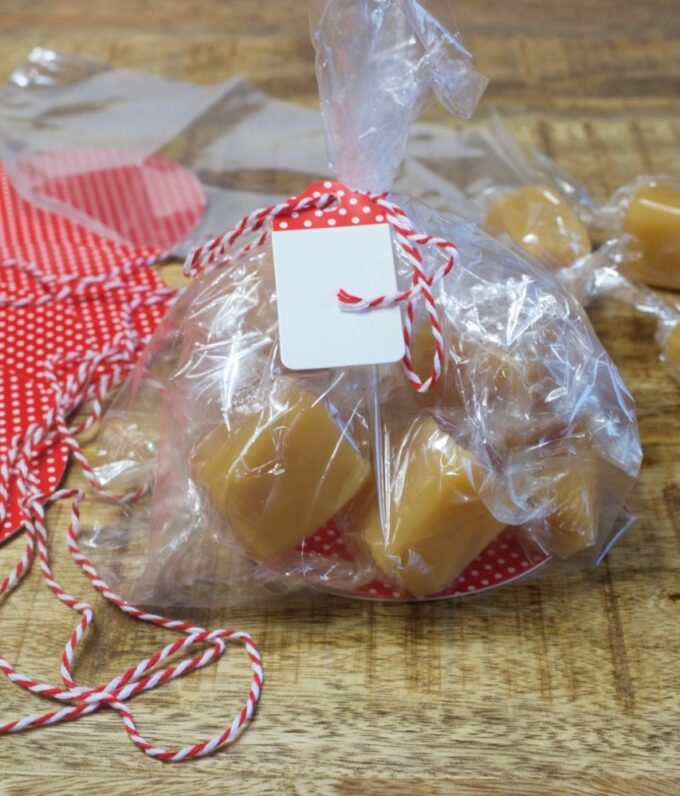 Did I mention how these caramels make great gifts? Place a few in a cute little bag with a ribbon and tag and make someone really happy!!
See all my candy recipes here.
If you make this recipe please rate it, and leave a comment below on how you like it. I love hearing from you!
Wanna see different recipes each day? Feel free to follow me on Facebook, Pinterest and Instagram.
Print
Cinnamon Rum Caramels
Author:

Prep Time:

30 Minutes, includes wrapping candy

Cook Time:

20 Minutes

Total Time:

33 minute

Yield:

48

Pieces

1

x

Category:

Candy
---
Description
These delicious chewy caramels are melt in your mouth delicious.  The cinnamon and rum extracts add a perfect touch of warmth to these dreamy little candies.
---
2

cups

heavy whipping cream (full fat)

1 1/2

cups

light corn syrup

1

cup

(2 sticks) butter, unsalted

1

cup

granulated sugar

1

cup

light brown sugar, firmly packed

1/2 teaspoon

pure rum extract* (see notes below)

1/2 teaspoon

cinnamon extract* (see notes below)
---
Instructions
Butter an 8-inch square pan.  You can use cooking spray if you prefer, however, I'm not a fan of cooking spray myself.  Line the pan with a long piece of parchment paper, allowing it to hang over two ends of the pan, for easy removal later.  Butter the paper and place another piece of parchment paper on top of the first piece, placing it where the remaining two insides of the pan are covered with the paper, allowing it to hang over the edges.
 Add 1 cup of the cream, corn syrup, butter and sugars to a large saucepan.  Bring to a boil over medium heat, while stirring constantly.  Continue stirring while slowly adding the second cup of cream, making sure the mixture doesn't stop boiling.  Continue cooking without stirring, until the mixture reaches 250 degrees on a candy thermometer or forms a hard ball when tested in cold water, (a ball that will still hold its shape when pressed).  Remove from heat. Click here to learn more about testing candy in cold water.
Add the extracts and mix well to combine.  Pour mixture into the prepared pan and refrigerate overnight.
Bring the caramel to room temperature. Grap the overhanging pieces of the parchment paper on two ends, and gently lift the slab of candy up and out of the pan.  If you have a problem getting the candy to lift out of the pan, you might need to allow it to set a few more minutes.  If you still have a problem removing it from the pan, you can cut the caramels in the pan.  Use a small sharp knife and start by cutting one piece in a corner.
Wrap the candy in wax paper squares or other non-stick candy wrappers such as cellophane wrappers.
Candy will stay fresh for up to 5 days at room temperature or 2 weeks if refrigerated.  Candy can be individually wrapped and frozen for up to 1 month.
Recipe adapted from Fall Baking Magazine
---
Notes
This candy freezes well.  Make sure the pieces are individually wrapped before freezing.
*My advice is to use the exact extracts as specified in this recipe.  Do not use artificial extract and if substituting cinnamon oil for cinnamon extract, reduce the amount by half.  See my notes above recipe for my experiments with the flavorings in this candy.
Keywords: cinnamon rum caramels, caramels, cinnamon, rum, candy, holiday candy, Christmas candy, caramel candy, rum caramels, rum candy, holiday candy,
There may be affiliate links in this post. We are a participant in the Amazon Services LLC Associates Program, an affiliate advertising program designed to provide a means for us to earn fees by linking to Amazon.com and affiliated sites.