Thin & Chewy Chocolate Chip Cookies
Published: September 19, 2018 · Modified: December 24, 2022
These Thin & Chewy Chocolate Chip Cookies are thin yet still chewy and SO buttery, and they still have room for lots of chocolate. Just wait until you smell them in the oven! Thin, chewy, and buttery heaven!!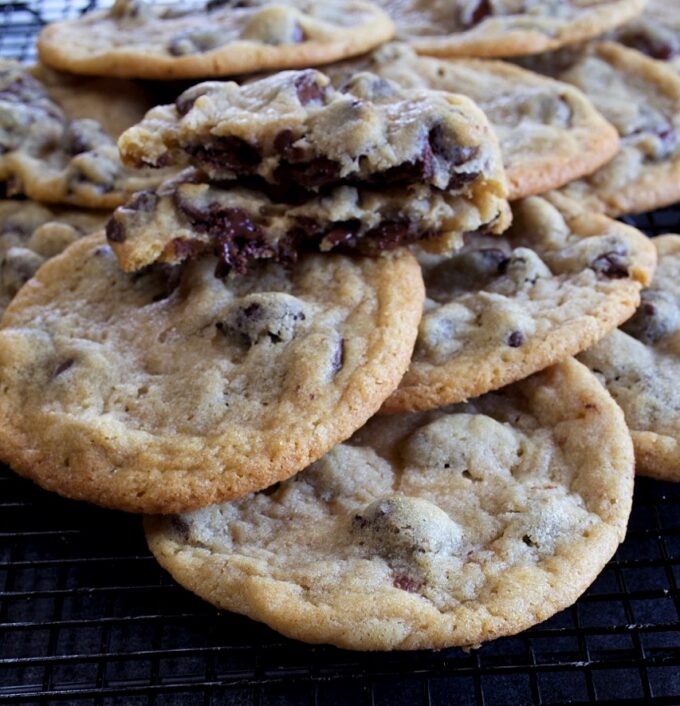 I have had several requests for chocolate chip cookie recipes, and my #1 request is for chewy. Therefore, I'm starting today with thin & chewy chocolate chip cookies. Thin & chewy, but still room for all those chocolate chips.
So are you ready to learn how to make perfect thin and chewy chocolate chip cookies?
Tips for making Thin & Chewy Chocolate Chip Cookies
Don't over mix the batter. Mix the butter and sugars until they are creamy and free of all sugar lumps, but once you add the flour, only mix long enough to incorporate the flour. Add 1/2 of the flour and incorporate it, then add the second 1/2 and barely, I mean barely mix it in. Add your chocolate chips and then finish incorporating the flour along with the chocolate chips. This only takes a few seconds. Why should you incorporate the flour and stop mixing, you ask? Here's why. The eggs contain water and once you mix flour with eggs (water), it forms gluten. Activated gluten makes things chewy. Gluten can't form in fat (butter).
Use butter, not margarine or shortening. Butter prevents the formation of gluten, which results in a more tender cookie but also a cookie that spreads more. The more butter you use, the more the cookies will spread.
Use part brown sugar. For an extra chewy cookie use equal amounts of brown and granulated sugar. The brown sugar lends to a chewier texture.
Add one extra egg yolk. If your recipe calls for 2 eggs, use 1 whole egg and 1 egg yolk. Egg whites dry out quickly when they are baked, stealing some of the moisture from the cookies.
Bake at a lower temperature. The lower the temperature, the longer it takes for the cookies to bake, therefore giving them more time to spread.
Don't over bake. Remove the cookies from the oven as soon as they are golden brown around the edges. The centers will still be doughy looking. Leave the cookies on the cookie sheet to cool. They will continue baking for a few minutes on the hot cookie sheet.
Add some cornstarch to the dry ingredients. Cornstarch makes cookies more soft and tender, and you can't have chewy without tender…can you?
Roll the cookies in balls of the same size so they will all get done at the same time.
Once the cookies have cooled, transfer them to a wire cooling rack until they are set. Once they're set, place them in an airtight container with waxed paper between the layers. Also, lay the cookies completely flat.
Revision: I've had a couple of comments from bakers saying their cookies came out dry and did not spread. I've omitted refrigerating the dough. However, make sure to read the tips above before making the cookies. These cookies should never be dry. Small things are a big deal in making perfect cookies, especially when it comes to measuring the flour correctly, not over mixing the dough and not over baking. If your cookies don't spread after reading the tips above, try omitting the use of parchment paper and reduce the oven temperature to 350 degrees. Not all oven temperatures are the same!
Reader Dorothea says…"I have been searching for the best chocolate chip cookie recipe and I finally found it in your recipe! I just finished baking them and they receive 5 plus stars from me! Thank you for all your testing and refinement with your recipe to make me and family very, very happy!! Merry Christmas and I will never go back to the old recipe I have used for decades!
More chocolate chip cookies you might enjoy…
Bakery Style Chocolate Chip Cookies
Thick & Chewy Chocolate Chip Cookies
Thick & Chewy Peanut Butter Chocolate Chip Cookies
Print
Thin & Chewy Chocolate Chip Cookies
Author:

Prep Time:

15 Minutes

Cook Time:

12 Minutes

Total Time:

27 minutes

Yield:

2

0

1

x

Category:

Cookies

Method:

Bake

Cuisine:

American
---
Description
These buttery chewy cookies will have you drooling just looking at them, and wait until you smell them in the oven.  Thin, chewy and buttery heaven!
---
2

cups

all-purpose flour, (see note below*)

1 teaspoon

salt

1 teaspoon

cornstarch

3/4 teaspoon

baking soda

1

cup

(2 sticks) unsalted butter, room temperature

2/3

cup

light brown sugar

2/3

cup

granulated sugar

1

large egg plus 1 egg yolk

2 teaspoons

pure vanilla extract

1

bag, bittersweet chocolate chips, good quality such as Ghirardelli, or you can use semi-sweet or milk chocolate
---
Instructions
Preheat oven to 375 degrees.
Whisk together the flour, salt, cornstarch and baking soda in a medium bowl and set aside.
Add the butter to the bowl of a stand mixer, or use a hand mixer.  Mix on medium-high speed until the butter is very light and creamy, about one minute.
Add the sugars and mix on high speed until all of the sugar is dissolved and there are no lumps remaining in the brown sugar, about one minute.
Add the egg, egg yolk, and vanilla and mix on medium speed just long enough to combine about 30 seconds.
Add one cup of the flour, and mix just until almost incorporated, no more.  Add the second cup of flour and mix until the flour is about halfway incorporated.  Stop mixer and add the chocolate chips and mix on medium speed until the flour is incorporated and stop the mixer.  Do not over mix.
Using a large cookie/ice cream scoop, (see note below**) place scoops of dough on a cookie sheet that has been lined with parchment paper.  The parchment paper will help the cookies from spreading too thin.  They will already be thin, trust me.
Bake until cookies are browned around the edges but still slightly doughy looking in the centers.  Allow cookies to cool on the cookie sheet.  They will finish baking on the cookie sheet.  Once they are cooled, transfer them to a wire rack until they are completely cooled and set before stacking them or placing them in a container.
Store cookies in an airtight container with waxed paper between the layers.  Cookies should stay fresh for up to 3 days in an airtight container.
---
Notes
*Either aerate the flour by running a fork through it several times before measuring or use the spoon & level technique by spooning the flour into your measuring cup, then leveling it off with a knife.
**If you're not sure what size your cookie/ice cream scoop is, fill it with water.  If it holds 2 1/2 tablespoons of water it is a large scoop.  This size will make 20 cookies.
Cookies can be frozen for up to 3 months.  Freeze in layers with cookies flat, using waxed paper between the layers and place in an airtight container.
Keywords: cookies, chocolate chip, thin, chewy, chocolate chip cookies, thin and chewy cookies, dessert, thin and chewy chocolate chip cookies, valentine cookies,
There may be affiliate links in this post. We are a participant in the Amazon Services LLC Associates Program, an affiliate advertising program designed to provide a means for us to earn fees by linking to Amazon.com and affiliated sites.