Thick & Chewy Chocolate Chip Cookies
These Thick & Chewy Chocolate Chip Cookies are rich and buttery and simply loaded with chocolate chips and pecans.  I used more brown sugar than white and two eggs minus one egg white for texture minus dryness.  These cookies are deliciously moist, chewy and chocolaty!!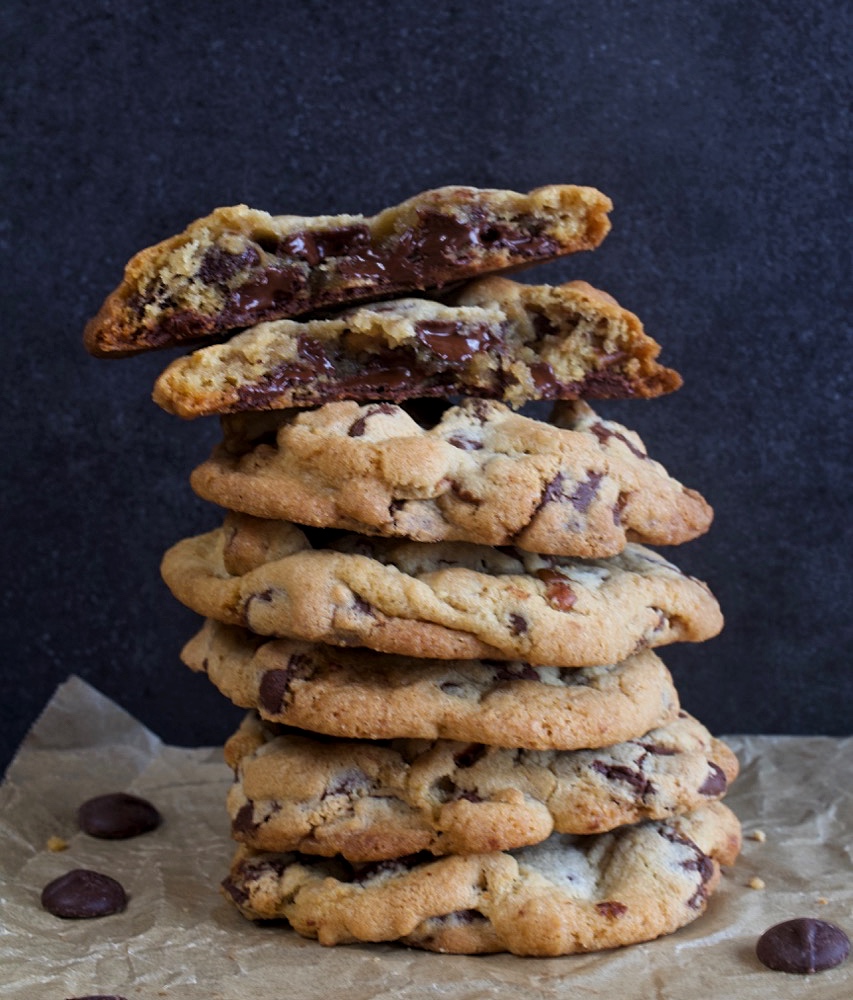 Several months ago I posted my recipe for Thin & Chewy Chocolate Chip Cookies, and I promised to follow up soon after with a Thick & Chewy Chocolate Chip Cookie recipe.  Okay, so I'm a few months late!
This recipe is adapted from the Nestle's Toll House recipe that I've made for many years.  The Nestle's Toll House recipe makes an excellent chocolate chip cookie but I wanted to turn it into a thicker chewier version.  Here are my tips for how I made these thick and chewy cookies… 
I changed the amount of butter from all butter to one-half butter and one-half solid shortening.  Here's why.  Shortening has a higher melting point, so the ingredients in the cookies have extra time to set before the shortening melts, resulting in cookies that are thicker, because they spread less.  Butter has a lower melting point, which means it melts quicker at a lower temperature, thus, resulting in cookies that spread more and are thinner.
I increased the amount of brown sugar in the recipe and decreased the amount of white sugar.  Brown sugar contains molasses and molasses attracts moisture, thus keeping cookies moist and chewy.  The white sugar makes cookies crispy.  If I wanted a crispy thin cookie I would use all white sugar.
Cookies need eggs.  Eggs bind things together and make them stable.  However, egg whites dry cookies out.  Think about meringues, dry and airy.  Instead of using 2 whole eggs in this recipe, I used 1 large egg plus 1 egg yolk.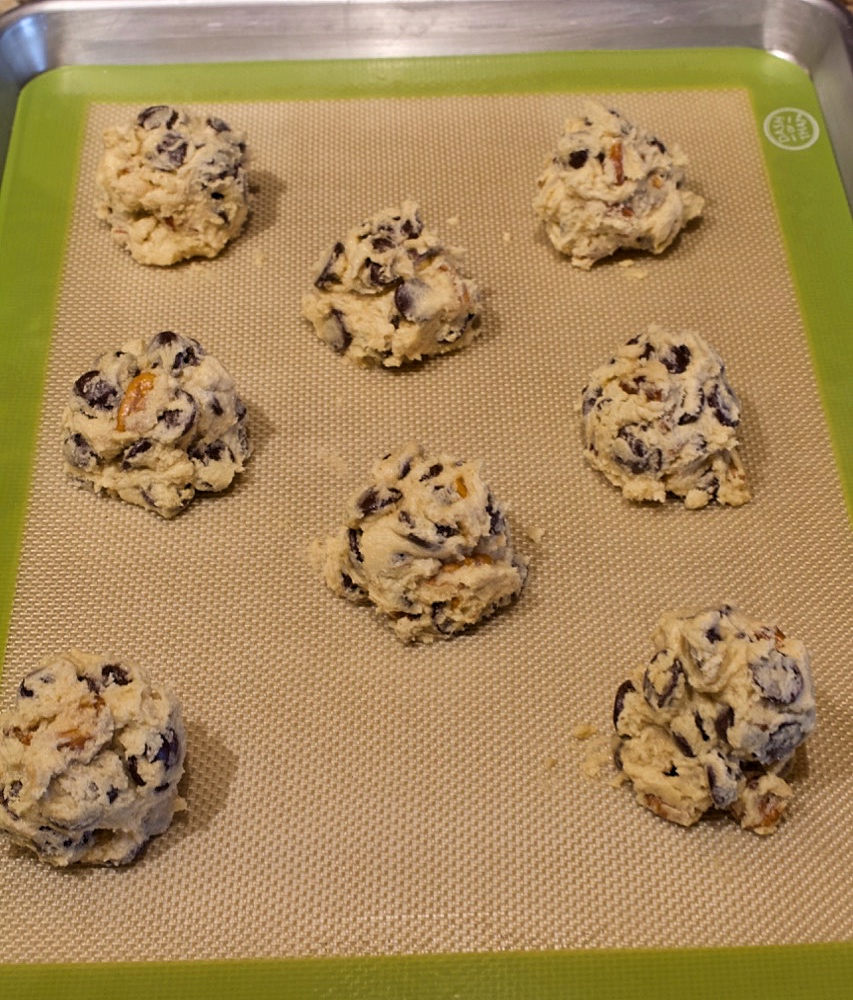 I dropped scoops of cookie dough onto cookie sheets.  Then I placed them in a freezer for one hour before baking them.  Chilled dough spread slower than unchilled dough.  Note:   It's much easier to form cookie dough into balls before chilling it.  Chilled dough is hard to scoop out of the bowl.
Many cookie recipes bake at 350 degrees.  I increased the baking temperature to 400 degrees for this recipe.  The higher temperature sets the cookies quicker before they have time to start spreading.
I used a Silpat on the cookie sheets.  Using a Silpat or parchment paper helps to hinder the spreading of the cookie dough.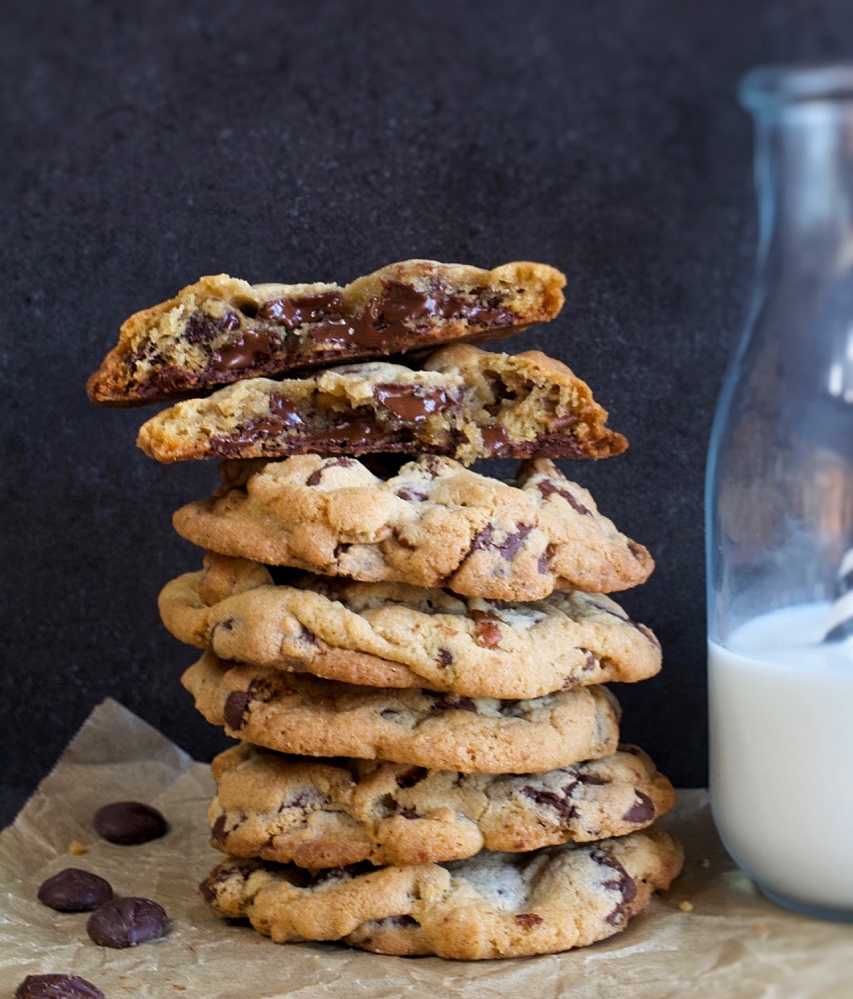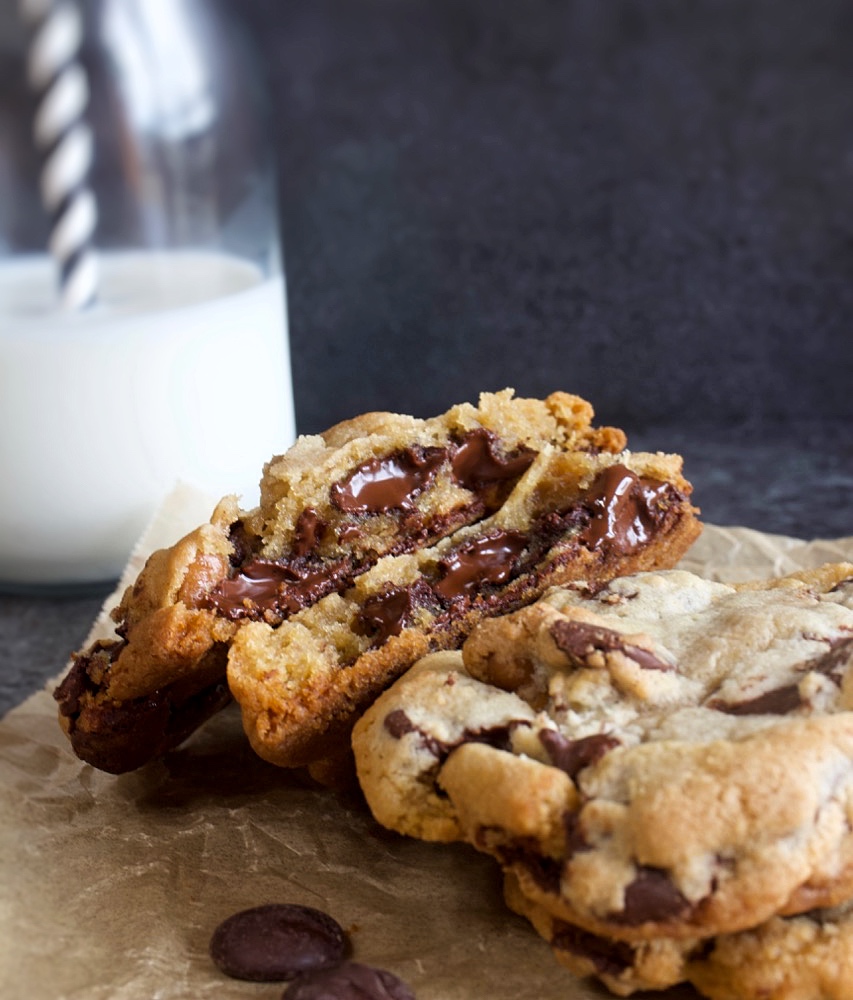 You can opt to omit the pecans if you like or use walnuts instead.  Either way, they will be delicious!
Print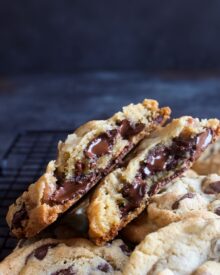 Thick & Chewy Chocolate Chip Cookies
Author:

Prep Time:

90 minutes

Cook Time:

13 minutes

Total Time:

1 hour 43 minutes

Yield:

22

cookies

1

x

Category:

Cookies

Method:

Bake

Cuisine:

American
---
Description
These Thick & Chewy Chocolate Chip Cookies are rich and buttery and simply loaded with bittersweet chocolate chips and pecans.  You can opt to leave the nuts out if you like.  They're great either way!
---
2 1/4

cups

all-purpose flour

1 teaspoon

salt

1 teaspoon

baking soda

1

stick unsalted butter, room temperature

1/2

cup

solid vegetable shortening

1/2

cup

granulated sugar

1

cup

light brown sugar

1

large egg plus 1 egg yolk, room temperature

2 teaspoons

pure vanilla extract

2

packages, 10 ounces each, Ghirardelli bittersweet 60% cacao chocolate chips

1

cup

chopped pecans
---
Instructions
In a large bowl, mix together the flour, salt, and baking soda and set aside.
In the bowl of a stand mixer (or use a hand mixer), mix together the butter and shortening on medium-high speed until light and creamy.  Add the sugars, eggs and vanilla and mix on medium speed until all ingredients are well combined.  Add the dry ingredients and mix on medium speed just until the flour is almost incorporated.  Mix in the chocolate chips and pecans but do not over mix.
Line cookie sheets with silpat mats or parchment paper.  Using a large cookie scoop, place slightly rounded scoops of dough at least 2 inches apart on the cookie sheets, using no more than 8 scoops of dough on each cookie sheet.  Place the cookie sheets in a freezer for at least 1 hour.
Preheat oven to 400 degrees.
Remove cookie sheets from the freezer and place in the preheated oven.  Bake cookies until they are lightly browned on top, yet slightly gooey in the centers, about 13 minutes.  Remove from oven.  Allow to cool for about 2 minutes on cookies sheets and transfer to a wire cooling rack.
Store cookies in an airtight container.  Cookies will stay fresh for up to 3 days.
---
Notes
Tips for thicker cookies…
Using parchment paper or silpat mats, helps to prevent cookies from spreading, which is essential if you want thicker cookies.
Baking cookies at a higher temperature, also helps the cookie dough to set and partially bake before it has time to spread.
Chilling the cookie dough also slows down the spreading of the dough.
This cookie dough freezes nicely.  I recomment freezing scoopfuls of the dough on a cookie sheet first.  Once the dough is very firm, place them in a single layer in a freezer bag and lay flat in your freezer.  You can remove as many as you want at anytime and bake them.  Take them straight from the freezer to the oven.  I don't recomment freezing the dough for a period of over three months.
Keywords: chocolate chip cookies, cookies, thick and chewy,
There may be affiliate links in this post. We are a participant in the Amazon Services LLC Associates Program, an affiliate advertising program designed to provide a means for us to earn fees by linking to Amazon.com and affiliated sites.