Strawberry Marshmallows
Biting into one of these Strawberry Marshmallows is like biting into a large spongy, pillowy cloud and if that's not enough, these pillowy clouds have a pure strawberry flavor. You will never eat a store-bought marshmallow again!
All marshmallows are alike… NOT! Okay, I've said it before. Once you bite into a big, pillowy, fluffy soft homemade marshmallow, you will never eat store-bought marshmallows again. I promise!! And once you make your first batch of homemade marshmallows, you'll be dying to make more. You'll be wanting to make every flavor in the universe. Trust me I know. Oh, and I know what you're thinking and you're wrong. Sorry…but you are. Homemade marshmallows are not hard to make.
The other day, I made a double batch of strawberry puree and already knew what I wanted to make with some of it… Strawberry Marshmallows!! I had been wanting to make some fruit-flavored marshmallows for some time, so I went to work, although it's more like play when it comes to making marshmallows.
Here's a quick snapshot of how I made these super delicious marshmallows…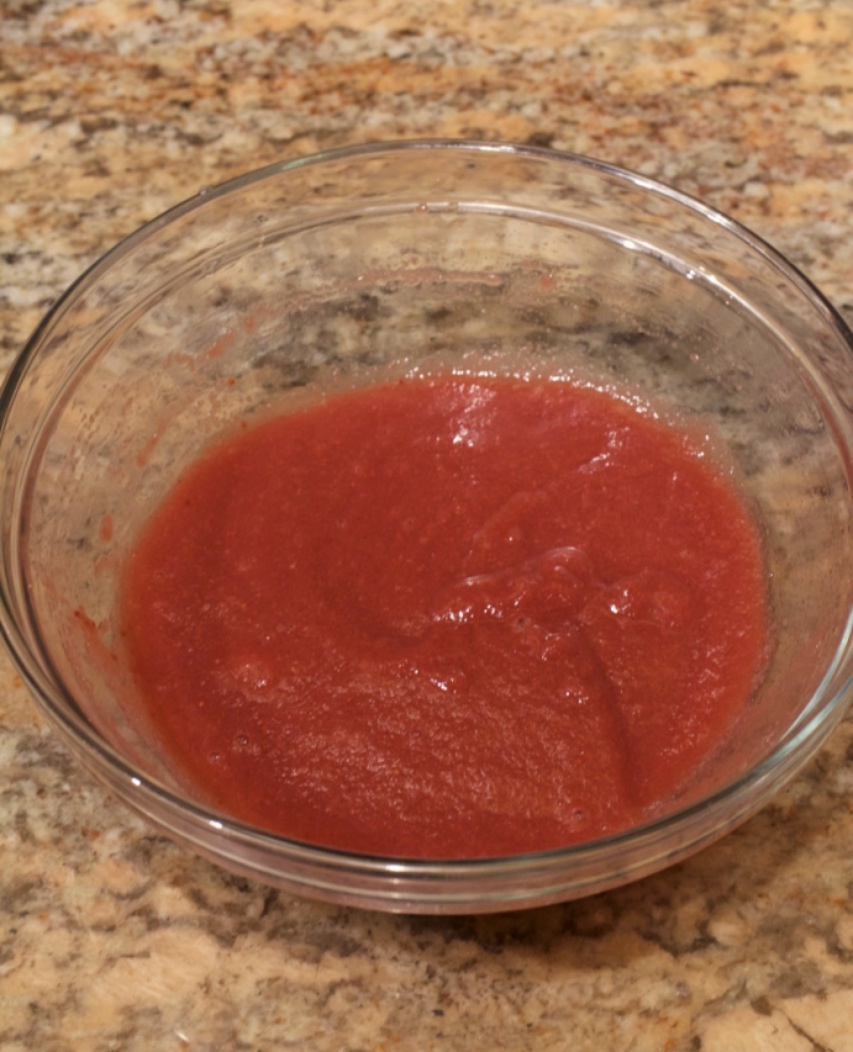 The Bloom: I mixed together some strawberry puree, water, and unflavored gelatin in a small bowl and allowed it to sit for a few minutes.
The Syrup: Meanwhile, I cooked a syrup mixture using sugar, corn syrup, and strawberry puree.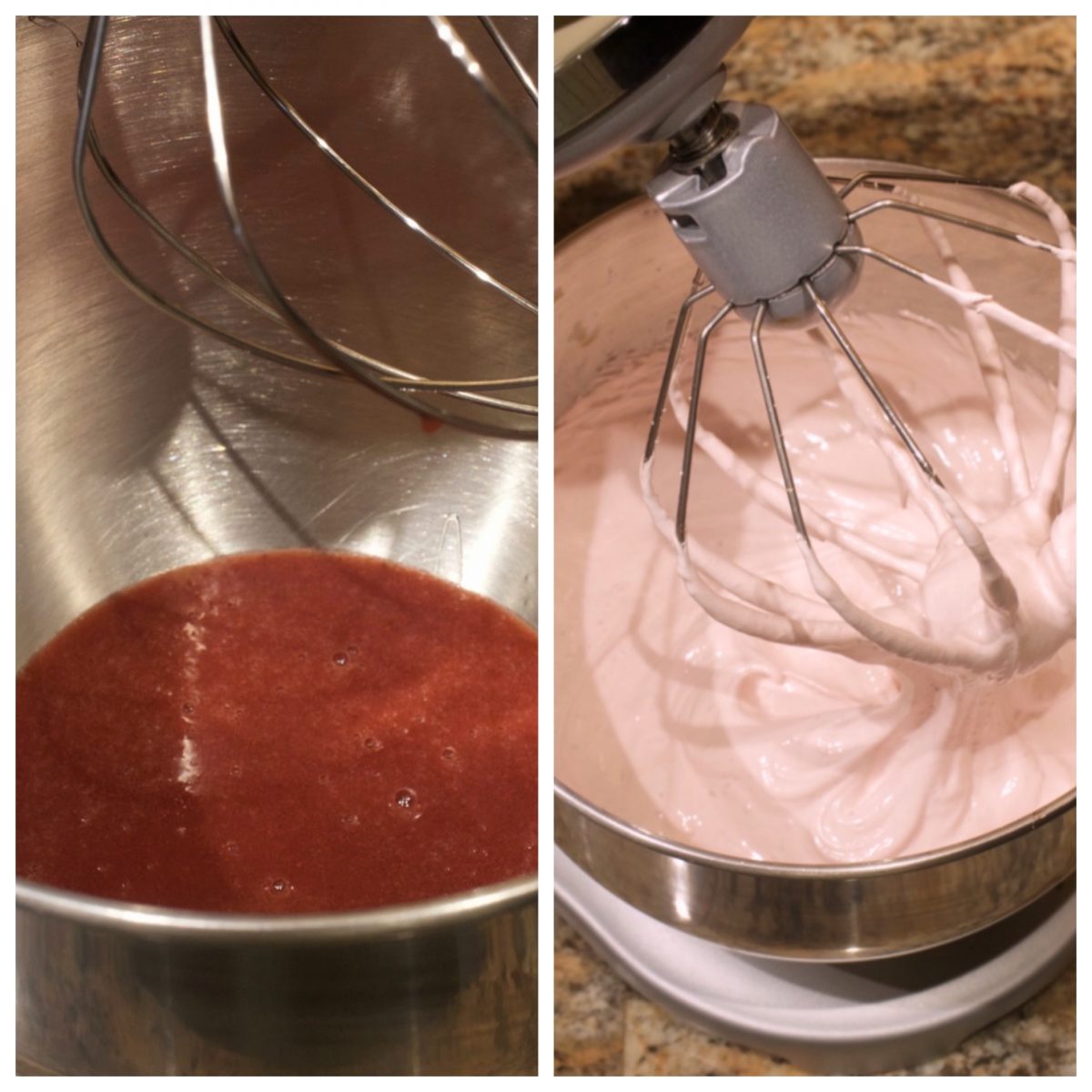 The Mallowing: Then I added both the syrup and gelatin mixture to my mixing bowl and whisked the mixture for about 7 minutes, then added more strawberry puree and some vanilla and whisked for an additional 5 minutes until it magically tripled in volume and turned into mallow. How fun!
I spread the mallow in a square dish, allowed it to sit overnight, dusted the marshmallows with a classic coating made of cornstarch and powdered sugar and cut the mallow into big pillowy soft marshmallows.
Oh but wait… I didn't stop there. I decided to dip a few of the marshmallows in bittersweet chocolate.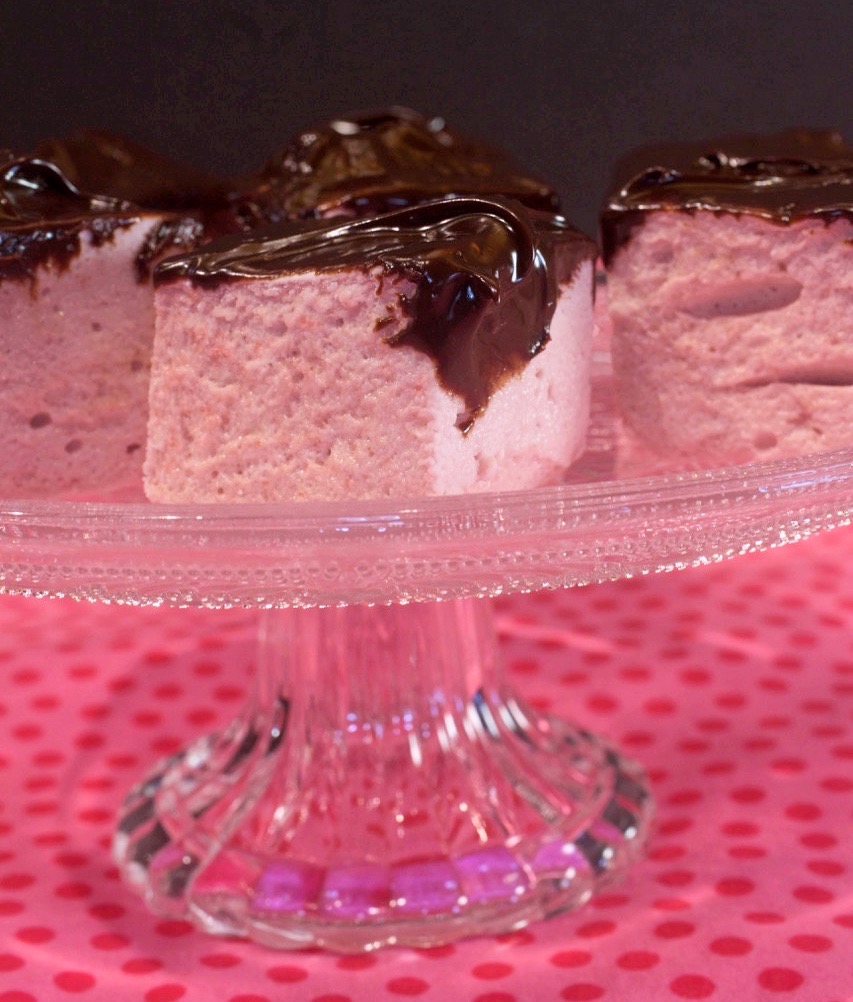 You might also like,
Print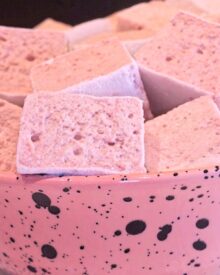 Strawberry Marshmallows
Author:

Prep Time:

15

Cook Time:

45

Total Time:

60

Yield:

2

4

1

x
---
Description
Biting into one of these Strawberry Marshmallows is like biting into a large spongy, pillowy cloud and if that's not enough, these pillowy clouds have a pure strawberry flavor.  You will never eat a storebought marshmallow again! 
---
Lightly coat an 8 x 8 baking dish with cooking spray and set aside.
For the Strawberry Puree
1

bag whole or sliced unsweetened frozen strawberries, 16 ounce, thawed
For the Classic Coating
1 1/2

cups

powdered sugar

1

cup

cornstarch
For the Bloom
1/2

cup

strained strawberry puree

2 tablespoons

cold water

2

packets unflavored gelatin
For the Syrup
3/4

cup

sugar

1/2

cup

light corn syrup, divided

1/3

cup

strained strawberry puree

1/4

cup

water

1/8 teaspoon

salt
For the Mallowing
1 teaspoon

pure Vanilla extract

1/2

cup

freeze- dried strawberries, optional*

1/4

cup

classic coating
---
Instructions
For the Strawberry Puree
Quarter strawberries if you're using whole ones and add them to a blender or food processor. Mix on high speed for about 1 minute until strawberries are pureed. Add strawberry puree to a medium saucepan. Heat over medium heat until puree starts to bubble, then turn heat to low and allow puree to simmer for 30 minutes. Remove from heat. If you're not crazy about seeds, strain the puree through a wire mesh strainer and set aside.**
For the Classic Coating
Sift the powdered sugar and the cornstarch together. Measure out 1/4 cup and set aside. Place the remainder in an airtight container. It will keep indefinitely. Don't worry, you'll be making more marshmallows.
For the Bloom
Whisk the strawberry puree and cold water together in a small microwave proof bowl. Whisk in the gelatin and allow it to set for 10 minutes to soften. Meantime make the syrup.
For the Syrup
Add the sugar, 1/4 cup of the corn syrup, the strawberry puree and water to a large saucepan. Bring to a boil over high heat. Reduce heat to medium and cook mixture until it reaches 240 degrees on a candy thermometer, stirring a few times during cooking to make sure syrup is sticking to the bottom of pan.
While the syrup is cooking, add the second 1/4 cup of corn syrup to the bowl of a large stand mixer. Place the gelatin mixture in a microwave and heat until melted, about 30 seconds. Add the gelatin to the mixer. Turn mixer on low and let it continue running on low until syrup has finished cooking.
With the mixer still running on low, slowly add the hot syrup mixture to the mixing bowl. Do not scrape and sugar crystals from sides of syrup pan into the mixing bowl. Increase mixer speed to medium and beat for 5 minutes. Increase speed to medium high and beat for 5-7 minutes until mixture is tripled in volume. Add the vanilla during the last minute. Fold in the freeze dried strawberries if using.
Pour mallow mixture into the prepared baking dish. Use an offset spatula to smooth batter into the corners. Generously sift the classic coating over the top. Allow mallows to set for at least 8 hours before cutting.
Run a sharp knife around the edges of pan to loosen marshmallow. Invert marshmallow slab onto a work surface that is sprinkled with more of the classic coating. Cut into pieces and dip any sticky sides in more classic coating, patting off any excess.
Store marshmallows in an airtight container between layers of wax paper.
Marshmallows will stay fresh for up to 1 week.
---
Notes
Total time does not include 8 hours inactive time.
*Freeze dried strawberries can be found at stores such as Trader Joe's or online. They are not necessary for this recipe, but are a great addition. I did not use them because I didn't have any on hand. The result was a mild strawberry flavor. The freeze dried strawberries, when added to the coating give the strawberries more of a potent strawberry flavor. You can also add some to your blender with some classic coating for a pretty pink color coating.
If you love strawberries and chocolate, try dipping the very top of each marshmallow in melted bittersweet topping. A great combination!
**Simmering the puree for 30 minutes reduces the puree and makes it more potent.
There may be affiliate links in this post. We are a participant in the Amazon Services LLC Associates Program, an affiliate advertising program designed to provide a means for us to earn fees by linking to Amazon.com and affiliated sites.