Peppermint Marshmallows
These Peppermint Marshmallows are so light and pillowy and loaded with pure peppermint flavor. They are the perfect addition to a hot cup of cocoa or you can simply bite into a single fluffy marshmallow and let it dissolve on your tongue. They are also great for gifting.  My tips will show you how to make perfect marshmallows!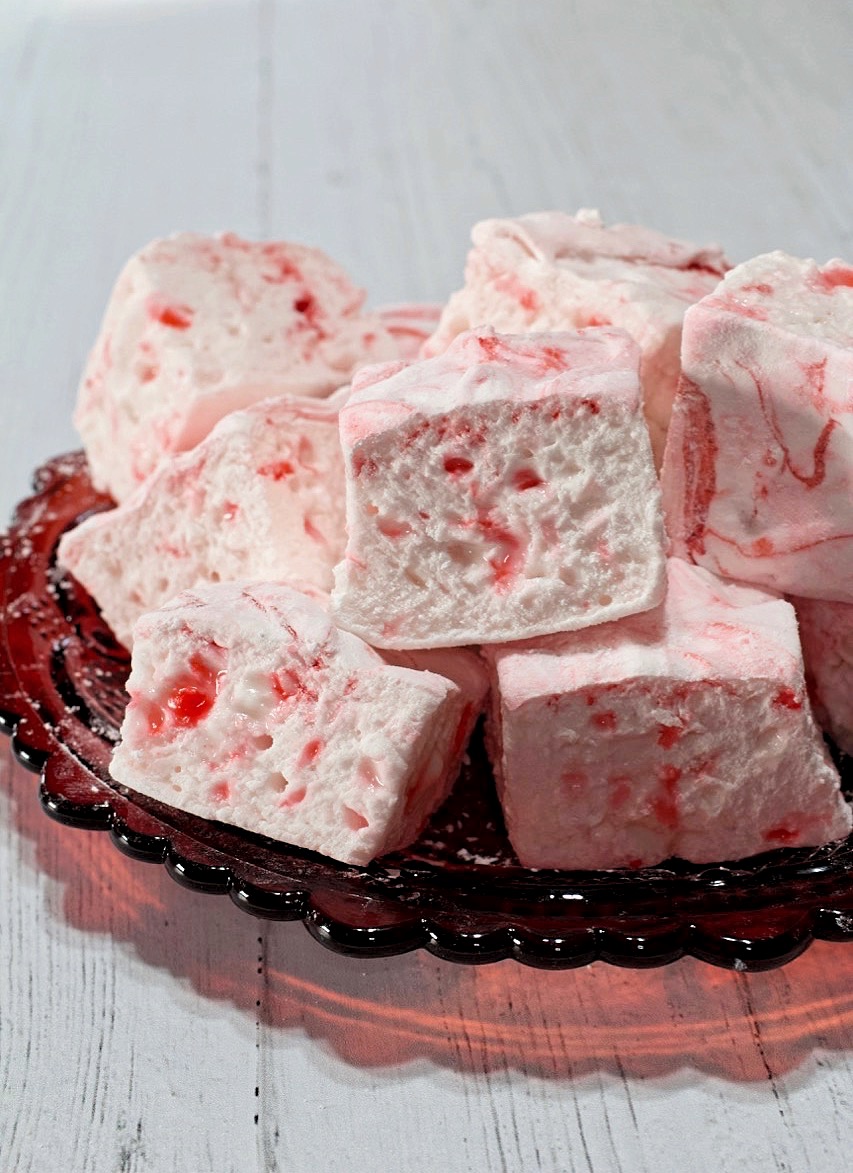 The holidays are over but Winter is here to stay for a while.  Winter calls for hot cocoa and big fluffy marshmallows.  The weather here in Kentucky has been like a roller coaster here lately.  One day it's 50 degrees and the next it's 20 degrees.  I am in full-blown hot cocoa mode!  Hot cocoa with whipped cream or large homemade marshmallows… I'm not picky, however, the thought of large pillowy soft homemade marshmallows melting into a cup of hot cocoa has really sounded appealing to me here lately.
Marshmallows are basically composed of sugar, water, corn syrup, cornstarch, and gelatin.  Lets's talk about the one ingredient that makes marshmallows pillowy, elastic, and squishy.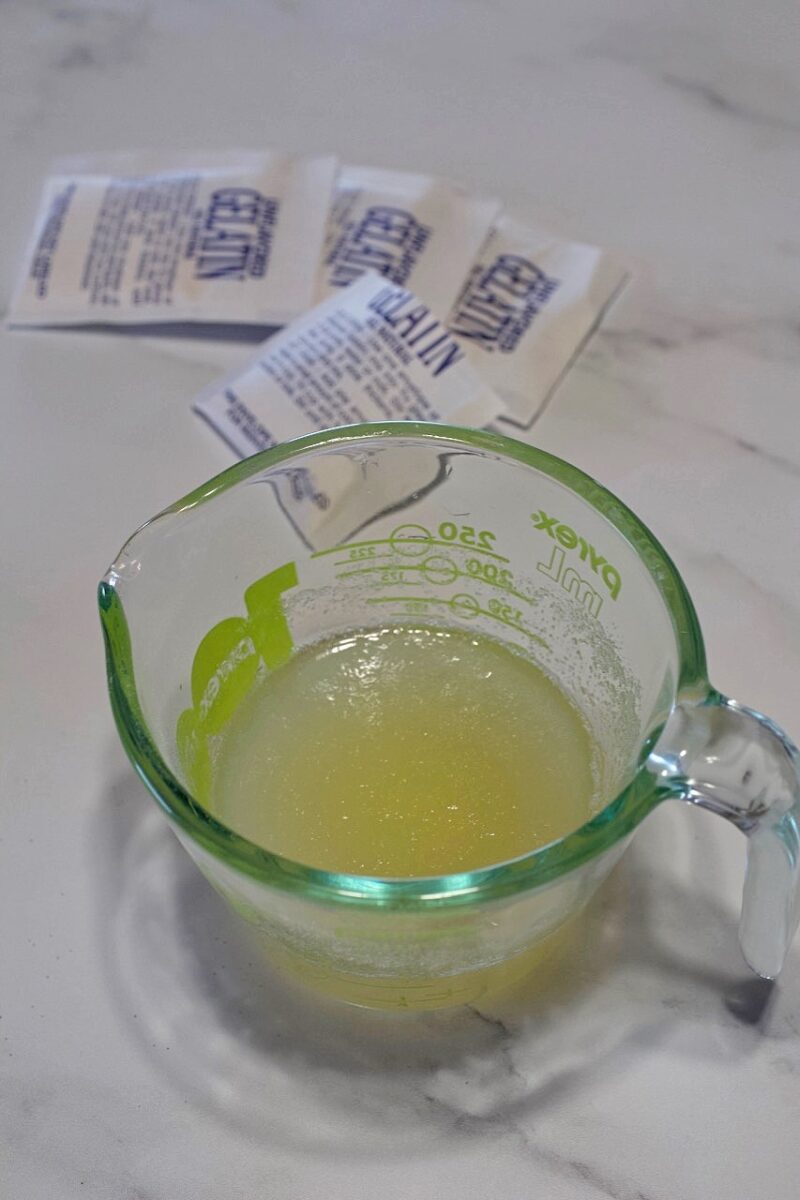 GELATIN
Gelatin is a very important ingredient in the making of marshmallows.  Gelatin gives marshmallows their fluffy, pillowy, elastic texture.  You can squish one between your fingers and it sort of bounces back into shape when released.  Gelatin acts as a binder in the mixture and creates a fluffy foamy mixture that turns into a pillowy marshmallowy mixture once the air is incorporated with an electric mixer.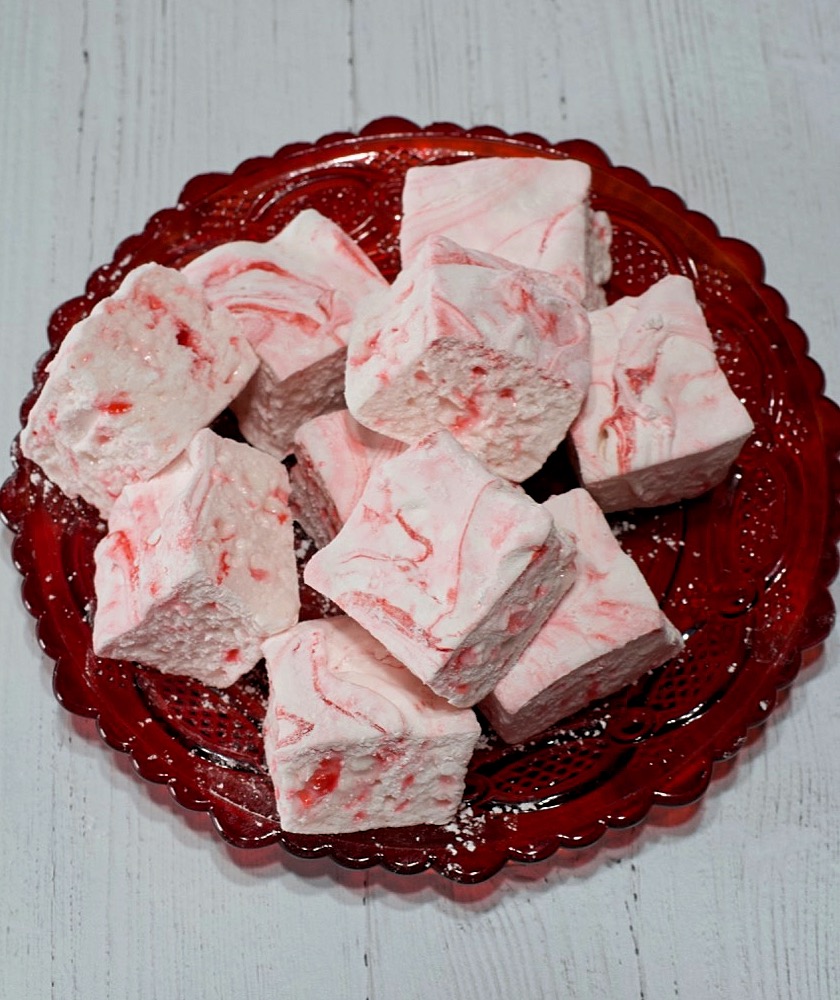 You're probably thinking that homemade marshmallows are hard to make, but trust me they are not.  There are 4 basic steps to making homemade marshmallows…
Blooming – Simply dissolving some gelatin in water and allowing it to set a few minutes.
Syrup –  Cooking some water and sugar together until the sugar dissolves.  This is called simple syrup.
Mallowing – Beating the gelatin and syrup together in a large bowl until it looks like marshmallow fluff.
Coating – Making a coating of part powdered sugar and part cornstarch to lightly coat the finished marshmallows.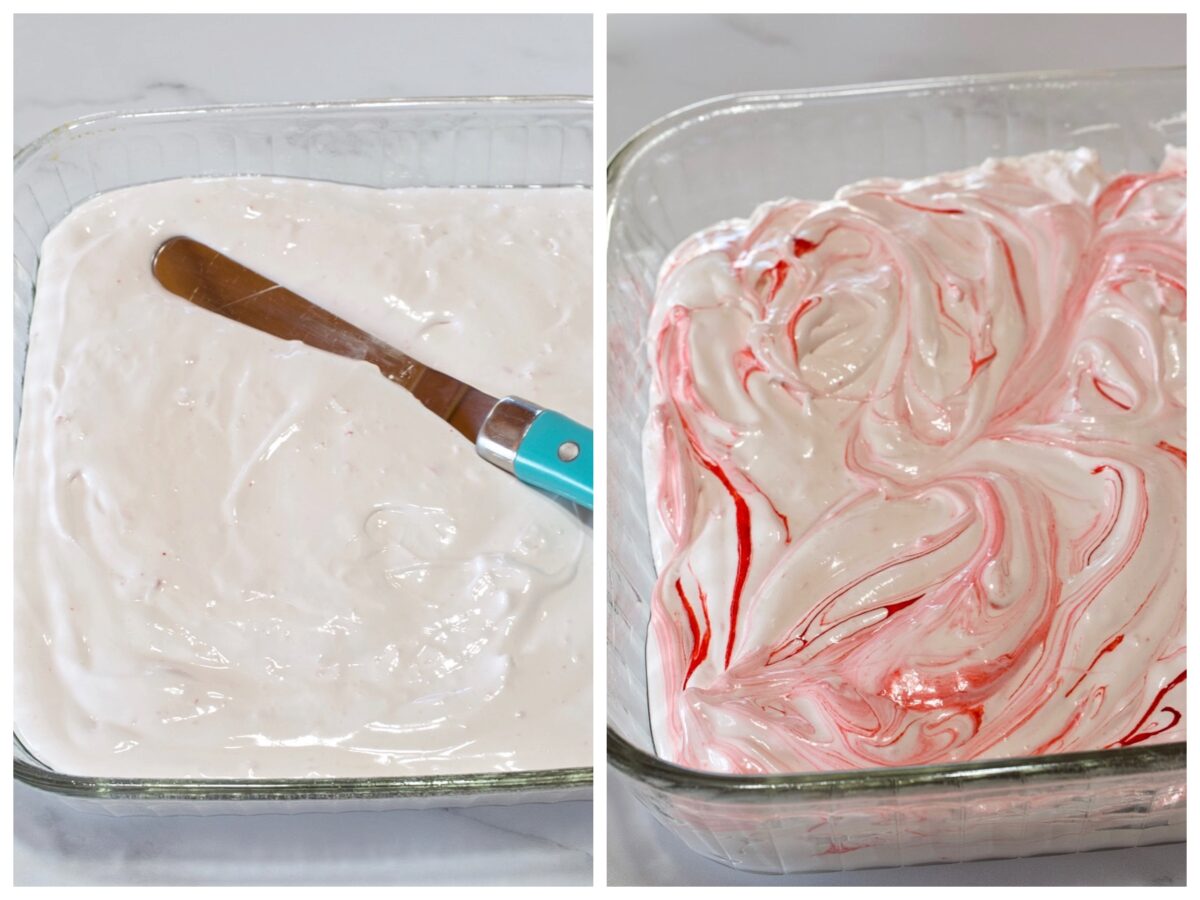 The easy part…spreading the fluffy mixture into a dish…allowing it to set a few hours and cutting it into large pillowy marshmallows…
COATING
The coating is made with 1 cup of cornstarch and 1 1/2 cups of powdered sugar.  The coating will keep indefinitely in a sealed container in the pantry.  It makes enough to use on at least 3 to 4 batches of marshmallows.
HOW TO CUT AND COAT MARSHMALLOWS
Cut the marshmallows into long strips.  Use a sharp knife or pastry cutter and dip it in the coating mixture before each cut.
Generously sprinkle some coating on a work surface.  Lay each strip in the coating, turning the strip to cover each side.  Rub your finger along the side to smooth out the coating so there are no sticky areas.
Cut each strip into squares, again dipping your knife in the coating between each cut.
Lightly coat each side of each square with the coating, making sure there are no sticky sides.
The yummy part…dropping one in a cup of hot cocoa and watching it begin to melt before taking your first delicious sip!
Check out more delicious marshmallow recipes…
Print
Peppermint Marshmallows
Author:

Prep Time:

25

Cook Time:

5

Total Time:

30

Yield:

2

4

1

x

Category:

Candy

Method:

Cook

Cuisine:

American
---
Description
These Peppermint Marshmallows are pillowy soft and flavored with pure peppermint extract. They are perfect in hot chocolate and make great gifts.
---
For the Bloom
2

–

1/4

ounce envelopes unflavored powdered gelatin

1/2

cup

cold water
For the Syrup
1/2

cup

light corn syrup, divided

3/4

cup

sugar

1/4

cup

water

1/8 teaspoon

salt
For the Mallowing
1 teaspoon

pure vanilla extract

1 teaspoon

pure peppermint extract (see notes below)

1/2

cup

crushed peppermint candies, optional
Red food coloring

1/2

cup

Classic Coating plus more for dusting
For the Classic Coating
1 1/2

cups

powdered sugar

1

cup

cornstarch
---
Instructions
Coat an 8 by 8  or 9 by 9 baking pan or dish lightly with cooking spray.
For the Bloom
Whisk together the water and gelatin in a small microwave-safe bowl and set aside. It needs to set for at least five minutes to allow the gelatin to soften.
For the Syrup
Add 1/4 cup of the corn syrup to the bowl of a stand mixer and set aside while cooking the simple syrup.
Add the remaining 1/4 cup of corn syrup, sugar, water, and salt to a medium saucepan. Bring to a boil over high heat, stirring occasionally. Cook until mixture reaches 240 degrees on a candy thermometer (soft-ball stage) and remove from heat.
Meantime, place the bowl of gelatin and water in a microwave and heat for 30 seconds to soften the mixture. Add the mixture to the corn syrup in the stand mixer bowl. Turn the mixer on low and allow it to continue running on low until the syrup mixture reaches 240 degrees.
For the Mallowing
With the mixer running at low speed, slowly pour the hot syrup into the mixing bowl. Turn mixer to medium speed and beat for 5 minutes. Turn mixer to medium-high speed and beat for an additional 5 minutes. Turn mixer to high and beat for an additional 2 minutes. Add the vanilla and peppermint extracts and beat on high for a few seconds to incorporate. At this point the marshmallow mixture should be opaque white, fluffy, and tripled in volume. If it's not, beat for an additional minute and check again. If using crushed peppermint, fold it in on medium speed.
Spread the mallow mixture into the prepared pan, using an offset spatula to spread it into the corners. Drop 1 drop of red food coloring in each corner and 1 in the center of the mallow mixture.  Use a sharp knife or toothpick to gently swirl the food coloring through the mixture.  Liberally dust the top of the mallow mixture with the classic coating. Allow the mallow mixture to set in a cool dry place for at least 6 hours.
Run a sharp knife around the edges of the pan. Invert the marshmallow slab onto a counter or piece of parchment paper. Sift some of the classic coating over the top. Using a pizza cutter or sharp knife, cut the marshmallows into squares. Dip any sticky edges in more of the classic coating. Shake off any excess coating.
Store marshmallows in an airtight container for up to two weeks.
For the Classic Coating
Whisk the powdered sugar and cornstarch together in a medium bowl. Store in an airtight container. Use as needed for dusting marshmallows.
Recipe adapted from the book Marshmallow Madness by Shauna Sever
---
Notes
Yield equals 24 if cut into 1 1/2 inch marshmallows.
These marshmallows freeze beautifully.
I originally posted the amount of peppermint extract as 2 teaspoons in this recipe. I have since revised it to 1 teaspoon, during to comments from a few readers. I use 2 teaspoons, but try yours with 1 teaspoon first and work up from there if you want more. If you're using peppermint oil, reduce the amount from 1 teaspoon to 3/4 teaspoon and adjust from there to your liking.
Keywords: peppermint marshmallows, marshmallows, peppermint, marshmallow, homemade marshmallows, candy, Christmas treats, Christmas gifting,
There may be affiliate links in this post. We are a participant in the Amazon Services LLC Associates Program, an affiliate advertising program designed to provide a means for us to earn fees by linking to Amazon.com and affiliated sites.