Pumpkin Spice Cupcakes with Cinnamon Cream Cheese Buttercream
These scrumptious Pumpkin Spice Cupcakes with Cinnamon Cream Cheese Buttercream are warmly spiced and scream Fall. Sugared buttery pecans are an added bonus on top of these soft and delicious cupcakes.
And you thought I was finished posting pumpkin recipes… NOT! Fall is here and I'm taking full advantage of it. Fall and pumpkin remind us that Thanksgiving is just around the corner. Can you even imagine how many Thanksgiving dessert tables include a pumpkin dessert of some kind? When I was a kid, Pumpkin Pie was the pumpkin dessert that always graced our Thanksgiving dessert table. Today, there's a huge array of pumpkin desserts that make their appearance on Thanksgiving dessert tables from pumpkin cakes and rolls to pumpkin pie.
When I decided to make these Pumpkin Spice Cupcakes, I really didn't have Thanksgiving in mind, but the prelude to that special Holiday…Fall. In my kitchen, anything pumpkin has to have the perfect amount of warm spices in it. Just enough for a warm spice touch, yet not overbearing. I hate to bite into a scrumptious looking piece of pumpkin dessert just to be disappointed with an overbearing taste of Cloves. A pinch of Cloves goes a long way. For this recipe, I wanted to come up with a moist cupcake, full of pumpkin flavor and just a touch of warm spices. After all, I do want to know that I'm eating pumpkin.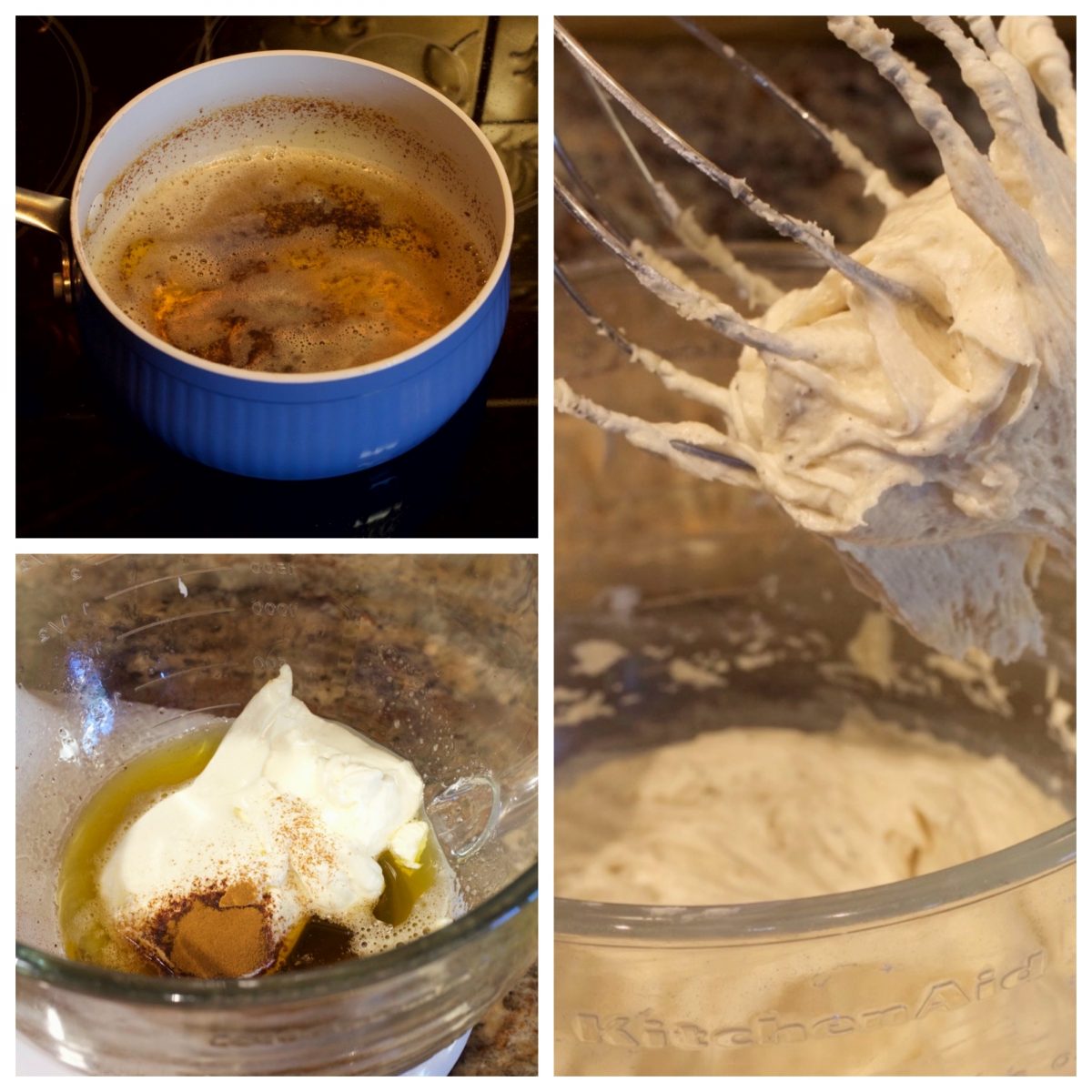 Now let's talk about frosting. I wanted a frosting that also gave me just a hint of warm spice along with a hint of nuttiness. This was easy. I melted and browned some butter to bring out a buttery but slightly nutty taste. I added the butter to whipped cream cheese and powdered sugar, then I tossed in some cinnamon to warm things up.
I piped just enough Cinnamon Buttercream on each cupcake to make it proportionate to the cupcake itself. I didn't want to go overkill on this rich buttercream. I wanted an equal proportion of cupcake and buttercream in each bite. In other words, I wanted to taste the pumpkin.
But wait, I wasn't finished yet. I also wanted to add some additional nuttiness to the buttercream, so what else but pecans toasted in some brown sugar and browned butter. This was an added bonus to these already scrumptious Pumpkin Spice Cupcakes.
Recommended for this recipe,
Check out more delicious pumpkin recipes.
Print
Pumpkin Spice Cupcakes with Cinnamon Cream Cheese Buttercream
Author:

Prep Time:

30

Cook Time:

25

Total Time:

55

Yield:

2

4

1

x
---
Description
Not only are these Pumpkin Spice Cupcakes moist and warmly spiced, but the creamy Cinnamon Cream Cheese Buttercream is topped with a nutty bonus of sugary pecans.
---
For the Cupcakes
2 1/3

cups

all purpose flour

1 teaspoon

cinnamon

1/4 teaspoon

ginger

1 tablespoon

pumpkin pie spice

1 teaspoon

baking powder

3/4 teaspoon

salt

1/2 teaspoon

baking soda

3/4

cup

unsalted butter, softened

1

cup

granulated sugar

1

cup

light brown sugar

3

large eggs

1

can pumpkin puree, 15 ounce (do not use pumpkin pie filling)

1

cup

buttermilk, full fat
For the Buttercream
2

sticks butter, unsalted

1

package cream cheese, 8 ounce, softened

1/4 teaspoon

cinnamon

1/8 teaspoon

salt

1 teaspoon

pure vanilla extract

4 1/2

cups

powdered sugar
For the Sugared Pecans
2 tablespoons

butter

1/3

cup

light brown sugar

1/8 teaspoon

pumpkin pie spice

3/4

cups

pecan halves
---
Instructions
For the Cupcakes
Preheat oven to 350 degrees.
Fill 24 muffin cups with paper liners and set aside.
Whisk together or sift the flour, cinnamon, ginger, pumpkin pie spice, baking powder, baking soad and salt in a large bowl. Set aside.
Add the butter to a large mixing bowl. Using an electric mixer, mix the butter until light and creamy. Add the sugars and mix until well combined. Add eggs, one at a time and mix on medium speed after each addition until incorporated.  Add the pumpkin and mix to combine. Add the sifted dry ingredients and buttermilk alternately to wet mixture, mixing just until dry ingredients are incorporated. Do not over mix.
Using a large ice cream or cookie scoop, fill the muffin cups 3/4 full. Note: These cupcakes do not rise alot, so it is safe to fill them more than regular cupcakes.
Bake cupcakes for approximately 20-25 minutes until a toothpick inserted into the center of a cupcake comes out clean.
Allow cupcakes to cool for 5 minutes and transfer them to a wire cooling rack. Allow to cool completely before frosting.
For the Buttercream
Add butter to a medium saucepan and melt over medium heat. Cook butter, while gently swirling pan, until butter has browned. Remove from heat and set aside.
Add the cream cheese to a large mixing bowl. Using an electric mixer, mix cream cheese on medium speed until creamy and free of any lumps. Add the butter, cinnamon, salt and vanilla and mix to incorporate. Add the powdered sugar, one cup at a time, mixing well after each addition.
Refrigerate frosting for about 15 minutes, due to the addition of hot melted butter. Turn mixer on medium speed and mix frosting again until light and fluffy. Add 1 to 2 teaspoons of half and half or milk if needed to thin frosting to the perfect piping consistency. Make sure you only add 1 teaspoon at a time, mixing after each teaspoon. It doesn't take much milk to thin frosting.
Fill a pastry bag 3/4 full with frosting. Pipe frosting onto cooled cupcakes.
Place a sugared pecan on top of each cupcake and allow cupcakes to set for a few minutes until the frosting sets up a little before placing into a cupcake carrier.
Refrigerate cupcakes if not serving the same day. Allow to set out at room temperature for at least one hour before serving.
For the Sugared Pecans
Add butter to a medium saucepan and melt over medium heat. Add the sugar and pumpkin pie spice and mix to incorporate. Add the pecans and stir over medium heat until the sugar has completely dissolved and the pecans are coated with the wet mixture. Transfer to parchment paper and spread out evenly. Allow to cool. Store unused pecans in an airtight container in the refrigerator for up to two weeks.
---
Notes
I used a Wilton #32 tip for the cupcakes pictured in this recipe. Any tip can be used.
There may be affiliate links in this post. We are a participant in the Amazon Services LLC Associates Program, an affiliate advertising program designed to provide a means for us to earn fees by linking to Amazon.com and affiliated sites.