Lattice Topped Peach Pie
It wouldn't be summertime without peach pie, and this Lattice Topped Peach Pie totally hits the spot. From the flaky pie crust to the juicy peach-loaded filling, this peach pie will have you coming back for seconds. If you can't get fresh peaches don't worry, you can use frozen ones too!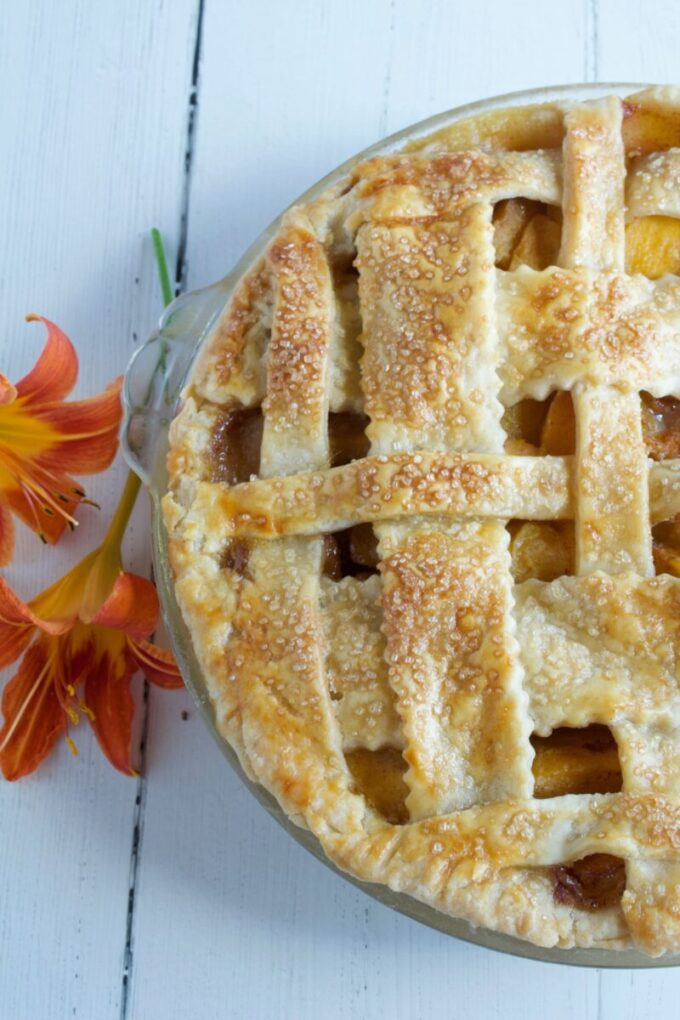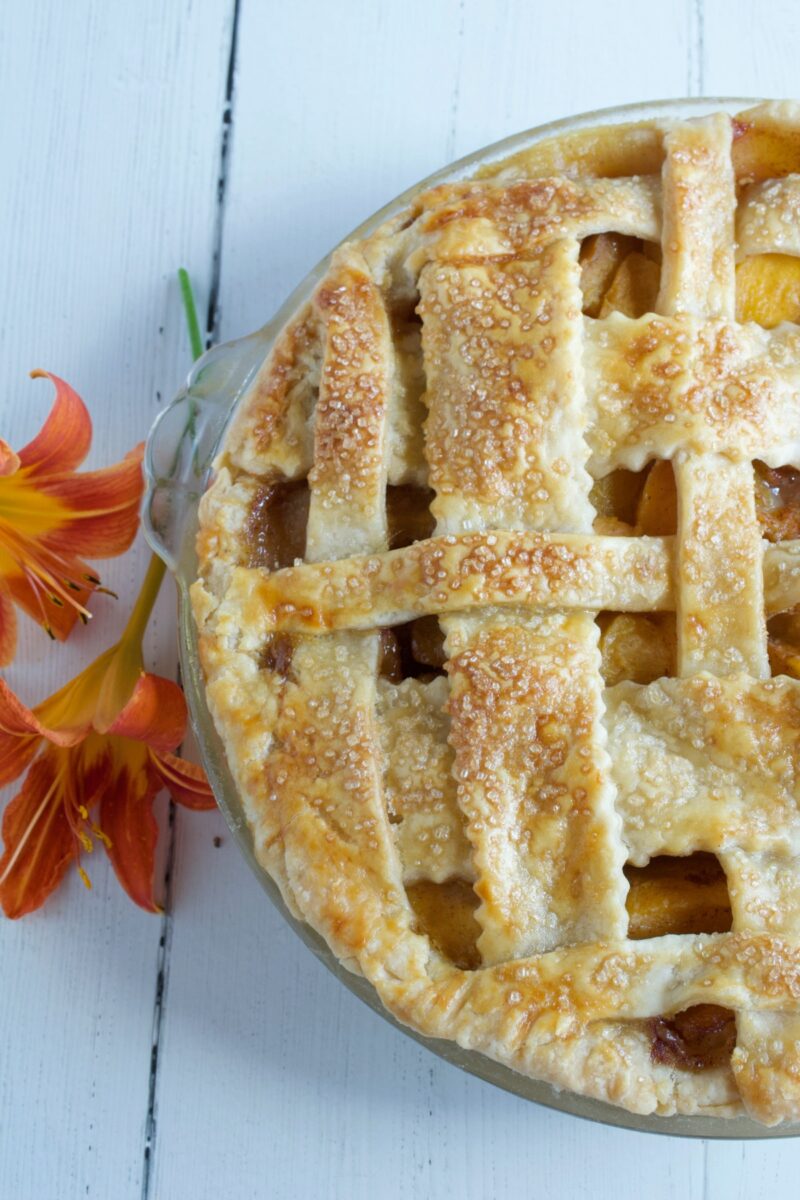 Let's talk about our favorite summer desserts. Ice cream, fresh fruit pies, ice cream, fresh fruit pies, ice cream, fresh juicy peach pie! If there's one thing I totally appreciate about summertime, it's the fresh in-season fruits. Just a couple of weeks ago, I made a Homemade Tart Cherry Pie and some Red Tart Cherry Fritters from fresh cherries off my cherry tree, and now there's an abundance of fresh in-season peaches.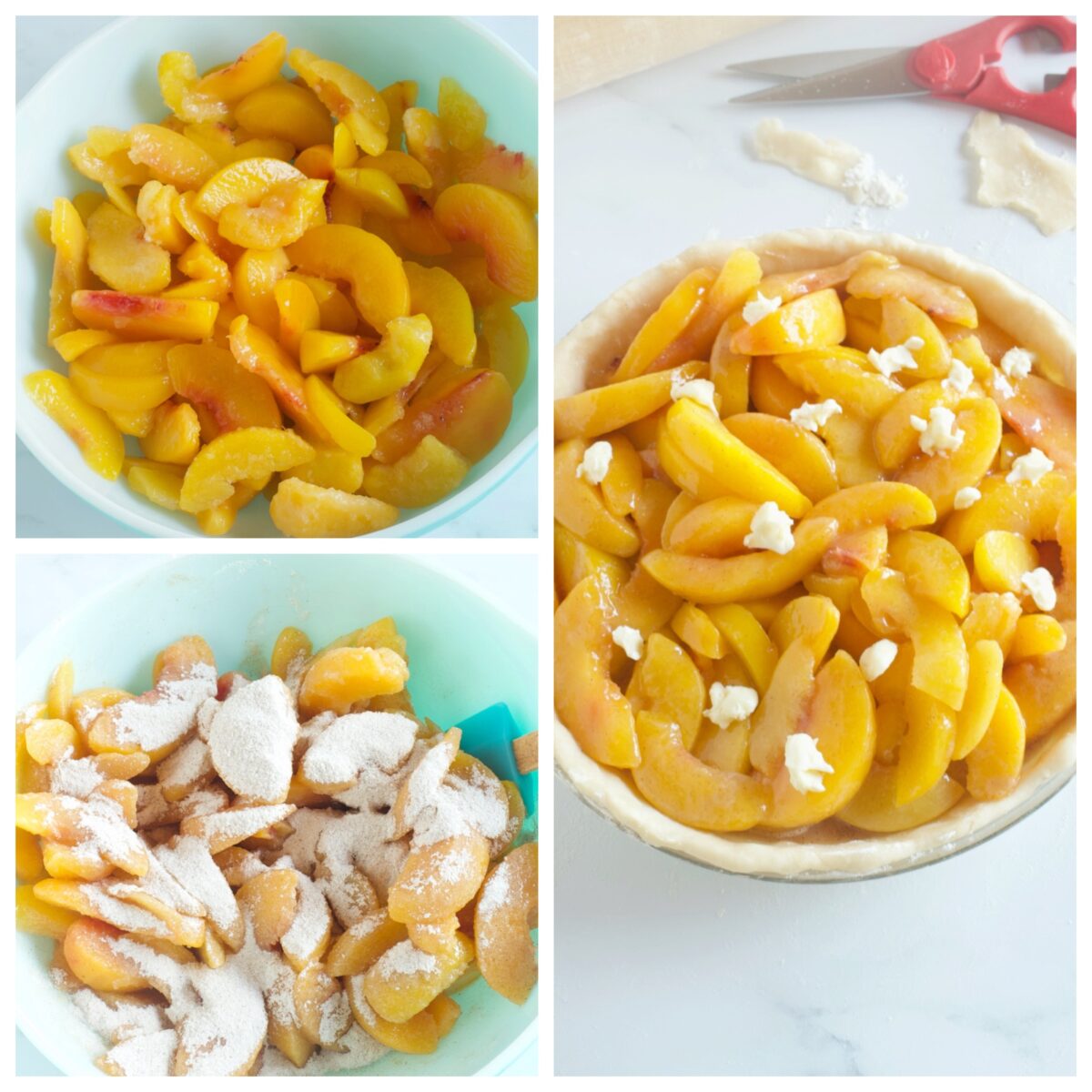 PRO TIPS FOR MAKING THIS PIE
The best peaches for peach pie are fresh, although you can use unsweetened frozen peaches. Fresh peaches should be slightly firm with no soft spots. Frozen peaches should be thawed and blotted dry.
Don't use weird ingredients! By this, I mean don't use ingredients that you've never heard of using in a peach pie if you're using your once-a-year fresh Georgia peaches. Cinnamon is a great complement to peaches. I used the usual sugar and thickener in this recipe, and nothing else but cinnamon.
Don't chop peaches. Fruit pies are a little messy anyway, but chopped peaches will fall out of the sides of your slice of pie easier than sliced.
Use slices that are at least 1/2-inch thick. I like 3/4-inch thick slices. I like to cut my fork into a nice thick piece of peach. If you cut them too thin, they have a chance of becoming too overcooked and mushy before the bottom crust gets baked through.
Don't use store-bought canned peaches. They are soft and mushy and come in heavy syrup. They don't even compare to fresh or frozen.
Peaches aren't hard to peel, as long as they're ripe enough. If you like, you can cut a small X on one end of each peach, dip them in boiling water for a few seconds with a spider or slotted spoon and the peeling will come right off. I do this when I'm working with a large number of peaches or tomatoes.
This recipe calls for 2 teaspoons of lemon juice. This is to help keep the peaches from turning brown once they're sliced. Make sure to sprinkle the lemon juice over the peach slices and lightly toss them as soon as you've sliced them.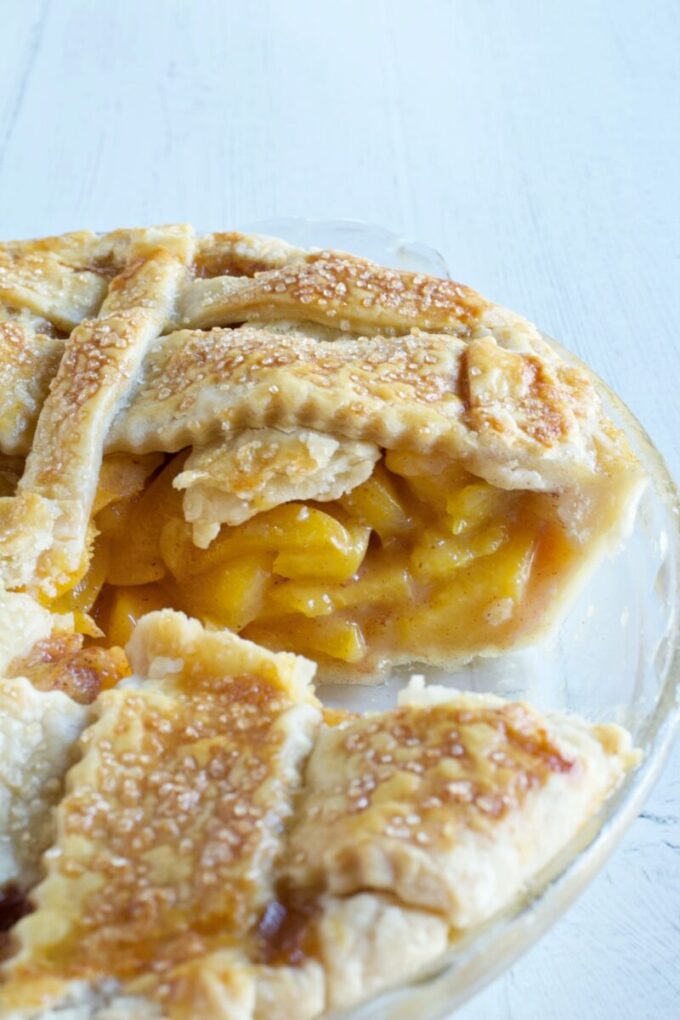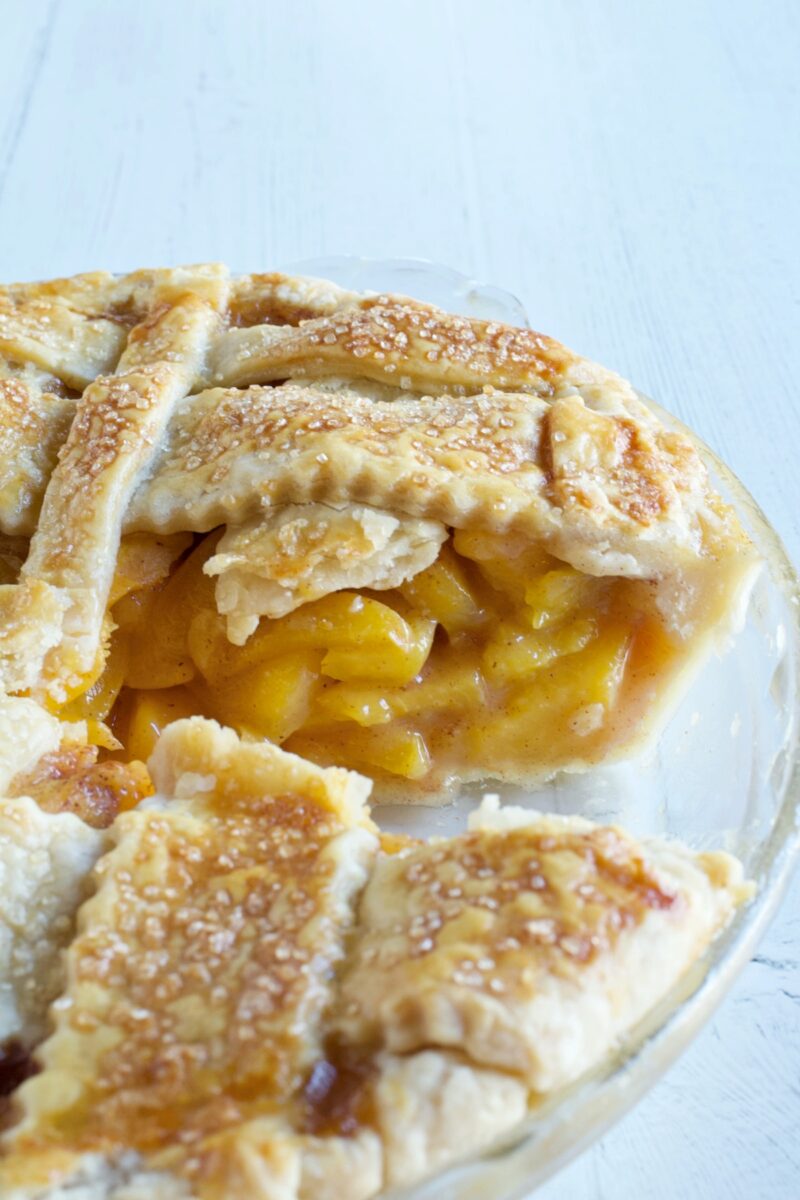 A pie crust isn't complete without a pie wash to make it sparkle and shine. I whisked together 1 egg and 1 table of half & half and washed it on my crust. Then I sprinkled it with coarse turbinado sugar. There are so many options for decorating the crust. See this post on pie washes if you're not sure what pie wash you want to use.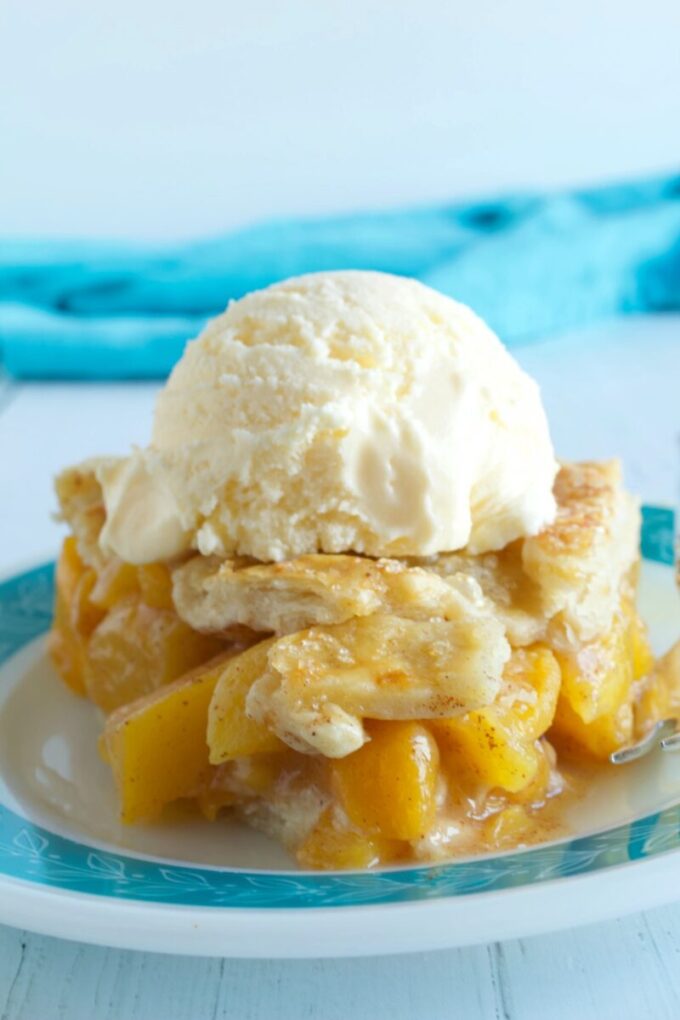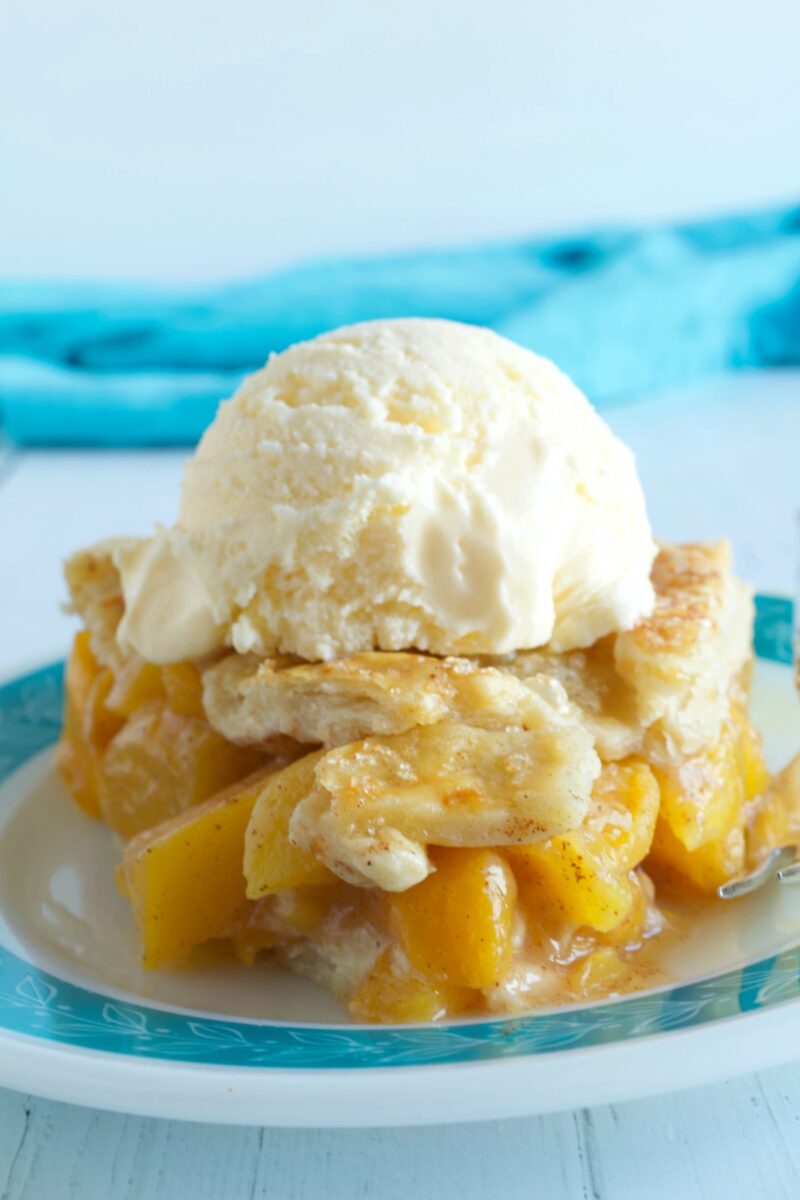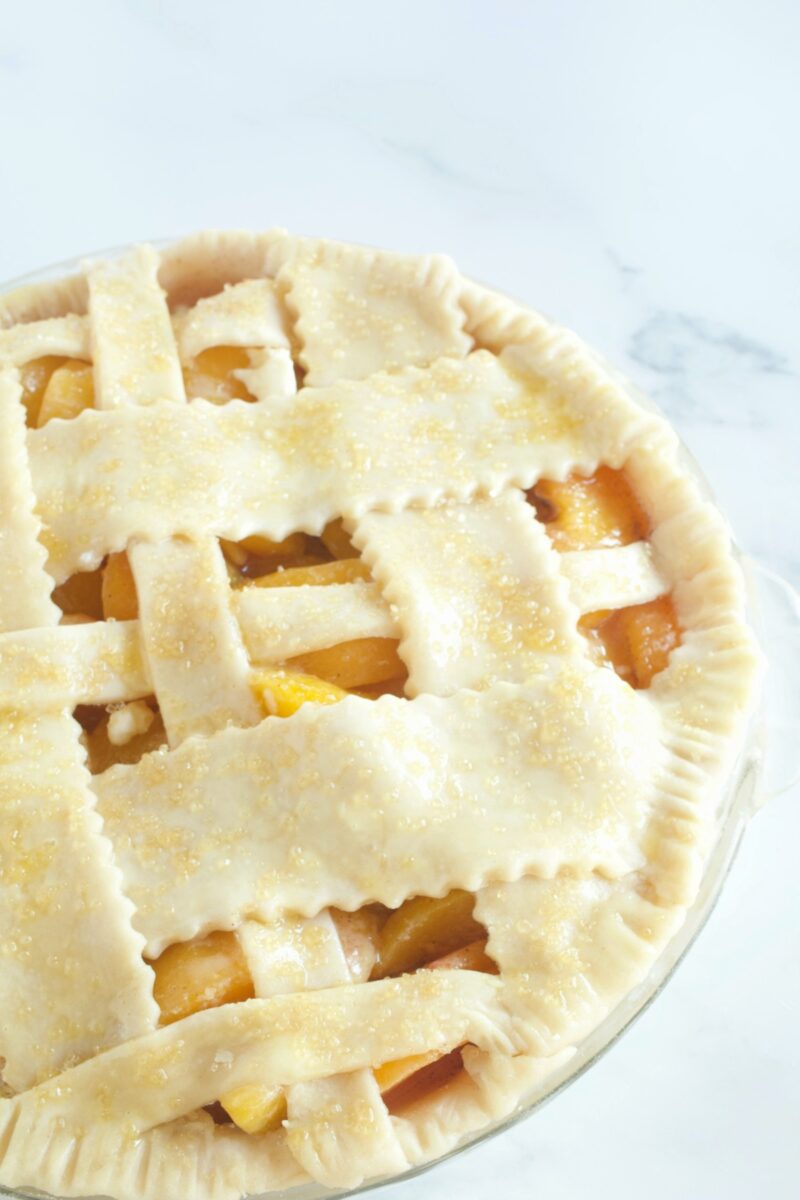 LATTICE PIE CRUST
TIME TO LAUGH! Now you can take a moment to chuckle. Yep, can you see what yours truly did wrong on the lattice crust above? I get distracted easily and yes, I was talking to my husband and forgot to lattice this part of my crust in the picture. Those 2 strips you see on top should've been under the 2 strips they were over. So I'll call this part of the crust a mock lattice crust. 🙂
You can lattice the top crust any way you want to. You can cut all the dough strips the same width, or change them up with different widths. You can use a pastry wheel to cut some of them like I did here, or just use a knife or pizza cutter for all the strips. It's totally up to you.
HOW TO LATTICE THE TOP CRUST
Prepare a double-crust pie dough the day before or at least a couple of hours before using. Divide it in half, wrap and refrigerate. Remove one disc of dough from the refrigerator. Roll out and fit into a pie dish. Remove the second disc of dough and roll out as big as you would if fitting into a pie dish, about 13 inches in diameter and about 1/8-inch in thickness.
Cut strips of dough…we'll say 1-inch wide, but you can do your own thing here. Use a sharp knife or pastry cutter to cut the dough. If the dough becomes too warm, arrange the strips on a cookie sheet and refrigerate for a few minutes.
Place 5 strips of the dough over the pie filling, placing them all in one direction. Fold back every other strip. Place a long strip of dough down the center, going in the opposite direction. Unfold the folded strips and fold the opposite strips. Place another strip on top, going in the opposite direction. Keep repeating this process until you've weaved the entire top.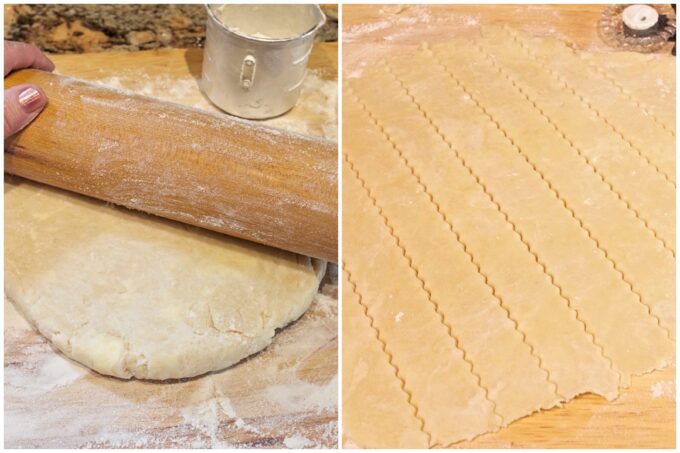 If you feel intimidated by making a lattice top crust, or if you just want a regular top crust, you can simply roll out the dough and form a top crust. I did this in my Country Peach Pie recipe. As a matter of fact, I adapted the lattice topped peach pie from that recipe, by adding more peaches and cinnamon.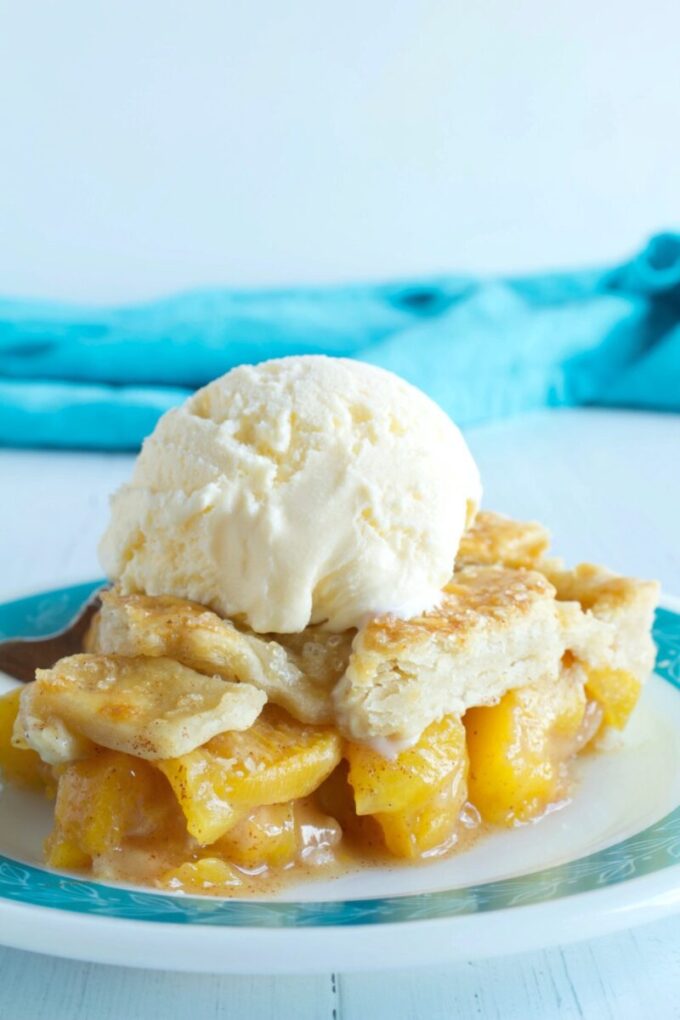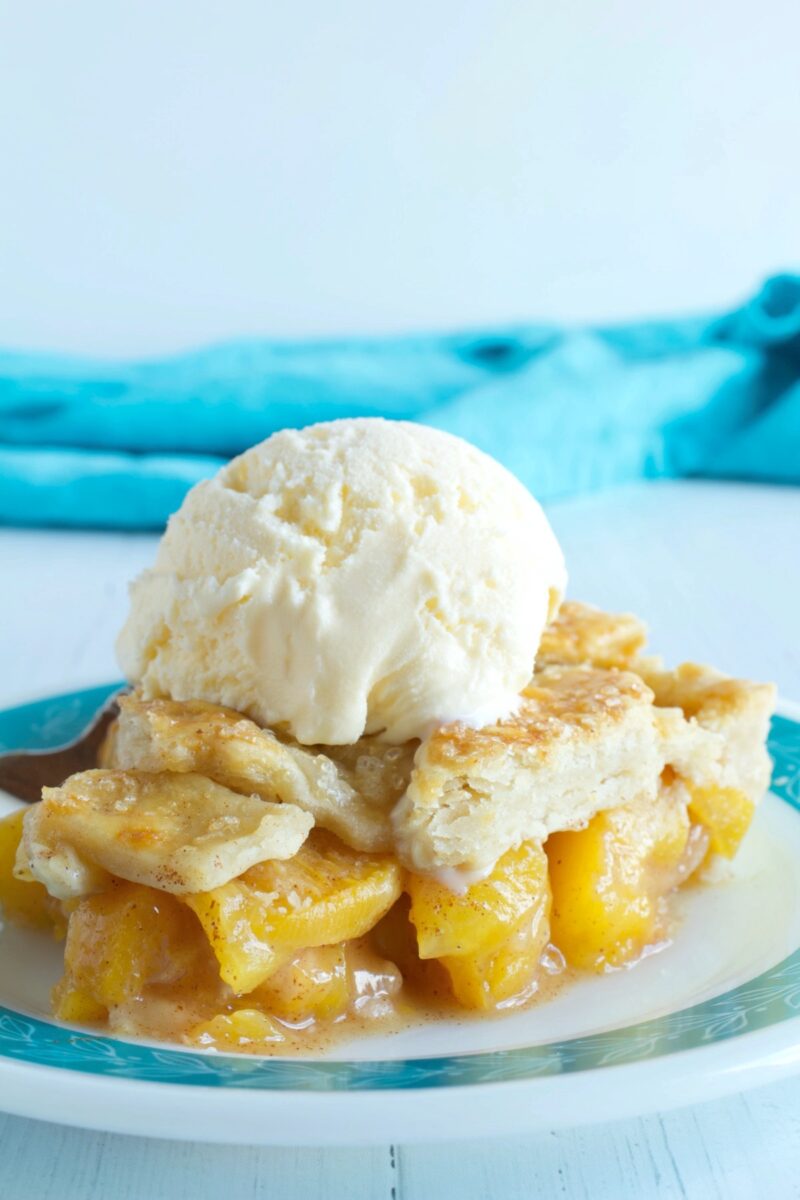 TIPS FOR BAKING THE PIE
Bake the pie in the lowest rack position in your oven.
Bake the pie on an old cookie sheet. Fruit pies love to bubble over.
Cover the edges of the pie with foil to prevent over-browning. Remove the foil about 15 minutes before the pie is done. The pie is done, when you see the filling bubbling up in the center. You can also check for doneness by running a sharp knife into one of the peach slices. If they are tender, the filling is done.
Use a glass pie dish for even heat distribution and so you can see when your bottom and side crusts are browned.
Can I Use Frozen Peaches In This Pie?
Yes! Of course, freshly picked peaches are the very best. However, frozen peaches are equally delicious. They are peaches that have been frozen at their peak ripeness. If you use frozen peaches, thaw them and blot them dry before using.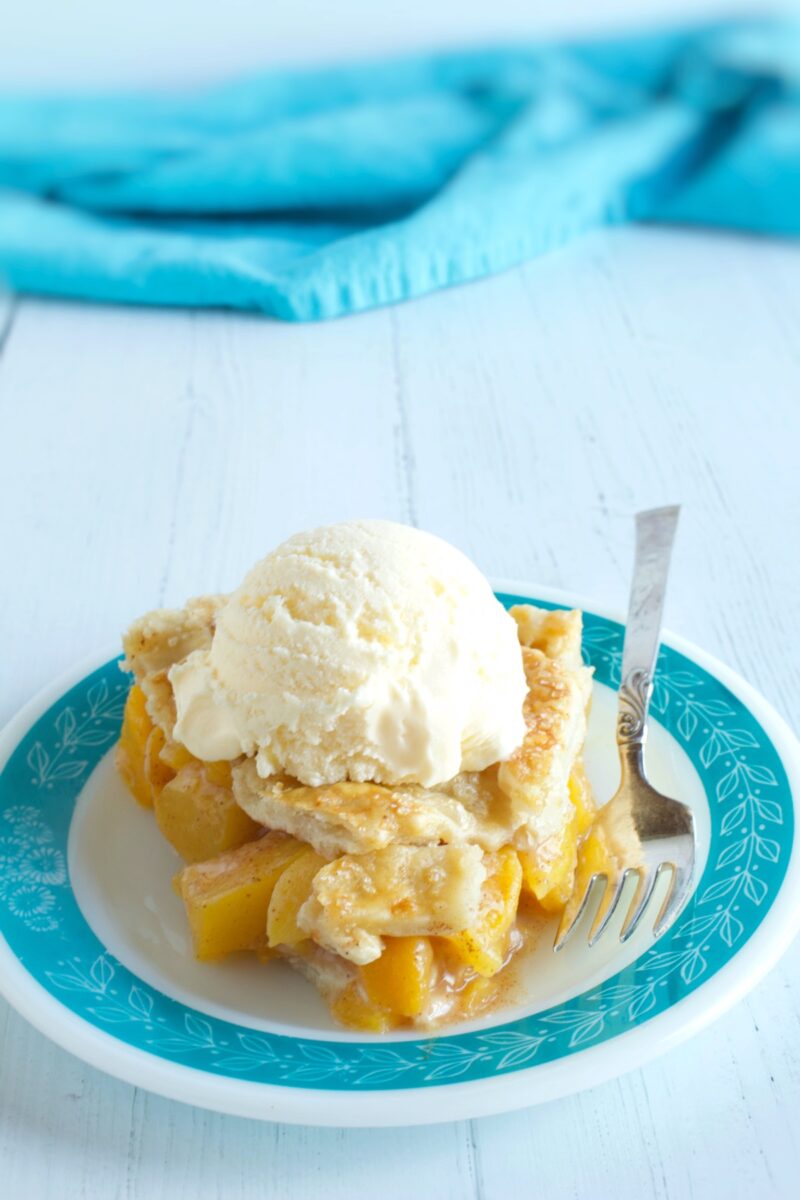 Check these other delicious fruit pie recipes…
If you make this recipe, please rate it and leave a comment below. I love getting your feedback. 🙂
Wanna see different recipes each day? Feel free to follow me on Facebook, Pinterest, & Instagram.
Print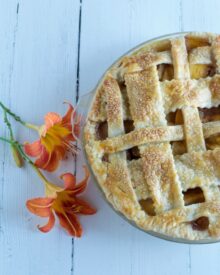 Lattice Topped Peach Pie
Author:

Prep Time:

1 hour

Cook Time:

60 to 70 minutes

Total Time:

18 minute

Yield:

8

servings

1

x

Category:

Pie

Method:

Bake

Cuisine:

American
---
Description
This Lattice Topped Peach Pie has a sweet cinnamony filling and it's loaded with peaches.  Don't worry, if you can't find fresh in-season peaches, you can use frozen.
---
Pastry for a 2-crust pie (I used Aunt Elsie's Flaky Pie Crust).

7 cup

s, sliced peaches, about

8

to

9

medium peaches

3/4 cup

granulated sugar

1/3 cup

all-purpose flour

1 1/4 teaspoons

cinnamon

2 teaspoon

s lemon juice

2 tablespoon

butter, cut into small pieces

1

egg mixed with 2 tablespoons half & half
Granulated or coarse sugar for sprinkling over the top I used Turbinado.
---
Instructions
Preheat oven to 425 degrees.
For the crust:  Make pie pastry as the recipe directs.  Roll one half of the dough out and fit into a 9-inch pie plate, about 12-inches, allowing the excess dough to hang about 1/2 inch over the edge of the pie plate.
For the filling: In a small bowl, whisk together the sugar, flour, and cinnamon and set aside.  Add the peaches to a large bowl and sprinkle the lemon juice over them.  Sprinkle the sugar over the peaches and lightly toss the peaches to coat with the sugar mixture.  Add the peach filling to the prepared pie shell and sprinkle the butter pieces over the top.
For the lattice top crust:  (see directions above recipe)  Roll out the second half of the dough into a 12-inch circle.  Cut strips about 1-inch wide or different widths if you prefer.  Arrange 5 to 6 across the top of the pie filling.  Arrange strips going in the other direction, weaving them over and under one another.  Press the ends of the strips into the edges of the bottom crust and fold under the edges of the dough.  Crimp or flute the edges as desired.
Brush the top crust with the egg and half & half and sprinkle with sugar.  Place foil around the edges to keep them from over-browning.  See my notes below on protecting the edges.
Bake:  Place the pie on an old cookie sheet.  Bake the pie for 15 minutes.  Reduce heat to 350 degrees and bake for approximately 45 to 50 minutes until the juices are bubbling through the top.  You can also place the end of a sharp knife through one of the peaches to see if they are tender.  You're looking for two things, a done crust, and tender peaches.  Transfer the pie to a cooling rack and remove the foil.  Allow the pie to cool for at least 2 hours before serving, to allow the pie filling to set up.
Cover and refrigerate leftovers.
---
Notes
Freezing:  Peach pie can be baked and frozen ahead of time for up to 3 months.  Allow pie to come to room temperature and wrap it in one layer of plastic wrap and one layer of heavy foil.  When ready to use, thaw in a refrigerator overnight.
Keywords: lattice topped peach pie, peach pie, pie, peach,
There may be affiliate links in this post. We are a participant in the Amazon Services LLC Associates Program, an affiliate advertising program designed to provide a means for us to earn fees by linking to Amazon.com and affiliated sites.