Iron Skillet Chicken Pot Pie
This creamy Iron Skillet Chicken Pot Pie is super filling and delicious.  It's loaded with fresh vegetables and tender chicken that are coated in a creamy gravy-like sauce.  It's the perfect comfort food and the entire family will love it.  No leftovers here!!
Would you believe I posted this recipe way back in 2016 when I first started my food blog?  I was looking at the recipe a few days ago and cringed at my photographs.  Okay Cindy, time for a whole new remake & repost!!  This chicken pot pie is full of creamy goodness and loaded with carrots, peas, chicken and other good for you ingredients.  Oh, and it's topped with a flaky pie crust.  It is so satisfying and delicious that I truly felt the need to repost the recipe.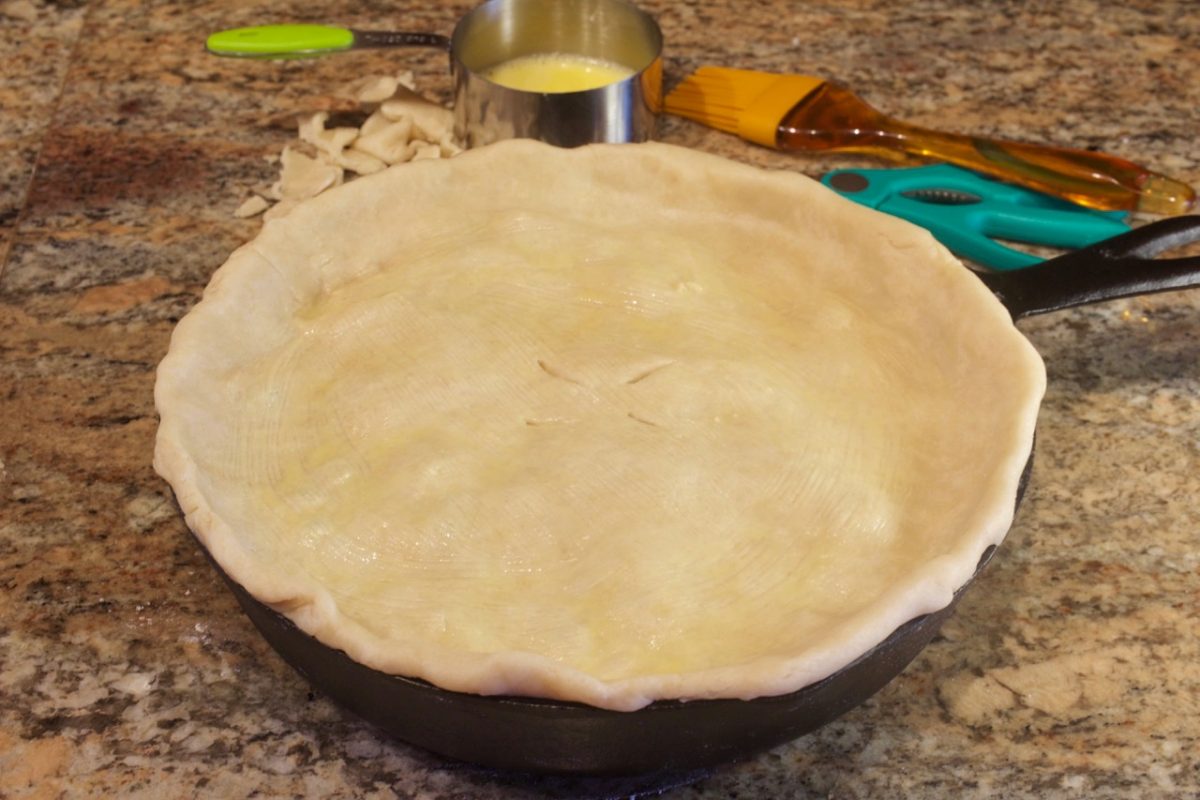 This Chicken Pot Pie takes a few minutes to prepare, but it is so worth it.  I used my favorite homemade pie crust for this recipe, Aunt Elsie's Flaky Pie Crust, but you can use your own favorite pie crust recipe or a store-bought pie crust if you're in a crunch for time.  Note:  I used a top crust only on this pot pie, but if you want to use a double crust (bottom and top) feel free to do so.
The star of the show here is chicken.  Now if you're in a big hurry, you could buy pre-cooked chicken and store-bought chicken broth for this recipe, but I recommend cooking chicken and using the fresh chicken broth.  I cooked 6 chicken thighs, cooled them, diced the meat into bite-size pieces, and reserved some of the broth for the gravy.  It only takes about an hour or so to cook and use fresh chicken an,d to me it's well worth it.  You can use white meat if you prefer.  I like the chicken thighs because they add more flavor to broth than any other part of the chicken.
Below is a quick step by step overview of how I made this savory delicious pie, once I cooked the chicken…
I started by melting some butter in a skillet and adding some diced celery and onions and some minced garlic.  I sauteed the onions and celery until the celery was tender and the onions were translucent and set it aside while making the gravy.
For the gravy, I started by making a rue.  For this, I simply heated some of the reserved chicken broth in a skillet and added some flour to it.  I whisked it for a few seconds until it thickened, then I added more chicken broth.  I whisked it until it became thick again and whisked in a little bit of half & half, before removing it from the heat.  Once I removed it from the heat, I added some Thyme, salt & pepper.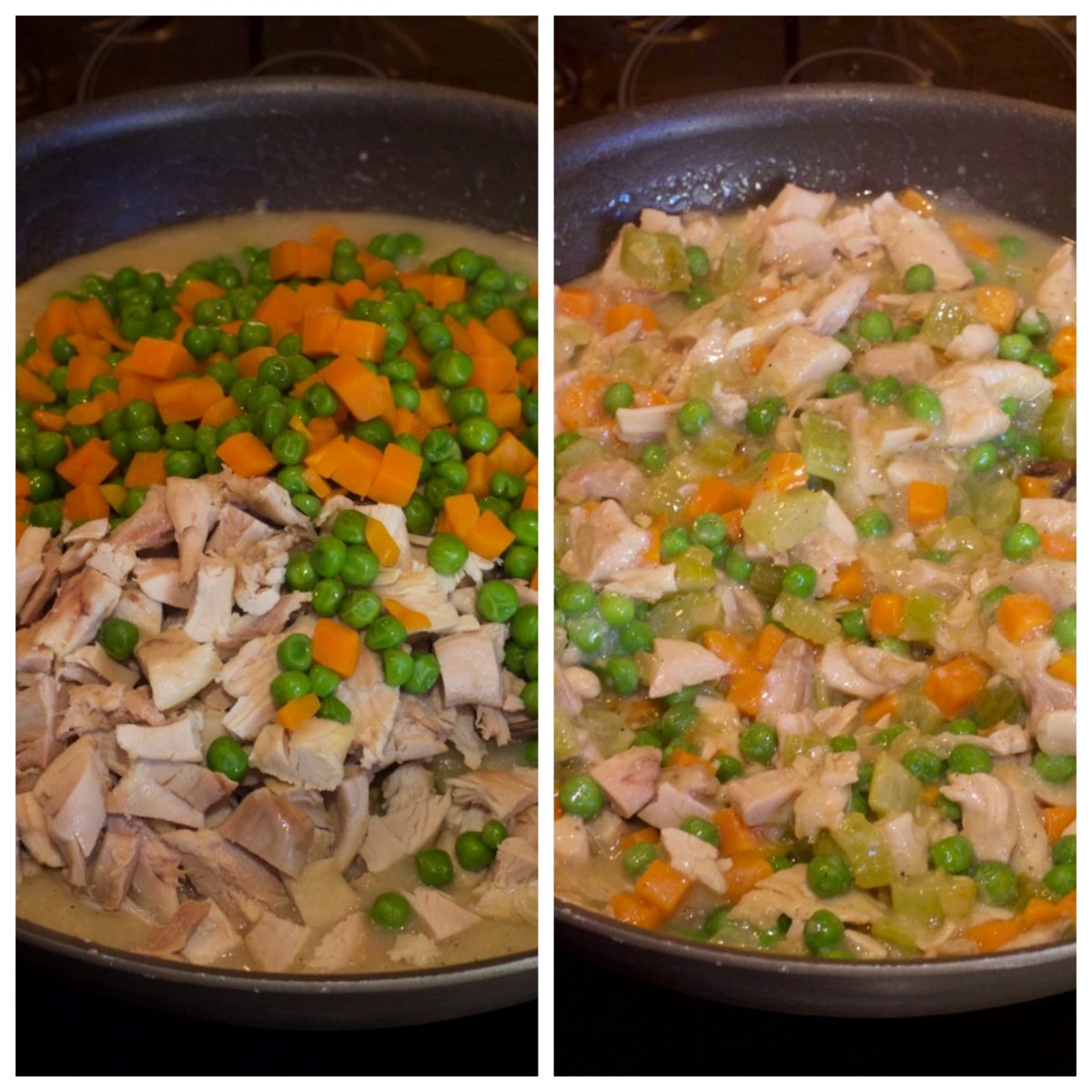 Next, I added the chicken, celery/onion mixture, and some frozen peas and carrots to the skillet with the gravy and mixed everything until it was well mixed and coated with the gravy.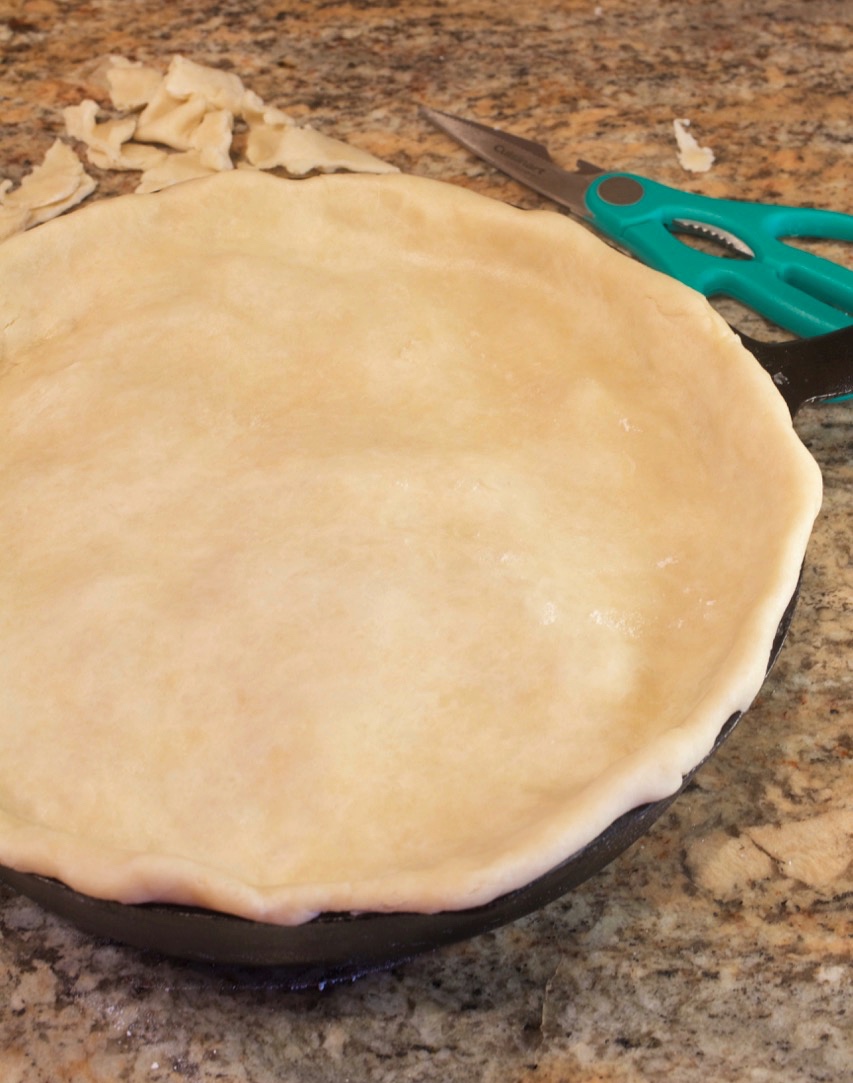 Then all I did was add it to a 10-inch iron skillet and top it with my pie crust.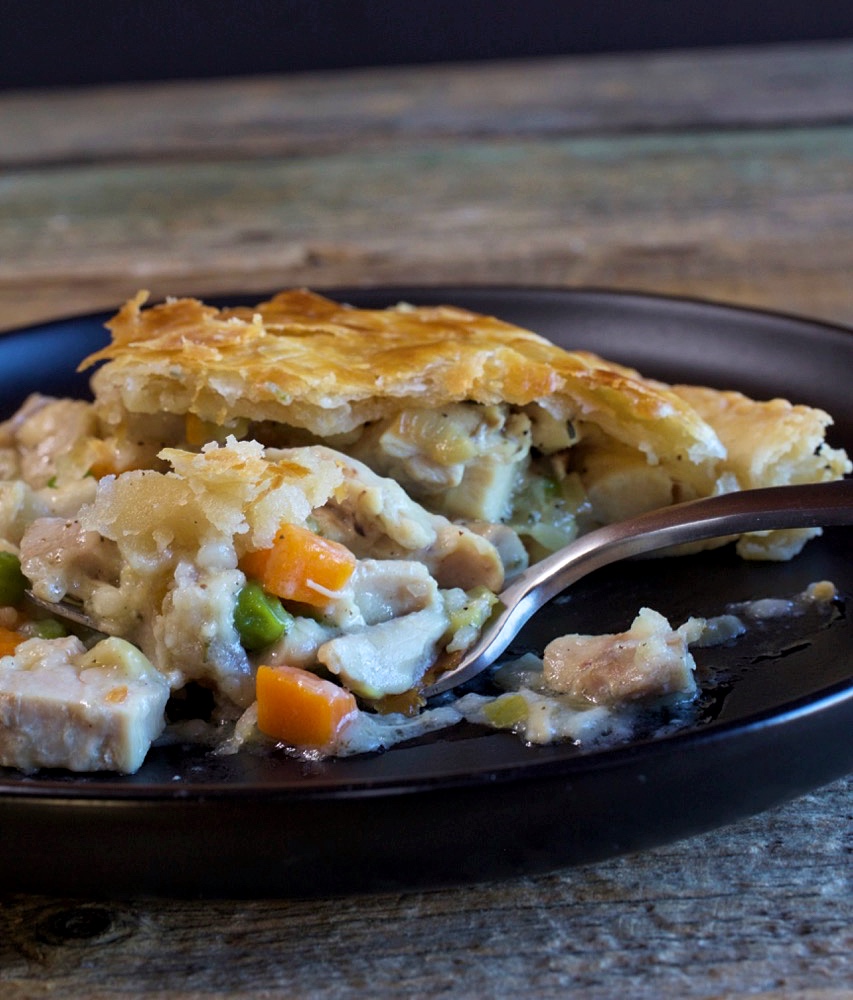 I brushed the top of the crust with a simple egg wash to help it brown nicely and give it a little sheen.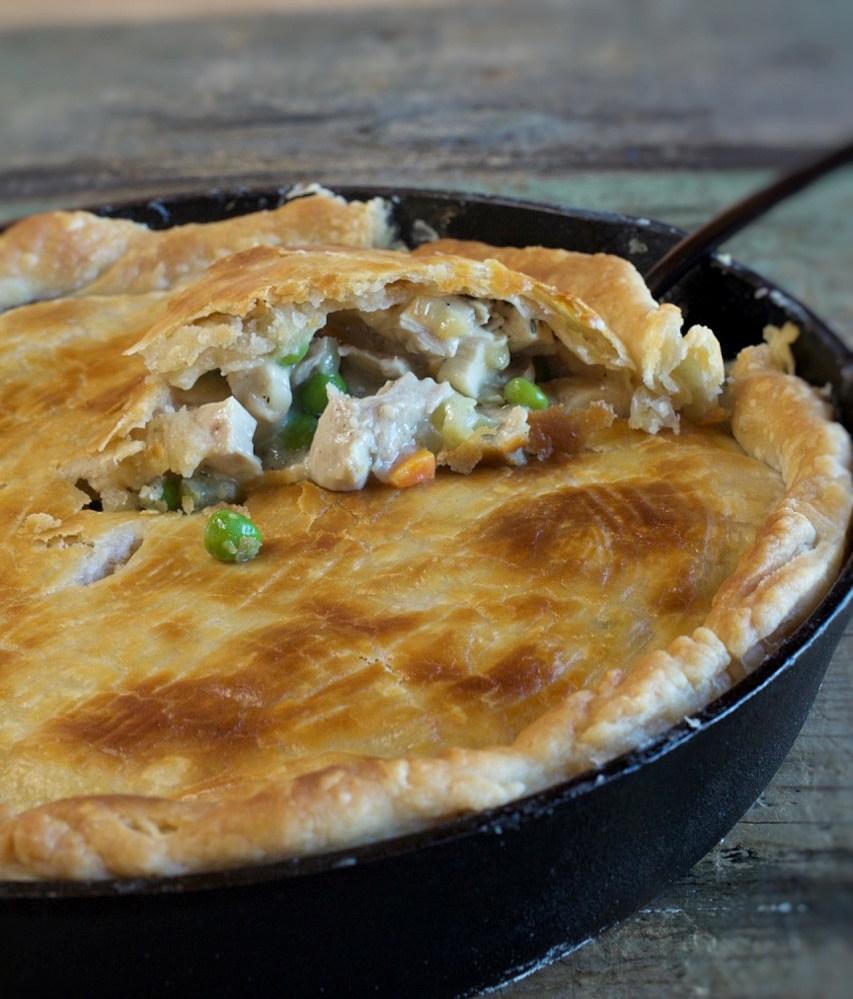 Can you see how flaky the pie crust is?  You can use a store-bought pie crust if you want, but Aunt Elsie's Flaky Pie Crust is easy to make and super flaky.
Check out this recipe for Chicken Pot Pie With Biscuits.
Print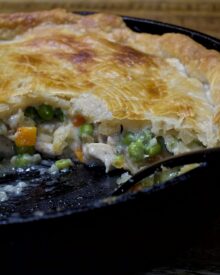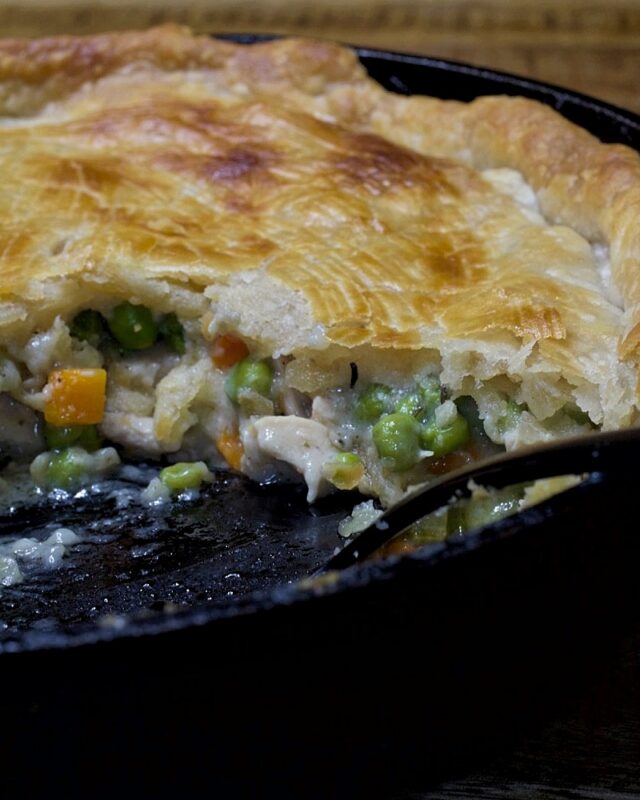 Iron Skillet Chicken Pot Pie
Author:

Prep Time:

30 Minutes

Cook Time:

45 Minutes

Total Time:

75 Minutes

Yield:

6

Servings

1

x

Category:

Dinner

Method:

Bake

Cuisine:

American
---
Description
This delicious Creamy Chicken Pot Pie is full of chicken, carrots, peas and other healthy full of flavor ingredients, and it's covered with a flaky crust.  Comfort food at its best!!!
---
1

stick butter, unsalted

1

large onion, diced

1 1/2 cups

diced celery, about

3

stalks

1 teaspoon

minced garlic

2

cups

reserved chicken broth

4 tablespoons

flour

1/4

cup

half & half

1 teaspoon

dried or fresh Thyme

1/2 teaspoon

pepper

1 teaspoon

salt

1

bag frozen mixed peas & carrots, 12 ounces, thawed

2

cups

cooked & diced chicken, see notes below

1

single pie crust, I used Aunt Elsie's Flaky Pie Crust
---
Instructions
Preheat oven to 375 degrees.
Melt the butter in a large skillet.  Add the onion and celery and saute until the celery and onions are tender.  Add the garlic and cook for another minute.  Remove from heat and set aside.  (You can use a separate skillet for the next step or transfer the onions and celery to a bowl and use the same skillet).
Add 1/2 cup of the broth and the flour to a large skillet.  Whisk over medium-high heat until the mixture thickens.  (This is called making a roux).  Add the remaining broth,  Whisk until the mixture is slightly thickened and remove from the heat.  Add the half & half, salt, pepper, and Thyme, and mix to combine.  Add the peas & carrots, and chicken and mix everything together, making sure everything is lightly coated with the gravy.  Transfer the mixture to a lightly buttered 10-inch iron skillet.
Make the pie crust.  (If you're using a homemade pie crust, such as the one above, you will only have to use 1/2 of it, enough for a single crust).
Roll out the pie dough and place it over the pie filling.  Trim the edges to 1/2 inch past the edge of the skillet.  Fold under and flute or crimp as desired. Cut 4 to 5 slits in the crust for venting.  Brush the top of the crust with a simple egg wash if desired.  I used one egg and 1 tablespoon of water mixed together and brushed it over the top.
  Bake in the preheated oven until the top is golden brown, about 45 minutes, depending on your oven.
  Allow pie to rest for 5 minutes before cutting and serving.
Refrigerate leftovers.  Pie will keep for up to 5 days, refrigerated.
---
Notes
I used chicken thighs with skins in this recipe.  Thighs are the most flavorful part of the chicken and lend the most flavor to the chicken broth.  I cooked the chicken in water, with no added salt or chicken bouillon, for about one hour until it was tender.  I allowed it to cool, removed it from the bones and cut it into bite size pieces.
This pie is great for freezing.  However, if you want to make and freeze this pie, make it in a 10 deep dish, freezer safe pie dish, and wrap tightly with plastic wrap and foil.
I made a top crust only for this pot pie.  If you desire to use a bottom crust feel free to do so.
Keywords: chicken pot pie, pot pie, iron skillet pot pie, chicken,
There may be affiliate links in this post. We are a participant in the Amazon Services LLC Associates Program, an affiliate advertising program designed to provide a means for us to earn fees by linking to Amazon.com and affiliated sites.