Coconut Cloud Cake
Coconut Cloud Cake is a delightfully spongy cake that's filled and topped with a dreamy seven-minute frosting and coconut. It's not heavy or overly sweet either. I think it's a perfect springtime or Easter cake, and if you're not a coconut fan, feel free to omit it. It will still be undeniably delicious!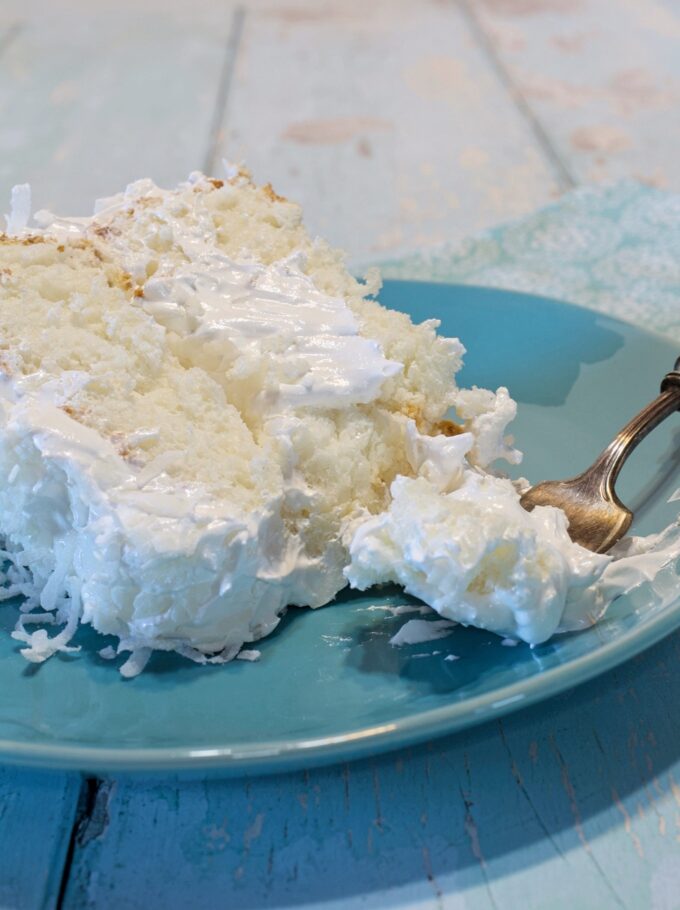 If you're looking for a light & airy dessert that's not overly sweet, you've come to the right place. When you make a light and spongy angel food cake and pair it with a pillowy cloud-like meringue filling & topping you get the perfect cake. The addition of coconut just sends it over the top. I've really been in the mood for Spring to arrive and this dreamy cake reminds me of Spring & Easter. Not a fan of coconut? Don't worry, it's still delicious without it.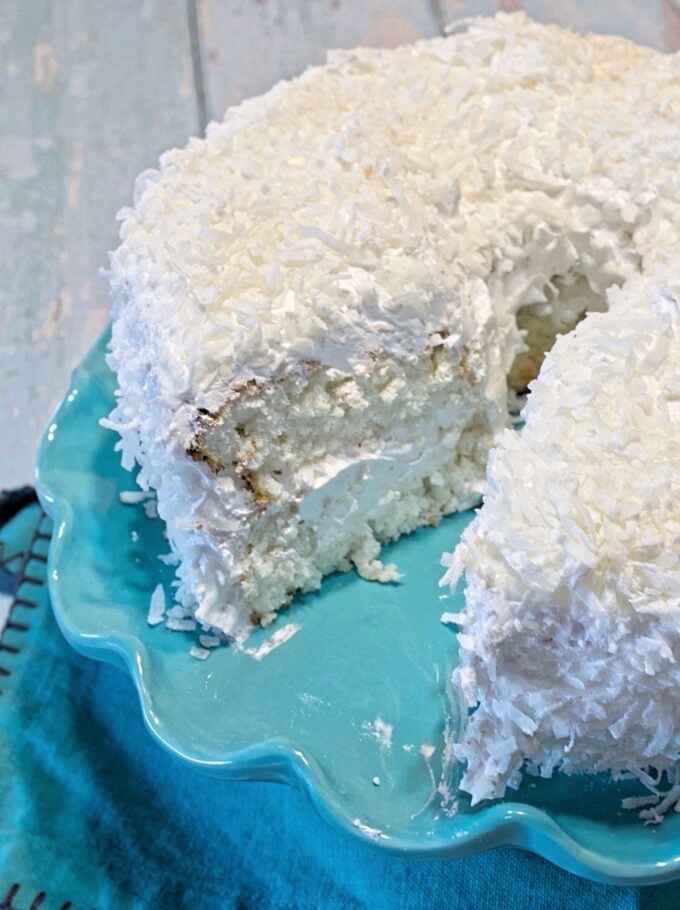 Let's set aside thoughts of rich, dense, sugary, and buttery cakes today. Instead, let's talk about a cake that has a light and spongy texture, is low-fat, and tastes like you're biting into a soft cloud. This cake is made with 6 simple ingredients and each one plays an important role in the cake.
Simple Cake Ingredients
Egg Whites: Egg whites are the key ingredient in this cake. Egg whites take the place of leavening ingredients such as baking powder or baking soda. The egg whites get whipped until they're tripled in volume, giving the cake all of its rise. It's important to use room temperature egg whites in this cake. Room temperature egg whites expand a lot more than cold ones, creating more volume.
Cream of Tartar: Cream of tartar is a stabilizer. It's used in whipped egg whites to keep them from deflating.
Salt: Believe it or not, salt enhances the flavors of sweets.
Vanilla: Pure vanilla extract adds so much flavor to all desserts.
Cake Flour: Cake flour is the essential flour for this cake. It's low-protein and finer in texture than regular all-purpose flour. If you don't have cake flour, you can make a homemade version but it's best if you can use regular cake flour.
Granulated Sugar: The ideal sugar for angel food cake is superfine. I've had readers tell me they can't find superfine sugar. No problem. Use regular granulated sugar. Add it to a food processor and pulse for 30 seconds. If you don't have a food processor use your blender.
Tips
Don't under or over beat the egg whites. The egg white tip should stand up straight on its own without falling over. If it falls over, it's under beat. It should look glossy. If it no longer looks glossy, it's over beaten.
When separating the egg yolks from the whites, make sure there is absolutely NO egg yolk mixed in with the egg whites. Separate the egg whites and yolks, one at a time, transferring each egg white to a small bowl before adding it to the large mixing bowl.
Cold egg whites separate easier than room temperature. Separate them while they're cold, then set the egg whites aside to come to room temperature.
Use a serrated knife to slice angel food cake. It's too spongy for a regular knife. Using a serrated knife will actually separate the cake as it's cutting through it instead of pulling it down with the knife.
This recipe calls for sifted cake flour. This means to sift some cake flour, then measure out what you need.
Do not grease the cake pan. Egg whites need a very clean non-greasy cake pan so they can climb up the sides as the cake bakes.
Seven Minute Frosting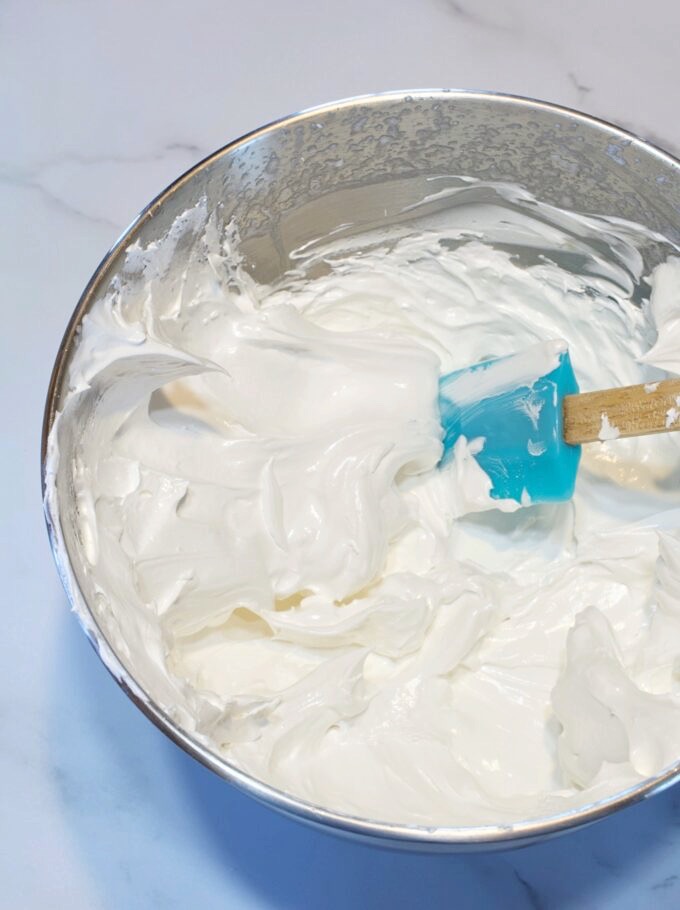 Seven Minute Frosting is a fluffy cloud-like delectable meringue frosting and simply melts on your tongue. Just like the cake above, egg whites are the star of the show in this frosting.
Seven Minute Frosting ingredients
Egg Whites: Egg whites at as the leavening agent here, just like in the cake recipe. However, they don't need to be at room temperature here, because we'll be heating them anyway.
Granulated Sugar: The granulated sugar doesn't need to be pulsed to a fine texture here because we are heating it with water to dissolve it, which is called making a simple syrup.
Cream Of Tartar: Cream of tartar stabilized the egg whites, keeping them from deflating, just like in the cake.
Pure Vanilla: Adds flavor.
Why Is This Frosting Called Seven Minute Frosting?
Seven Minute Frosting is a meringue frosting that starts by making a simple syrup of sugar and water and combining it with egg whites. Once the simple syrup is made, the syrup gets transferred to a mixing bowl and beat with a whisk attachment for "seven" minutes, after which time the frosting has almost tripled in volume and it's glossy and forms perfect peaks.
If you're wondering what to do with all of those leftover egg yolks, save them for french toast or make some homemade lemon curd.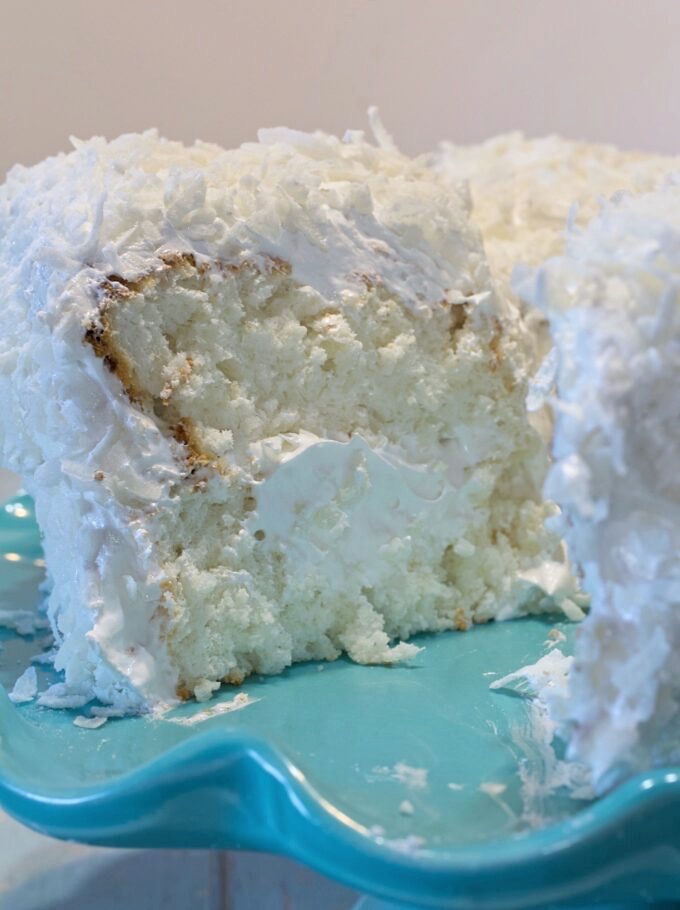 If you make this recipe please rate it, and leave a comment below on how you liked it. I love hearing from you!
Wanna see different recipes each day? Feel free to follow me on Facebook, Pinterest, & Instagram.
Print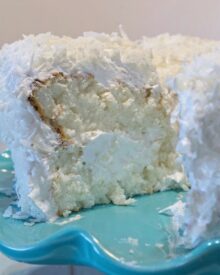 Coconut Cloud Cake
Author:

Prep Time:

20 Minutes

Cook Time:

45 Minutes

Total Time:

1 hour 5 minutes

Yield:

12

Servings

1

x

Category:

Cake/Desserts

Method:

Bake

Cuisine:

American
---
Description
Coconut Cloud Cake is a delightfully spongy cake that's filled and topped with a dreamy seven-minute frosting and coconut.  It's not heavy or overly sweet either.  I think it's a perfect springtime or Easter cake, and if you're not a coconut fan, feel free to omit it.  It will still be undeniably delicious!  
---
CAKE
1

cup

sifted cake flour (sift the flour before measuring)

1 1/2

cups

sugar divided

1 3/4

cups

egg whites, room temperature (about 14 large)

1 tablespoon

warm water

1/2 teaspoon

salt

1 1/2 teaspoons

cream of tartar

2 teaspoon

pure vanilla extract
SEVEN MINUTE FROSTING
3

large egg whites, cold or room temperature

1 1/4

cups

sugar

5 tablespoons

water

1/4 teaspoon

cream of tartar

1 teaspoon

pure vanilla extract

1/2

cup

sweetened flake coconut
TOPPING
3

cups

sweetened flake coconut
---
Instructions
CAKE
Preheat oven to 350 degrees.
Add the sugar to a food processor or blender and pulse for about 30 seconds.  Add 1 cup of the sugar and the sifted cake flour to a fine-mesh wire sieve, and sift together.  Repeat 2 more times.  Set aside.
Add the egg whites and warm water to the bowl of a stand mixer or large mixing bowl.  Using a whisk attachment, on low speed, whisk together the egg whites and water until foamy.  Add the salt, cream of tartar, and vanilla.  Beat on medium speed until soft peaks form.  Increase the speed to medium-high and sprinkle in the remaining 1/2 cup of sugar, 1 tablespoon at a time.  Keep whisking until the egg whites are stiff but not dry.  Note:  The tip of the egg white peak should stand up straight on its own without falling over and should still look glossy.
Remove the bowl from the mixer and add the sifted flour and sugar, by sprinkling the mixture over the egg whites in six additions, using a spatula to gently but quickly fold in.
Pour the batter into an ungreased 10-inch tube pan with a removable bottom.  Smooth the top with an offset spatula.  Run a knife through the batter to release any air bubbles.  Bake for 35 to 40 minutes, until the top of the cake is golden brown and springs back when touched.
Invert the cake pan on its legs, or if it doesn't have legs invert it onto the neck of a glass bottle, and allow it to cool completely, about 1 hour.  Carefully run a thin sharp knife around the outside edges of the cake and the inside tube to loosen it from the sides of the pan and invert it, bottom side up, onto a cake plate.  Set aside and make the frosting.
SEVEN MINUTE FROSTING
Place a heatproof bowl from a stand mixer over a saucepan of simmering water.  (The water should have air bubbles around the edges but not be boiling).
In the bowl, combine the egg whites, sugar, water, and cream of tartar.  Cook over medium heat, whisking frequently until the sugar is dissolved and the mixture is foamy, about 5 minutes.
Attach the bowl to a stand mixer fitted with the whisk attachment.  Beat the mixture on high speed until it becomes glossy and voluminous.  This could take up to 7 minutes.  Whisk in the vanilla.
Using a long serrated knife, carefully slice off the top 1 1/2 inches of the cake, making sure to not break it, and set it aside.  Cut a channel, 1-inch wide and 1-inch deep halfway between the center and the edge of the cake.  Fill the channel with the frosting and spread the frosting over the entire layer and sprinkle the coconut over the layer.
Gently place the reserved cake layer on top of the bottom cake layer.  Spread the remaining frosting over the sides and top of the cake.
TOPPING
Sprinkle the coconut nut over the top and sides of the cake, gently patting the coconut into the frosting on the sides.
---
Notes
Recipe adapted from Martha Stewart.
Keywords: coconut cloud cake, angel food cake, coconut cake, cake recipes, desserts, coconut desserts,
There may be affiliate links in this post. We are a participant in the Amazon Services LLC Associates Program, an affiliate advertising program designed to provide a means for us to earn fees by linking to Amazon.com and affiliated sites.