Chocolate Mousse
This Chocolate Mousse is the richest and most delectable chocolate dessert you will ever eat. It's light, airy, and silky smooth, not to mention it has a perfect bittersweet chocolate flavor. It's the perfect dessert to impress chocolate-loving guests!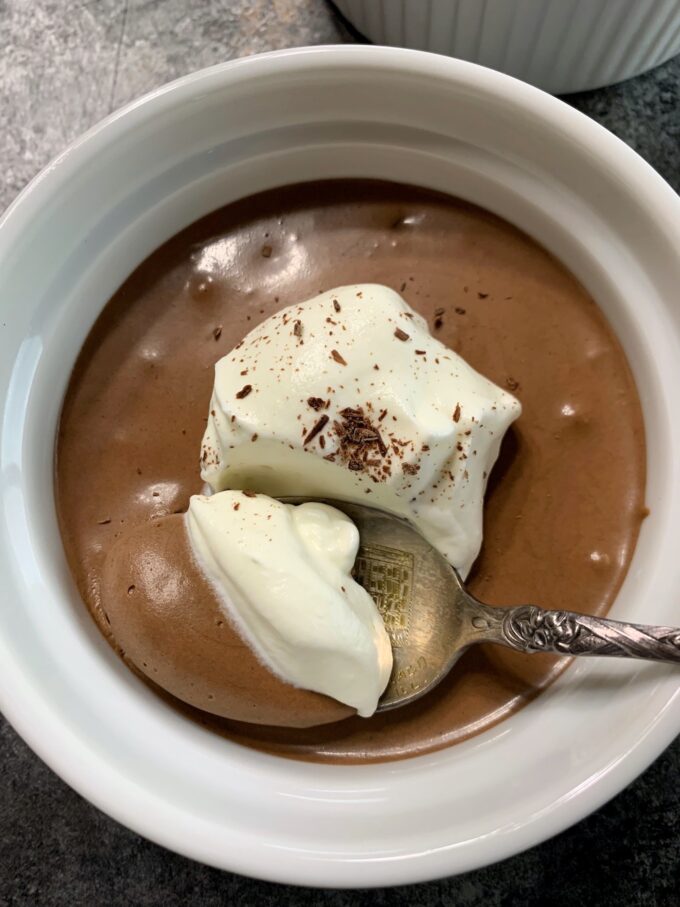 Do you want to know two secrets in making perfectly silky smooth and great tasting Chocolate Mousse? If you're a lover of chocolate, stay tuned. I'm about to share them with you, and you won't believe how easy it is to make delicious Chocolate Mousse!
The difference between mousse and pudding
Before we dive into the secrets of perfect Chocolate Mousse, you might be wondering what the difference is between mousse and pudding. I'll explain!
Chocolate Pudding is made by cooking milk, sugar, cornstarch, and cocoa until it's thickened. The result is a thick and non-fluffy texture.
Chocolate Mousse is made by adding eggs, sugar, and salt to a bowl over simmering water, (or double boiler). The egg mixture just gets hot enough to melt the sugar and slightly cook the eggs. Whipped egg whites or whipping cream get added to the cooled mixture, resulting in an airy light texture.
Using the right chocolate (secret #1)
Now that we've discussed the differences between mousse and pudding, let's discuss how to make the perfect Chocolate Mousse.
Baking bar = smooth & quick melting! Some people use chocolate chips to make Chocolate Mousse. I don't!! Here's why! Chocolate chips contain stabilizers to help them maintain their shape and they contain less cocoa butter than baking bars. Because of the added stabilizers, they don't melt as quickly or smoothly as a baking bar.
Baking bar = rich flavor! If I'm going to make Chocolate Mousse with the richest bittersweet flavor ever, I'm going to use a good quality baking bar vs chocolate chips. A good quality baking bar, such as Ghirardelli contains at least 60% cacao and not much else. It has a wonderfully rich flavor.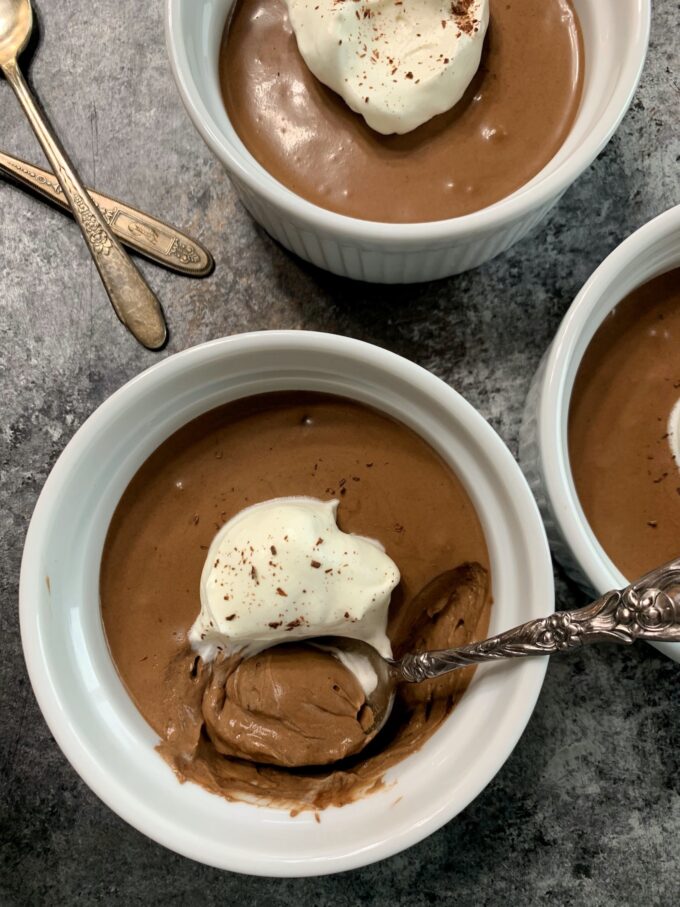 Cooking the egg mixture
The first part of this recipe involves heating the egg mixture over a double boiler. If you don't have a double boiler don't worry. Simply place a bowl inside of a saucepan. Here are some tips…
Make sure the bottom of the bowl does not touch the water. Pick a bowl that doesn't fit too deep into the saucepan. You should only need 2 to 3 inches of water, depending on how deep your bowl sits inside of the saucepan.
Make sure the water is simmering only, not boiling. The steam from the simmering water should be 212 degrees, which is what you want…no more! Otherwise, you will end up with cooked gloppy eggs. The simmering water should be just hot enough to just slightly cook the eggs.
Stir or whisk the egg mixture constantly for about 3 minutes, then touch the mixture with your finger. The sugar should be totally dissolved, (no grittiness), and the mixture should be pretty warm. It needs to be warm enough to melt the chocolate in the next step.
Adding the chocolate to the egg mixture
Here are a few tips for adding the chocolate to the egg mixture…
Make sure the chocolate is chopped pretty small so it will melt quickly.
Immediately add the chopped chocolate to the very warm egg mixture as soon as you remove the egg mixture from the heat.
Add the chopped chocolate first, wait about 30 seconds and add the cocoa.
Slowly mix the chocolate and egg mixture together, allowing the chocolate to melt.
Then, use a strong metal whisk and whisk the mixture until it's very smooth with no small lumps of chocolate remaining. You can also use a mixer for this.
Adding whipped cream (secret #2)
You'll see many Chocolate Mousse recipes that call for adding whipped egg whites to the chocolate mixture to achieve an airy, fluffy texture. That's fine if that's all you want, but that's not all I want. I want as much rich flavor as I can possibly get.
I use heavy whipping cream in my Chocolate Mousse. I whip the heavy whipping cream until it forms soft peaks. I add 1/2 of it to the chocolate mixture and gently whisk it in with a hand whisk. Then I gently fold in the second half with a rubber spatula. The whipping cream has so much more flavor than whipped egg whites and achieves the same airy, light results.
Refrigeration tip
If you want your chocolate mousse to look perfectly smooth on top without drops of condensation, here is a great tip!
Cover each dessert ramekin with a cut square of paper towel, making sure the paper towel doesn't touch the mousse. Next, wrap each ramekin with plastic wrap and refrigerate. The paper towel will absorb any condensation drops from the plastic wrap.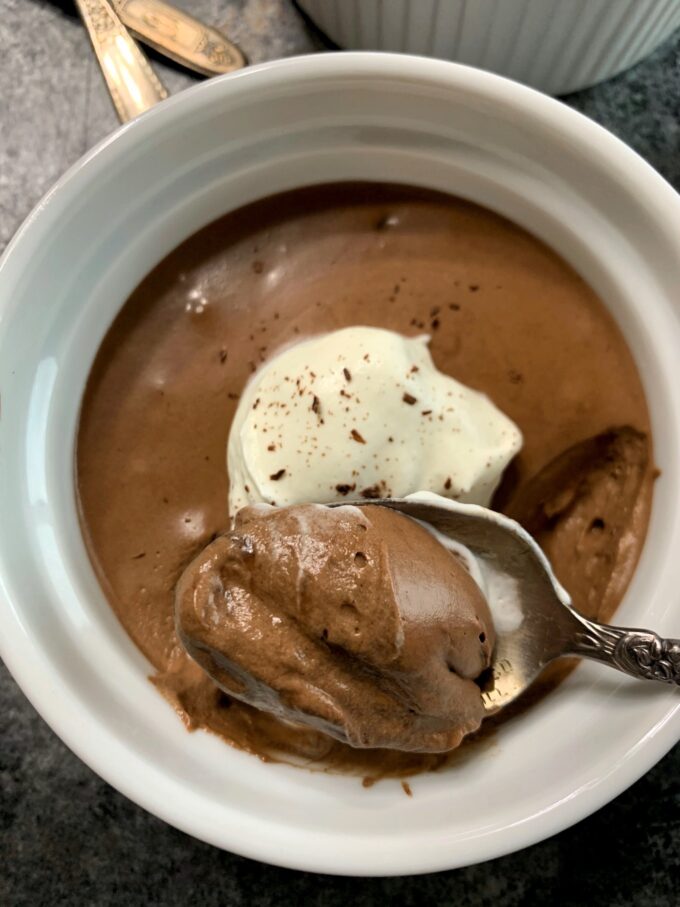 More chocolate recipes you might like…
If you make this recipe please rate it, and leave a comment on how you liked it. I love getting your feedback. 🙂
Wanna see different recipes each day? Follow me on Facebook, Pinterest, & Instagram.
Print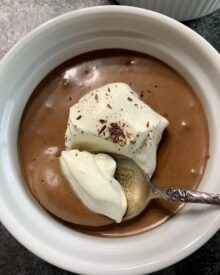 Chocolate Mousse
Author:

Prep Time:

15 minutes

Cook Time:

3 minutes

Total Time:

18 minutes

Yield:

3

servings

1

x

Category:

Dessert

Method:

Cook

Cuisine:

American
---
Description
This Chocolate Mousse is light, airy, and satiny smooth, and its true bittersweet flavor shines through.  A dollop of whipped cream really complements the bittersweet chocolate too! 
---
2

ounces

bittersweet chocolate (I use Ghirardelli)

4

large egg yolks

1/4

cup

granulated sugar
Pinch of salt

2 tablespoons

unsweetened cocoa (I used Dutch-processed)

1 1/4

cup

very cold heavy whipping cream
Chocolate shavings for garnish
---
Instructions
Finely chop the chocolate with a serrated knife and set it aside.
Add the eggs yolks, granulated sugar, and salt to a medium bowl.  Place the bowl in the top of a saucepan of 2 to 3 inches of simmering water, (doubler boiler).  Make sure the bottom of the bowl does not touch the water.  Constantly whisk the egg yolk/sugar mixture for about 3 minutes, until the sugar has totally dissolved and the mixture is very warm to the touch.  This should also slightly cook the egg yolks.
Remove the pan from the hot water.  Add the chopped chocolate to the warm mixture and allow it to sit for about 30 seconds then add the cocoa.  Whisk or mix until the mixture is very smooth and free of any small clumps of chocolate.  Set aside while you whip the whipping cream.
Add the whipping cream to a large mixing bowl.  Using the whisk attachment, whisk the cream until soft peaks form.  Remove 1/2 cup of the whipping cream and cover and refrigerate it.  You should have 3/4 cup left.  Using a sturdy hand whisk, whisk 1/2 of the whipped cream into the chocolate mixture, until the mixture is very smooth.   Using a spatula, gently fold in the remaining whipped cream until it's thoroughly incorporated.
Divide the mousse  equally between 3 ramekins.  Place a square of paper towel over the top of each ramekin,  making sure the paper towel doesn't touch the mousse. Wrap the entire ramekin with plastic wrap.  The paper towel will catch any condensation from dripping onto the top of the mousse.  Refrigerate the mousse for at least 2 hours or overnight.
Remove the mousse from the refrigerator about 15 minutes before seriving it, for best flavor.  Garnish with a dollop of the remaining whipped cream.
Optional:  Garnish with shaved chocolate.  To shave chocolate run a vegetable peeler down the side of a bar of chocolate.
---
Notes
Recipe adapted from Martha Stewart.
Keywords: Chocolate, chocolate mousse, mousse, dessert, mousse dessert, chocolate desserts, valentine desserts, valentine recipes,
There may be affiliate links in this post. We are a participant in the Amazon Services LLC Associates Program, an affiliate advertising program designed to provide a means for us to earn fees by linking to Amazon.com and affiliated sites.