Chicken & Fluffy Dumplings With Gravy
These homemade Chicken & Fluffy Dumplings With Gravy are made with tender cooked chicken, large fluffy dumplings, and a full-flavored thick gravy. So filling and satisfying, this is the best of comfort food!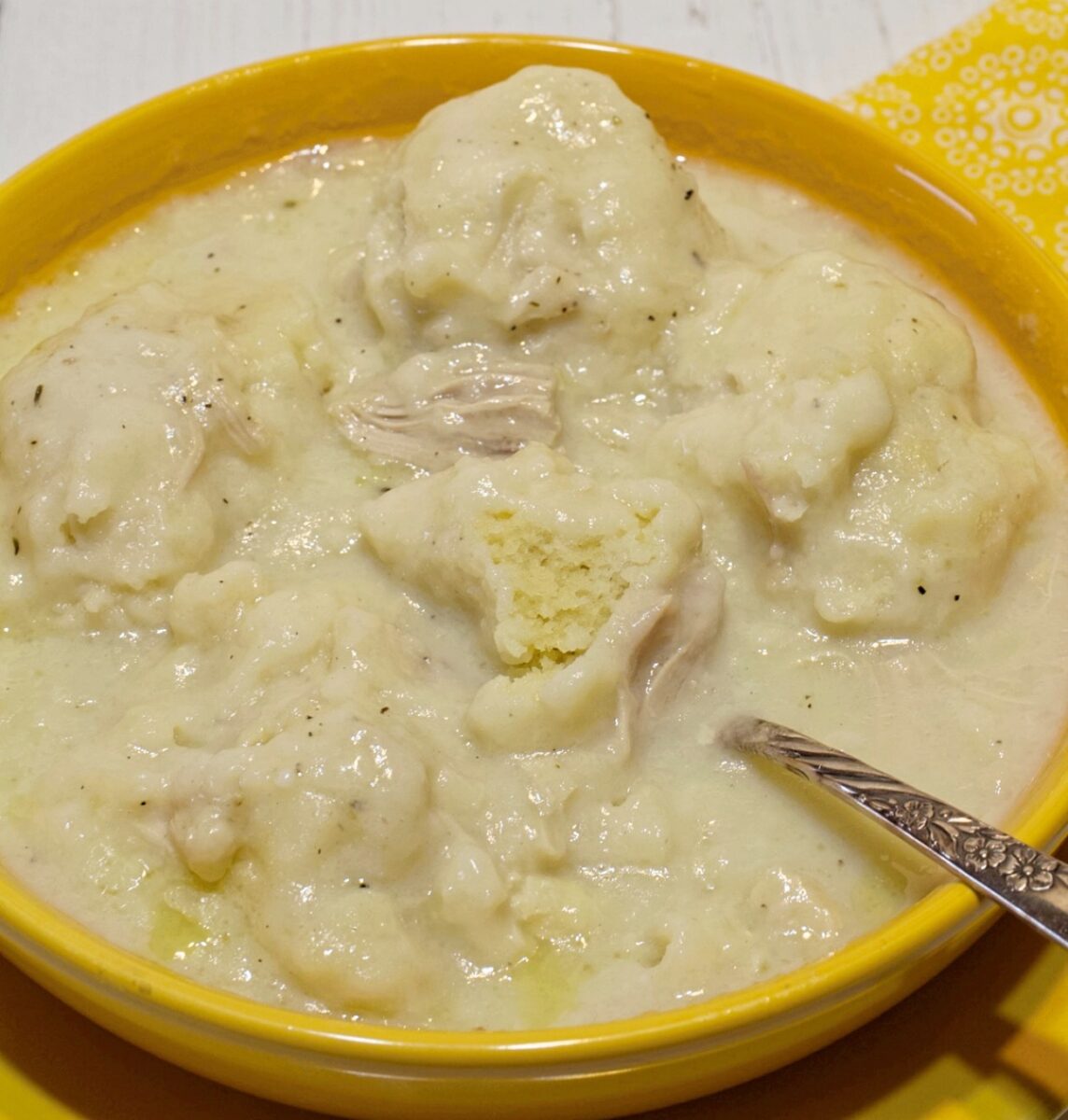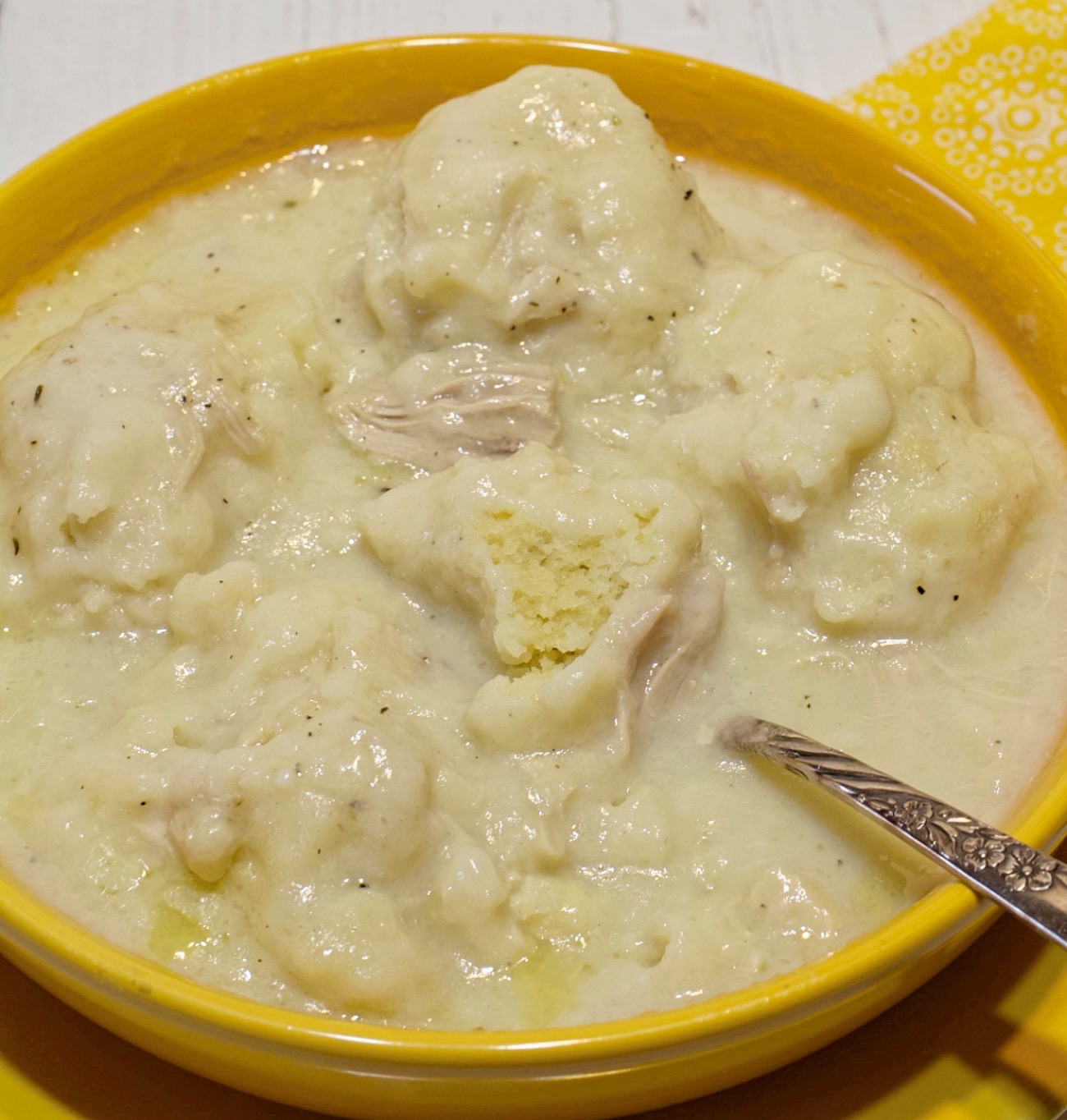 Growing up, when my mom made chicken and fluffy dumplings, I loved the dumplings but my favorite thing was the creamy thick gravy. After I ate the dumplings I would take a slice of bread to sop up and eat the remaining gravy.
I've had questions from some of you on how to not only make fluffy dumplings but how to create a thick creamy gravy over them. I really can't imagine eating a big fluffy dumpling that's floating in clear broth. I love to fork a fluffy dumpling and watch part of it fall back into the thick gravy, just so I can scoop it back up and eat it, gravy and all. Today, I'm going to share with you how to make perfect fluffy dumplings with a thick creamy gravy.
BROTH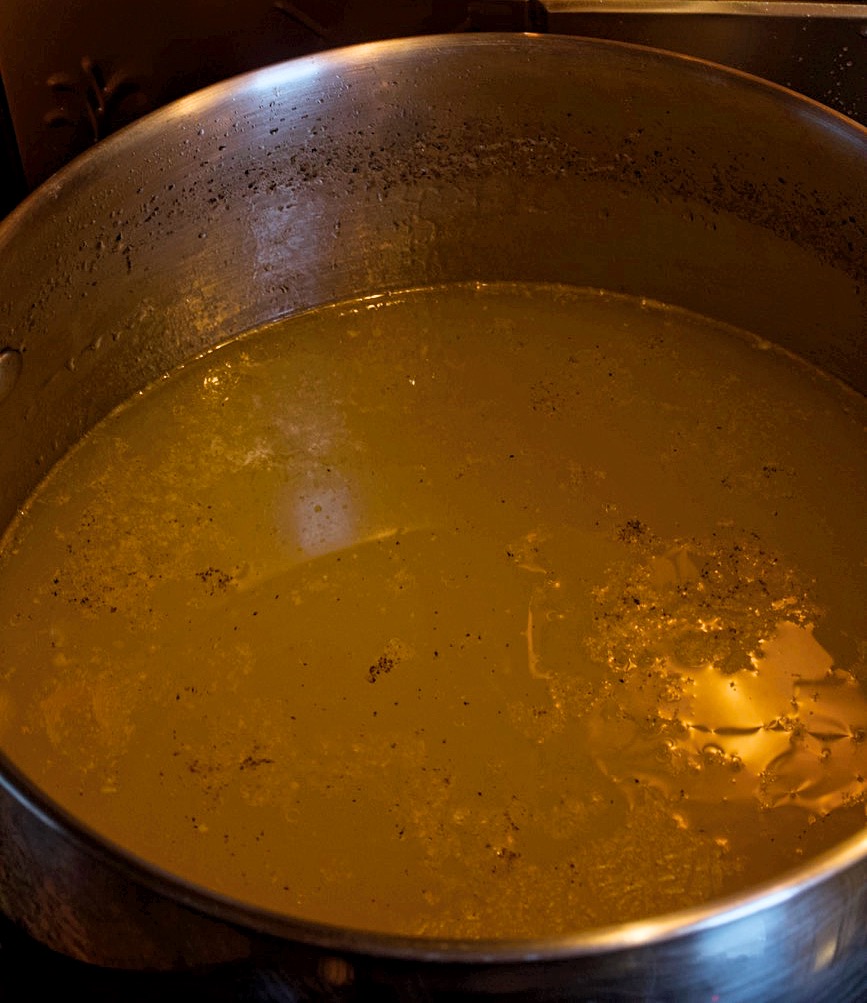 A good pot of chicken and dumplings starts with a pot of rich flavorful chicken broth or stock. I make a rich broth. Here are my tips for the broth…
Cook fresh chicken for the broth. If you need more broth later, you can always add some canned broth if you have to.
Use chicken thighs. The thigh is the most flavorful part of the chicken. You can cook a whole chicken if you prefer, but you'll get a richer broth with all thighs. Don't use skinless chicken thighs. The skins add more flavor.
Add 2 bouillon cubes to the broth for even more flavor, along with a generous amount of salt & pepper.
Use a large deep pot and place the chicken in first, then make sure to fill the pot at least 2/3 full with water. Some of the water will cook down, and you want plenty of broth so you can make gravy and also double the dumpling recipe if you want to…I always do! Once the chicken is cooked and removed, the pot should still be at least 1/2 full of broth. (See picture above).
Don't overcook the chicken. Overcooking chicken leaves you with stringy pieces of chicken when you cut it into bite-size pieces.
After you remove the chicken from the pot, allow it to rest for about 15 minutes before removing the skins. This helps to seal in more of the flavorful juices. Transfer the chicken to a shallow dish. Cover it with foil and leave it alone for 15 minutes or even longer if you have the time. Don't try to rush the cooling process by placing the chicken in the freezer.
If you're short on time the day you're serving this recipe, you can cook the chicken the day before. Allow the chicken to cool, cut it into bite-size pieces, and refrigerate both the broth and chicken until the following day.
DUMPLINGS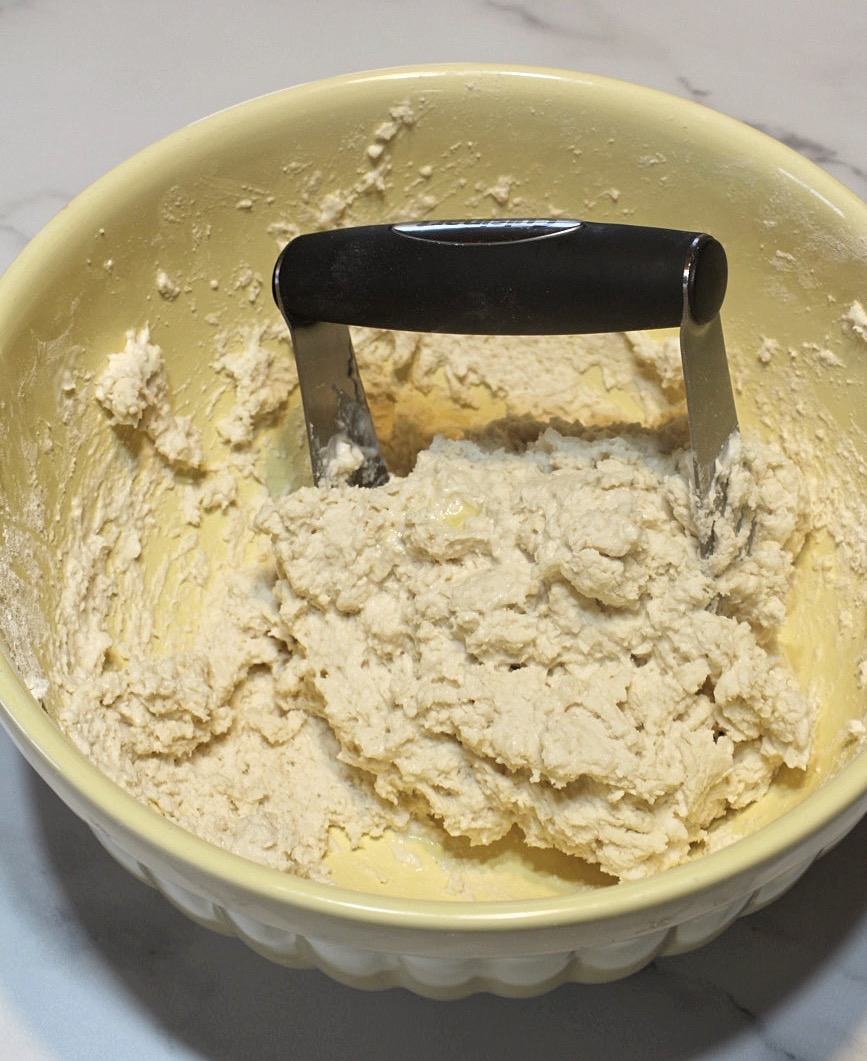 If you're not a fan of the big fluffy dumplings but opt for the flat dumplings instead, check out my recipe for Perfect No-Fail Flat Dumplings. However, if you're looking for large fluffy dumplings, read on! Here are my tips for perfect fluffy dumplings…
Make sure you have a pot at least 1/2 full of broth. Make sure you bring it to a boil, before adding dumplings to it.
Once you drop the dumplings into the broth, reduce the heat to medium-low and cover them with a lid. Do not remove the lid while the dumplings are cooking. Cook them for 10 minutes before removing the lid.
Use this recipe for the dumplings. This recipe calls for buttermilk, shortening, and also some of the rich broth. This results in a very moist, fluffy, and flavorful dumpling.
Make the dumplings the size you prefer, but make them all the same size. I love to make large dumplings, so I actually use a 1/2 cup large ice cream/cookie scoop to drop my dumplings. However, you can make them smaller. You can actually use a regular cookie scoop and make several smaller ones. It's a personal preference thing.
If you're doubling the dumpling recipe, make a single batch. Cook them and remove them from the broth, and transfer them to a dish, cover them and set them aside. Mix the second batch. Bring the broth back to a boil and cook the second batch. NOTE: This recipe makes plenty of broth and gravy, so don't be afraid to double the recipe. I always do!
GRAVY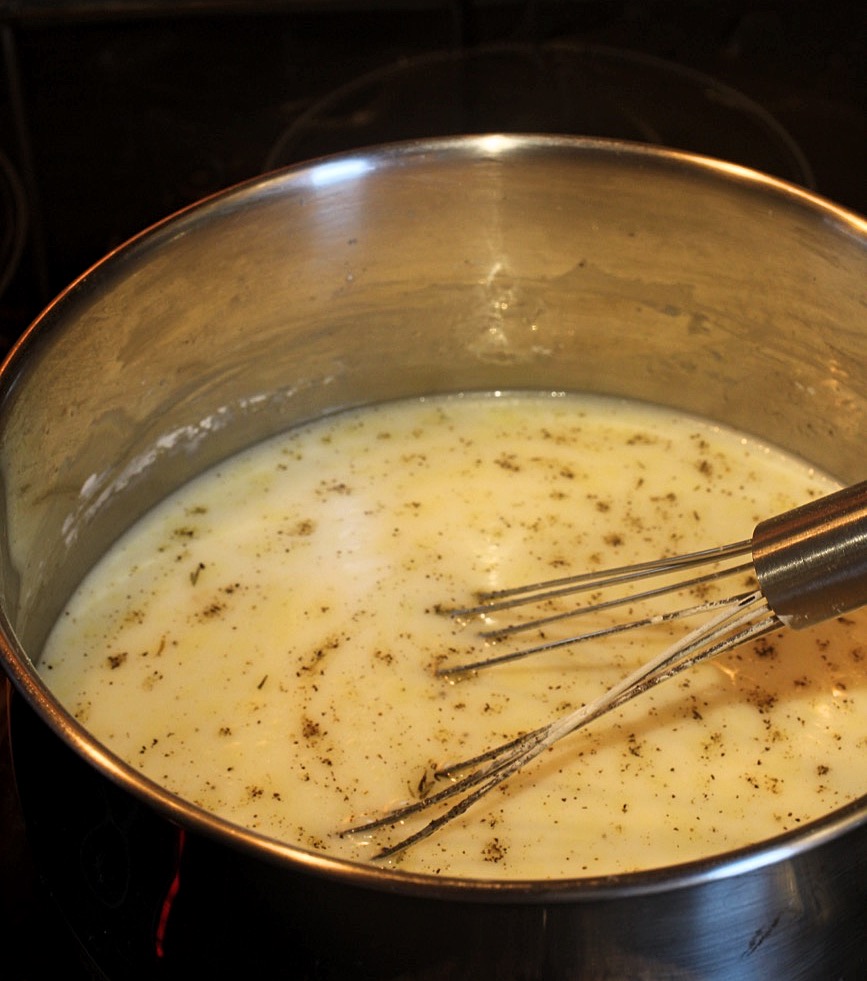 Dumplings are made with lots of flour. Therefore, once they're cooked in hot broth, the flour from the dumplings helps to slightly thicken the broth. And if you're happy with a broth that is just slightly thickened, and I say slightly, that's fine. However, if you're like me and you like a thick, creamy gravy that covers and sticks to the dumplings, then you're in the right place.
My #1 tip for making a creamy thick gravy is to make the gravy separate from the dumplings and add it back to the pot of dumplings! Just like the dumplings, the gravy needs some of that rich chicken broth. The gravy is super easy to make and is perfectly creamy and flavorful. The gravy is made with milk, chicken broth from the pot, and also cornstarch for thickening. It takes about 10 minutes to make and once it's done, it gets added back to the pot of broth. It's super easy!
I make this type of gravy frequently to go with turkey. It's so simple. I typically use a ratio of 1 tablespoon of cornstarch, per cup of liquid. For this recipe, I added a little more cornstarch because I knew I was going to add it back to the pot of remaining broth, which would thin it back down some.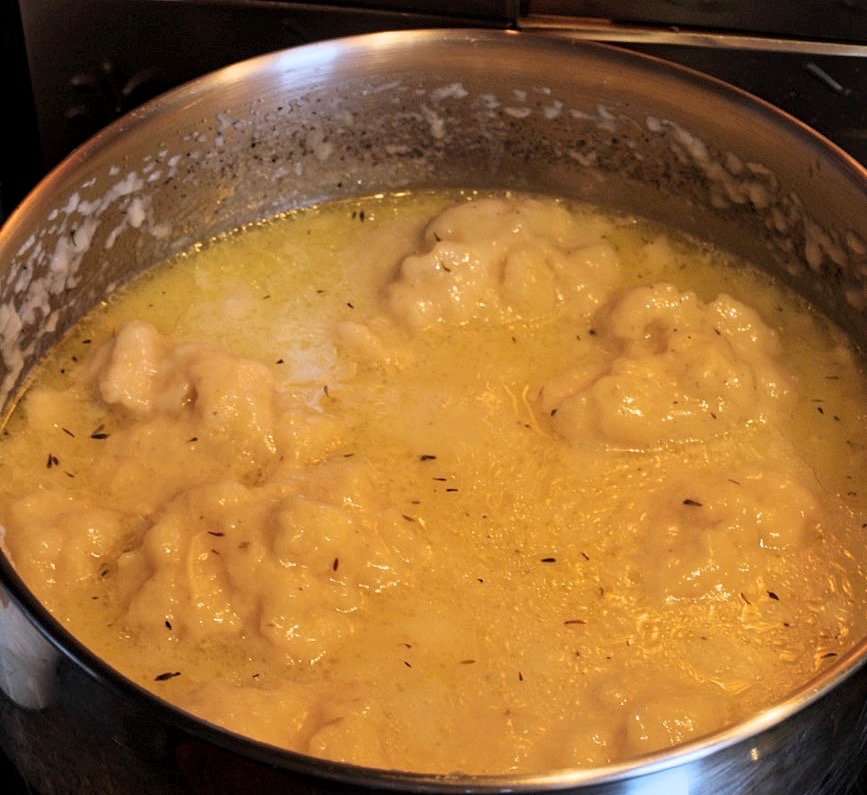 ADD-INS
If you like to add carrots, celery, peas, or other vegetables to your dumplings, I suggest dicing them small and sautéing them in some butter in a skillet until tender, then adding them to the pot of broth.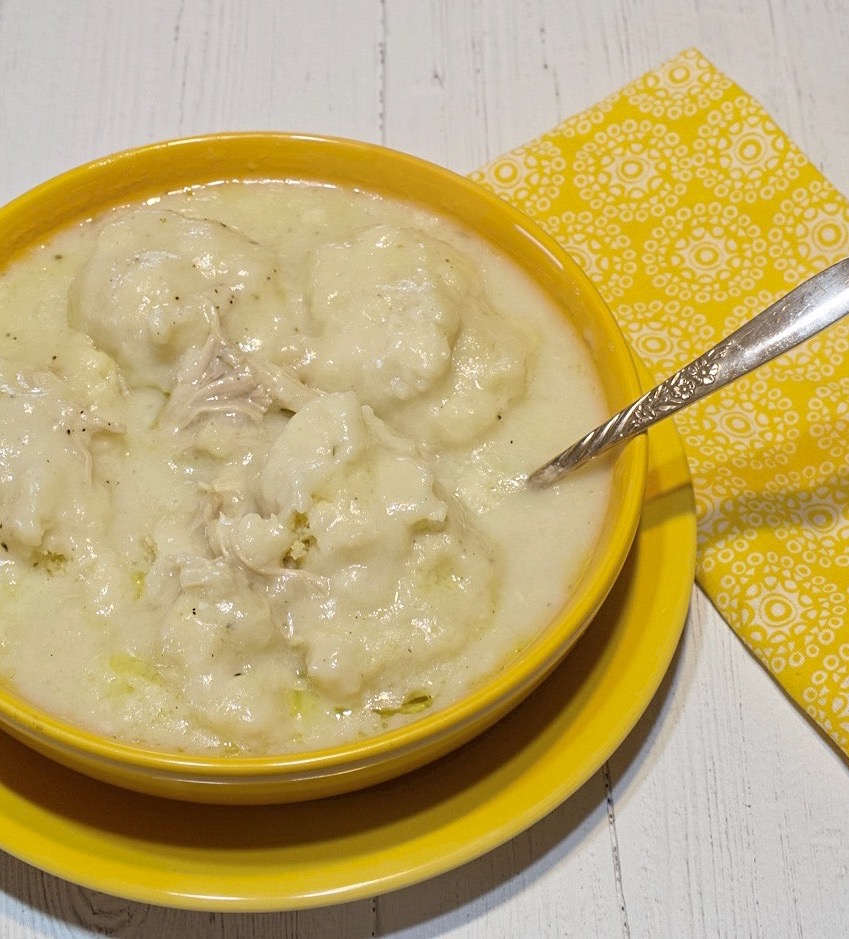 Check out these other great chicken recipes…
Print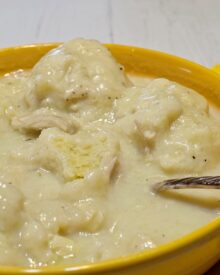 Old Fashioned Chicken & Fluffy Dumplings
Author:

Prep Time:

30 Minutes

Cook Time:

90 Minutes

Total Time:

2 hours

Yield:

4

Servings

1

x

Category:

Dinner

Method:

Cook

Cuisine:

American
---
Description
These homemade Chicken & Fluffy Dumplings With Gravy are made with tender cooked chicken, large fluffy dumplings, and a full-flavored thick gravy.  So filling and satisfying, this is the best of comfort food!
---
CHICKEN & BROTH
8

to

9

chicken thighs, skins on

2

chicken bouillon cubes

12

cups

water

1 1/2 teaspoons

salt

3/4 teaspoon

pepper

1/2 teaspoon

dried thyme
CREAMY GRAVY
2

cups

chicken broth (from the pot)

2

cups

milk

6 tablespoons

cornstarch

1/2 teaspoon

salt
DUMPLINGS
2

cups

all-purpose flour

1 tablespoon

baking powder

1 teaspoon

baking soda

1/2 teaspoon

salt

1/4

cup

solid shortening

1 1/4

cups

full-fat buttermilk

1/4

cup

chicken broth
---
Instructions
CHICKEN & BROTH
Place the chicken thighs in a large deep pot.  Cover with at least 12 cups of water.  The pot should be 2/3 full of water.  Add the bouillon cubes, salt, pepper, and thyme.  Bring to a boil over high heat, keeping an eye on the pot so it doesn't boil over.  Reduce heat to medium and cook covered with a lid until the chicken is done about 1 hour.  Transfer the chicken to a bowl and turn off the heat under the broth.  Cover the chicken with a foil tent and allow the chicken to rest for at least 15 minutes.  Remove the skins, allow the chicken to cool enough to handle, remove it from the bones and cut it into bite-size pieces.  Cover the chicken to prevent it from drying out while you make the dumplings.
CREAMY GRAVY
Add the chicken broth, milk, cornstarch & salt to a medium saucepan.  Whisk over medium heat until the sauce thickens, about 8 to 10 minutes.  Remove from heat and set aside.
DUMPLINGS
In a large bowl, whisk together the flour, baking powder, baking soda, and salt.  Using two forks or a pastry blender, cut in the shortening.  Add the buttermilk and chicken broth and mix just to combine.  The mixture should be pretty wet.
Meantime, bring the broth in the pot back to a boil over medium-high heat.  Drop the dumplings by large spoonfuls into the broth, separating them from each other in the broth.  I use a 1/2 cup large ice cream/cookie scoop to drop the dumplings, to make sure they are all the same size, so they cook through at the same time.  Cover the pot with a lid and reduce the heat to low.  Simmer for 10 minutes.  DO NOT PEAK OR REMOVE THE LID during this time.  Remover lid after 10 minutes.  Gently ladle some of the broth over the top of the dumplings and allow them to cook for an additional minute.  Add the chicken and gravy to the pot and very gently mix to combine.
Serve hot and refrigerate leftovers.
I recommend eating the leftovers the next day.  Don't overheat them.  Warm them gently over medium-low heat or in a microwave.  Microwave heating tends to make them denser and chewier inside.
---
Notes
I recommend doubling the dumpling recipe.  One batch makes about 8 large dumplings.  There is plenty of broth in this recipe for doubling the dumpling recipe.  Mix one batch of dumpling batter at a time.  Cook the first batch, transfer them to a bowl and cover, then make the second batch.
Keywords: chicken & fluffy dumplings with gravy, chicken and dumplings, fluffy dumplings, chicken,
There may be affiliate links in this post. We are a participant in the Amazon Services LLC Associates Program, an affiliate advertising program designed to provide a means for us to earn fees by linking to Amazon.com and affiliated sites.