Vanilla Cupcakes with Vanilla Buttercream Frosting
These Vanilla Cupcakes with Vanilla Buttercream Frosting have the best pure vanilla flavor and they are super moist and fluffy. The creamy vanilla buttercream totally complements these delicious cupcakes. You'll be making these often!
These homemade vanilla cupcakes are light and fluffy with a delicious vanilla flavor and a delectable vanilla buttercream frosting. They are also far better than the ones from the bakery. Try them…you'll see!
Believe it or not, Vanilla cake and cupcakes are my absolute favorite. Yet, I have one vanilla cupcake recipe on my blog for vanilla cream cheese cupcakes. Pretty pathetic huh! So today I'm finally sharing my recipe for these classic and delicious vanilla cupcakes.
Homemade cupcakes usually don't stay fresh for more than a day or so, simply because they are not loaded with preservatives like boxed cake mixes. However, after I made these vanilla cupcakes, I tested the three cupcakes I had left on day two, and they were still soft and fluffy…oh, and preservative free! That's why I love this recipe.
PRO TIPS FOR MAKING THESE VANILLA CUPCAKES
Make sure to measure the cake flour correctly. Too much flour makes dry cupcakes. Use a scale or the spoon and level method. Use a fork to fluff up and aerate the flour in your flour container. Spoon the flour into the measuring cup and level it off with a knife.
If you don't have buttermilk, you can make a buttermilk substitute by adding one tablespoon of white vinegar or lemon juice to a cup of milk and allowing it to sit for 5 minutes, but I personally don't think it's quite the same. Try to find the real thing if you can.
In this recipe, make sure to fill the cupcake liners no more than 1/2 full. If you fill them fuller they will rise too high above the top of the liners when they bake and you'll end up with big muffin tops that break off later.
Don't omit the salt from the frosting. Buttercream frosting is made with lots of powdered sugar and is very sweet. The salt is needed to offset the sweetness.
Use pure vanilla extract in this recipe. No imitation! After all, you're making vanilla cupcakes here. You wan't pure vanilla flavor.
Rotate your muffin tins halfway through baking. This will prevent the ones in the back from getting too brown around the edges before the ones in the front get done.
Don't over bake! As soon as a toothpick test results in slightly moist crumbs and the centers are springy remove the cupcakes from the oven. They will continue to bake for a minute after you remove them from the oven.
I used quite a bit of butter in this recipe along with a small amount of oil. All butter cupcakes tend to dry out a day after they're made, that's why I added some oil. If you're refrigerating cupcakes, oil based cupcakes will stay softer longer in the fridge. You can also sub all oil for the butter, but I just can't. I love that buttery flavor!
Frequently asked questions
Can I use sour cream instead of buttermilk in this recipe?
You can. However, sour cream has more fat in it than buttermilk resulting in a more dense and heavy cake or cupcake. I save the sour cream for pound cakes. If you want a fluffy cupcake use buttermilk.
Can I use regular flour in this recipe?
I don't recommend it. Cake flour is a fine flour and makes a thinner batter and a lighter cake or cupcakes. All-purpose flour results in a thicker more dense structure. I like soft and fluffy cupcakes.
Can I use regular milk instead of half & half in the frosting?
Sure. The half & half simply contains more butter fat. I say…the more the better! 🙂
Can I freeze these vanilla cupcakes?
Sure. You can freeze the unfrosted cupcakes for up to two months. Wrap them securely. Thaw them overnight in the refrigerator. Remove them from the refrigerator about 1/2 hour before serving. These cupcakes contain butter. Therefore, they need a few minutes at room temperature before serving.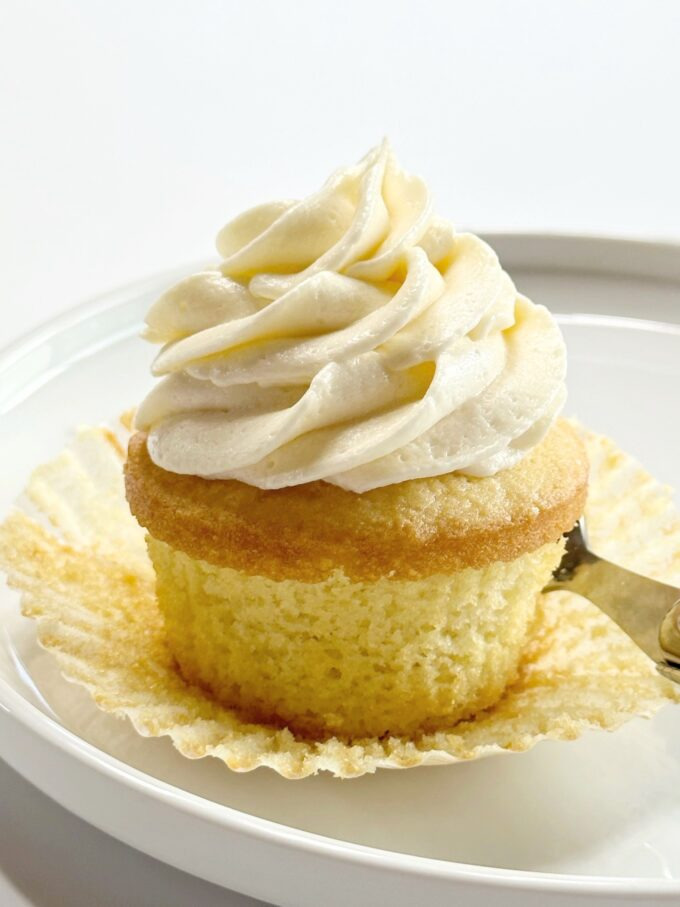 If regular American buttercream is too sweet for you, try my recipe for Italian Meringue Buttercream. It's not near as sweet as American buttercream but it's silky smooth and delicious!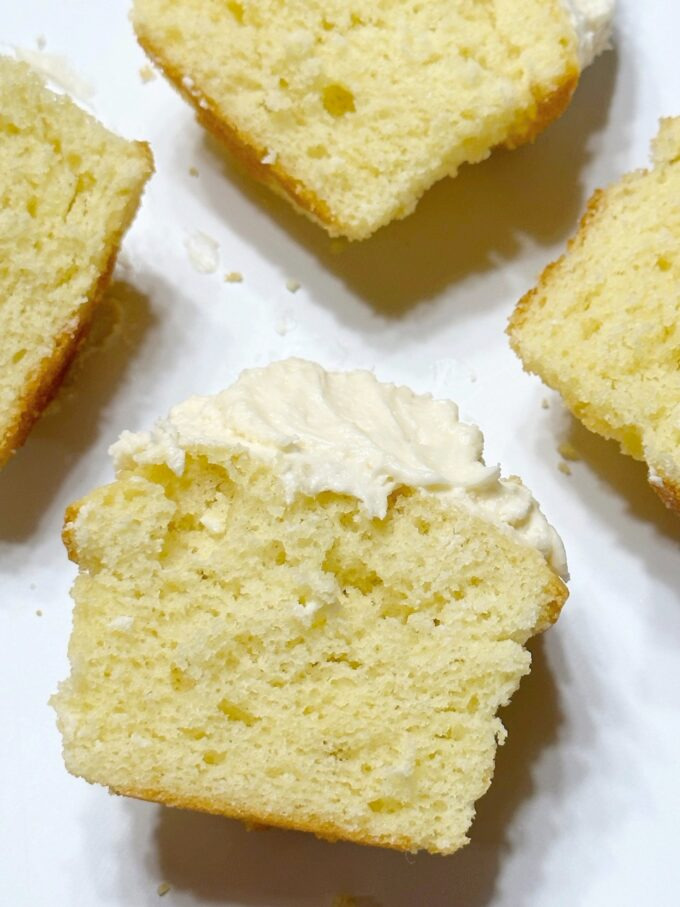 If you make this recipe don't forget to rate it, and leave a comment below on how it turned out. I love hearing from you! 🙂
Wanna see different recipes each day? Feel free to follow me on Facebook, Pinterest, & Instagram.
Print
Vanilla Cupcakes with Vanilla Buttercream Frosting
Author:

Prep Time:

30 minutes

Cook Time:

20 minutes

Total Time:

50 minutes

Yield:

31

cupcakes (depending on size)

1

x

Category:

Cupcakes

Method:

Bake

Cuisine:

American
---
Description
These Vanilla Cupcakes are moist and fluffy and great for birthdays or any occasion. They're also easy to make!
---
CUPCAKES
3 1/4

cups

cake flour

1 teaspoon

baking powder

1 teaspoon

baking soda

3/4 teaspoon

salt

3/4

cup

unsalted butter, room temperature

2

cups

granulated sugar

1 tablespoon

pure vanilla extract

1/4

cup

canola or vegetable oil

4

large eggs, room temperature

1 1/8

cups

full-fat buttermilk
VANILLA BUTTERCREAM FROSTING
1

cup

unsalted butter, room temperature

1/4 teaspoon

salt

4 1/2

to

5

cups

powdered sugar, sifted

1 tablespoon

pure vanilla extract

1/4

cup

half & half or regular milk
---
Instructions
CUPCAKES
Preheat oven to 350 degrees. Line two 12-count cupcake pans with paper liners. Set aside.
In a medium bowl, sift together the cake flour, baking powder, baking soda and salt. Set aside.
To the bowl of a stand mixer, using the paddle attachment, add the butter, granulated sugar, vanilla and oil. Mix on medium speed to combine. Add the eggs, one at a time, mixing well after each addition. Add the dry ingredients and buttermilk alternately, beginning and ending with the dry ingredients. Stop after each addition and scrape down the sides of the bowl and under the paddle attachment. Once the last addition of dry ingredients is added, do not over mix.
Fill cupcake liners halfway full (no more or they will overflow). You will have batter left in your mixing bowl. You will bake more cupcakes when the first ones come out of the oven. Bake for about 20 minutes until the tops spring back when touched. Remove from the oven and allow to cool in pans for at least five minutes and transfer to a wire rack to completely cool.
Line one of the cupcake pans again with about 6 or 7 paper liners. Fill the liners with the remaining batter and bake again for about 20 minutes.
VANILLA BUTTERCREAM FROSTING
Add the butter and salt to the bowl of a stand mixer and mix on medium-high speed until smooth. Reduce the mixer to low and gradually add the sugar 1/2 cup at a time, scraping down the bowl as you go. If it begins to get thick, stop and add some of the half & half, alternately with the sugar. Add the vanilla and mix on medium speed to incorporate the vanilla and until the frosting is smooth and creamy. It should also be the perfect piping consistency. If it's a little too thick, add a little more half & half, one teaspoon at a time. If it's a little too thin, add a little more powdered sugar.
Add the frosting to a piping bag fitted with your favorite piping tip and frost the cupcakes. I used a Wilton 1M here. 
This recipe makes 31 cupcakes if you fill the liners 1/2 full. You will need to double this frosting recipe for these cupcakes, especially if you're piping the frosting pretty high on each cupcake. I piped quite a bit on each one, therefore I doubled this recipe.  Click on the metric conversion at the top of this recipe card to double or triple this recipe. One batch of this frosting will frost 16 cupcakes if you're piping it on high.
---
Keywords: cupcakes, vanilla cupcakes, cupcake recipes, dessert, desserts, vanilla buttercream frosting, vanilla frosting, frosting recipes,
There may be affiliate links in this post. We are a participant in the Amazon Services LLC Associates Program, an affiliate advertising program designed to provide a means for us to earn fees by linking to Amazon.com and affiliated sites.